How to make gorgeous Christmas cards
Christine Emberson from Hope and Chances Creativity is here to show us how to make beautiful Christmas cards, using materials from Rex London.
Hello friends! At this time of year time seems to be on fast forward, so if you're planning to make your own Christmas cards, a quick and simple design is definitely the answer. I've come up with a design that can be created with just a few products from Rex London and some optional embellishments.

You will need
Equipment                                                                                                  
•   White card                                               
•   Scandi chic washi tape                        
•   Vintage spot wrapping paper            
•   Heart sewing pins
•   Stripy parcel string
•   Craft card label
•   Card embellishments: festive flower (layered poinsettia) and snowflake
 Tools  
•   Border punch
•   Decorative scissors or die
•   Festive crafting stamp
Instructions
Fold a piece of white card in half, or use prepared card blanks.
Run a piece of gingham-design Scandi chic washi tape along the bottom edge.
Using a border punch, decorative scissors or die, create a scalloped edge.
Run further lines of Scandi tape horizontally across the card front.
Adhere a strip of Vintage spot wrapping paper too.
Wrap a double length of Stripy parcel string, securing with a knot to the front.
Cover this with your embellishments. I've chosen a flower, stamped message and snowflake.
Use whatever you have to hand: buttons, stickers, ribbon bows, even decorations from last year's crackers!

As a nice finishing touch, insert two Heart sewing pins behind your cluster of embellishments.

And voil

à! Your card is complete. A speedy simple design - it is so easy, why not get the family to help?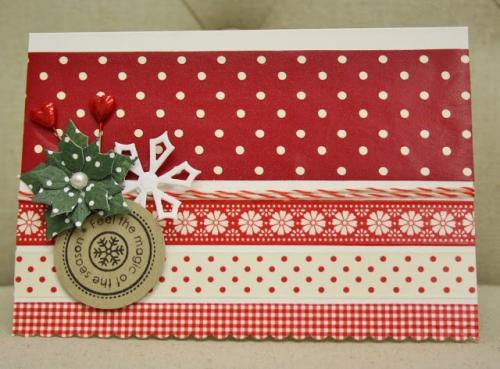 Share: