How to meal prep
Meal preparation (often called 'meal prep') is simple! It simply means planning and preparing meals in advance that will last you a few days. Read on for our ultimate guide to meal prepping, and then get creative in the kitchen.
Why should I meal prep? 
There are so many great reasons to get into the meal prepping habit. Planning your meals and cooking in bulk will save you time and money, help reduce food waste, and, hopefully, make your meal times a bit less hectic. You will also tend to eat healthier as you can avoid mindless eating and practice portion control.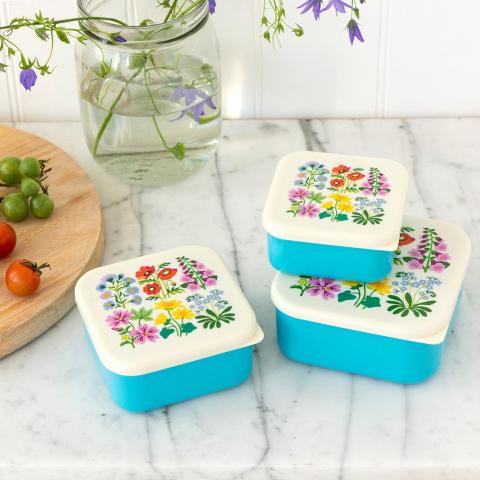 A pretty snack box is an ideal way to prepare and store small portions of healthy snacks. Product shown: Wild Flowers snack boxes (set of three), £5.95
Top tips for meal prepping
Getting started
If you're new to meal prepping, start slowly. You could start by just prepping your lunch, rather than trying to make three meals a day. Try not to jump straight from having pasta every day to going completely carb-free. Start with small changes that are achievable, and you're much more likely to stick with it in the long-term.  
Make a menu 
This is the fun bit! Browse Pinterest, search #mealprep on Instagram, ask your friends what they do. Think about well-balanced meals that will keep you well-fed and full of vitamins. Focus on foods that are easy to cook and will store well in the fridge or freezer. This isn't the time for your cheese souffle!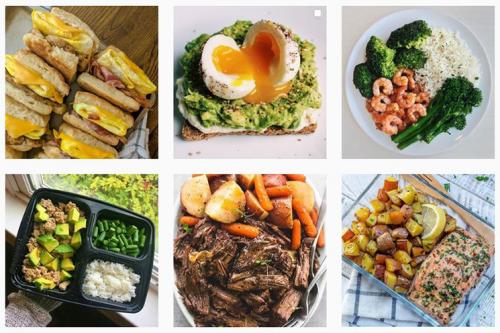 Meal prep inspiration from Instagram.
Make a shopping list 
Write down all your ingredients for the week and stick to it! Be sure to check your cupboards to see what you already have to save you doubling up. Take stock of what staples might be worth buying in bulk - this is often better value for items with a long shelf-life. Pasta, tinned tomatoes and couscous are all great bases for meals. 
When you write your list, think about what facilities you'll have for reheating and storing food if you're taking into an office, or heading out and about. If you won't have access to a microwave, plan meals that don't need re-heating and will keep fresh in an insulated bag.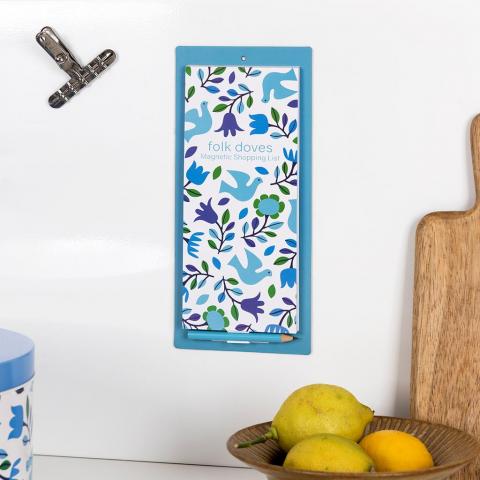 Plan your supermarket trip with a shopping list. This Folk Doves magnetic shopping list (£3.95) can be popped safely on your fridge or freezer, or hung up, and even comes with a handy pencil holder.
Stick to your list, or do an online shop if you get too easily tempted by delicious smells from the bakery. Remember the golden rule and never go shopping hungry!
Prep your food 
Here's where the proper 'prep' bit comes in! There are two main methods; batch cooking (cooking large portions of one meal and dividing it up across the days) or buffet style (preparing a selection of ingredients and then creating different combinations of those foods at each meal). We prefer the buffet-style method, as you're far less likely to get bored and you can really get creative as you mix and match meals.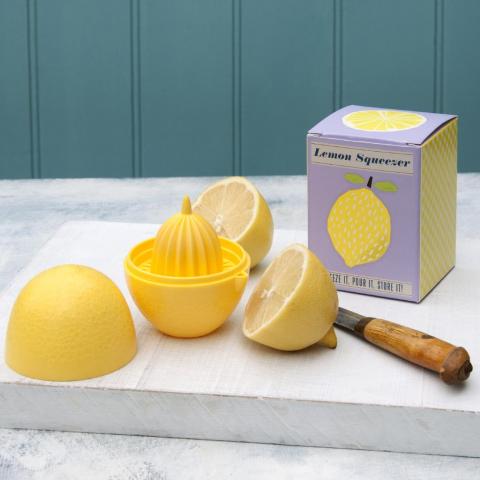 Squeeze and store lemon juice to quickly add fresh flavour to meals. Lemon squeezer, £2.95
Here are some of our top tips for quick and easy meal prep:
Did you know you can freeze your garlic, ginger and chillies? Simply grate, chop or slice them when fresh and then pop into the freezer. You can cook with them straight from frozen, and they'll stay fresh for months. This method also means you can buy in bulk (which is often cheaper) without fear of half it going to waste. 
Love a salad in the summer? Wash and put salad leaves in the bottom drawer of your fridge. They'll stay fresher for longer than in their supermarket plastic bag, and you can just grab a handful, add your pre-made toppings and you're good to go.
Freeze fresh fruit in small batches. Then in the morning you can simply pop them into a blender with some fresh yoghurt or orange juice for a cool, vitamin-packed smoothie.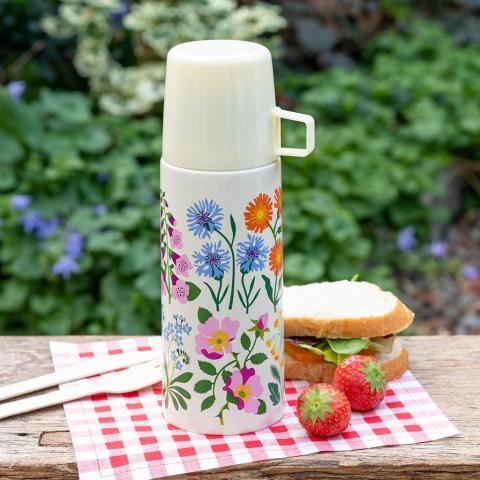 Keep your homemade smoothie fresh in a vacuum flask. Product shown: Wild Flowers flask and cup, £12.95
Sort your containers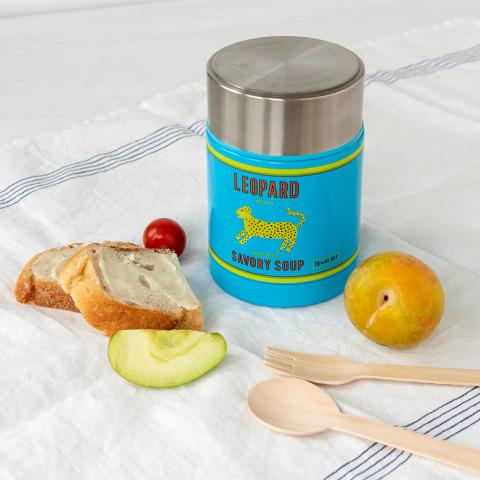 Leopard stainless steel food flask, £19.95
Preparing your meals is obviously the biggest and most important part of meal prep, but there's a lot to be said for the simple pleasure of arranging your food artfully in a pretty box or bag. Bento boxes let you pack your lunch and your snacks together, and our ones include handy cutlery.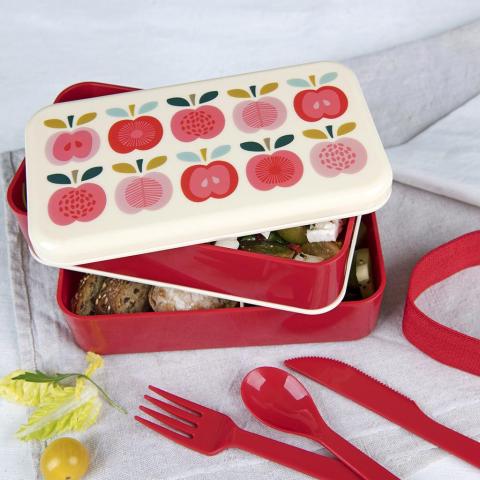 Vintage Apple bento box, £8.95
Use a foil-lined, insulated lunch bag if you need to keep your food cool and fresh and you're not able to get to a fridge for a while. We've got 25 designs to choose from, and, even better, all our lunch bags are made from recycled plastic!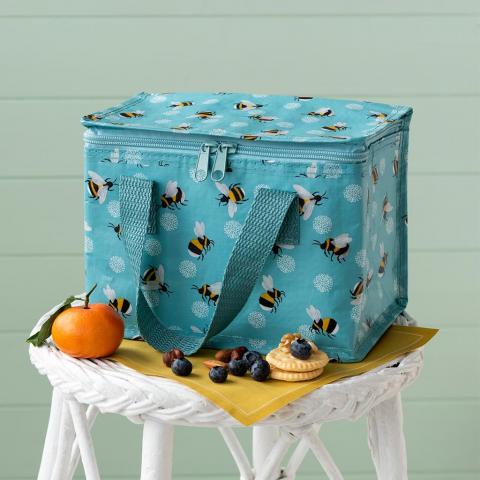 Bumblebee lunch bag, £4.95
Need some inspiration?
It's not always easy to think creatively. Take a look at our favourite soup recipes for flasks for some quick inspiration. 
Got a great shot of your beautiful bento box, or a mouth-watering meal? We'd love to see it, so do share it with us on social media using #RexLondon.
 
Share: