37 brilliant birthday card designs
Feeling crafty? Show your friends and loved ones you care by making them fabulous homemade birthday cards this year. As you'll discover - it's fun and easy when you know how!
To get your creative juices flowing, here are 37 nifty card designs from some of our favourite craft bloggers.
Partytime pretties
Creative candles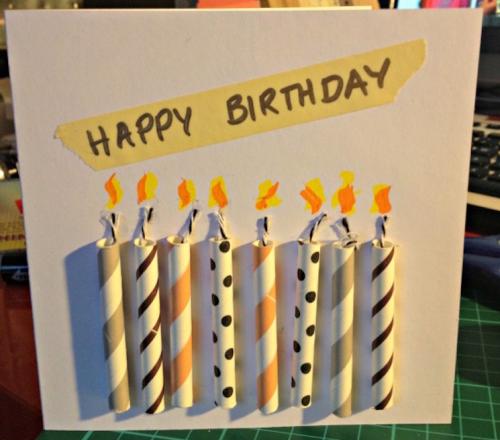 These paper straw candles are a real birthday surprise
Image source: The mad house
Super simple and cheap to make, we think you'll agree Jen's clever candle card looks fab! And everything on the card is made from items you probably have in your kitchen cupboards.
Jen glues short lengths of paper straws onto her cards and colours in the flames. Then she tears off a length of decorative masking tape and writes her birthday message onto it.
Jen says: 'You could make it more professional by layering and matting a happy birthday stamp or even print happy birthday.'
Pretty in pastels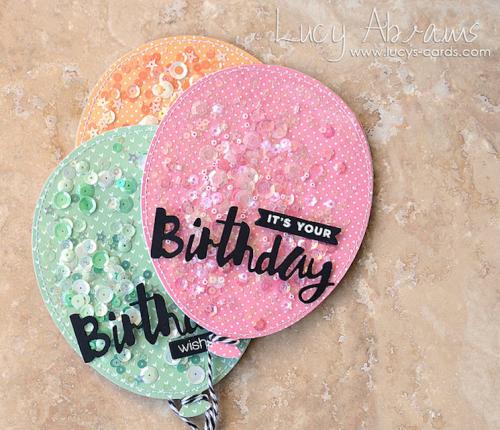 Lucy uses patterned paper and twine to create these pastel balloons.
Image source: Lucy's cards
Shaker cards feature an acetate pocket containing glitter or confetti shapes, so when you shake the card the contents move about. Blogger Lucy is a fan: 'Shaker cards make great birthday cards they are fun, noisy and definitely celebratory.'
To make her shaker balloons, Lucy decorates three card templates with pretty paper then stitches acetate to them, leaving the tops open to add sequins.
Fancy a go? All you need is white card, pretty paper, some twine and a sheet of acetate. Head over to Lucy's blog for full instructions.
Ice cream on ink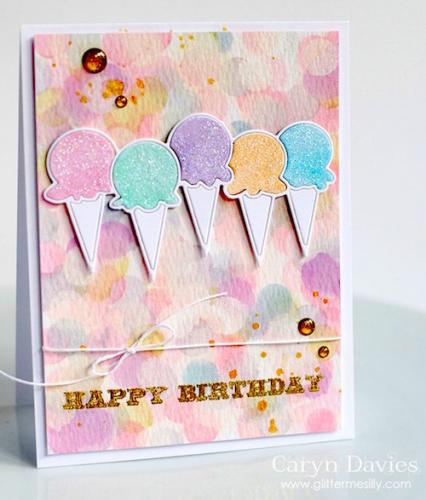 Caryn spritzes ink with water to create this pretty background
Image source: Glitter me silly
We think you'll love Caryn's sparkly ice cream cones, the perfect design for birthdays! 'I first scribbled the colours onto my craft sheet and spritzed them with water to dissolve the pigment,' she explains.
Once the ink dries, Caryn uses circular stencils to dab white paint onto the card, creating an out of focus photographic effect. Such a simple way to create a pretty pastel background!
It's often the embellishments that bring a card to life, so for this card Caryn sprinkles her ice creams with fine clear glitter and embosses the message in gold powder. We think you'll agree that the finished article is a sparkling success!
Piñata party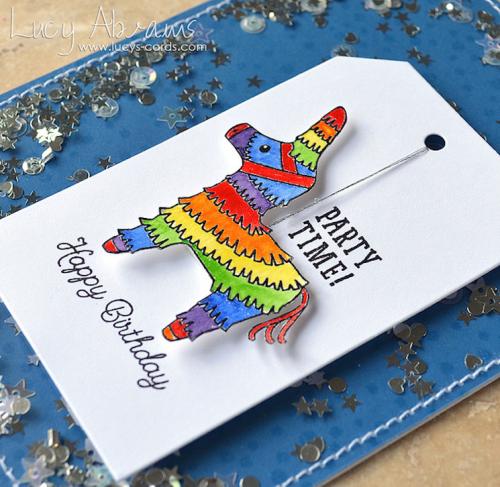 Lucy's clever use of watercolours makes her piñata stand out
Image source: Lucy's cards
Bold primary colours make Lucy's die-cut pinata stand out. Check out the way she textures the background by stamping dark blue dots onto the card. Here's how she does it:
'I stamped, embossed and water-coloured the piñata, then hung it on a tag and added sentiments.'
If you haven't tried making a shaker card before, let Lucy guide you through the process by popping over to her blog.
Birthday balloons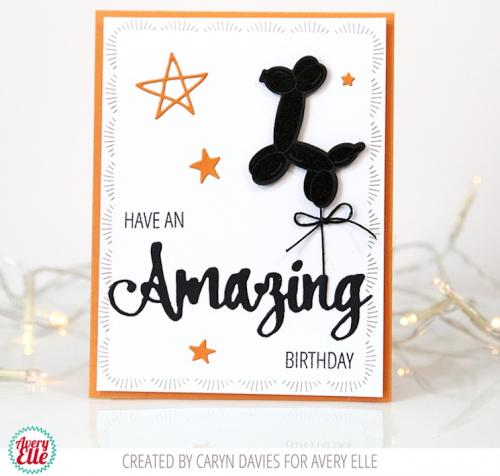 Caryn uses a heat embossing technique to create her giraffe
Image source: Glitter me silly
If you haven't tried heat embossing before, here's your chance! Blogger Caryn designed this bold balloon giraffe card for her nephew.
To make this card, stamp the giraffe onto black card, sprinkle with clear embossing powder and warm it with a heat gun. The result is a striking raised effect.
Caryn says: 'You can just about make out the detail but black is so difficult to photograph.'
Die-cut stars, a pretty border and a funky stamped sentiment add the finishing touches to a card any nephew would be delighted to receive.
Be a birthday star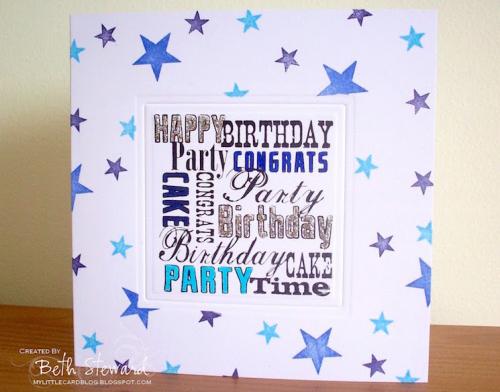 Contrasting text and colour create this stunning design
Image source: Beth's little card blog
What can you do with a few funky stamps, glitter and a couple of blue pens? Create one of Beth's brilliant birthday cards!
'I coloured in/glittered some of the words, then used two star stamps, used the large in bright blue and the small one in two other blues,' Beth says.
Beth's use of contrasting colours and effects make this card sparkly enough for any birthday celebration.
Fun with fashion
Designed with denim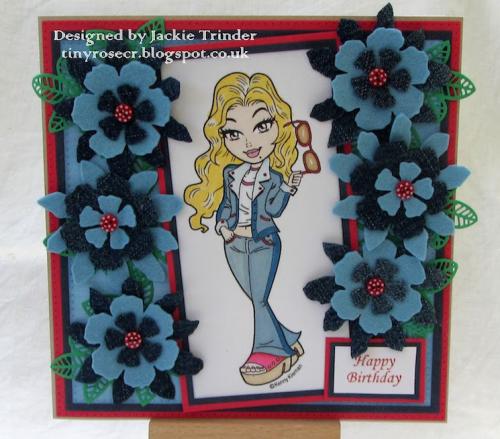 Jackie brings this card to life with fabric snippings
Image source: Tinyrose's craft room
Jackie from 'Tinyrose's craft room' wanted the character on her card to look like she was wearing denim. So as well as colouring her clothes blue, she visited a charity shop to find some jeans to cut up!
We think you'll love the way Jackie combines layers of denim and felt to create her delightful decorative flowers. And the spotted buttons at the centre add a cute touch of contrasting colour.
Fabulous fabric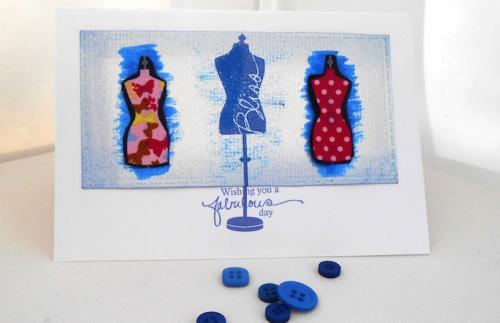 Lynne adds depth to her design with blue aquatint
Image source: Crafty Linby
Textured card makes a great base for this funky design by craft blogger, Lynne. Made with a few fabric snippets and fancy fonts, she says: 'I just added a little blue aquatint with a brush for the background.'
The result? A fun and sophisticated card for the fashionista in your life!
Inspire imagination
Monster madness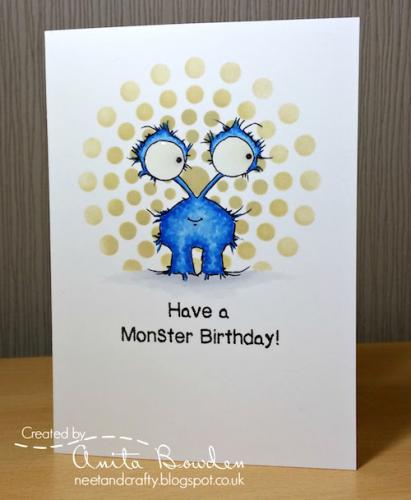 Anita works her magic with bold blues and stencils
Image source: Neet and crafty
Take a printer, some blue pens and a simple stencil and you have all you need to make this delightful one layer character card. Know any birthday boys? We reckon they'll love the cute monster design.
Remember Red Riding Hood?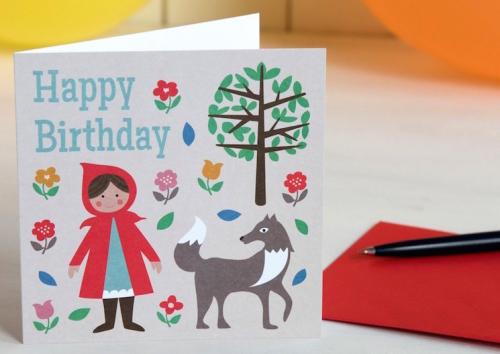 Remember childhood with this card featuring two fairy tale favourites
Pictured: Red riding hood birthday card - £1.25
Relive those 'once upon a times' with this cute gift card from dotcomgiftshop. Our bold and colourful depiction of Red Riding Hood and the wolf is hand-drawn and will appeal to recipients of all ages.
Retro robotics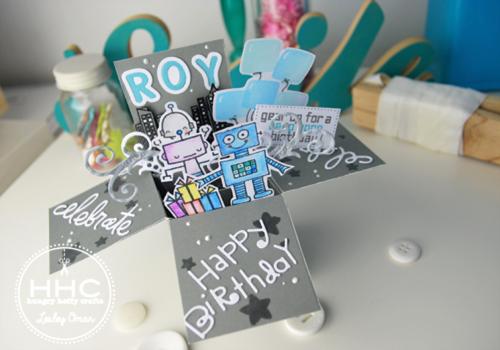 A brilliant box card brings Lesley's robot to life
Image source: Hungry Heffy Crafts
Make a special birthday statement with this 'exploding' robot themed box card. Lesley uses stamps to give a mechanical feel to her box, which she embosses for a metallic finish.
Blogger Lesley's top tip: 'The trick is to make sure [the card] folds flat and the sticky outy bits are able to fit within the width of the envelope.'
If you fancy learning the box card basics, check out this handy video or head over to Lesley's blog to find out more!
Pretty paper pop-ups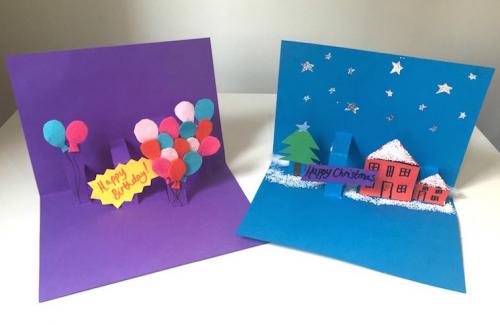 Use pop ups to impress
Image source: Persil
'Balloons are a must have for every birthday party,' the guys at Persil say. To create their balloon cards, they use scraps of felt, string and fabric.
See how they do it by visiting their website, then add some pop-up panache by designing your own pop-up card flourishes.
Floral inspiration
Sensational swirls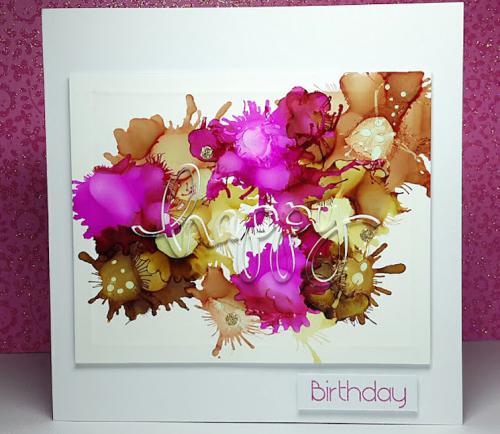 Janey's alcohol inks create a swirly sensation
Image source: Janey's cards
Create this gorgeous effect by puffing drops of ink onto the card using an air spritzer, or alternatively, blowing the ink through a straw.
Now cut out the sentiment from card and back it with foam to make it stand out. We love the way Janey, who designed this card, uses gold glitter stickers to bring a subtle hint of sparkle to her cards.
Fabulous florals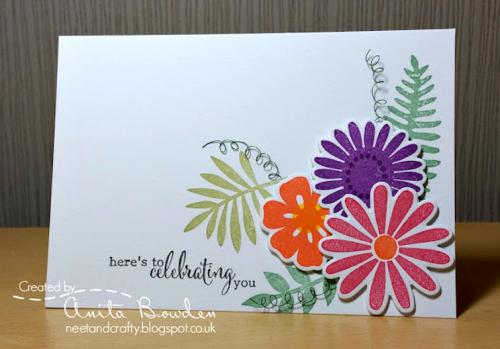 Anita uses spirals and stamps to create this floral delight
Image source: Neet and crafty
Have a go at making cards with a snazzy 3D effect by using die-cut flowers and craft wire as this card's creator, Anita, has done here.
To curl the tendrils, she simply winds thin green craft wire round a paint brush handle, then pulls them out into spirals before flattening them. Ingenious!
Pinks and pearls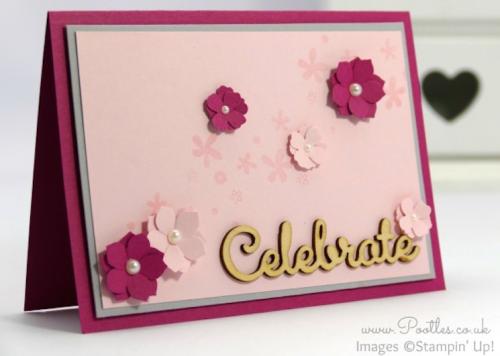 Sam's pretty punches make a stylish but simple design
Image source: Pootles
The punched out, layered flowers are what makes this card stand out. Its warm purples and pinks are perfectly complemented by the pretty pearl embellishments.
Fancy making one of your own? Head over to creator, Sam's blog to find out more about her stylish design.
Papers and patterns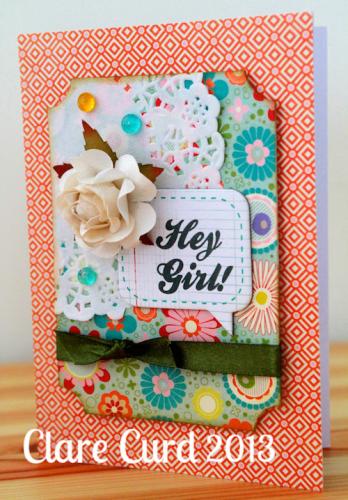 Clare Curd adorns her design with doilies and dew drops
Image source: Clare Curd Crafts
Contrasting patterned papers form the basis of this clever card design. Crafter Clare, who blogs at 'Clare Curd Crafts,' then adds a pretty doily and a ribbon to the top layer of paper before punching the corners and distress inking the edges.
'A paper rose and a few dew drops finish this card perfectly' Clare says.
Watermelon wonder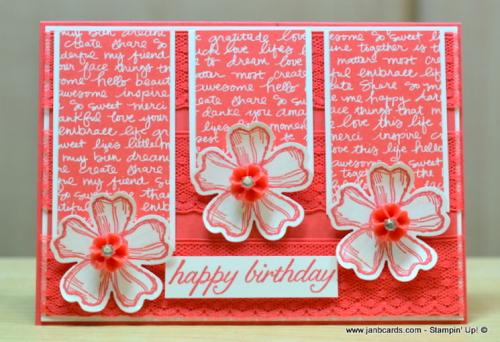 Jan B's bold use of colour catches the eye
Image source: Jan B
We love the contrasting colours of this design by Jan, who blogs at 'Jan B cards.' Jan embellishes her cards with lace trim and for extra sparkle, adds a pretty rhinestone gem on top of the flower accents.
Bright and beautiful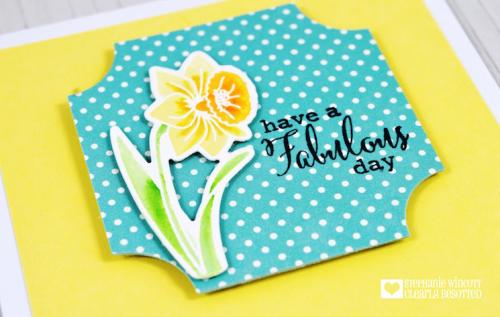 Stephanie combines bold yellows with aquamarine for this awesome design
Image source: Clearly Besotted
'You may need to pop your sunglasses on for this first card, it's a little on the bright side,' jokes blogger Stephanie of 'Clearly Besotted.'
Her simple design features a beautiful die-cut daffodil backed by a layer of spotted aqua paper. A stamped sentiment adds the final touch to this summery card.
Simple but stunning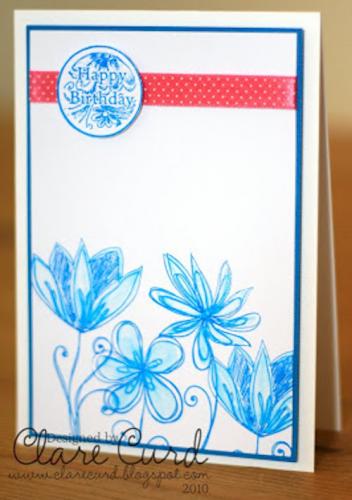 Clare uses a paintbrush to blend these beautiful colours
Image source: Clare Curd Crafts
'I love these inks as they are exactly what they say - vivid. And being water-based you can use them to colour too,' says card maker Clare. Clare uses stamps to create her aquamarine flowers, blending the colours with a paint brush.
By adding some simple contrasting ribbon and an aquamarine cut out, this clever crafter really makes her card stand out. We think her design rivals anything you'd find on the high street.
Celebrate with sparkles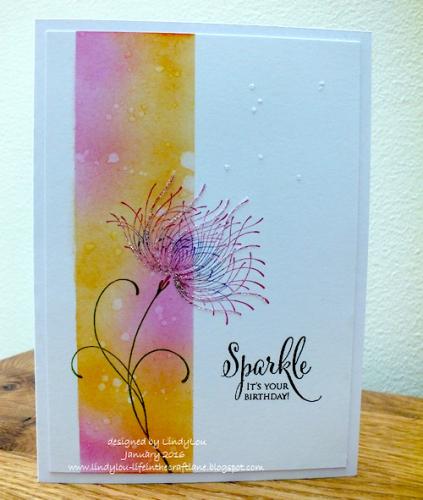 Linda makes ink splatters look sensational
Image source: Life in the Craft Lane
'Life in the Craft Lane' blogger Linda says her sparkly card 'shows just how pretty a few water splatters can look.' She creates her colourful backgrounds by using distress inks that she blends together with water. The result is this subtle vintage look.
To see more of Linda's gorgeous cards, head over to her blog. You won't be disappointed.
Seam binding and scraps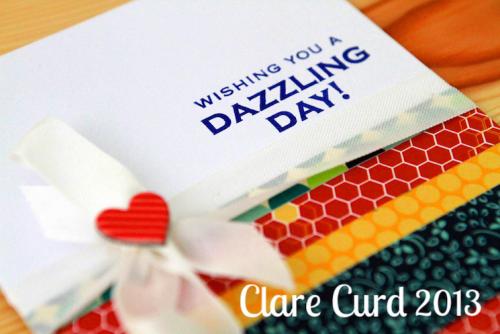 Clare Curd uses up stickers and scraps for this super design
Image source: Clare Curd Crafts
Here's a great way to create a luxurious layout from crafting leftovers! Clare's dazzling design is a great use for scraps of seam-binding and patterned papers. And we think you'll agree, the tied ribbon embellishment and a cute loveheart make for a lovely flourish.
The moral of this story is, never throw away your crafting scraps!
For foodies
Cupcake cuteness
Anita's card combines pretty cupcake stamps and die-cut card
Image Source: Neet and crafty
To make this pretty card 'Neet and crafty' blogger Anita heat embosses white doilies onto rose pink card. 'I then simply stamp the sentiment, the cupcake case, frosting and sprinkles,' she says.
We love the way Anita die-cuts the white upper panel before sticking it on top of the pink layer - what a classy touch.
Kitchen comedy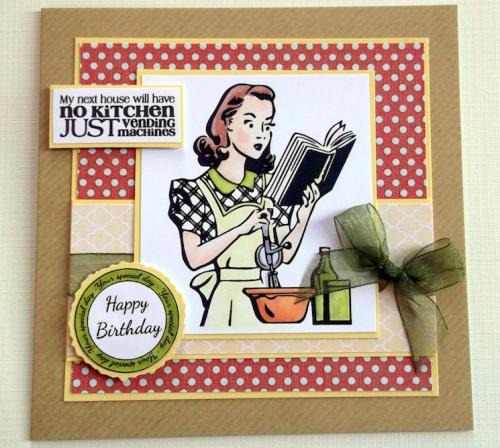 Di creates a vintage feel with this striking stamp
Image source: On the cards
We love the sentiment behind this comical kitchen-themed card. Designer Di clearly takes great care with colour, matching the card's die-cut message with a sparkly green bow to give her vintage card a stylish twist.
Vintage apples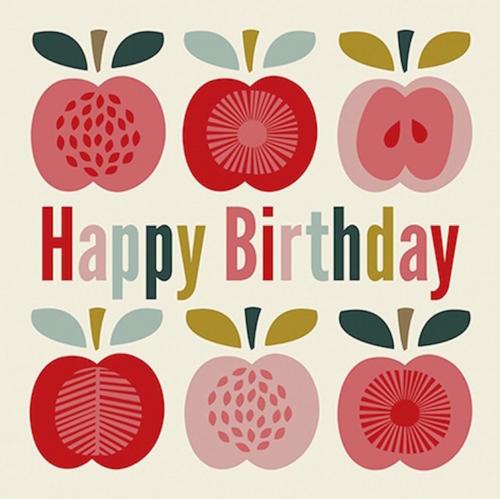 A bright red envelope is the perfect match for this fruity card
Pictured: Vintage Apple birthday card - £1.25
There's plenty of variety on offer when it comes to our cute Vintage Apple birthday card. Whether you prefer the crunch of a Cox or the green goodness of a Granny Smith, you can't go wrong with this design.
Time for tea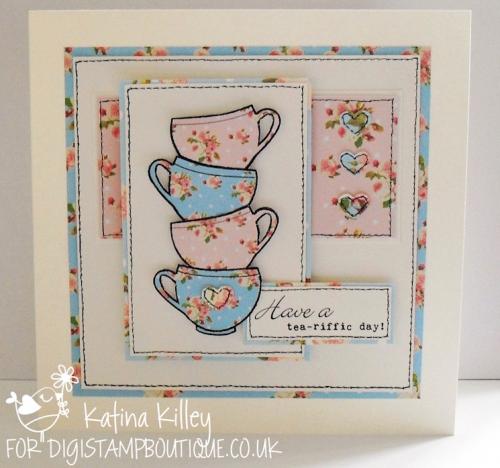 Katina uses pretty paper to embellish her vintage design
Image source: Katina's cards and chat
A good friend, a pot of tea and a chat - sounds like the perfect way to spend a birthday. If you know a tea lover, you'll adore blogger Katina's vintage floral teacup birthday card.
To make this pretty card, Katina starts with an ivory base and layers pretty papers on top. Next she adds a floral border before sticking on the die-cut vintage teacup tower.
A very vintage birthday
Aqua aeroplane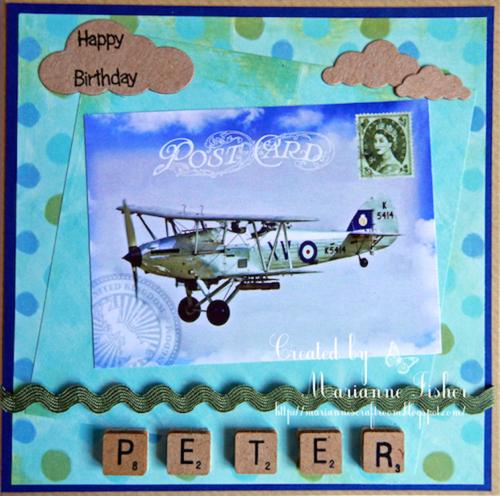 Marianne highlights this topper image with bold blues and polkadots
Image source: Marianne's craftroom
Very original and very blue, crafter Marianne's card is bold and striking. She picks patterned papers which perfectly complement the blue skies of her aeroplane topper.
And we love the way she's placed her birthday message onto the die-cut clouds. This and her use of scrabble letters give the card a quirky feel.
Retro rocker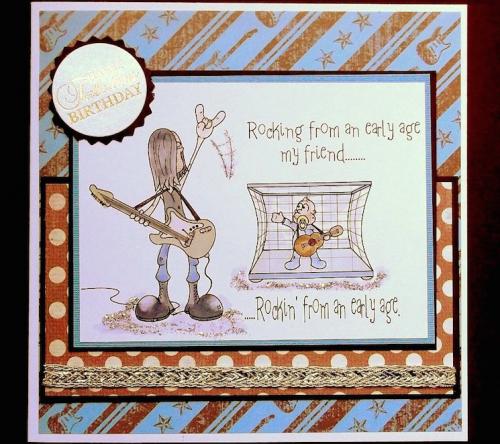 Di's mix of masculine papers are the perfect match for this old rocker
Image source: On the cards
Here's a card that rocks! With a mix of masculine colours and playful digi stamps, Di, who blogs at 'On the cards' has come up with the perfect birthday card for air guitarists of any age! Pop over to Di's blog for a closer look.
Vintage boy birthday card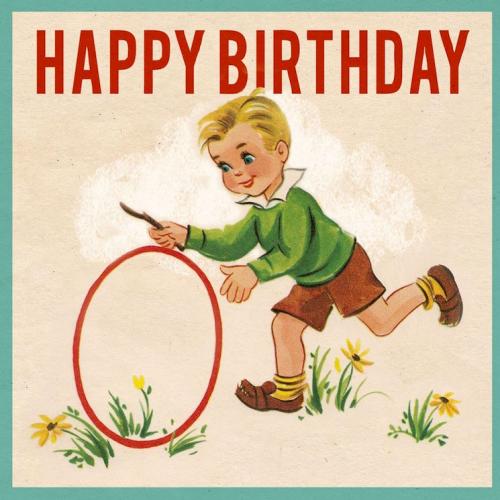 A cute way to say 'happy birthday'
Pictured: Vintage boy birthday card - £1.25
Be transported through time and space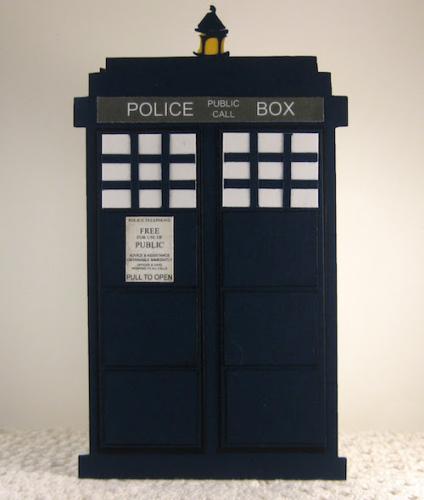 Whovians will love Julie's crafty interpretation of the TARDIS
Image source: Julie's crafty spot
Wow the 'Whovian' in your life with blogger Julie's marvellous recreation of Doctor Who's time travelling tardis! Here's how she did it:
'I found pictures online to use for the sign on the door and the Police Box tag on the top. The rest of the card is just layered and inked squares and rectangles.'
Head to Julie's blog for a more detailed look!
 
For animal lovers
Birthday tweetings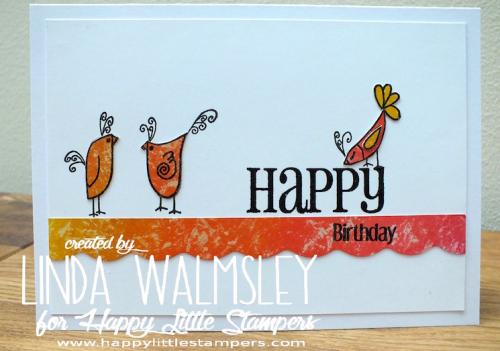 Linda mixes pearlescent paint and ink to add a distressed effect
Image source: Life in the Craft Lane
Bird lovers will adore this cheery birthday card designed by Linda of 'Life in the Craft Lane.' Linda used a technique called faux mother of pearl to create her colourful birds and the decorative strip.
Fancy a go? You'll need a ball of scrunched up cellophane and some white pearlescent paint. Use the cellophane to dab paint onto white card and simply add distress ink in your choice of colour.
Have a hoot on your birthday
Sue's gets creative with texture and layers
Image source: The Pinkshop blog
We adore blogger Sue's swirly textured base card and printed paper owl. The combination of clever layering, colour and die-cutting really brings this cute owl to life!
Dancing dog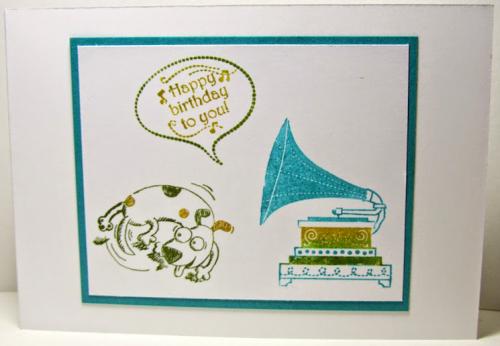 Bold contrasting colours give this card a fresh, simple feel
Image source: Stamp up your craft
'I love this doggy chasing his tail but for my card he's so excited he's dancing!' Keen stamper Aileen's use of contrasting colours really brings to life her fun, stamped images.
Layered luxury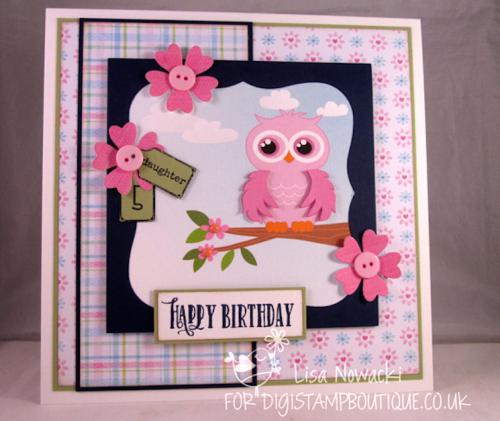 Patterned paper, die-cuts and embellishments make this pretty card
Image source: Wishcraft cards
We're big fans of the way blogger Lisa uses patterned papers, tags and die-cut flowers to give her gorgeous card a 3D effect.
To make your own, Lisa of 'Wishcraft cards' layers a pre-coloured owl on top of a pretty branch background.
Playful pooches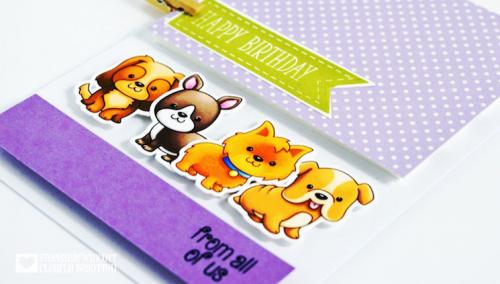 Stephanie uses stamps, inks and patterned papers to produce this cute card
Image source: Clearly Besotted
Here, Stephanie of 'Clearly Besotted' combines die-cut dogs and pretty papers to create this playful birthday card. We love the way she's used a mini peg to clip the card's sentiment into place.
Inkjet image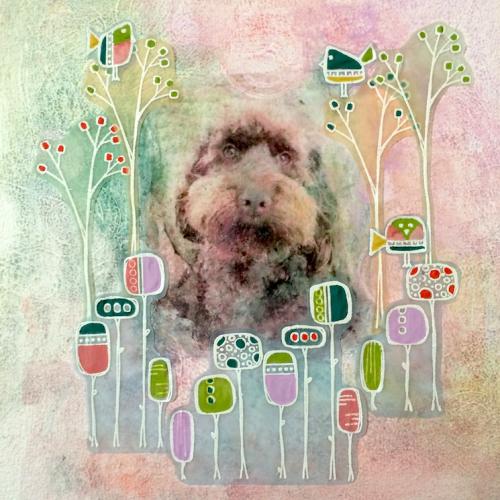 Penny's clever technique transfers an image onto canvas
Image source: Cutting My Coat… to suit my cloth
Fancy a cardmaking challenge? We love this clever image transfer technique. You'll need a piece of canvas board, an inkjet image and some artist's gesso. The card's designer Penny says:
'I have often used this method of transferring drawings onto canvas using a black inkjet photocopy, but had never tried a colour copy.....until now.'
To see how she creates her gorgeous image, head over to her blog.
Let sleeping foxes lie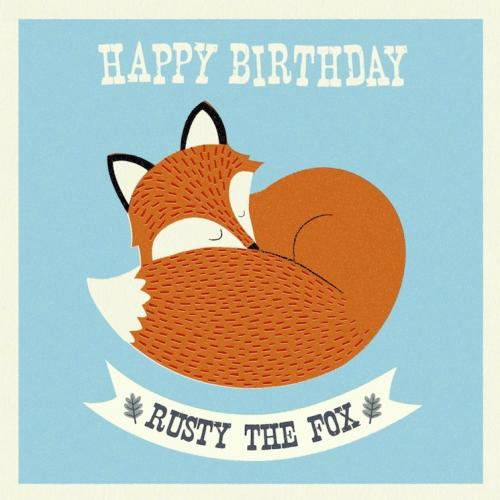 This colourful card features our favourite fox
Pictured: Rusty the Fox birthday card - £1.25
Nature lovers young and old will love our furry fox birthday card. And for Rusty the Fox fans, you'll be glad to know that this cute character also appears on a wide range of gifts!
Autumn animal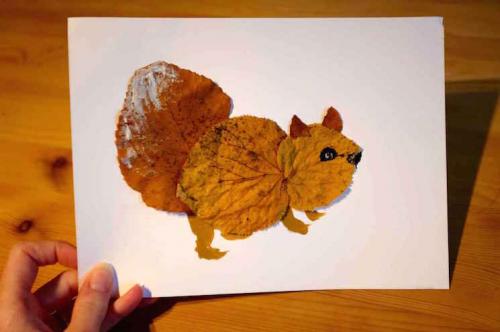 Such a simple idea, but super cute for kids
Image source: Marmalade pie
If you've never made a leaf-animal card like blogger Lizzie's squirrel, you've been missing out! Whatever the season, get out into the woods, find some leaves and see what you can create when you get home. Even better - get the kids involved. This is a great activity for all the family!
We'd love to see your crafty card creations. Be sure to tag them with #RexLondon so we can see!
Share: