Picnics with Pizzazz: Perfect Food for Summer Days
School's out and with warm sunshine and blue skies comes the promise of alfresco eating. But are you fed up with the usual dull offerings of limp sandwiches and bland sausage rolls? If so, we have a treat in store for you - deliciously different picnic ideas to tantalise your tastebuds.
We've got it all covered, from a yummy stuffed loaf crammed with mediterranean veg, to layered one pot salads and dinky marshmallow fruit skewers. Read on to discover how you can picnic with pizzazz.
Savoury bites
Loafing around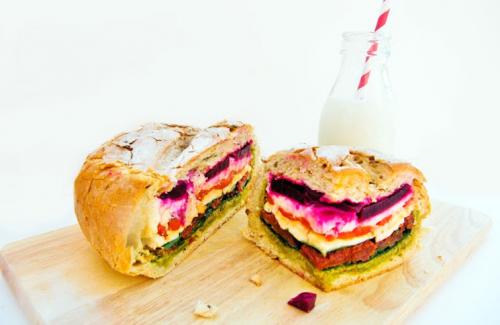 Use your loaf
Image source: Tinned Tomatoes
Make picnic food as portable as possible with this delicious savoury loaf from Tinned Tomatoes' Jacqueline Meldrum. Take a cottage loaf and hollow it out, then pack the space inside with your favourite savoury sandwich fillings.
When you've filled your loaf, replace the top, wrap it tightly in clingfilm and put it in the fridge. To make your super sandwich easier to slice, compress it by placing a tin of beans on top. And don't forget to save the bread you scooped from the loaf, Jacqueline says. Whizz it up into bread crumbs and freeze to use at a later date.
Jacqueline says her 'self contained' sandwich alternative is perfect for picnics because it's super-portable and, because the air can't get to the filling, it keeps fresh until you are ready to eat it. Fill the inside with peppery rocket, olives, feta and pickles with perhaps some beetroot for a gorgeous splash of colour.
Old favourite with a novel twist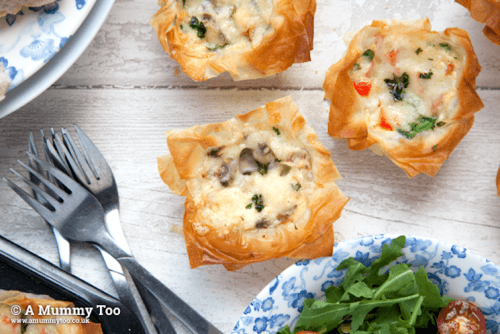 Perfect, light bites
Image source: A Mummy Too
Banish soggy bottomed quiches with Emily Leary at A Mummy Too's snazzy take on this old favourite. She swaps heavy pastry for light, crispy filo pastry leaves, placing the squares on an oiled baking tray and filling with your favourite toppings.
To make sure your mini quiches cook evenly, cut all your filling ingredients into centimetre cubes, and before placing on a rack to cool, lift to check the undersides are cooked through. If not, put them back in the oven for a moment or two to carry on crisping.
These filo pastry quiches are great if you have kids. They'll love making their own quiche and choosing their own ingredients to go into the filling.
That's a wrap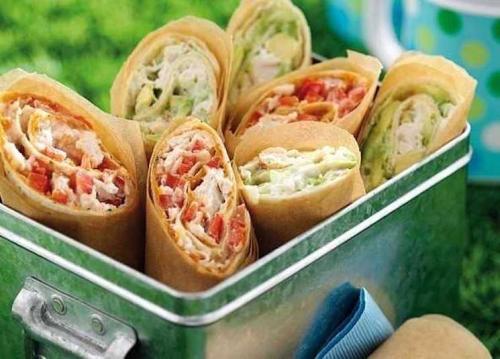 It's a wrap
Image source: Homemade By You
These red and green picnic wraps from Homemade By You are a yummy take on the chicken sandwich and offer two delicious flavour inspirations.The red wraps are fiery oriental style, made with spicy rendang curry paste, red peppers and peanut butter, and the green wraps are all about the gherkins, lettuce and creamy avocado.
Why not get the kids involved in making your own soft tortillas? Nick from Frugal Feeding shares his brilliantly economical recipe which uses only five ingredients and makes makes eight for for a very frugal 50p.
Once your wraps are wrapped, secure them with a cocktail stick, roll each one in greaseproof paper and transport them in a cool box or airtight container until you're ready to eat them.
Layer up your lunch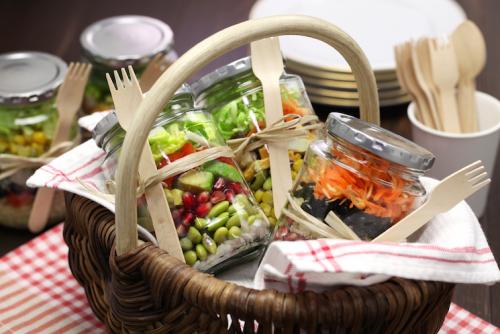 Layer up this summer
Image source: Bonchan
Want a simple, one pot picnic lunch idea? Look no further than Melissa D'Arabian's picnic-in-a-jar, a tasty portable snack made from your favourite salad ingredients packed between layers of rice, mildly spiced chickpeas and aubergine.
Take four empty one pint jam jars and stack them full with delicious and colourful ingredients. Melissa says that to prevent any sogginess at the bottom of the jar, it's important to salt the aubergines before you cook them to make sure you remove any excess moisture.
And to make sure your salad lasts in tip-top condition until you're ready to eat it, chill in the fridge for a couple of hours before packing for your picnic.
Simply stunning side dishes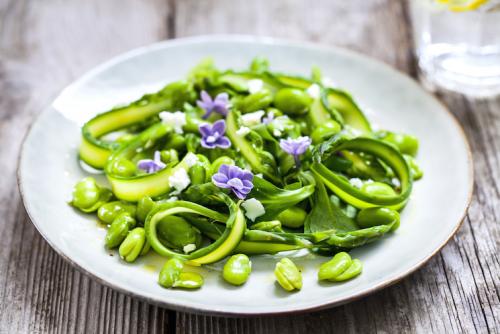 Eat your greens and enjoy them
Image source: Magdanatka
Over at the The Cook's Kitchen they say they love a good sandwich with one proviso: 'You always need some interesting salads on hand to spice things up a bit.'
Super salads with lots of different textures are great for outdoor eating and this seasonal Broad Bean and Courgette Salad is a sure fire winner. Use fresh, in season broad beans which take just a couple of minutes to cook and are easy to skin. Add extra crunch by sprinkling your finished salad with chopped walnuts.
Robust in flavour and vibrantly coloured, this snazzy green side salad is ideal picnic fare because it travels well and won't wilt in the heat. And don't forget the tangy vinaigrette that comes with it - simply drizzle over the beans and courgettes and stir in for a zesty zing of flavour.
Sweet treats
Fruity, crispy and fun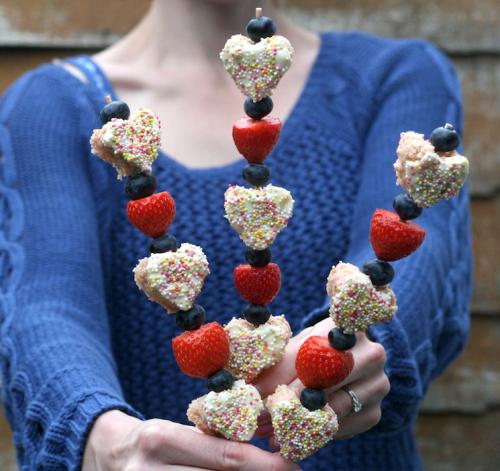 Soft hearted sweetie
Image source: Brighton Mums
What's a picnic without a lovely sweet treat? Laura and Tia writing at Brighton Mums have a super suggestion for a dessert that the kids will love to help you make. These crispy marshmallow heart skewers are a delicious combination of Rice Krispies, soft marshmallow and fresh fruit.
Melt butter and marshmallow together then stir in the Rice Krispies. Press the mixture into a tin and allow to cool before using cookie cutters to make your crispy marshmallow hearts. Now dip in melted white chocolate and decorate with Hundreds and Thousands.
Fill your skewers, alternating the marshmallow shapes with the fruits of your choice for a visually stunning and super-tasty dessert.
Remarkable rhubarb cake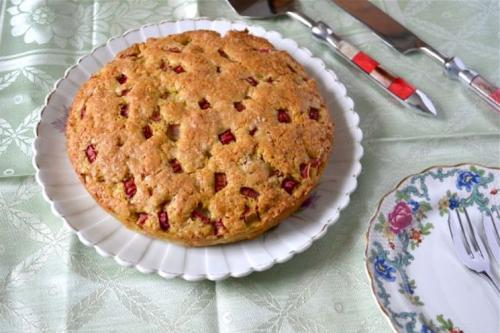 There's always time for cake
Image source: Tin and Thyme
Celebrate rhubarb season with Tin and Thyme's 'Remarkable Rhubarb Cake.' The recipe's inventor, Choclette, says: 'It's quick to make, rises really well and is light, juicy and delicious. The tartness of the rhubarb dances on the tongue.'
In this recipe, wholemeal spelt flour is used in conjunction with regular plain white flour for a lighter finished bake. And, says Choclette, to give your cake extra crunchiness, pour the batter into a tin, then sprinkle around a tablespoonful of granulated caster sugar on the top.
Are you new to home-baking? This is a good cake to have a go at because it contains only five ingredients, so why not give it a whirl?
Apple roses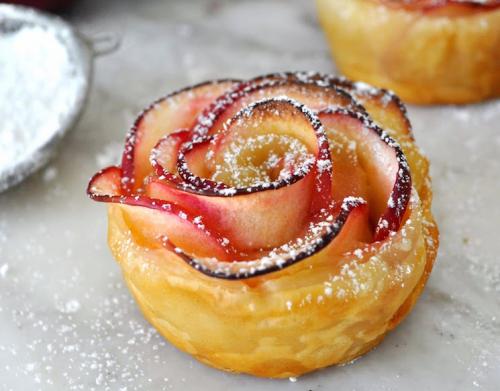 Apple of the picnic's eye
Image source: Cooking with Manuela
These Apple Roses are sure to get everyone talking and they're surprisingly easy to make too. Manuela at Cooking with Manuela explains: 'You can make your own dough, or use store bought frozen puff pastry. It's much easier and a lot quicker.'
The trick is to make sure you roll your pastry so it's not too thick. And Manuela recommends spreading it with apricot preserve to help the sliced apples stay in place.
The apples can be pre-cooked very briefly in the microwave to help soften them up and should be sliced very thinly. If you like, you can add a touch of cinnamon, sprinkled over the pastry for added taste.
Manuela says: 'If after 30 minutes the apples on top look fully cooked, move the pan to a lower rack in the oven, and wait for 10-15 more minutes to avoid undercooking the puff pastry.'
Summery loaf cake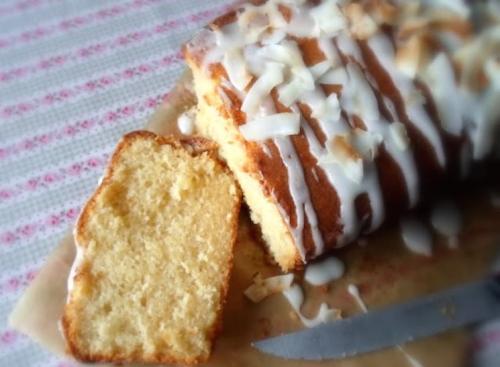 Lime light
Image source: The English Kitchen
For a delicious dessert that combines a taste of tropical summer with a traditional loaf cake, look no further than The English Kitchen's coconut and lime loaf cake. Baker Marie says her recipe is 'perfect picnic food,' and tastes refreshingly summery.
The addition of condensed milk makes this cake moist and gives it a lighter taste too. The recipe is a simple all-in-one mix that can be beaten together using an electric hand whisk. Marie says your batter's ready when it's smooth and pale.
After cooking, add extra zing by pouring over a simple syrup made from lime juice, zest and icing sugar. You can also sprinkle on some toasted coconut flakes before slicing ready to serve during your picnic.
No-bake chocolate heaven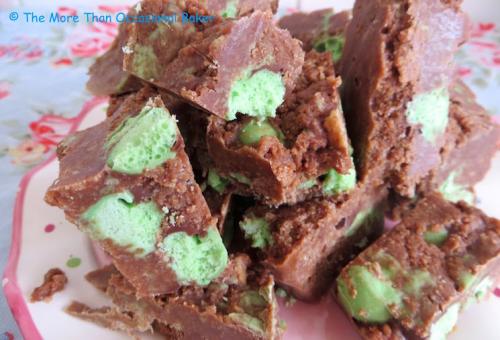 Mint choc crowd pleaser
Image source: The More Than Occasional Baker
This no-bake Chocolate and Mint Biscuit slice is 'simple, quick and a guaranteed crowd pleaser,' says Ros, The More Than Occasional Baker. She adapted the recipe from a tray bake that was made from Maltesers which she cunningly replaced with Mint Aero Bubbles.
To make, melt the milk chocolate, butter and syrup, add in the digestive biscuits then allow it to cool a little before you stir in the Aero Mint Bubbles. Pour the mixture into a tin, cool and then chill for a couple of hours - but Ros says overnight is best if you have the time.
If you're feeling inspired to head out into the Great British outdoors this summer, make sure your picnic is a delicious indulgence by eating in style with our great selection of picnicware.
Do you have a favourite picnic recipe to share? We always look forward to hearing from you, so why not head over to our Facebook page?
Feeling inspired to picnic with pizzazz? Find perfect picnicware at dotcomgiftshop, here's just a small sample of what we offer: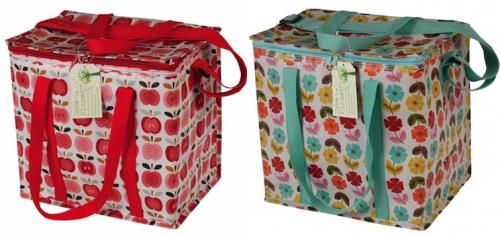 Picnic Bags pictured (from left to right): Vintage Apple, Mid Century Poppy - both £6.95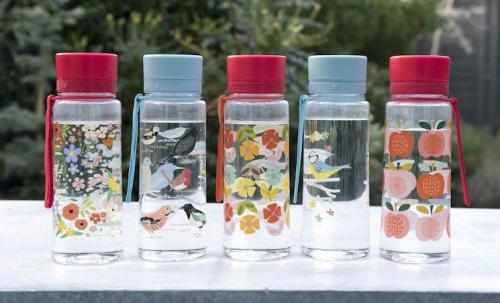 Water bottles pictured (from left to right): Summer Meadow, Garden Birds, Mid Century Poppy, Blue Tit, Vintage Apple - all £8.95
Share: