Christmas gift wrap tips and ideas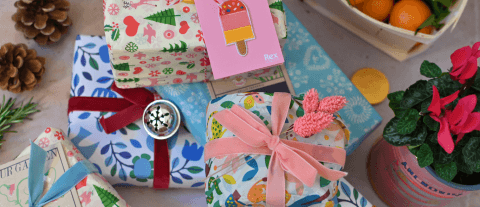 Guest blog by Georgia Coote
There is nothing I love more than getting cosy with Christmas music, delicious snacks and a pile of presents to wrap! I know I may be in the minority here, but whether you're a gift-wrapping lover or hater, here are a few tips which should make your wrapping this year a lot more fun, sustainable and sweet!
Tea towel gift wrap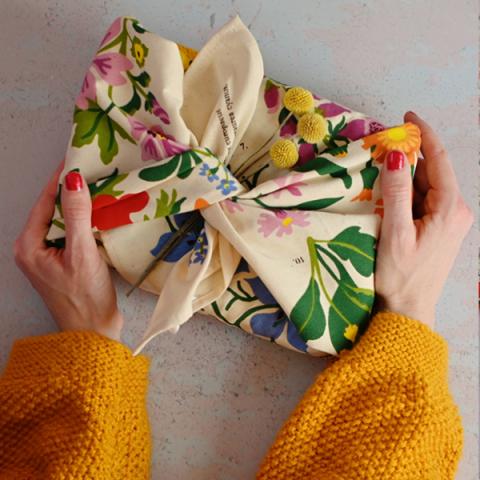 Wild Flowers tea towel, £5.95
Inspired by the Japanese art of furoshiki which uses squares of fabric to  wrap things. Using a tea towel not only is a fantastically sustainable thing to do as the tea towel can then be used afterwards, but it looks so beautiful. Here's how to do your own:
1) Place the gift roughly in the middle of the tea towel (here I'm wrapping a Magic Rainbow scratch art kit).
2) Fold over half of the tea towel around the gift and tuck the corner under it.
3) Repeat with the other side so you have one long strip.
4) Fold one end up towards the centre of the gift.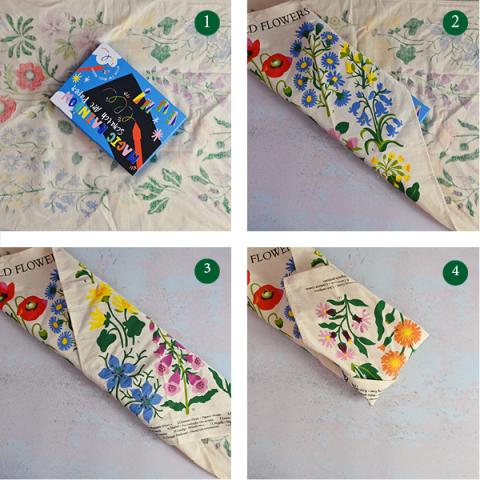 5) Pinch the end and while keeping hold repeat with the other side.
6) Tie the ends together tightly to secure.
7) If you want to place in some foliage or dried flowers to finish - I used craspedia.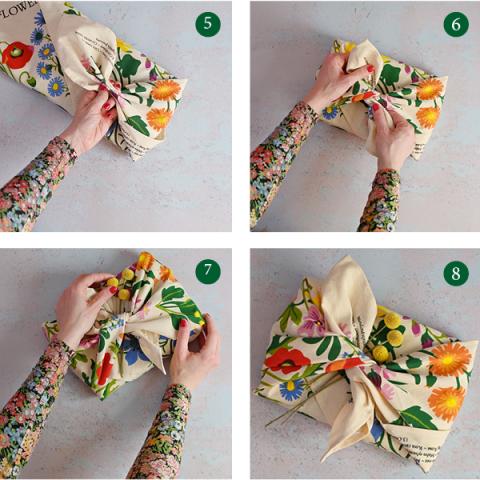 How to wrap tricky items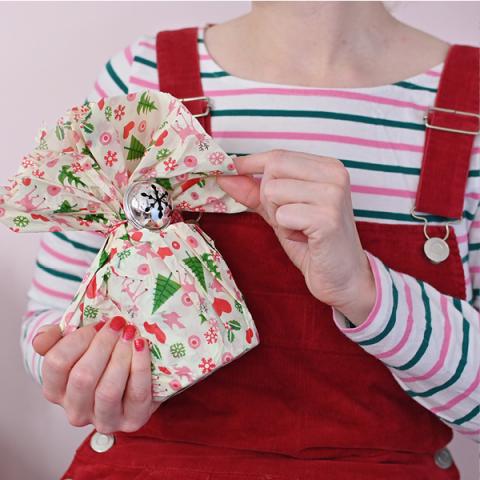 50s Christmas tissue paper (10 sheets), £2.95
I worked in a china shop for years while studying so I got pretty speedy at wrapping a mug in tissue paper. Using tissue paper is fantastic as not only is it really pretty but it protects your precious gifts too. There are two simple ways to wrap mugs - this is my simple flounce wrap style:
1) Place the mug in the centre of the tissue paper. Use at least two layers of tissue for protection. 
2) Starting from the corner, lift the tissue to the centre of the mug and hold it there with one hand.
3) With the other hand gather up the tissue taking small sections and gathering it up as you go.
4) Hold it all together in the middle and give the middle a wiggle.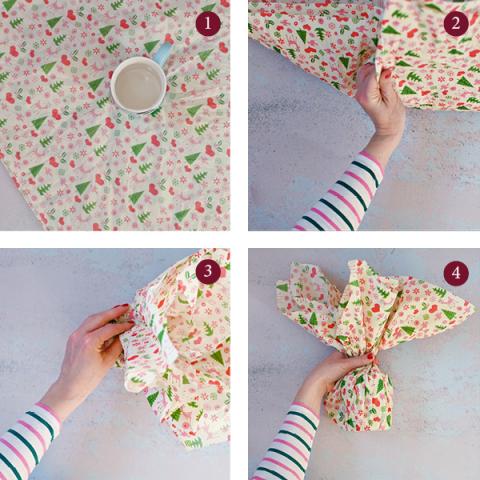 5) Tie some ribbon around it to fasten it. 
6) Pull and fluff out some of the tissue to finish it - or 
7) Trim the top to make it smaller and then fluff out to finish.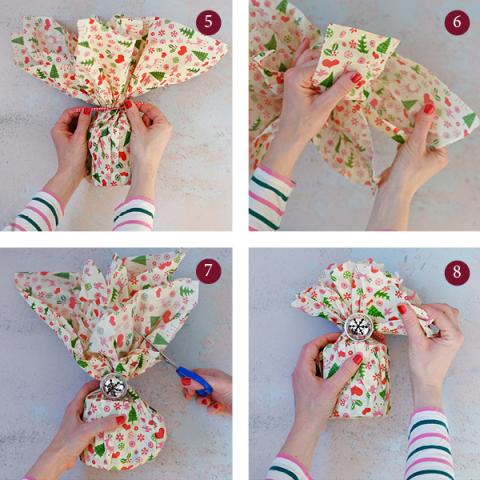 Another gift wrap tip I routinely use for tricky gifts is a cracker shape - this is perfect for storage jars, candles and water bottles by the way! Simply wrap as above and then tie a ribbon at each end to create the cracker pulls. Snip into the ends with scissors for a frilly finish.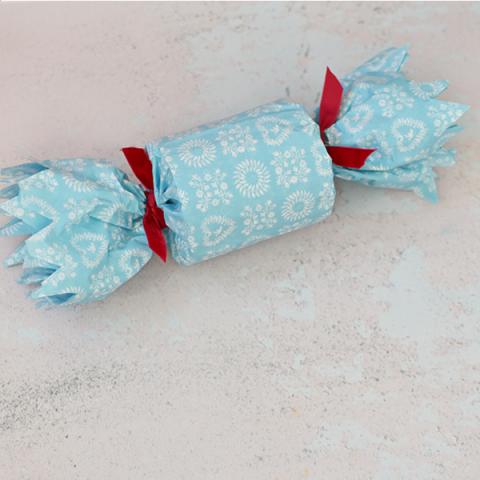 Friendship tissue paper (10 sheets), £2.95
Present toppers
Present toppers are the perfect way to make your presents extra special and are so simple to do. Christmas decorations are fantastic for an extra festive touch.
I've added these 50s Christmas jingle bells here and I love the big shiny bell which has the bonus of a festive sound!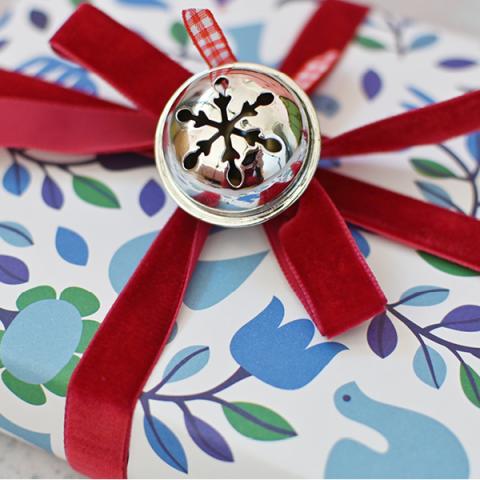 50s Christmas jingle bells, £3.95 for four
Folk Doves gift wrap (5 sheets), £6.95
Dried flowers or any foliage you have to hand also make a beautiful finishing touch. I bought these pink dyed corn flowers at the supermarket, but dried lavender or straw flowers would also work well.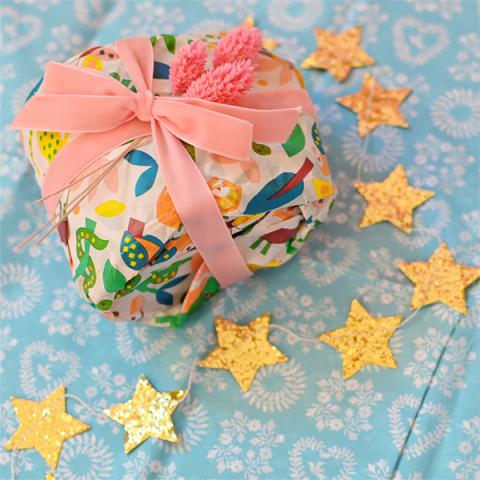 Wild Wonders tissue paper (10 sheets), £2.95
Herbs and slices of dried apple and citrus fruit also give a gorgeous scent and are beautiful homegrown additions to make a truly lovely gift.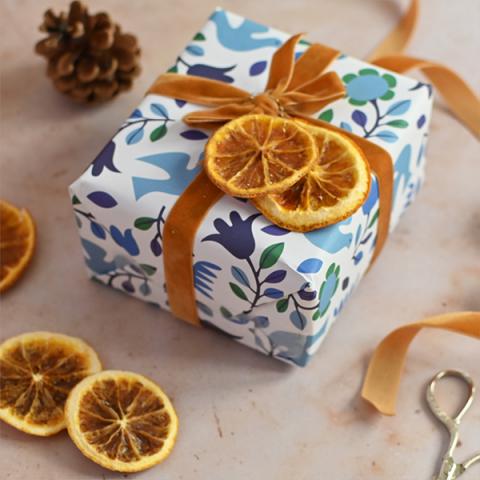 Folk Doves gift wrap (5 sheets), £6.95
On the homegrown theme, these seed packets look fabulous simply washi-taped to gifts for your green fingered friends.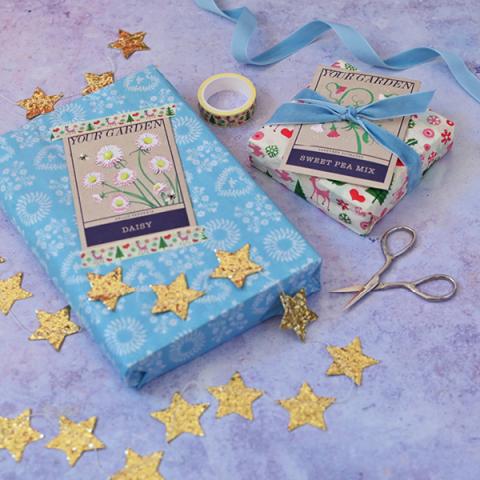 Your Garden assorted seed packets, £1.95
50s Christmas washi tape, £2.95
Friendship tissue paper (10 sheets), £2.95
And for a sweet extra gift for a tween or teen, these fabric iron-on patches work beautifully as a thoughtful and fun gift tag. Simply hole punch the card, thread onto your ribbon and tie to attach.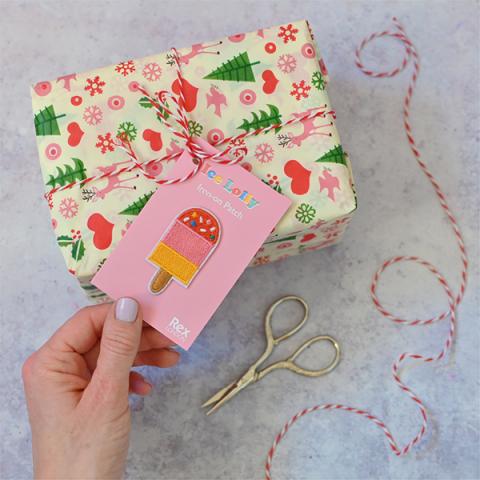 Ice Lolly iron on patch, £1.95
50s Christmas tissue paper (10 sheets), £2.95
Happy wrapping!
Share: