10 ways to do Christmas on a budget
The festive season can get expensive fast, so we've compiled a list of 10 ways you can still have a brilliant Christmas without breaking the bank. Plus, scroll to the bottom for a thrifty guide by blogger Georgia Coote on how to get creative with brown paper as gift wrap!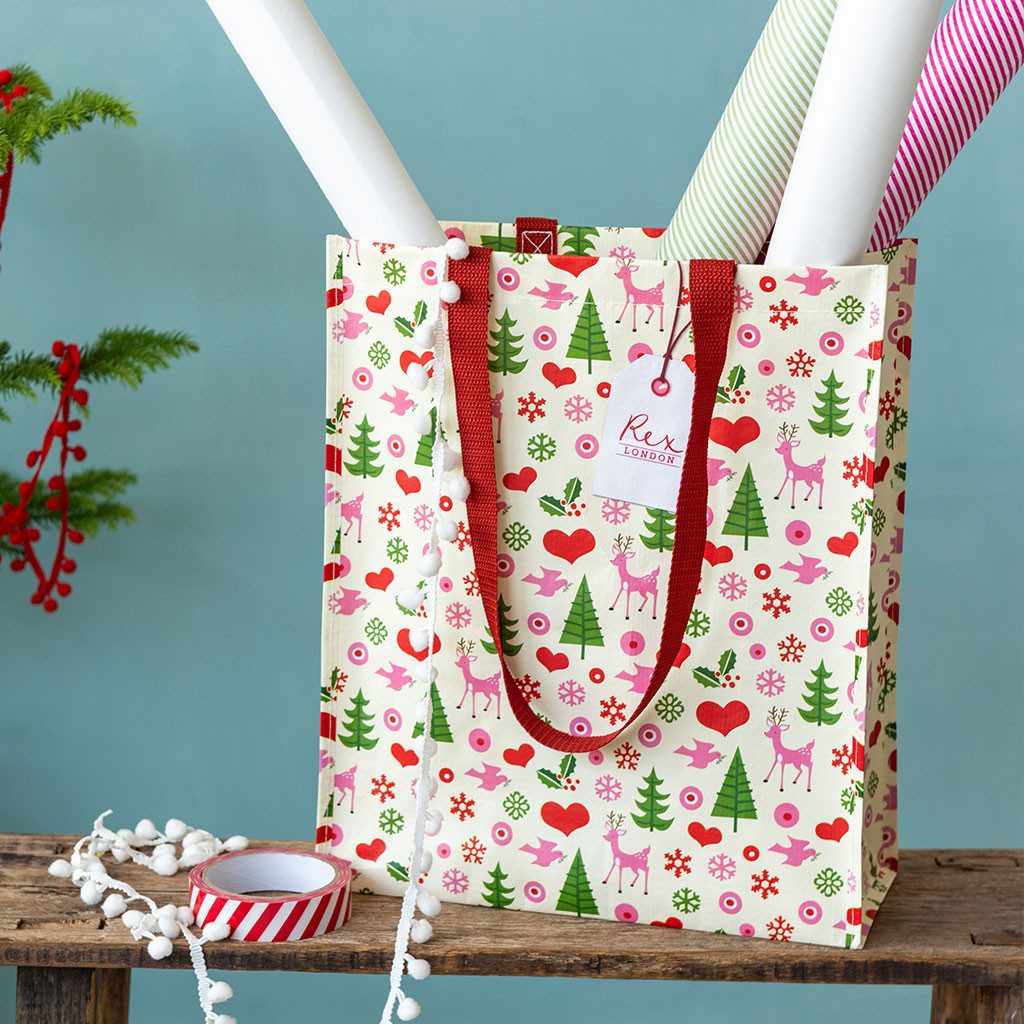 Product shown: Rex London 50s recycled shopping bag, was £2.95, now £1.95
Start early to spread out the cost
We know loads of you are super organised and are probably halfway done with your Christmas shopping list already, but for those who haven't started yet, here's your gentle reminder to start shopping now to spread the cost of presents over a couple months. Read our handy Christmas checklist to help you get started. 
Have a budget limit for everything
Whether it's for little stocking fillers, Christmas cards or even for your Christmas dinner, you may want to include a budget cap for every single thing on your checklist, big or small. This will come as an absolute lifesaver when mid-December rolls around and unexpected extra expenses pop up!
Secret Santa for the grown ups
To save big this Christmas, consider doing a Secret Santa gift exchange among the adults in your family, or within your close group of friends. This way you can invest in a way more personalised gift and you're still able to splurge a little for the children. 
It's best to agree on a budget and remind everyone to stick to it! There are handy apps and websites, like Elfster, which make it super easy to draw names virtually. Explore our full collection of Secret Santa gifts for inspiration.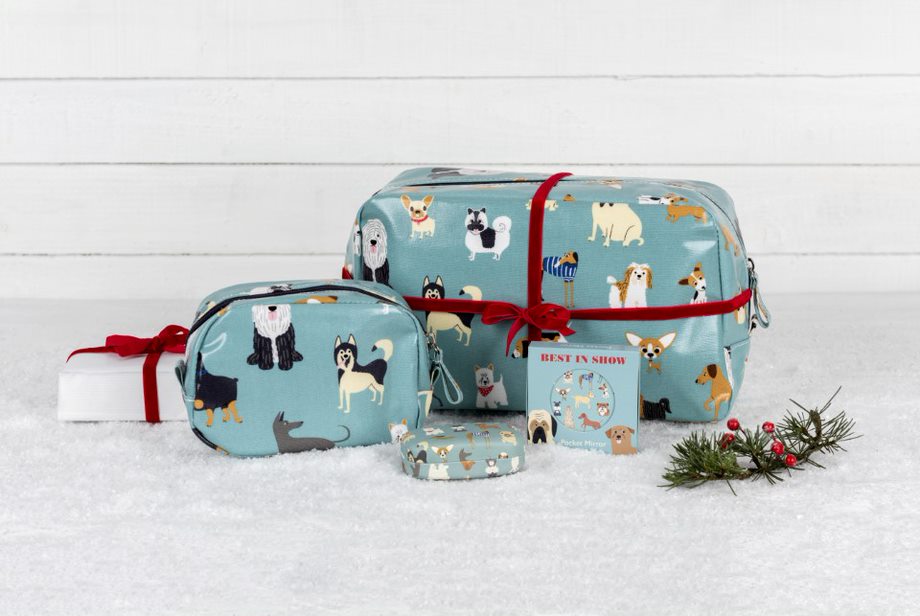 Explore Best in Show collection
Focus on one or two elements
Since this Christmas season is set to be quieter than usual, it's a great time to pare down your plans. Pick one or two things that you can really focus on and make special - bonus points if it can include the whole family! 
For example, maybe you want to focus on food rather than lots of decorations. So allocate some days for Christmas baking with the kids or involve them when planning for your main Christmas meal. Or maybe instead of expensive gifts, you'd rather do an outdoor activity like ice skating or a Christmas Day tour around a historic small town? Whatever you decide, make it a memorable experience that everyone can look back on fondly. 
Supermarket Christmas offers
Scour your local shops for vouchers and food deals so your big fancy Christmas dinner won't cost an arm and a leg! Check out our quick tips for styling your Christmas party table for ideas on how to jazz up your bargain finds.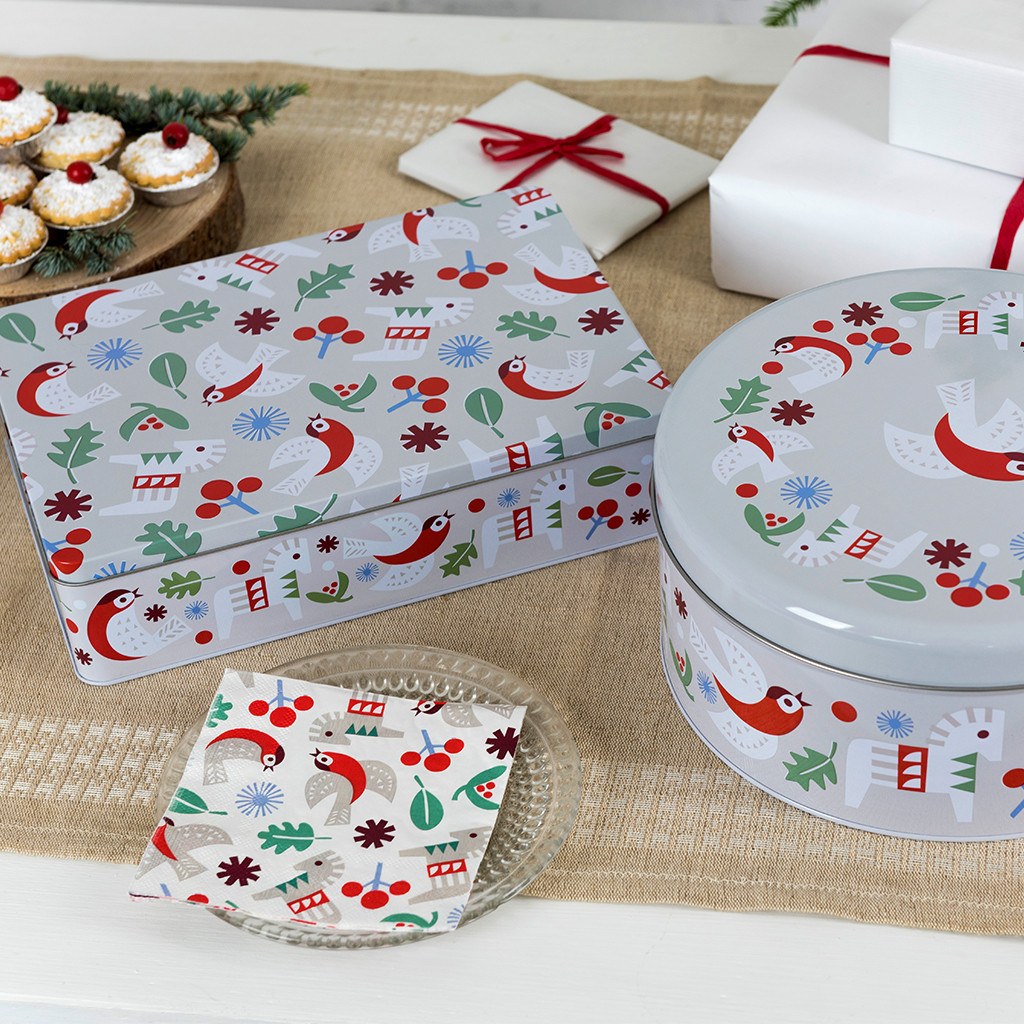 Products shown:
Nordic Christmas mince pie tin, £8.95
Nordic Christmas cake tin, £9.95
Nordic Christmas napkins (pack of 20), £1.95
DIY everything
If you're the crafty type, there's so much fun to be had with Christmas DIYs! Whether it's making your own Christmas crackers, greeting cards, festive wreaths, advent calendars or your own Christmas tree ornaments, get creative and make it a family affair.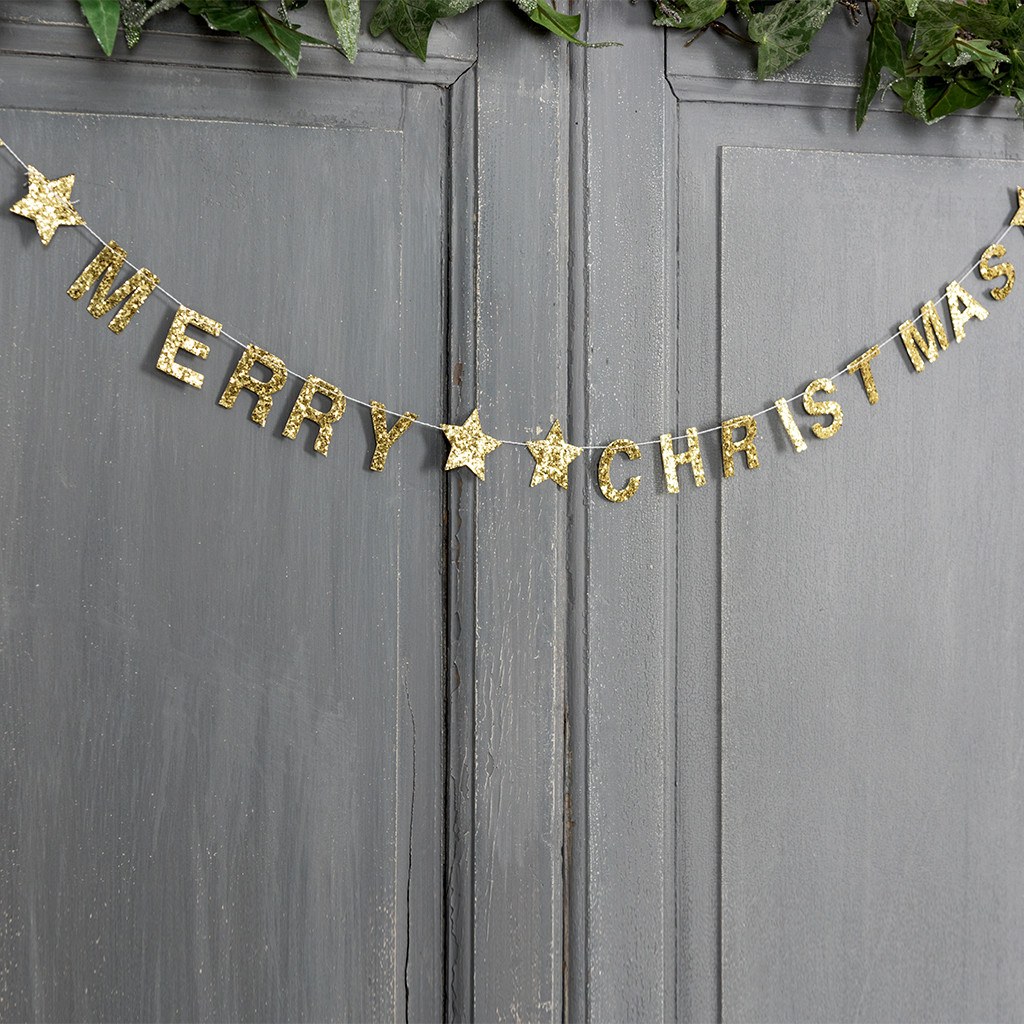 Explore all Christmas decorations
Consider homemade gifts 
Speaking of DIY-ing everything, if you'd still like to spoil everyone this Christmas instead of opting for the Secret Santa route, why not handmake your gifts? Maybe even bake them their favourite cake or pie!
Go undigital with gifts 
Go for classic and timeless toys instead of gadgets that will need upgrading in a year or two. These budget-friendly boredom busters will entertain them for hours and some of them are even great for the brain too! Explore our full collection of classic toys and puzzles.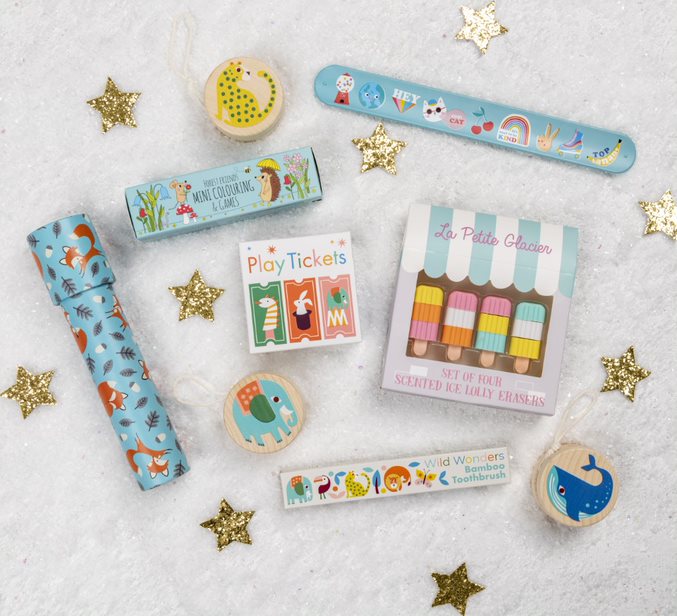 Explore all toys, games and activities
Go big on small stocking fillers
Another option is to scrap big gifts altogether and go big on stocking fillers. Spoil the kids with a sackful of wonderful little gifts and watch them jump for joy at every treat. Explore our full collection of stocking fillers for kids, stocking fillers for teens, stocking fillers for her and stocking fillers for him for gift ideas. 
Get creative with gift wrap
Reuse craft material around the house for alternative wrapping paper. Below is a quick tutorial from blogger Georgia Coote on how to make use of some plain brown paper, coloured paper and an old cereal packet for gift wrapping.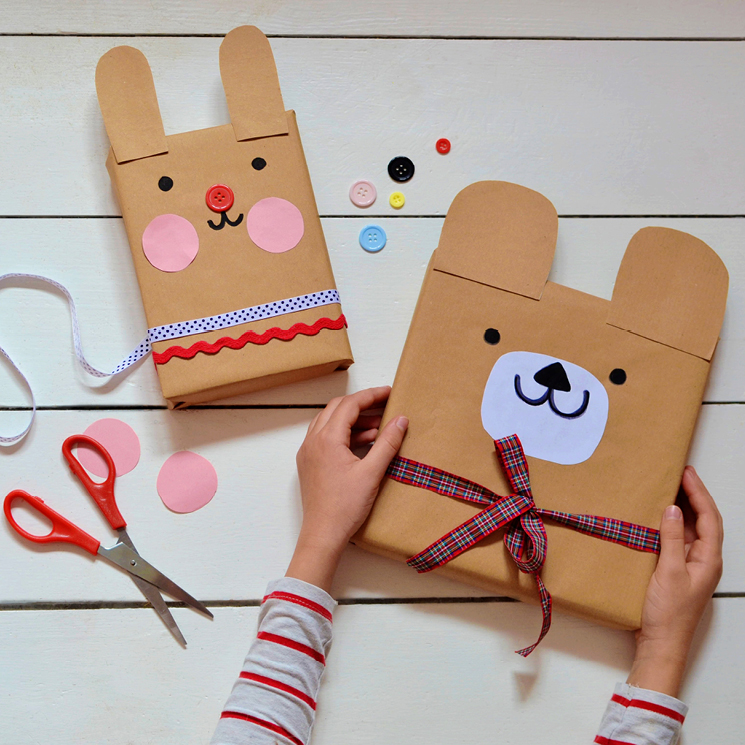 Image courtesy of Georgia Coote
Bonnie the Bunny and Bruno the Bear brown paper gift wrap
These fun little characters were inspired by our very own Bonnie the Bunny and Bruno Bear, and are such fun to make with the family. Create a little crafternoon by playing festive tunes, refuelling with some seasonal snacks and lose yourself making these cheeky little creatures. So simple and thrifty to make, you'll probably have all the bits to make them already in your craft stash.
You will need:
Brown parcel paper
Card - it could be an old cereal packet or any piece of recycled card
Scissors
A glue stick
A pen
Buttons
Coloured paper
Here's how to create them:
Wrap the gift in the parcel paper and then decide what character you'd like to make
For the ears, stick a suitable sized piece of parcel paper onto some card and then cut out some freehand ear shapes (I always think the wobblier the better!), then stick them onto the top edge of the present
Take the rest of your components – I made a big paper nose patch for Bruno and paper pink cheeks and a red button nose for Bonnie. Arrange and then stick on
Wrap a ribbon around the bottom of the gift to finish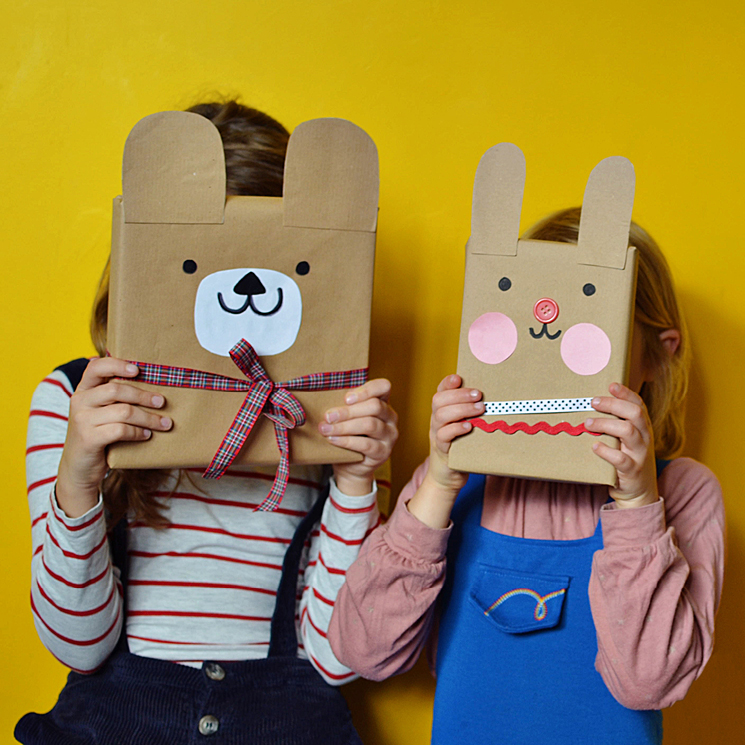 Image courtesy of Georgia Coote
We hope these tips gave you some useful ideas for your own Christmas celebrations. For more inspiration, check out our Christmas gift ideas for her, Christmas gift ideas for him and Christmas gift ideas for children.