Four easy picnic recipes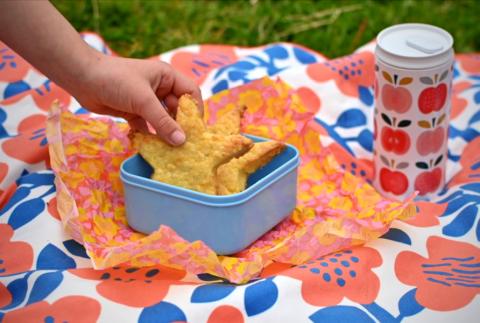 We love a picnic in our house. I find they're the perfect thing for days in the holidays, park dates and a fun way to use up bits in the fridge - somehow everything tastes better in a picnic! Don't let the British weather foil your picnic plans, as floor picnics and blanket den picnics are just as popular for our little family. Here are a few easy food options for kids and adults alike. 
Crinkle cookies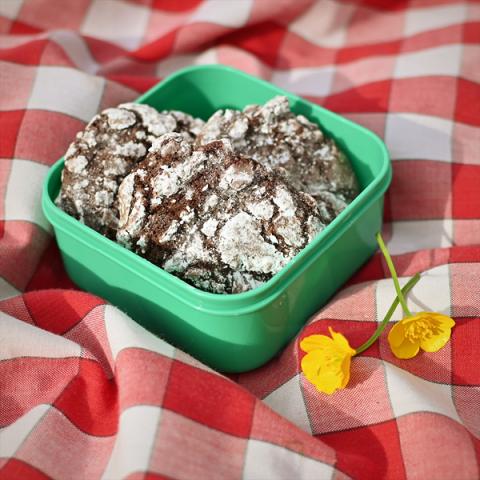 These crinkle cookies are so easy to make, and while they give you a gooey chocolatey hit, they don't have chocolate chips in so won't melt in the sun, making them perfectly transportable for a summer picnic. Here's the recipe I use:
Ingredients
60g cocoa powder, sieved
200g caster sugar
60ml vegetable oil
2 large eggs
180g plain flour
1 tsp baking powder
60g icing sugar
Method
Whisk the cocoa, caster sugar and oil together. Add the eggs one at a time, until fully combined.
Stir the flour, baking powder and a pinch of salt together in a separate bowl, then add to the cocoa mixture and mix until a dough forms. Place the dough in the fridge for an hour to harden up.
Heat the oven to 190C/170C fan/gas 5.
Tip the icing sugar into a shallow dish. Roll heaped teaspoons of the dough into a ball, then roll in the icing 
sugar to coat. Repeat with the remaining dough, then put, evenly spaced, on a baking tray lined with baking parchment.
Bake in the centre of the oven for 10 mins – they will firm up as they cool. 
Transfer to a wire rack and leave to cool. 
Keep for up to four days in a biscuit tin!
Banana peanut butter smoothie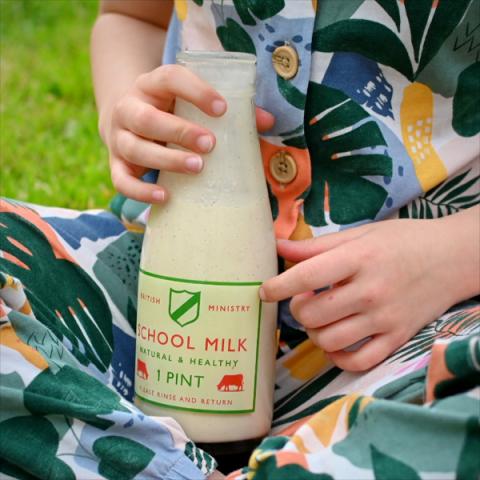 School milk pint bottle, £4.95
These delicious smoothies will need to be made just before your picnic. I don't follow an exact recipe for these and get the kids to take tiny tastes along the way to see how they'd like it. I use roughly two chopped frozen bananas, a couple of tablespoons of smooth peanut butter and then approximately 20ml of your choice of milk. Blitz in a blender to your desired consistency and devour! The frozen bananas give a smooth creamy texture which is so yummy and just the thing on a hot day. 
Cheesy pesto pastry roll ups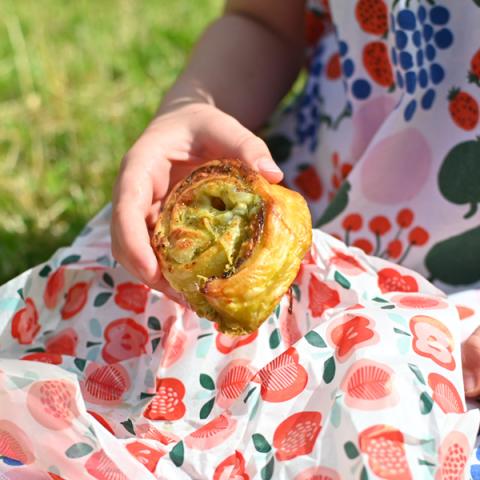 Vintage Apple greaseproof paper (30 sheets), £3.95
I always have a packet of pastry in the freezer so that I can whip up these tasty cheesy roll ups at a moment's notice. Simply lay out a sheet of puff pastry, dollop on some pesto and spread enough to cover the sheet, then add some cheese (I use mozzarella for the stringy delicious ooziness!). Add any other toppings you like, then roll up and refrigerate. When cool, slice into roughly inch-thick rounds. Cover with beaten egg and then bake in the oven according to the instructions on the pastry packet. 
Rainbow stripe fruit salad pots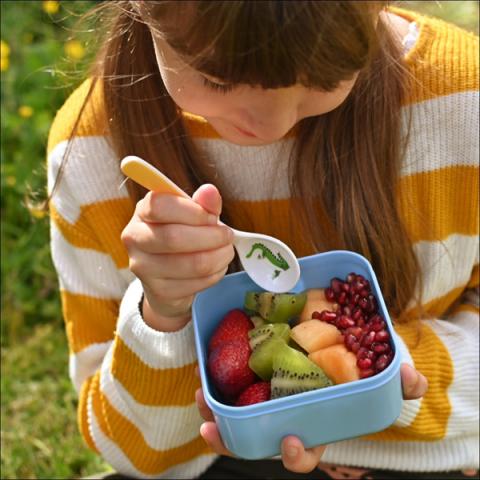 Harry the Crocodile melamine spoon, £1.95
Sweet juicy fruit on a summer's day is always a winner, and with the fun stripy layering. these rainbow salad pots are all the more enticing. Slice up the fruit and then line it up in the pots in colour order for a sweet and colourful treat.
Cheese star biscuits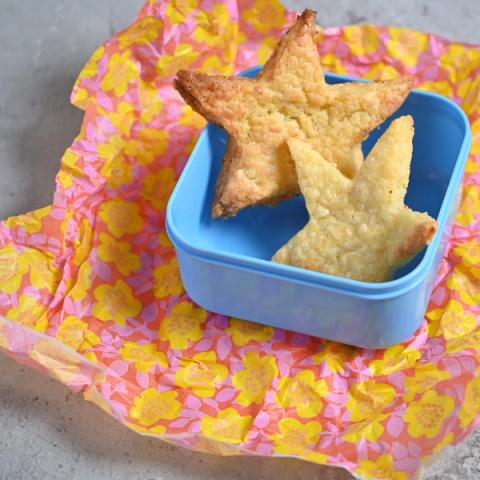 Buttercup greaseproof paper (30 sheets), £3.95
These deliciously flaky biscuits have been a mainstay of my family parties for years. Super easy, they're fantastic to make with kids and only take around 10/15 minutes in the oven depending on how thick you cut them. 
Ingredients
6oz cheddar cheese
6oz plain flour
6oz butter
Salt and pepper
Method
Preheat the oven to 200C.
Squidge everything together until you have a rough dough. 
Roll it out onto a floured surface and then cut into shapes of your choice. 
Place on a lined baking tray and cook in the oven for 10/15mins.
Cool on a wire rack and keep in an air tight container.
Guest blog by Georgia Coote.
Inspired to have your own picnic? Check out our collection of picnicware, from insulated bags to paper tableware.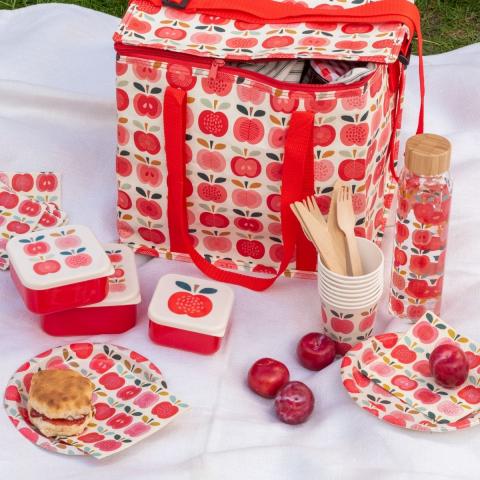 Share: