50 excellent craft blogs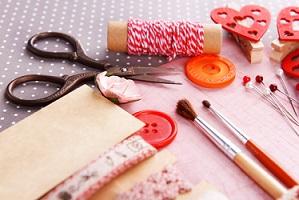 We are big fans of people who take the time to make their own pretty little things, whether it be gift cards, scrapbooks, jewellery or anything else.
And the great thing is that many of these talented people now share their work on blogs, so the whole world can enjoy their creations. 
Here are 50 of our favourite craft blogs we've recently discovered:
1. Kath's Blog - A crafty card design blog, jam-packed with inspirational ideas.
2. Sj's Little Musings - Never to be found without a pencil, camera or scrapping stuff in hand, SJ's blog is full of interesting creations.
3. Artylicious - Artist and designer Glenda invites you to pull up a virtual comfy chair, grab a cup of cyber tea, and take a look around at her wonderful craty creations.
4. Sugar Nellie - An array of beautiful stamp images, competitions and showcases of wonderful crafty works.
5. My Crafty Life - Tales from a life spent playing with paper, rubber and ink. A really lovely blog with plenty to see and lots of distinctive creations to admire.
6. Bugs and Fishes - Lupin produces handmade felt brooches, flower headbands, animal masks and other fun stuff. Her blog showcases her stylish designs.
7. Paper and String - Full of colour, inspiration and excellent crafty stuff. A must-visit.
8. Craftwork Cards Blog - Enjoy a showcase of new and exciting products, share card ideas and inspiration together with fabulous hints and tips for card making.
9. Cards by Julie - Julie is crafting mad and loves nothing more than making beautiful handmade cards, which she actually does for a living. Her passion shines through in this amazing blog.
10. A Crafting Journey - Linda teaches craft classes as well as working as part of two design teams, so it's safe to say, she knows her stuff. This is her brilliant blog.
11. Julie's Japes - Julie is an independent Stampin' Up! demonstrator and also finds the time to run a Wedding Stationery business on the side. Her blog is jam-packed with crafty goodness and has a particularly nice design.
12. Just Mangolia - A great blog to visit if you're interested in entering card design competitions using Magnolia images. 
13. Passion for ProMarkers - Another blog for entering card competitions but with a slight difference, you must use a promarker to craft at least part of your design.
14. UK Handmade - UK Handmade is a design led online magazine committed to showcasing and promoting the best creative talent the UK has to offer.
15. Flossie Teacakes - Florence is mad about sewing and pattern design. Her blog is full of her latest designs and stitchy things.
16. Pink Piggy - It's safe to say Dawny has her hands in a number of different crafty pots. Before making cards, she did pottery for many years in her own ceramics workshop. She also does demos and workshops for a local craft shop as well as running a card club. Needless to say, there's a lot going on at her blog.
17. A Load of Old Blogocks - Scrapbooking, cardmaking and much more aside from crafty Caz.
18. A Scrapjourney - Debby does a little bit of scrapbooking, a little bit of cardmaking and a lot of craft shopping. Her blog tries to keep up with everything.
19. Pink Gem - Card making, doodling and stamping from craft enthusiast Janet.
20. A Day in the Life of a Craft Fairy - An excellent blog, filled with clever ideas and pretty crafty things. Definitely worth a visit as Lisa produces a wide range of designs, rather than focusing on just one discipline.
21. Crafty Storge - A craft blog with a twist, allowing crafters from around the world to share ideas on how best to store their stash of materials.
22. Michelle Last - A blog showcasing the kind of designs that can be produced using Stampin' Up products from one of their UK demonstrators, Michelle.  
23. A load of old pickle - A brilliant papercrafting blog from Kerry, who made her own wedding stationary two years ago and has been obsessed with creating pretty things ever since. 
24. Suzannes Card Crafts - Suzanne showcases her designs on this fantastic craft blog, packed full of great tips and inspirational ideas.
25. Card Oasis -  Sarah shares her papercrafting works of art with the world on this unique and inspirational blog.
26. Kitschy Coo - Amanda makes baby and children's clothes for people who look at traditional offerings and think 'urgh'. She has a burgeoning obsession with fabric and this spills over into her amazing blog.
27. Tabby Craft Designs - Tab is a craft addict and works mainly with Magnolia stamps to create some stunning card designs.
28. Stamping Ground - Stories of scrapbooking and card making from Julia. A lovely blog, full of inspiration and a splash of colour.
29. Polka Doodles - Yet another card design competition blog, but with so many lovely things on display, it just had to make our list.
30. Scrapping Tonight - Anna is made about scrapbooking, as you might have gathered from the title of the blog. She's also a member of a few design teams and there's always lot of crafty stuff happening on her blog.
31. Sketch Saturday - It's simple. A sketch is posted on the blog every Saturday, and anyone can use it to create a card design and submit to the compeitition. Even if you don't want to join in, you'll find plenty of inspiration.
32. That Crafty Fish - Kirsty makes unique NeedleBooks, cute PinPots, bright Bunting, party badges and brooches. Her blog tries to keep up with all the crafty stuff she's up to.
33. Ink on My Fingers -  Inky antics and a whole lot of messyness from Hels, who is incredibly passionate about all things crafty. 
34. Penny Black Saturday Challenge - More inspirational card designs from crafters using Penny Black stamps. 
35. Sassy Designs - If you're into die cuts, this crafty blog with a huge following is the one for you. 
36. Allsorts Challenge Blog - A showcase of scrapbooking, note book designs, bookmark designs, box designs, cards and all kinds of other crafty stuff from the Allsorts weekly challenge.
37. Cute Card Thursday - You guessed it, another card design challenge blog, but again, full to the brim with distinctive ideas and brilliant cards.
38. Super Cute Kawaii - A daily blog of handmade cuteness and Japanese kawaii. Discovering there was no-one covering their favourite cute handmade things as well as the Japanese stationery they love, Marceline and Claire decided to start one themselves. This is it!
39. Cloud 9 Design - Elizabeth designs art stamps and shares her work with the world on this inspirational blog.
40. Passion for Crafts - The title of this blog says it all. Cardmaking, Scrapbooking, Papercrafts, Stamping, Sewing, Knitting, whatever it is, Debbie is into it. Her blog documents her latest crafty creations.
41. A Spoon Full of Sugar - Another card making challenge blog with plenty to admire from a variety of designers.
42. Adventures of a Lady in Training - The chronicles of one woman's day to day life learning how to juggle children, crafts, work and cookery whilst having some fun and attempting self-sufficiency along the way.
43. Sarah's Cards Ltd - Some really lovely, distinctive card designs from Sarah on her fantastic little blog. Definitely worth a visit. 
44. TheMadHouse - A crafty adventure brought to you by a stay-at-home mom with lots of artistic creations on show. A great source of inspiration.
45. Lazy Dynamics - Scrapbooking and craft nut Laura shares her passions and creations on this colourful blog.
46. Daring Cardmakers - A team of cardmakers from the UK, NZ and Australia, who want to inspire and encourage people to make wonderful cards. Packed full of great ideas and challenges.
47. Created by ATDML - A team of expert scrapbookers share their designs and advice with the world. 
48. The Stamp Man - Into stamps? This blog is full of stories from the stamping world, as well as a useful tip or two! 
49. Paula, Paulita - The blog of a freelance Spanish paper crafter who enjoys anything to do with paper, design, photography and storage. A lovely read, with lots of brilliant designs.
50. Stampin 'n Stuff -  Jo has been cardmaking for five years and scrapbooking for three. She shares her crafty creations on this inspirational blog.
If you enjoyed this rundown of the latest 50 craft blogs to catch our attention, you'll love reading our first post about Craft Blogs We Love, so make sure you check it out.
Image source: Africa Studio
Share: