How to plan a kids' party for less
Planning a kids' party can be time-consuming, and it's easy for the costs to rack up. We've got lots of ideas to help take the stress out of planning, all whilst being wallet-friendly. 
Think of your venue
If you have the space, then the best place to hold your kids party is at home. If you feel that space might be an issue, you can either look at downsizing the number of children coming, or see if you have a friend who wouldn't mind hosting. If the weather is favourable, you could always take the party to a park, or to the beach to avoid any venue hire costs.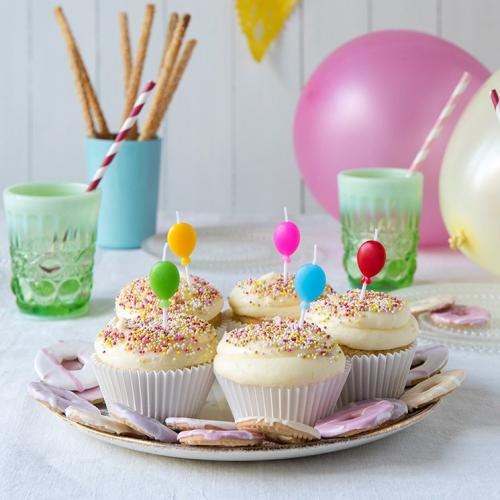 Your home is the easiest place to decorate and have all your party essentials at hand. Shown: Balloon party candles, £1.95
Pick a theme
Having a theme will really help you focus, and make quick decisions. You could choose anything from a classic children's book or film, to their favourite colour or animal. Try and choose a theme that won't be too complex to help you save on costs - for example a Harry Potter theme is likely to end up being more costly, whether in terms of buying branded items or the time and resource it could take to DIY.
Once you've chosen a theme, you can incorporate it in a number of ways, from the decorations to naming the drinks. A couple of our favourite ideas include:
Unicorn
The unicorn craze is showing no signs of slowing down. Make your party magical (and wipe any sticky fingers and faces) with these cheerful napkins.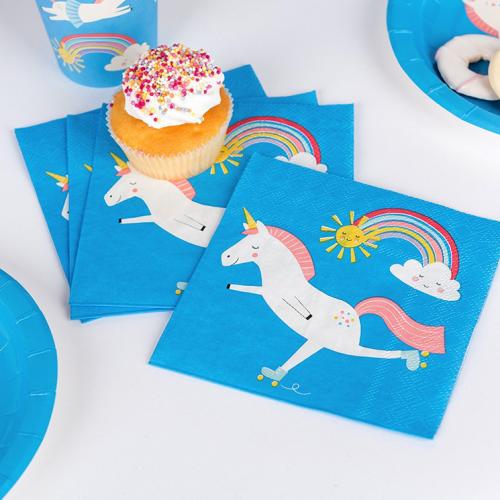 Magical Unicorn napkins (pack of 20), £1.95
Tropical
Go full-on fruity with a bold and colourful theme that will appeal to boys and girls of any age. It will make your food and drink choices nice and easy, and you just need a few tropical decorations, like this flamingo, or a fun giant pineapple.
Flamingo honeycomb decoration. Was £9.95, now £2.95
Vintage
Retro is always in style, and these gorgeous vintage kids designs and bright colours will delight nostalgic adults as well as children.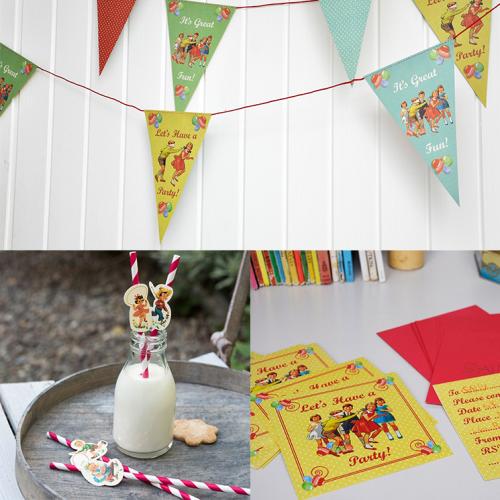 Top: Vintage Party paper bunting. Was £6.95, now £1.95
Bottom left: Vintage Party paper straws, £1.95
Bottom right: Vintage Party invitations, £2.95
Plan your time
Make sure that you give the party a clear start and finish time so that you don't need to plan hours of activities, and so that you only need to feed the children once, and not all day.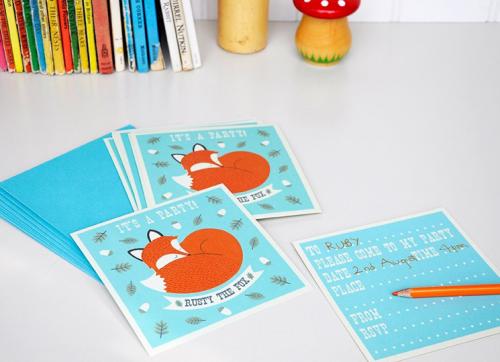 Invites can be a good way to make sure everyone knows the timings. Rusty the Fox party invites (set of 10), £2.95
Organise some activities
No party is complete without some games or activities. The old ones are often the best (and low-cost too!). Musical chairs and musical statues won't cost you a penny, and you can pull together a pass-the-parcel game without breaking the bank.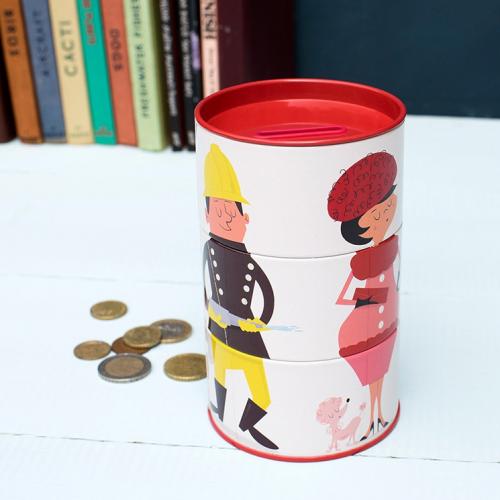 A quirky money tin is a great gift for boys and girls, and can be hidden in the middle of your pass-the-parcel game. World of Work money tin, was £6.95, now £1.95
If you've got the space, you could set up a fun tattoo station. Animals are a great choice for temporary tattoos as they are gender-neutral, and can be enjoyed by a range of ages.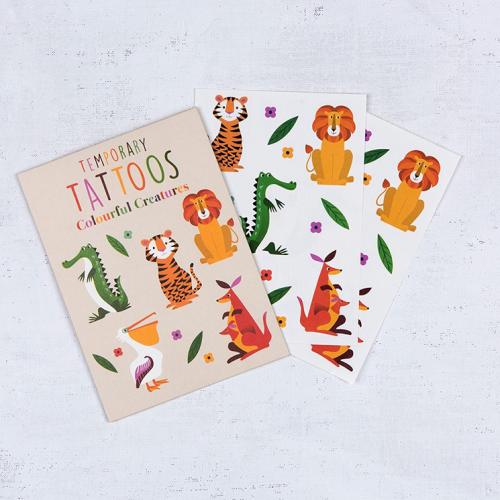 Colourful Creatures temporary tattoos (2 sheets), £1.50
For some quick selfie fun, you could try setting up a photo booth station. Simply set up a few props in front of blank wall (you can hang a sheet if you don't have much empty space) and get snapping.
 
Monsters of the World photo booth props (set of 9). Was £5.95, now £1
Choose the party food
A buffet is the way to go for a kids' party, especially as a lot of children can be fussy eaters. Finger foods are ideal for kids - crisps, mini pizzas, sandwiches, and sliced fruit and vegetables. Chances are there will be plenty of leftovers to last you a few days too!
There's a chance that you might not have enough 'proper' plates and cutlery to accommodate all the guests, so disposable tableware is the way to go. There's also no washing up or risks of chipped plates! Our party tableware is made from paper, so be sure to recycle rather than chucking in the bin if you can.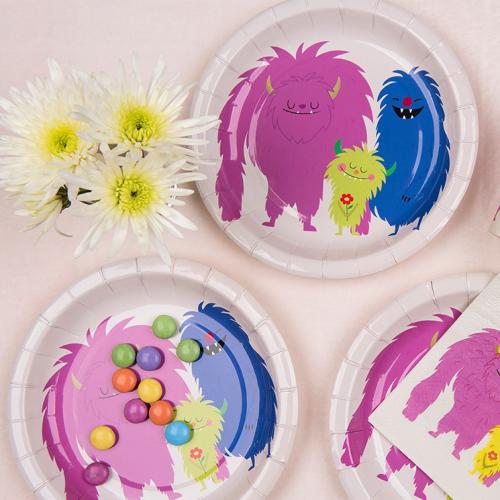 Monsters of the World paper plates (set of 8), £1.95
Don't forget the drinks. You can have a lot of fun dreaming up kid-friendly mocktails and providing colourful straws and accessories to make them even more appealing to your little party-goers.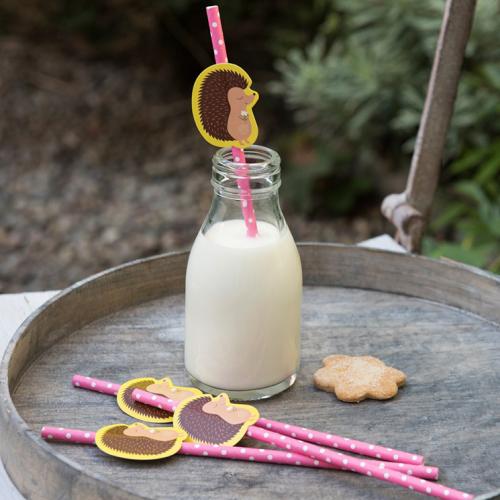 Honey The Hedgehog party straws (pack of 4). Was £1.95, now £0.29
Party bags
No party is complete without party bags. You could easily get carried away with shopping for party bag fillers, but keep it simple. A few small treats and a slice of birthday cake will keep them more than happy.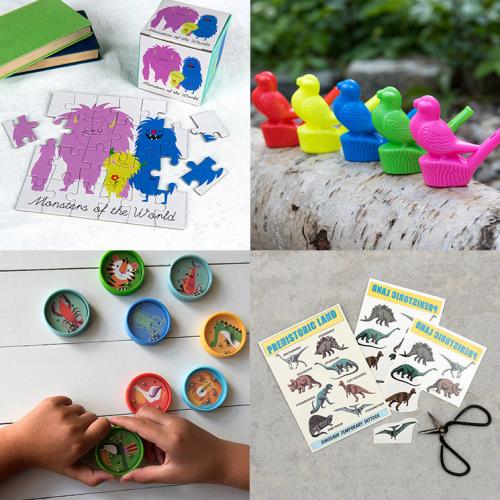 Top left: Monsters of the World mini puzzle. Was £2.95, now 50p
Top right: Warbling bird whistle, £1 
Bottom left: Colourful Creatures tilt puzzle, £1 
Bottom right: Prehistoric Land temporary tattoos, £1.50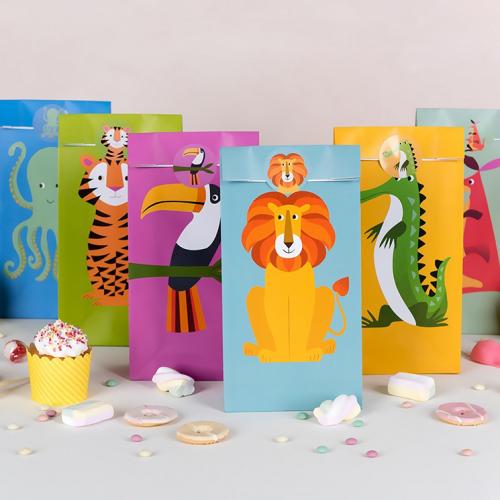 Colourful Creatures party bags (set of 6), £4.95
Looking for even more party ideas and inspiration? Take a look at our children's party Pinterest board!
Share: