Monday 07 September 2015 | robin
Off to uni survival guide
Are you the parent of one of the record half a million freshers expected to begin their university careers this autumn? To help you prepare your son or daughter for their new life as a student, we've compiled a handy guide to getting sorted for uni.
Organise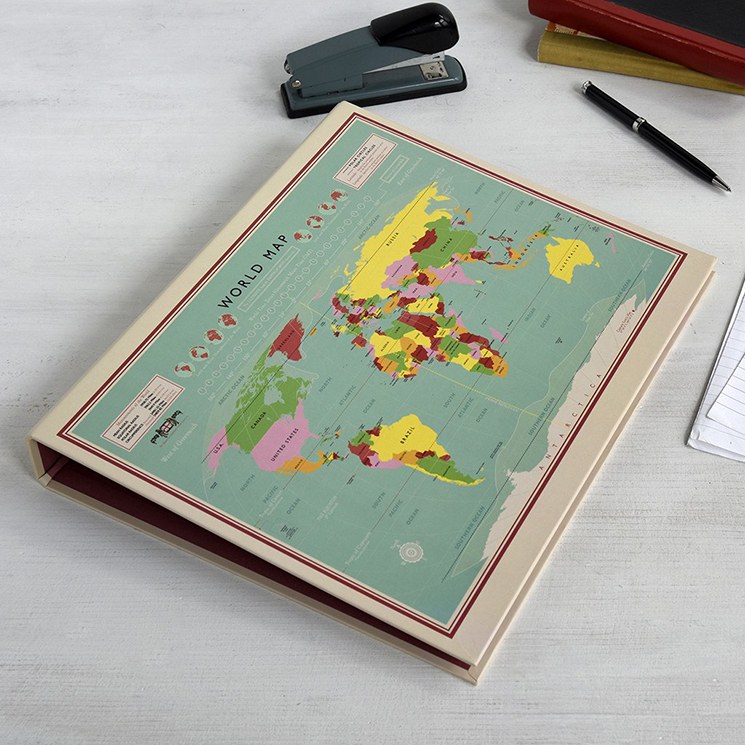 Perfect for geographers
Pictured: World Map ring binder, £3.95
Leaving home for the first time is a daunting prospect for even the most confident of teens. Blogger Becky Bedbug has a solution: get organised. She graduated with first class honours - here's how to help your son or daughter do the same!
Keep track of important passages in textbooks, with a set of rainbow sticky notes. The different colours and sizes make them ideal for creating a code for all that note taking.
Today's students carry their laptops everywhere, but a good notebook is an essential piece of kit. Great for jotting notes on the hoof, and ideal for sketching out ideas, do check out our great selection of A5 and A6 notebooks.
Modern degrees mean studying multiple modules. That's no problem - our notebooks come in a huge range of colours and designs. Choose one for each class. Art students will love this colour wheel notebook.
Time keeping
Make sure they never miss a lecture with a cool retro alarm clock.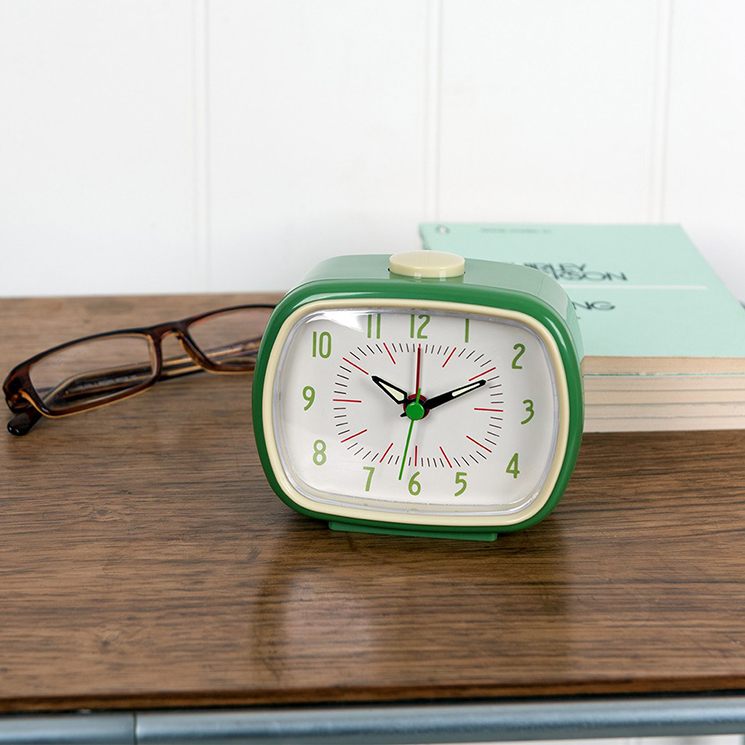 Retro green alarm clock, £12.95
Eat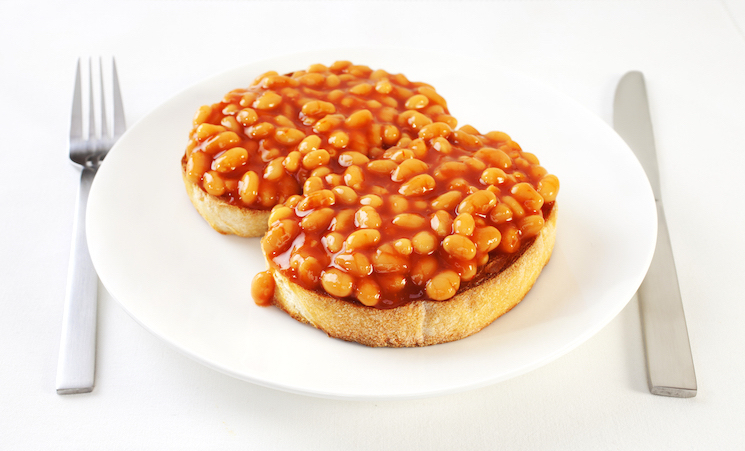 Basic doesn't have to mean bad food
Anyone for Pot Noodles? Beans on toast? Student diets are cheap and cheerful, but can still be nutritious. 
Take Ella Woodward, who started her food blog Deliciously Ella while she was still at university. We love the look of her sweet potato & carrot mash with spicy chickpeas - delicious, healthy food for cash-strapped students.
Your son or daughter will need tools for the kitchen. Here at Rex London, we've got the lot. Check out our kitchen department for accessories, storage containers, bakeware and more. We're ready to deliver direct to your new student's digs!
And don't forget the leftovers. Simply pack a lunch box, fill a flask, and hey presto! The perfect, inexpensive lunch option. Take a look at our range of lunch boxes and recycled lunch bags. We also offer a matching stainless steel flask - perfect for students on the move.
Store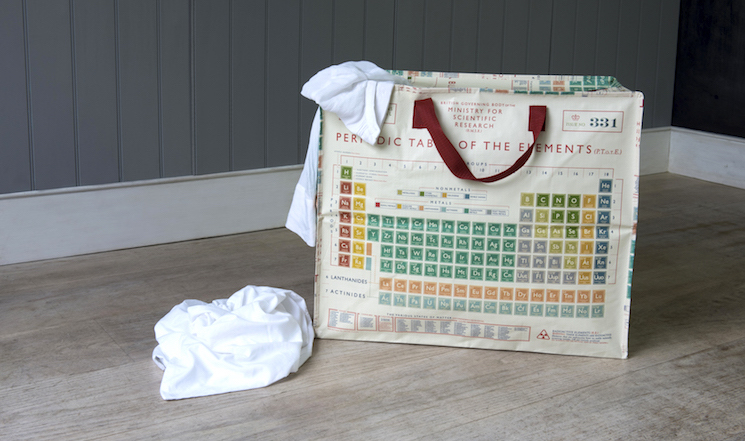 Jumbo Storage Bags are ideal for moving and then hiding the mess.
Pictured: Periodic Table Design Jumbo Storage Bag - £4.95
Don't take too much stuff! That's the advice offered by the Daily Telegraph's student housing expert, Charmian Evans. As she says, there's never enough room for everything.
That's where our jumbo storage bags come in handy. Jam them under the bed, on top of cupboards, or hang them from the back of the door. They're big, they're bold, they're beautiful. And with 30+ unique designs to choose from, they're a hit with students. 
But don't take our word for it. Beth is a 20 year old uni student. Writing on her blog, Alphabeth, she says she uses hers to lug her dirty washing to the laundry: "It's much more discrete than your standard laundry basket." 
Decorate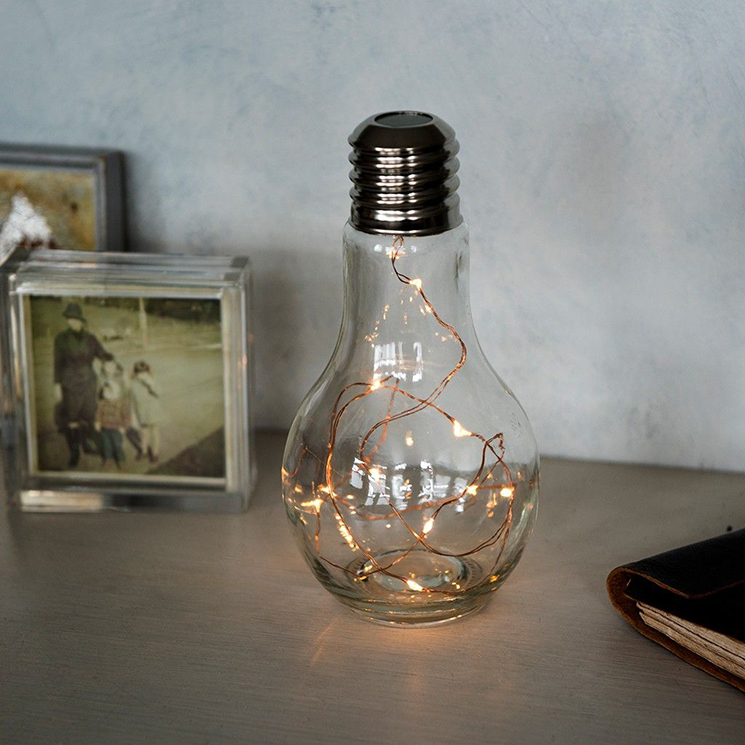 Brighten up their new student digs
Pictured: Light bulb table lamp, £8.95
No doubt your child is a dab hand at personalising his or her room, but it's great to offer a few classic pieces to get them started. Students love quirky lighting ideas, so why not pack yours off to uni with this cool light bulb table lamp?
Messy student kitchens often mean dirty shared mugs. But at least you can make sure the student in your life has their own. Our decorative mugs are ideal for keeping the scholar in your life fully refreshed. 
Pun-lovers will love this dinosaur Tea Rex mug. For those who can't get enough of dog memes, try this Best In Show mug, or because you're never too old for unicorns, there's this Magical Unicorn design. Here at Rex London, we like to stand out from the rest of the crockery.
Comfort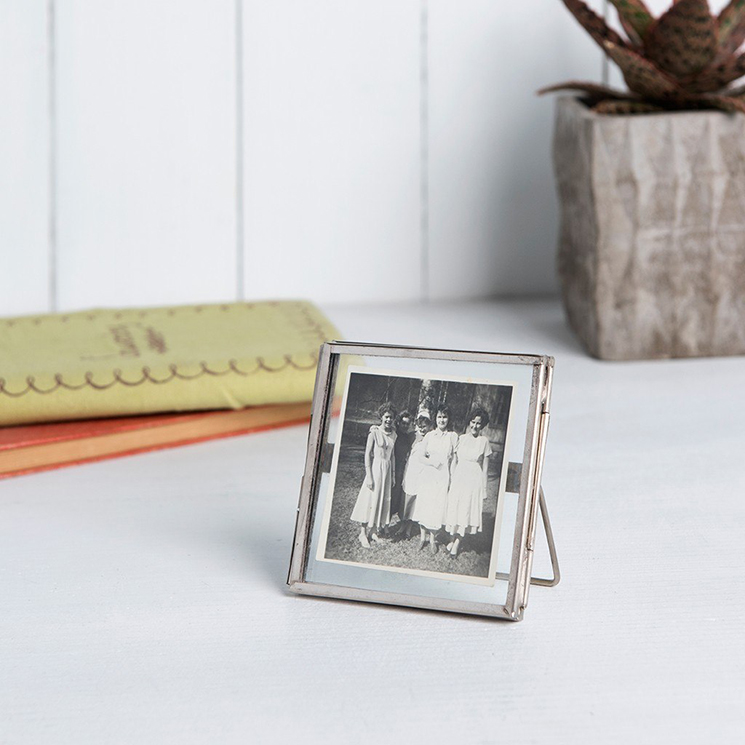 Something to remember home.
Standing brass frame, £6.95
Your young adult is flying the nest, but you'll always be their mum. What better way to keep the dreaded homesickness at bay than by tucking a gift into your young one's packed suitcase? A little something to show you care...
A picture frame containing a family photo perhaps? Or a cuddly toy, or cushion? Those first few days and weeks at uni are a blast, but they can be lonely too.
And what about you? No doubt you'll shed a tear, but when you've finally waved your child off, how will you celebrate your new found peace and quiet?