Rex London celebrates 40 years [infographic]
We are delighted that in August 2021, Rex London will be celebrating its 40th anniversary! 
Our story began in 1981, on a market stall on Portobello Road, buying and selling anything that took our fancy. As the company grew, we decided it was time not only to choose products we liked, but also to design them. From floral patterns to adorable animals, we love creating colourful and playful prints that stand out and bring joy. 
The uniqueness of Rex London doesn't stop at the products. Many of our staff have been with the company for more than 20 years, creating a special, family-like culture that is at the heart of everything we do. 
It's been a wonderful 40 years, and we are looking forward to continuing to innovate and delight for the next 40. 
Take a look at this fun 'Rex by numbers' infographic, showcasing some of our highlights from the last four decades.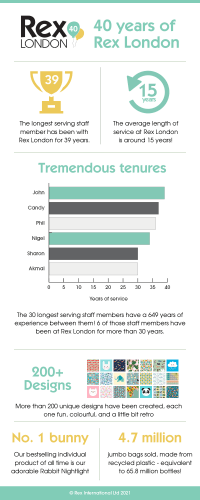 Discover the full Rex London story on the Our Story page. 
Share: