Three mince pie recipes (with a twist!)
Guest blog by Jemma Loi
When it comes to festive baking, one of the first things that springs to mind is the timeless mince pie! However, throughout the month of December they can become pretty repetitive, so how about considering a mince pie with a twist? Mince pie crumble and custard, or how about a slice of mince pie babka for Santa? Mincemeat is so versatile, you can even swirl it through porridge or top your festive pancakes with it!
And whilst treats don't hang around for long over the festive period, it is important to keep them fresh! These retro 50s Christmas cake tins are perfect for storing all of your Christmas bakes, and they are a welcome seasonal addition to the kitchen too! Here are three variations on the humble mince pie.
Easy mince pies recipe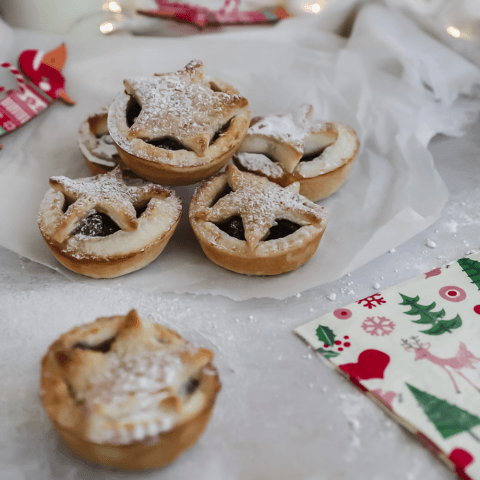 50s Christmas napkins, £2.95
These ones are perfect for letting the kids take the lead over Christmas!
1 pack of ready-made sweet shortcrust pastry
1 jar of mincemeat
Zest of one orange
1 beaten egg
Demerara sugar for sprinkling
You will also need cookie cutters - a small and a large circular one, or even smaller star shapes for the tops
1. Pre-heat your oven to 180 degrees and grease a 12-hole bun tin.
2. Roll out your pastry on a lightly floured surface and cut equal numbers of larger bases and smaller tops. 3. Take your large bases and gently press them into the bun tray holes.
4. Stir your orange zest through the mincemeat and put a teaspoon of mincemeat in each mince pie base. Don't overfill or they will leak in the oven.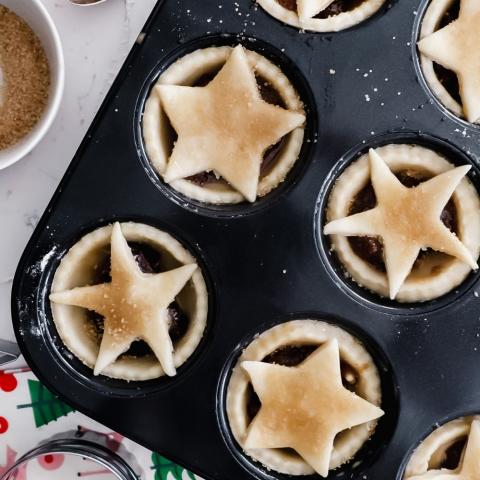 5. Top with your pastry lids and brush with the egg, sprinkling with demerara sugar.
6. Bake for 15-20 until golden.
Mince pie crumble traybake recipe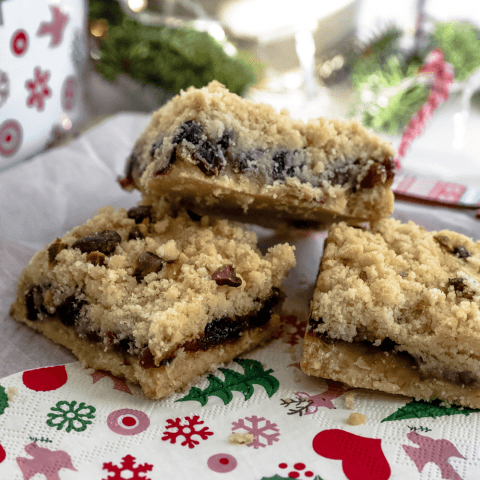 330g plain flour
1 tsp cinnamon
100g caster sugar
225g butter
A jar of good quality mincemeat
Zest of one orange
Pistachios or pecans, roughly chopped
1. Pre-heat your oven to 180 degrees and line a 20cm square cake tin.
2. In a large bowl, rub the flour, butter, and cinnamon together between your fingers until you have a sandy consistency. Then rub in your caster sugar until it resembles crumble topping.
3. Pour half into your square tin and press it down firmly to make a base and bake for 10-15 minutes.
4. Next, spoon over your mincemeat, scatter the orange zest on top and then loosely cover with your crumble topping.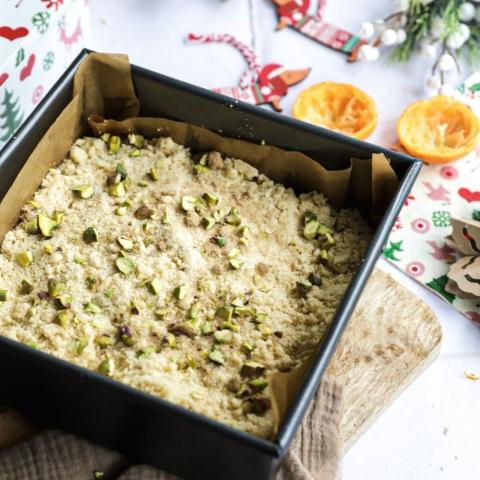 5. Sprinkle with your chopped nuts and a little more sugar and bake for another 10-15 minutes (or until the top is golden).
6. Leave to cool slightly, before cutting into even squares. Enjoy!
Mince pie babka recipe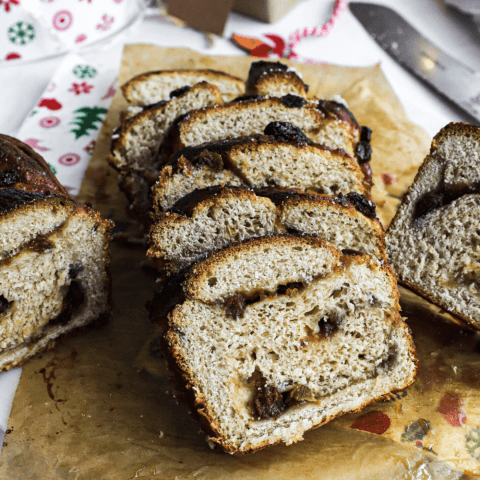 525g strong white bread flour
100g caster sugar
100ml whole milk
7g sachet fast-action dried yeast
4 eggs
160g unsalted butter
1/2 tsp salt
For the filling:
1 jar of good quality mincemeat
Zest of one large orange
For the syrup:
50g caster sugar
Juice of one large orange
1. Warm the milk through in a small pan and set aside.
2. Pour the flour into a mixing bowl of a stand mixer, add 1/2 tsp salt to one side and the yeast to the other side. Give it a quick stir through with a wooden spoon and attach the dough hook.
3. Pour in the milk, then with the mixer on a medium speed, add the eggs one at a time.
4. Cube your butter and add this to the mixer 1-2 cubes at a time, not adding more until the previous ones have been fully combined.
5. Once it is completely incorporated, scrape the dough into a large bowl, cover with a clean tea towel and leave to rise for 2 hours (or until doubled in size). Then chill for 45 mins - 1 hour.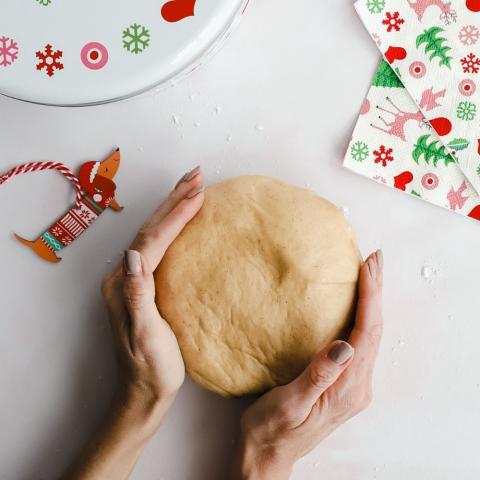 6. Line a loaf tin with baking parchment and set to one side. Remove the dough from the fridge and roll into a large rectangle on a lightly floured surface.
7. Spread your mincemeat and orange zest over the rectangle evenly. Roll into a tight sausage lengthways and then cut in half straight down the middle.
8. Lay each half parallel to each other, cut side facing upwards. Nip the top edges together and then carefully cross them over each other in a plait like pattern.
9. Once you are all the way down, nip the bottom end together to hold it in place and gently lower it into your loaf tin. Cover with a tea towel and leave to double in size for one hour.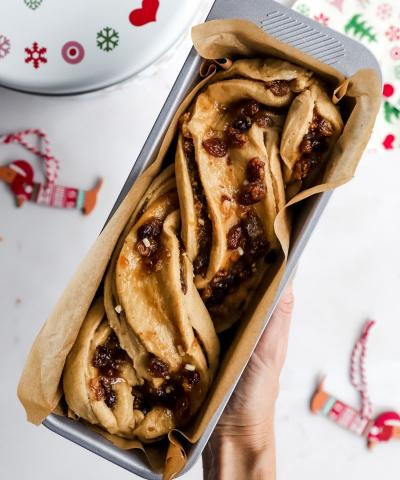 10. Pre-heat your oven to 180 and bake for 35-40 minutes, until golden.
11. For the syrup, empty your sugar and orange juice into a saucepan and simmer until thick and syrupy (about 20 minutes).
12. When your babka is ready, brush the top with your syrup for a sweet and shiny glaze. Best enjoyed warm from the oven but can be stored in your Christmas tin too!
We hope you enjoy these delicious festive takes on the traditional mince pie!
Share: