How to do back-garden glamping
Wednesday 07 June 2017 | matt
Kids love backyard camping, and you don't have to travel far to have a fantastic family adventure. Here's how to create a magical experience you and your family will never forget. Our mini guide to sleeping out this summer.
Sleep under the stars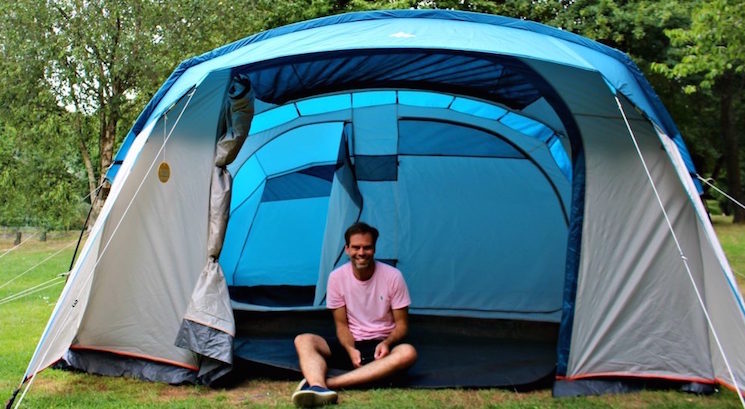 John's tent proved way too big for his back garden
Image: Dadbloguk.com
The beauty of camping in your back garden is that, if the weather takes a turn for the worse, it's just as easy to de-camp back into the house. So don't worry if you only have an old festival tent. Alternatively beg, borrow or steal yourself some canvas and head outside.
Having said that, do try to avoid the mistake John of dadbloguk.com made:
'I underestimated how large the tent would be...When unpacked, it was clear the tent was not going to fit.'
Luckily there's a campsite not far from where John lives, so nobody missed out on the chance to sleep under the stars.
It turns out that June is a great month for stargazing. Even if you live in a light polluted city like London, you should still have a good view of the stars and planets. Jupiter shines very brightly this month, the moon passing just north of it on 4th June.
Gen up on the heavenly bodies before you head outside – kids will love learning about the starry night sky.
Glam your tent

Turn your garden into a comfortable 'glampsite'
Image: Shutterstock
There's no need to rough it in a bivvy when you can turn your tent into a boudoir. We're talking about upgrading your garden camping experience to full-on glamping. Start by taking your own mattress outside.
Use real duvets, real pillows, arranged throws, fairy lights and bunting to create a magical Arabian Nights feel. Worried about the children waking up in the night? An LED night light creates a comforting glow that lasts through to the morning.
Cass, from The Diary of a Frugal Family may even have made her tent too comfy. She says: 'When the kids went upstairs to get yet more blankets, they came back to find a guest in one of their seats.' It was Buddy the family dog. 'He loves tents! As soon as it's up, he's in there.'
Fun and games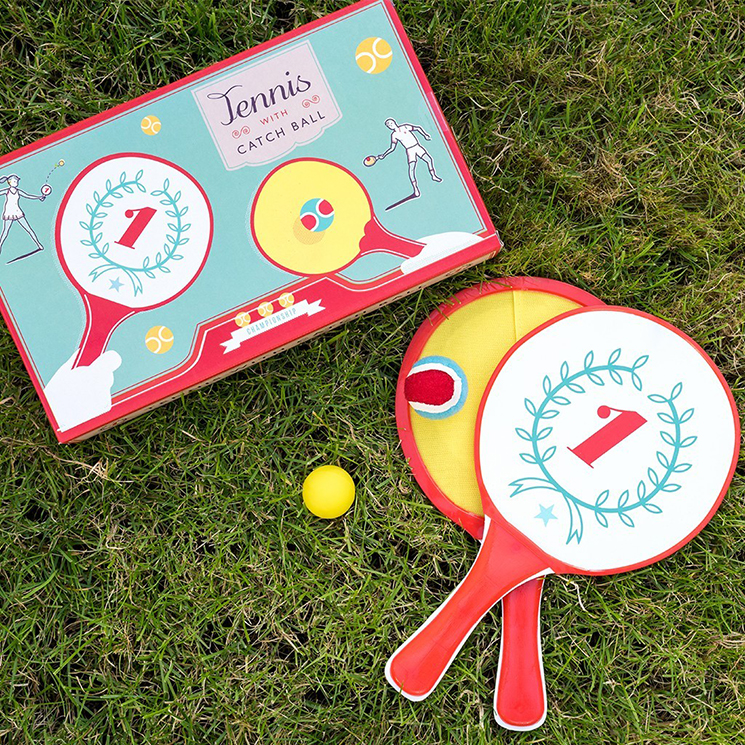 Pictured above: Tennis catch ball, £9.95
'After an hour of sitting in a tent, kids might start pining for their Playstation unless they're sufficiently entertained,' Lilinha Angel warns. She suggests setting up garden games to keep little ones entertained – like a Space Hopper racecourse!
That's what the Actually Mummy family did when they camped out in the garden. All the old-faithfuls came out: 'boules, frisbee, football, bubbles, and foam cricket bats'.
If team games are not your family's bag, you could host your own chess tournament, play cards or enjoy family-favourites like Monopoly or Pass the Pig.
Easy camping food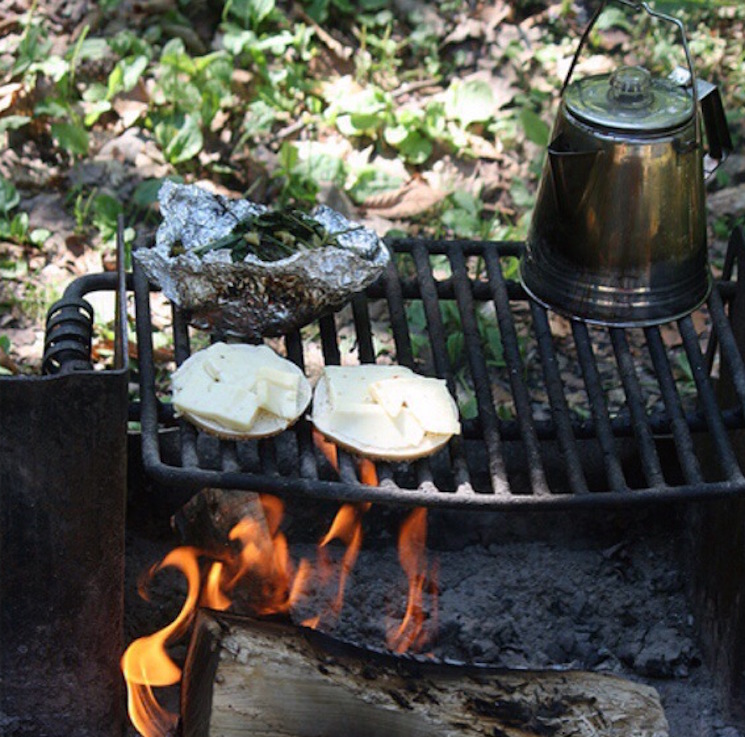 There's something special about cooking over real flames
Image: Lilinha Angel
Plan a delicious spread for supper but make it something easy. Yes, your actual kitchen is just over there. But the idea is to spend time outdoors, together.
Choose recipes that will cook well in one pan. Chris of Thinly Spread recommends 'veggie sausages, potatoes for mashing and baked beans... because it's easy, everyone eats it and it fills them up.'
Cook over a campfire if you can, or wheel out the barbecue if that's easier. Alan from A Simple Life of Luxury even lit the chiminea, and his lucky family toasted marshmallows over the flames: 'It was a perfect evening for it.'
Stories around the campfire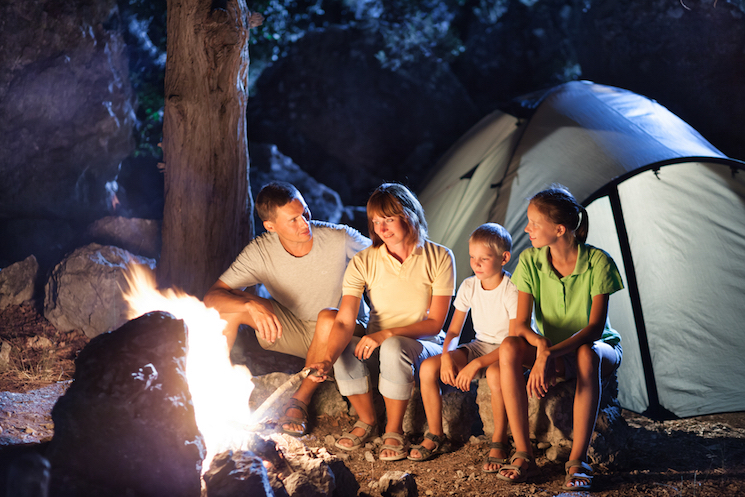 A campfire is the perfect way to tempt children away from technology
Image: Shutterstock
If you can't see yourself setting sticks ablaze in your back garden, tea lights will do the trick, though for safety's sake, not in the tent. Do avoid the temptation to tell creepy tales because you'll only pay later; kids can find sleeping outdoors quite scary enough.
When mum Helena, aka Mother Inferior, encouraged her two daughters to spend the night under canvas, she was the one who ended up bleary eyed in the morning.
She was relaxing on the sofa when she was disturbed by one child too scared to go back outside. With the other sleeping soundly, but alone, in the tent, Helena was forced to swap the sofa for a camping mat. The neighbour's water feature nearly drove her mad:
'The cascading water became a repeating motif running like a torrent through my increasingly vivid dreams.'
We suggest you get your kids settled with traditional fairy tales or songs. Stuck for ideas? The Scouts have a long tradition of campfire stories and songs. With titles like 'Found a Peanut', and 'Worms', kids are bound to love them – even if the repetitive choruses drive you insane.
Family time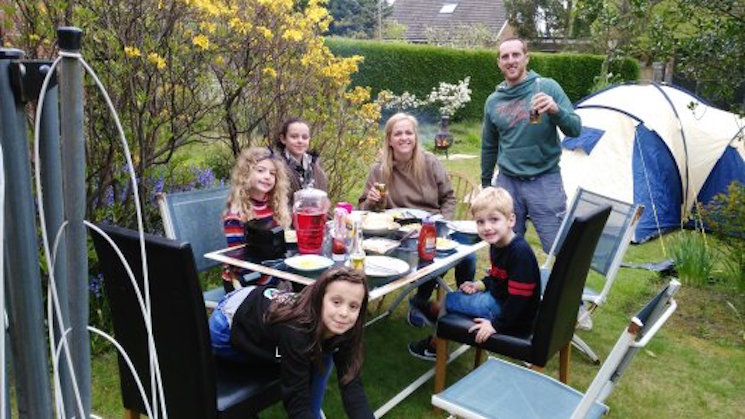 Who needs camping gear when your real stuff is just metres away!
Image: Lancashire Mummy
Camping often means acquiring a whole load of expensive gear – as Cerys of Rainy Day Mum says:
'... as you add up everything that the ever so helpful sales assistant and expert in camping and outdoors tells you, you need to start thinking about taking out a second mortgage'
But the good news for back garden campers is that everything you need, you'll find in the kitchen, the shed, or the bedroom. And even better – there's no packing or unpacking to do.
Backyard camping means time spent as a family, chatting without the distraction of screens. Being Mrs C describes the best part of her first family camping experience:
'Mr C and I sat outside for a while with a drink (and a few blankets) just enjoying each other's company and not being distracted by phones or loads of jobs needing doing around the house. If I'm honest it was pretty much my favourite part of the day...'
Sounds like bliss.