How to decorate your Christmas Cake
You've baked it to perfection and drizzled it with your favourite festive tipple. Now it's time to give your Christmas cake the fabulous finish it deserves.
Here's our simple guide to icing your cake, plus a gallery of gorgeous decorating ideas from some of our favourite baking bloggers. Prepare to be inspired!
Ice your cake

We share the secret to covering your cake smoothly
Image source: Proper Foodie
You've baked the perfect Christmas cake and it looks great. Never iced one before? Start by brushing warm apricot jam over the top and sides, then knead and roll out 675g of marzipan until it's 5cms wider than the cake.
Fold the marzipan over your rolling pin and drape it over the top of the cake, smoothing out any creases. Finally, trim off any excess. Your cake is now ready for the icing. British baking royal Mary Berry recommends covering the cake with parchment for a day or two at this stage, to allow the marzipan to dry out.
Covering your cake with fondant icing? Shape the fondant into a ball, then flatten it to a disc before rolling it out. Once the icing's quarter of an inch thick, use your rolling pin to gently lower it onto your cake. You can then create a smooth finish with your hands or an icing smoother.
If, like Jules of Butcher Baker Baby you think, 'Christmas isn't the same without a Christmas cake topped with break-your-teeth royal icing', why not challenge yourself to make some? Follow her simple instructions for a frothy peaked finish.
Now check out our image gallery to create a showstopper to be proud of...
Pretty Penguin Cake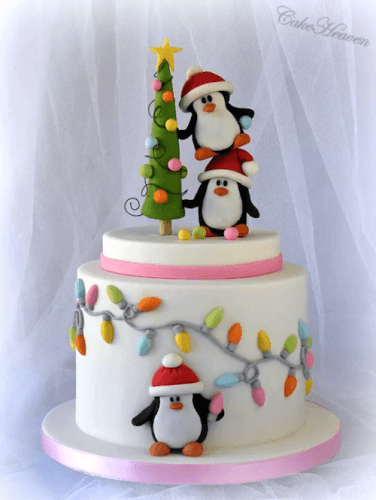 Marlene's cake has a huge online following
Image source: CakeHeaven by Marlene
With 80,000 views online, baker Marlene's penguin themed cake is proving incredibly popular. Inspired by an image she came across on a Christmas card, the cake features a fondant penguin family 'decking the Christmas tree and affixing the Christmas lights!'
Kids of all ages will love this colourful cake. But be prepared for arguments when it comes to eating the the fondant penguins!
Gorgeous gingerbread man cake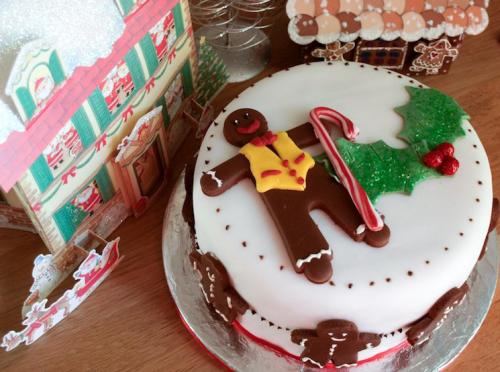 Janice tops her cake with a traditional gingerbread man
Image source: Farmersgirl Kitchen
Farmersgirl Kitchen blogger Janice has a bit of a thing about gingerbread men, so it's no surprise that her Christmas cake features these classic fairy tale characters.
Created with chocolate fondant, her cute gingerbread men adorn the top and sides of this colourful cake. A band of festive red ribbon and some sugar glazed holly leaves add a festive flavour.
Festive 'Frozen' Christmas cake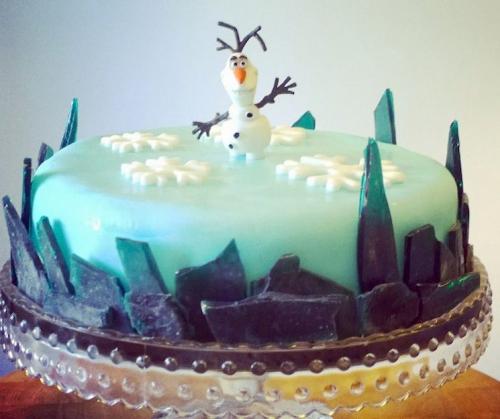 What could be more festive than this Frozen cake?
Image source: English Mum
If your kids are fans of the movie Frozen, they'll adore this Disney inspired Christmas cake. However, this recipe comes with a warning, as it involves making sugar glass:
'Obviously working with boiling sugar is incredibly dangerous so please, please be careful – this isn't a recipe to make with kids!'
If you fancy re-creating this fabulous cake, baking blogger Becky Wiggins (aka English Mum) recommends using a sugar thermometer to ensure the sugar reaches 150 degrees. Once the sugar glass has cooled down and you've broken it into shards, arrange them around the cake and add your fondant Olaf and some edible glitter.
Moreish melting snowman cake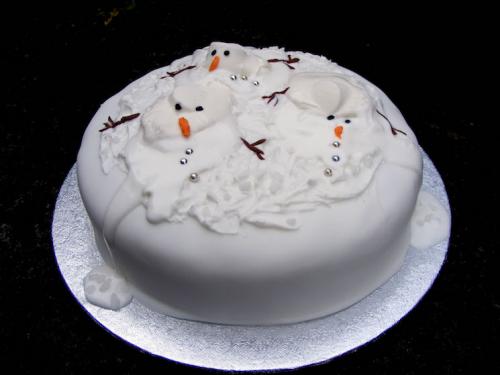 Lisa's snowmen are made with melted marshmallows
Image source: The Last Krystallos
Blogger Lisa Shambrook used to plonk a few Christmas ornaments on top of her Christmas cake. But all that changed when television personality Kirstie Allsopp inspired her to make more effort! Lisa's melting puddle snowmen are incredibly effective and simple to make. Simply place marshmallows onto silicone paper and microwave them:
'The instructions are not to walk away – watch at all times, as it swells (puffs up) – take it out...somewhere between 8 and 15 seconds. Do not let it double its size or it'll just be a gooey puddle.'
Chocolate Ombre Cake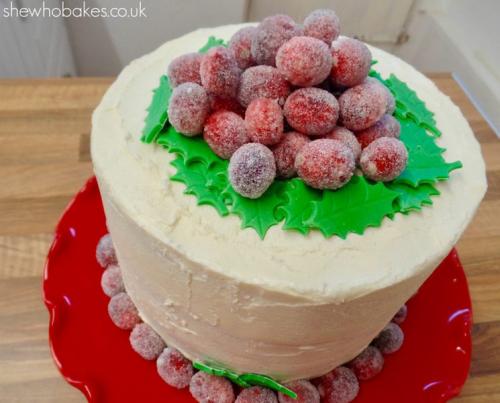 Britt's seasonal sponge cake
Image source: She Who Bakes
Not a fan of fruit cakes? You'll love blogger Britt's showstopping sponge alternative. It features three layers of vanilla and chocolate sponge, sandwiched together and smothered with luscious buttercream icing.
To give her ombre cake a festive feel, Britt tops it with a pyramid of frosted cranberries and fondant holly leaves. Check out her tips for frosting cranberries over on her blog – She Who Bakes. We think they'd also look great on a chocolate Yule log or some spicy Stollen.
Christmas Tree cake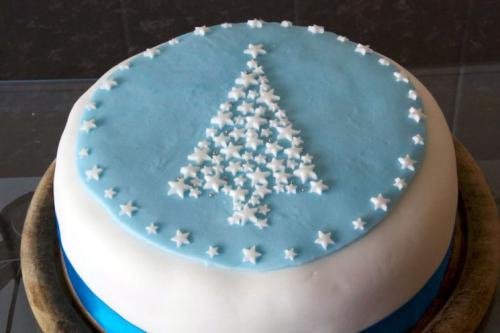 Alan's tree cake is simple but striking
Image source: A Simple Life of Luxury
Baking blogger Alan and his family are normally more interested in taste than appearance. But after an enjoyable cup cake decorating experience, Alan decided to take his festive baking a little more seriously.
His first attempt at cake decorating features a wintery-blue disc of fondant icing, topped with white fondant stars in the shape of a Christmas tree. A sprinkling of silver balls and a blue ribbon around the base add to the festive feel. Simple, yet strikingly effective.
Robin red breast cake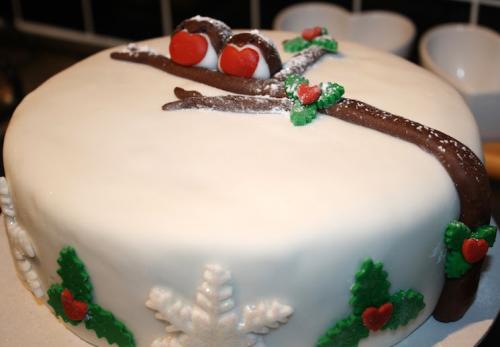 Sarah's cake depicts a traditional English winter
Image source: a million dresses
The nation's favourite bird has appeared on Christmas cards since Victorian times, when postmen in red jackets became known as "robins." So it's no surprise that Sarah, who blogs at a million dresses, decided to bake a Christmas cake featuring these red-breasted beauties.
To make her cake even more festive, Sarah adds hearts, holly and snowflakes. Her top tip? Use edible glue to stick the decorations onto the side of the cake. And don't forget to make your icing snow sparkle by adding a 'sprinkling of icing sugar mixed with edible glitter.'
Pretty Poinsettia cake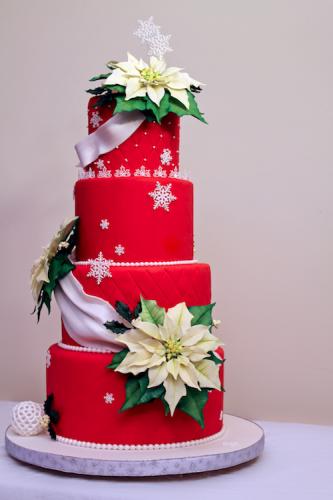 Roxanne's resplendent red Christmas cake
Image source: The Cake Engineer
Passionate baker Roxanne's background in mechanical engineering came in handy when she created this gorgeous cake. Covered in red satin fondant, the gum paste poinsettias adorning this cake are so big that Roxanne had to make over-sized tiers to cope with them. She ended up creating 12 separate cakes!
We love the way this cake is both elegant and intricately detailed – all of the decorations are made with fondant, gum paste or royal icing.
Fancy a technical challenge on a Christmas theme? Then head over to Roxanne's blog for full instructions!
Cranberry and cream cheese cake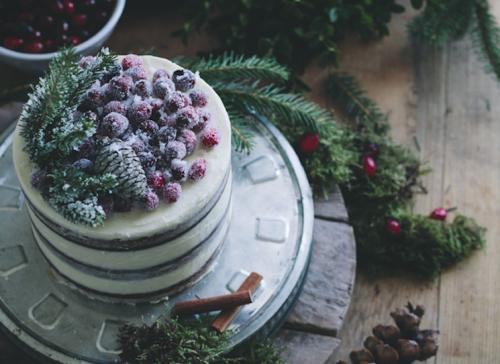 Linda's cake comes with a spicy kick
Image source: Call me cupcake
If you fancy adding a Scandinavian feel to this year's festivities, then this soft spiced gingerbread cake is the one for you. Covered with tangy cream cheese frosting and decorated with sugared cranberries, Swedish blogger Linda has created one helluva cake!
Linda's recipe even includes instructions for making your own gingerbread spice mix by grinding cardamom and cloves with a pestle and mortar instead of buying ready made. What's not to love?
Crunchy crumbly Christmas cake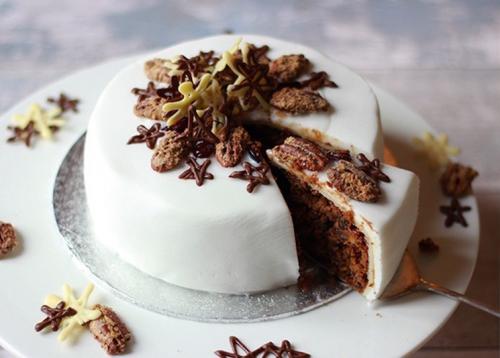 Debbie's rustic recipe will go down a treat
Image source: Properfoodie
Debbie's nutty Christmas cake recipe is full of crunch and flavour. Aiming for a natural and rustic look, she's topped her cake with sugared pecans and chocolate stars. Visit properfoodie to see how to prepare the crunchy sugared pecans. Divine.
Fig, port and star anise Christmas cake

The Hairy Bikers' cake has an extra special glaze made with dried fruit and nuts
Image source: Shutterstock
If you fancy an extra fruity Christmas cake and you don't like the taste of marzipan, how about trying the Hairy Bikers' decadent alternative; a cake topped with brandy, dried figs, dates, prunes, pecans and port-infused star anise?
Once you're ready to decorate your cake, coat it in a mixture of warmed apricot jam and brandy, add the fruit and nuts, then paint the star anise with egg white and glitter. The Hairy Bikers recommend eating it with a glass of port and a slice of sharp and crumbly Lancashire cheese. A Christmas cake for grown- ups.
Sophisticated snowflake cakes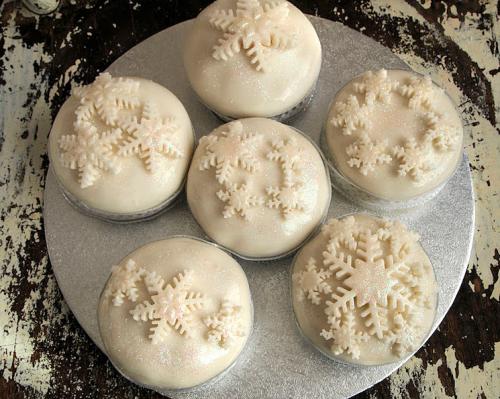 Karen's cakes are sparkly and sophisticated
Image source: Lavender and Lovage
To decorate blogger Karen's small but perfectly formed snowflake cakes, start by stamping out the snowflakes that sit on top and painting them with pearl lustre.
Once your snowflakes are in place, make them shimmer with a light dusting of edible glitter, before tying silver ribbon around the base of each cake. We love their simple elegance.
How will you be decorating your Christmas cake this year? We'd love to see your creative prowess so please come and share on our Facebook page!
Bakers' treats from Rex London:
If you're planning to bake up a storm this festive season, take a look at our Christmas baking and bakeware section for inspiration.

From left to right: Set of 4 bauble cookie cutters - £4.95; Christmas Wonderland cupcake kit - £5.95; Jolie Noel tin - £8.95
Share: