Three easy ways to update your clothes
'Repair don't replace' is such a fantastic motto to live by. By repairing our belongings instead of constantly replacing them, we are being kinder to the planet as well as our wallets. These easy and thrifty tips will give a new lease of life to your clothes and will often bring lots of compliments!
1. Swap out the buttons
A change of buttons can transform a cardigan. Carefully remove the buttons and then sew in the new ones. I love a quirky mix of vintage styles taken from my Granny's button tin, or see what you can source from a charity shop. Ensure that the buttons you use to replace are of a similar size to the originals so that they fit the button holes. You will have a little more leeway with knitwear as the knit will stretch a little. Tip: Make sure you mark where the original button was so that you can neatly sew the new one in place.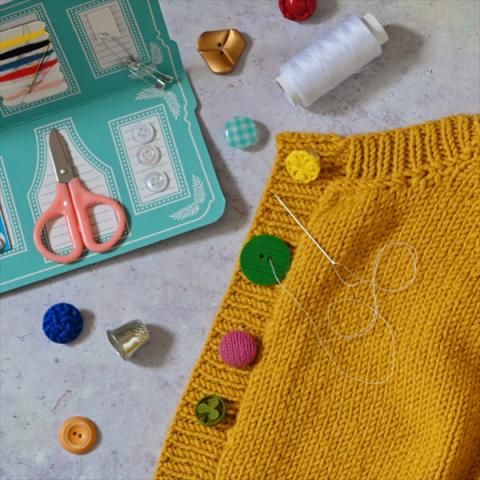 Product shown: Cheetah sewing kit, £2.95
2. Embellish with pompoms

Turn a drab sweater into something super cute with fluffy pompoms. We've gone for the scattered approach here, but you could use smaller pompoms to rim the edges of a collar, hem or sleeves to make your clothes truly individual. Tip: Sew each pompom on individually no matter how tempting it is to stitch them all on one long piece of thread - that way if one gets caught and needs reattaching it can be. There are so many ways you can customise your clothes like this. Why not try embellishing with old brooches, decorative beads or stitches?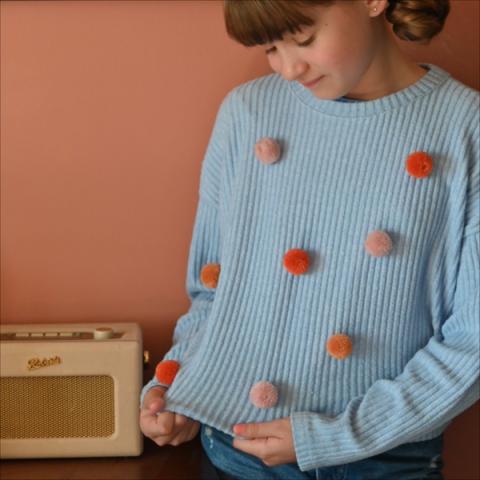 3. Mend with patches
When it comes to kids clothes a little reinforcement is never a bad thing! I love the retro look of patches on elbows and knees - they are perfect at covering scuffs and tears or just for a little extra resilience. Tip: Use a fabric which is of a similar weight to patch the area you want to repair. Using one that is durable and doesn't fray easily is really helpful. I used a thick piece of fleece to make the heart patches for the knees of these beloved dungarees.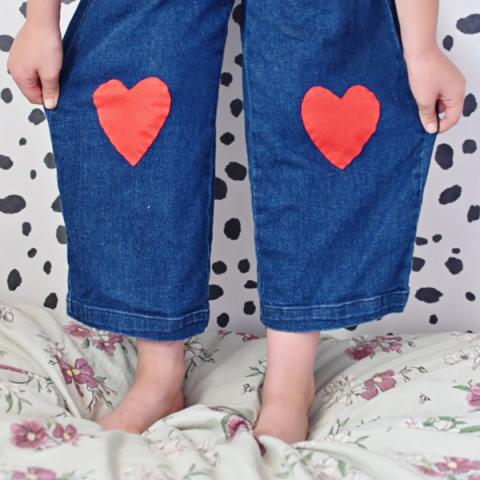 If you're in a rush, or for smaller repairs, the Rex London iron-on patches are also a fantastic way to alter any minor imperfections, or just to add some character!
Iron-on patches, £1.95 each
Guest blog by Georgia Coote
Share: