14 fabulous vintage blogs
Tuesday 03 November 2015 | abby
Vintage is about more than celebrating past; it's about embracing timeless quality and aesthetics.
Here are fourteen of our favourite vintage blogs.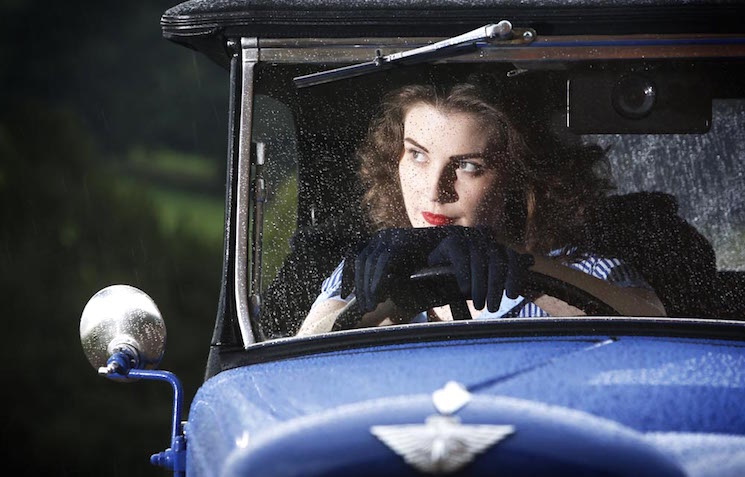 Helen behind the wheels of a 1930s Austin 7
Image: Lovebirds Vintage
Feeling blue? Blogger and PhD student Helen swears by a trio of ice-cream, make-up and pretty clothes: "I always find when I'm feeling upset that making myself look nice really helps me to put on a brave face and maybe even cheer up a little." 
Helen is "inspired by the fashions of the 1940s and 50s with occasional forays into other decades." Recently she's been experimenting with steampunk looks; we love the lace-trimmed hat featured in this outfit.
With her classic features, Helen also regularly models and shares the images on her blog; we're sure her Lady of the Manor shoot will inspire any 1950s aficionado.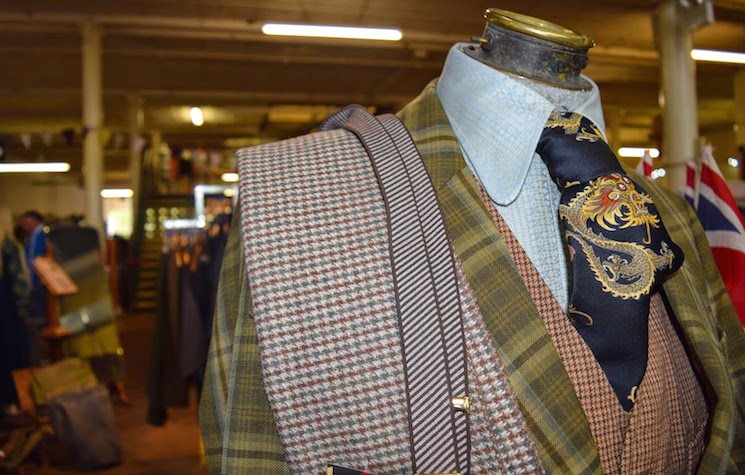 On a dashing day out at The Vintage Emporium
Image: Norton of Morton
Step back in time with G.M Norton as he searches for his holy grail - a gentlemanly existence! His blog is all about chivalry, good manners and his own inimitable style!
Find out why he thinks Martin Freeman has peacock tendencies (it's a good thing)! Or check out his moustache grower's guide. While he admits sporting a 'tache makes eating and drinking a touch bothersome, he's full of tricks: "cut up your food into small pieces; if you're eating buttery toast, turn it upside down; use tea spoons and straws; and open your mouth extra wide!"
He posts every Saturday at 4 o'clock, so you need never miss a thing!


Liz's blog is jam packed with stunning vintage fashion images
Image: Get Some Vintage-a-peel
Trained in costume design, Liz has been a self-employed specialist dealer, collector and historian for over a decade. Liz's blog is a dreamy collection of scanned in photographs, adverts and stills alongside her expert commentary. Check out this early shot of Joanna Lumley in a 1968 issue of Vanity Fair  - we barely recognised her!
The sixties and seventies are Liz's jam: "There's nothing quite like owning your own little slice of history, and being a guardian for a modest collection of fabric artwork."  She has collections from many of the era's most notable designers including John Bates, Biba and Ossie Clark. So impressive is her collection, garments have been used in exhibits at The V&A and other museums.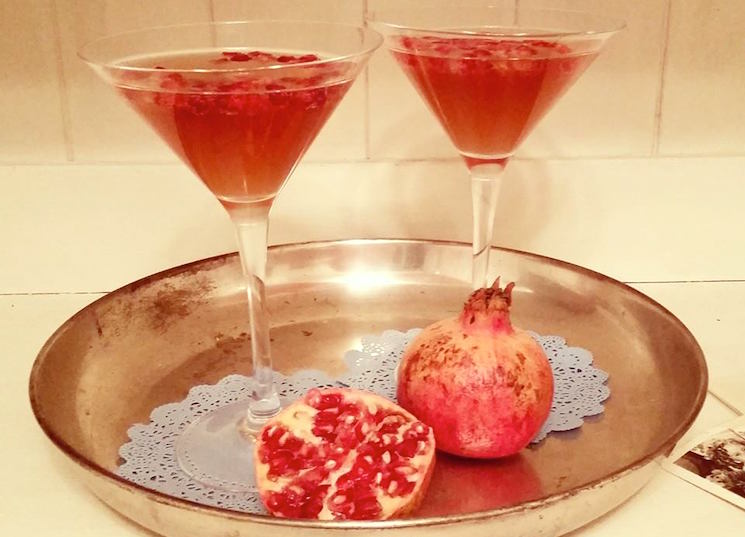 Rachel's delicious-looking PomeGINger cocktail!
Image: Vintage Folly
Shoes can be an issue for vintage fans: "We want our shoes to be pretty and feminine but our activities are often less than delicate," writes blogger Rachel. "Try stomping around a vintage fair in peep-toes; or being thrown around a dancehall in heels!" Her answer? These vintage-inspired padded shoes.
Being comfortable and stylish is of particular concern to Rachel who recently announced she is pregnant with her second daughter. We can't wait to see how she dresses her bump with a vintage twist!
Rachel also writes about homeware, interior design (check out her gorgeous bedroom transformation) and food. This PomeGINger cocktail (pictured above), combines pomegranate, gin & ginger beer - we think it looks divine!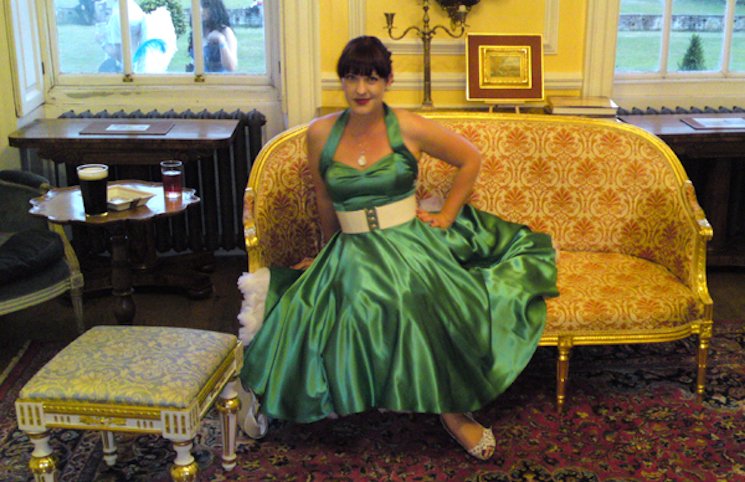 Looking every bit the vintage blogger in her Vivien of Holloway circle dress
Image: Retro Chick  
In 2008, Gemma started Retro Chick to support her now defunct eBay shop.
A diehard vintage clothing fan, Gemma writes a lot about vanity sizing – she's even been on Radio 4 Woman's Hour to talk about it! Find out why she thinks vanity sizing is killing you.
She also offers practical fashion advice, such as her Lazy Girl's Guide to Winter Dressing. Tops tips include stocking up on pashminas, scouring "old lady shops" for thermals and planning go-to outfits in advance. Gemma's favourite failsafe is "a black jersey dress and longline cardigan worn with a belt, opaque tights and a beret." Very suave!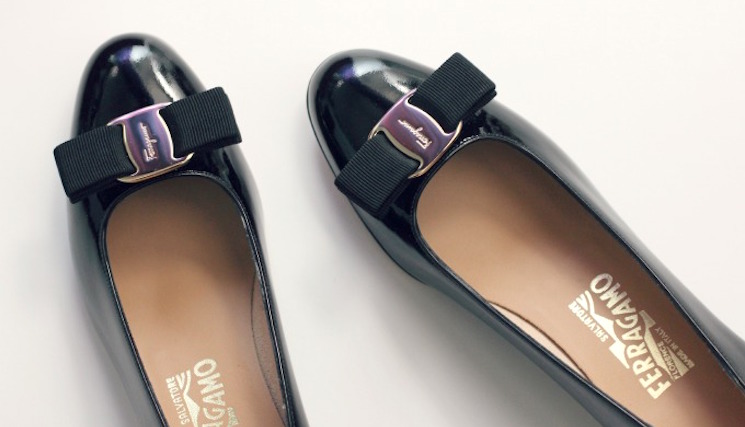 Paula's perfect Ferragamo Vara shoes
Image: Pink Bow
Paula from the North East of England counts browsing flea-markets for treasure, watching French New-Wave cinema and drinking a cup of rose tea served in a fine bone china tea cup as some of her favourite pastimes.
Earlier this year she splurged on a pair of Ferragamo Vara shoes (see above): "the most perfect pair of granny shoes to exist". Paula recommends favouring classics when making big purchases, as she knows she will get her money's worth for years to come.  
Visit her blog for tips on creating a winter capsule wardrobe (we're swooning over her blouse collection) or read up on how to embrace the latest vintage inspired trends – fringe and fur.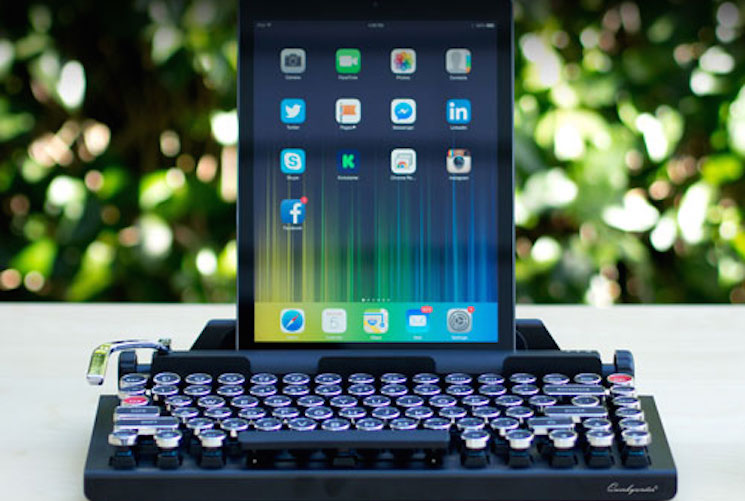 When vintage meets modern
Image: Retro to Go
Retro shopping junkie? You need Retro to Go in your life, pronto!
Think of this blog as your very own personal shopping assistant who goes out and scours the Internet for the best retro inspired homeware and clothing. Warning: your bank balance may not be a fan. 
We, on the other hand, definitely are. Mid-century enthusiasts will lust after these gorgeous colour pop tables and we think this 60s inspired coral coat will feature on many Christmas wish lists this year!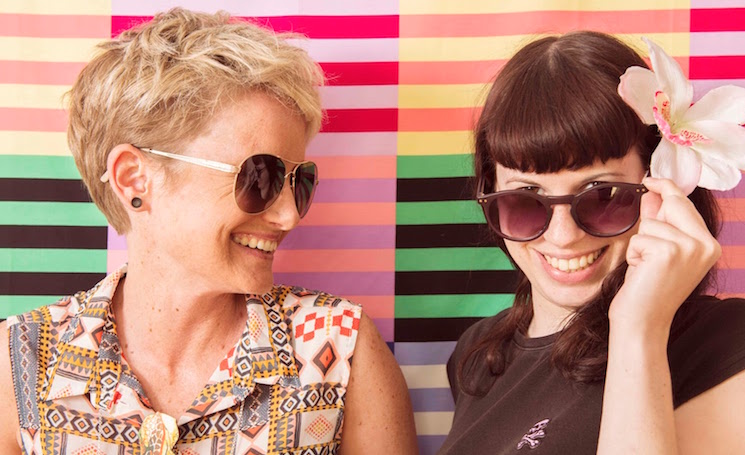 Playing behind the scenes at a photoshoot
Image: Missy Vintage
"I've loved fashion from a young age," writes 30-something blogger, Kerry. Her first vintage piece was a men's 1970s blazer from Oxfam, "I didn't buy that blazer because it was vintage, I bought it, well just because I liked it and no-one else seemed to have one like it."
Kerry recently decided to take her love of fashion a step further by enrolling in a photography degree: "This means I will be 40 when I graduate!" It also means her blog is a real visual treat.
Whether she's shooting for her course or writing about launching a print magazine in a digital age,  we can't get enough of this "modern girl, who simply loves to add a dash of the past to the present."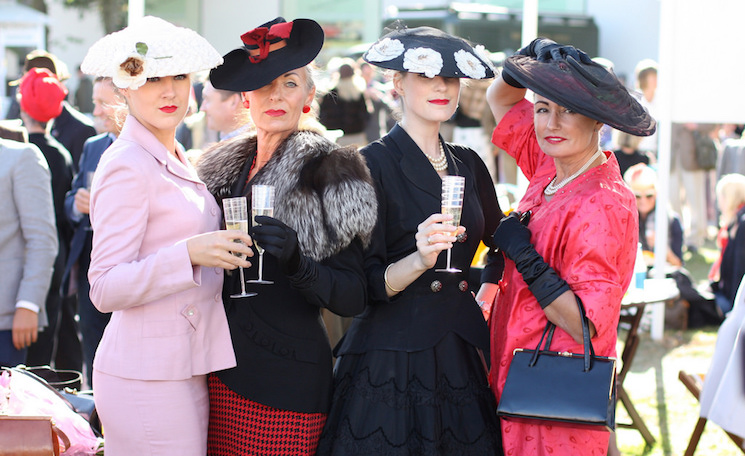 To die for style at Goodwood Revival
Image: Diary of a Vintage Girl 
Tattooed Londoner Fleur blogs about her vintage outfits and adventures, but she isn't afraid of tackling more controversial topics on occasion. 
Case in point: cupcakes! Fleur points out that cupcakes aren't really vintage and writes "I think a lot of full-time vintage girls like to be seen to rebel against the mainstream, twee version of our style that's pervaded popular culture."
If you're intrigued by Fleur's stunning tattoos check out her latest addition and read her interview with traditional tattooist Chris Lambert.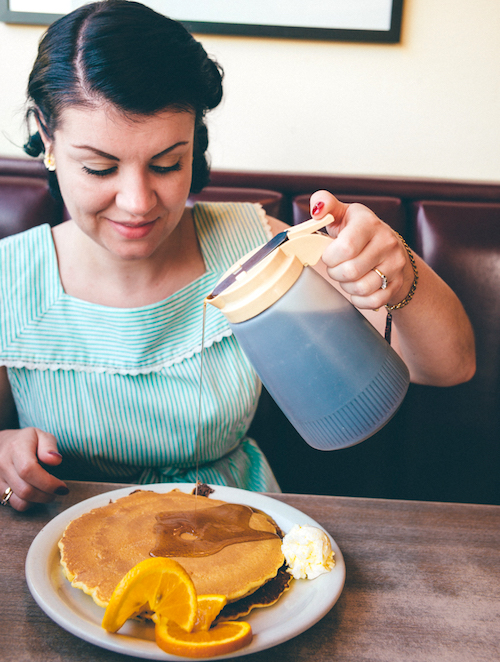 Retro inspired food for Yesterday Girl
Image: Yesterday's Girl
Blogger Jennifer had big plans for her Las Vegas wedding day hair and makeup, but the Las Vegas sun soon put an end to them. So what's a girl to do? Jennifer kept it simple by going for a back roll hairdo teamed with a gorgeous 1940s gown and a pair of Remix shoes. We're sure you'll agree the bride looked stunning.
As a keen vintage clothing collector, Jennifer snapped up her red velvet Anne Fogarty dress over five years ago. Earlier this year she stumbled across a picture of actress and socialite Magda Gabor in the very same dress – "don't you just love it when that happens in the vintage world?" Check out the uncanny images in her 'She's Wearing My Dress!' post.
Add Yesterday Girl to your reading list for more tales of vintage fun "all set against the big dirty backdrop of my fabulous hometown, London."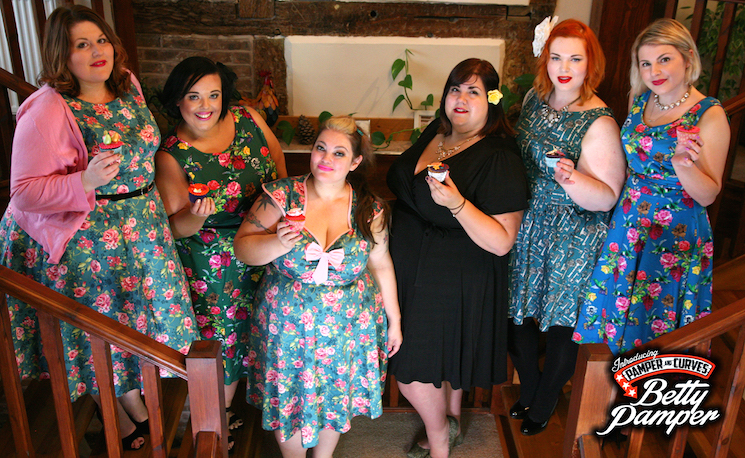 Betty (centre) in a frock so girly it "makes you want to drink out of china cups and cross your ankles"
Image: Pamper & Curves 
Blogger Betty is such a fan of crafting she's even written a book on it! We think her picture frame spice rack would make a nifty DIY christmas present. 
Betty describes herself as a "plus size fashion Maven, lover of pugs, hater of body snark." The latter is a topic she feels strongly about: "Fat shaming, it's everywhere, from the front cover of almost every women's magazine to snide smirks when you are working out at the gym." Read her top tips for shutting down body shaming.
With Patti Smith, Debbie Harry, Siouxsie Sioux, Gwen Stefani and Stevie Nicks among her top style icons, Betty's outfits are as eclectic as her influences. We love the print dress and faux fur gilet combo she rocked recently.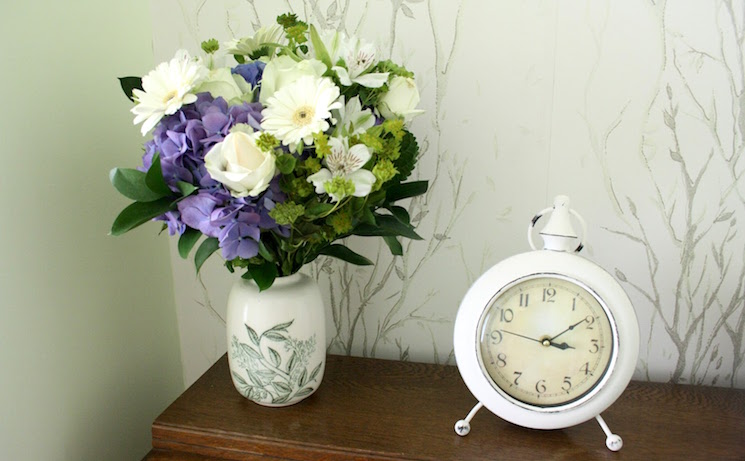 Blue hydrangeas and avalanche roses - sure to brighten up any living room!
Image: Odd Socks & Pretty Frocks
"I am tight: I won't spend £40 on a dress," admits Liverpool based blogger Alex. Her answer? "Charity shops all the way!" She's also a keen knitter – we love her recent cosy snood creation.
As well as writing about fashion and books, Alex shares her best recipes. Our favourite bake is The Best Apple Cake in the World, which she says not only tastes and smells divine, but has "apples and sultanas in so it's practically healthy!"
Discover more on her blog or follow her on social media where she can be found "blethering on Twitter".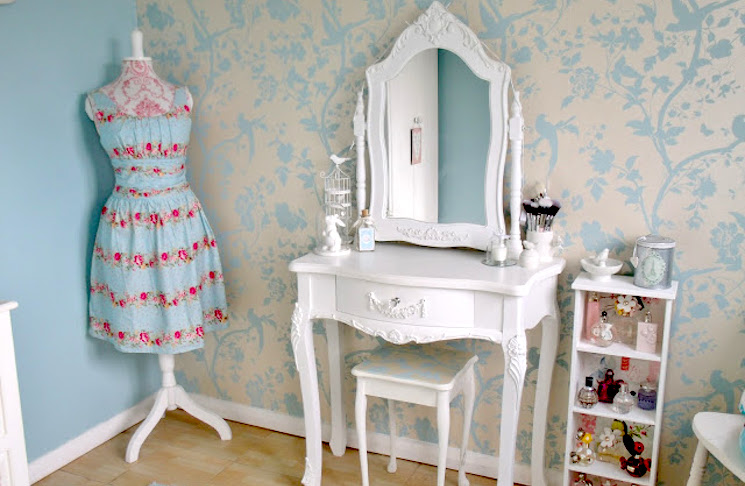 Victoria's duck egg blue dressing room
Image: Victoria's Vintage
25-year-old blogger Victoria is all about finding vintage bargains "so my blog buys are always purse friendly."
Based near Milton Keynes, Victoria is a big fan of scouring car boot sales. A recent haul includes a Royal Albert plate snapped up for just 50p and a brand new vintage looking M&S floral tea dress for just £7.
Victoria lives at home with mum and dad, but that doesn't mean she doesn't influence the home décor with her passion for all things vintage. Just check out the updated family living room – we can't get enough of that rug! If you're prepared for insane jealousy you should also take a sneak peek at her duck egg blue themed dressing room (pictured above) too, it's the stuff dreams are made of.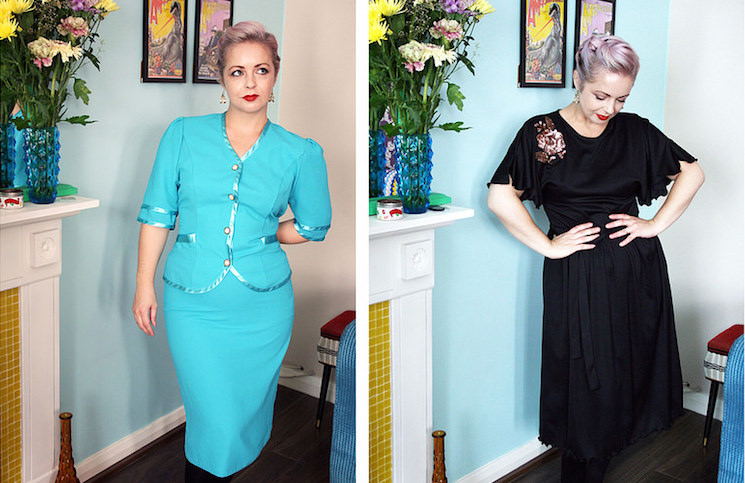 Emma models her vintage wares
Image: Dear Thirty
Meet Ipswich blogger Emma, self-confessed vintage thrifting manic and serial tweeter!
Emma has worn many hats over the years; she's been a radio presenter, drama instructor and she's even released her own album! These days Emma runs her own vintage shop, where she sells preloved retro clothing and accessories.
Emma blogs her vintage inspired outfits. This lovely layered outfit is perfect for keeping you warm, and on (vintage) trend.