8 sofa snacks for movie lovers
Thursday 18 February 2016 | anna
In the mood for a home movie night? Before you draw the curtains, settle down on your sofa and reach for the remote - what about snacks? Forget stale cinema popcorn, sugar laden drinks and over salted crisps - we show you how to make some tasty and healthy snacks to nibble on as you watch your favourite films.
Here we present our classic cinema snacks with a twist. Mouthwatering movie munchies… Now where's that remote?
Pep up your popcorn
Salty?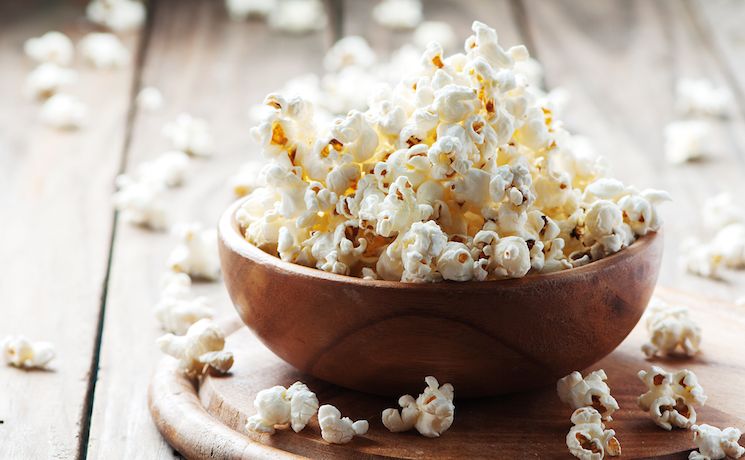 Salty or sweet?
Image source: Oxana Denezhkina
Fancy popcorn to go with your flick? Cheap, quick and easy to prepare, all you need to make popcorn for 2 people is 50g of popping corn and 1 tbsp of sunflower oil.
Whack the heat up, put the pan on the hob, add the oil and corn, then shake. Wait until there're 2-3 seconds between each pop and your classic movie-time snack is ready.
How about popcorn with a kick of spice? Claire Thompson's smoked paprika and spice recipe blends cumin seeds, fennel, paprika and a sprinkling of salt. Experimenting with flavour is easy and fun and it needn't lead to you piling on the pounds - so go on - be adventurous.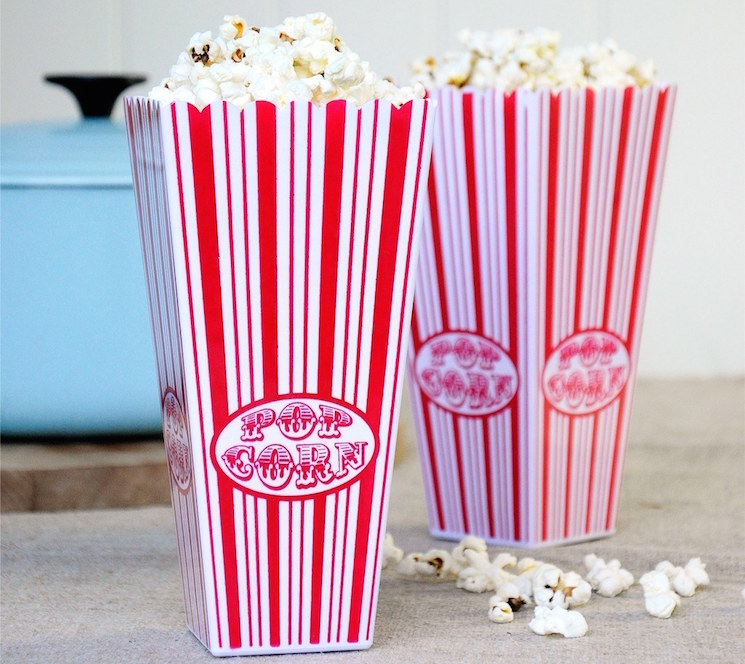 Pictured: Popcorn holder - £1.95
Or sweet?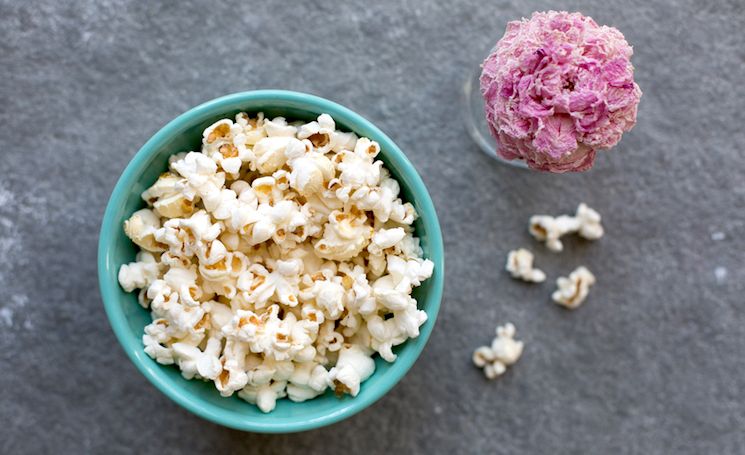 Madeleine Shaw's delicious coconut and vanilla popcorn
Image source: Madeleine Shaw
Sweet toothed film buffs will love Madeleine Shaw's vanilla and coconut popcorn recipe. Pop your corn, add coconut oil and vanilla extract and serve in one of our new mini popcorn holders.
Bakes and bites
Cinematic cupcakes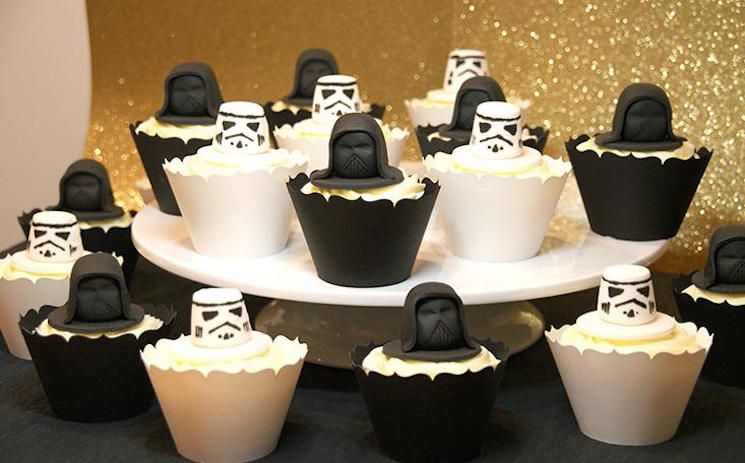 You won't need to 'force' these cupcakes down!
Image source: Bake with Stork
These Star Wars themed cupcakes are just the ticket for a sci-fi themed movie night. Simply mix the sponge ingredients together and spoon into paper cake cases. Pop the cakes into the oven for 20 minutes and allow them to cool while you make the make the heads and buttery frosting.
Mould black ready-to-roll icing into Darth Vader heads and use a knife to mark the mouth. Indent the eyes with the end of a small paintbrush, then carefully drape half a circle of black icing over each head to make the helmet. You'll need 6 white marshmallows to make your stormtrooper heads. Draw on the details of their faces with black edible ink, then place the heads onto circles of icing.
Now make the frosting, swirl it onto the cupcakes and pop your heads on top. For a final flourish, present each cupcake in a black or white wrapper.
Crisp and curly root veg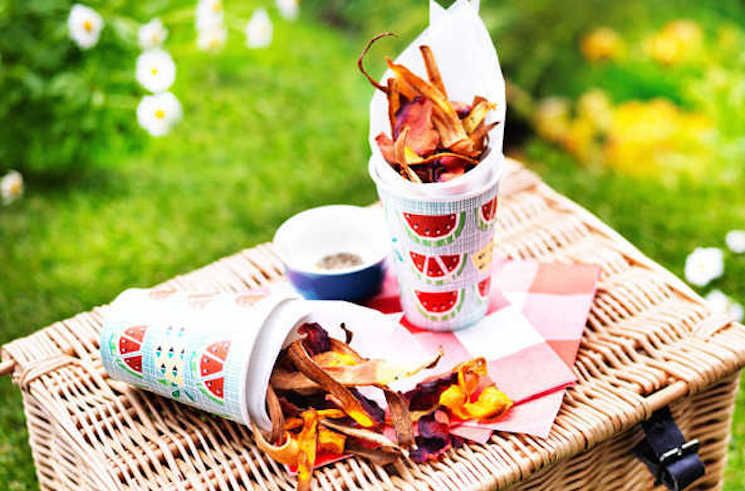 Savoury tooth?
Image source: Homemade by you
Cinemas aren't the place for noisy snacks and we reckon crisps and crisp packets are the worst offenders. But make these curly vegetable crisps and you'll be able to crunch away in the comfort of your own home!
These curly root veg crisps are nutritious and low in fat. To make them, skin 2 beetroot, a carrot and a parsnip then thinly peel into strips. Spread the strips out on lined baking trays and leave for 30 minutes so the paper soaks up any moisture.
Next, drizzle the veg mix with olive oil, season and pop in the oven for 16 minutes until crispy and shrunken. Leave to cool and your tasty treat is ready to enjoy with your favourite film.
Frozen 5-a-day treats
Go bananas for our healthy ice cream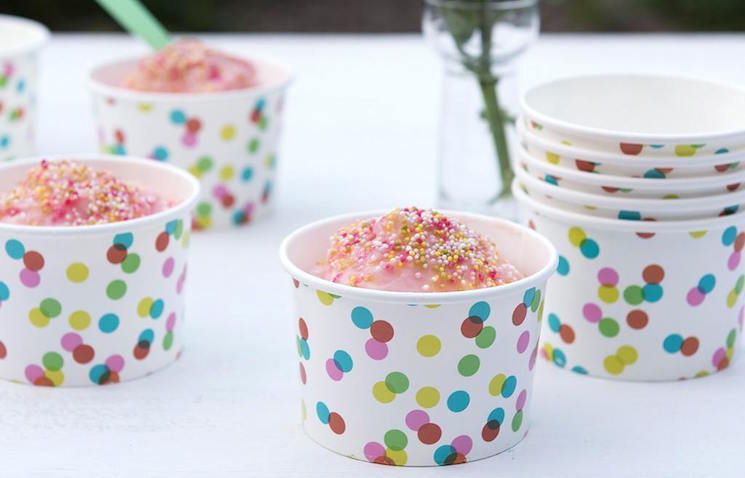 Pictured: Confetti Design Ice Cream Pots - £2.95
Planning a box set binge? This yummy banana ice cream will give you all the energy you need to stay up late! There's no churning involved, it's low fat, packed with goodness and counts as 1 of your 5-a-day!
Simply chop 4 ripe bananas into chunks, put them in a covered dish and pop them in the freezer. Leave for at least an hour until frozen through.
When you're ready to eat, throw the banana into a food processor and whizz it up until smooth, adding enough milk to create a creamy texture. Serve in our colourful new confetti design ice cream pots. What's more, the pots are disposable - no washing up!
Pops full of frozen fruitiness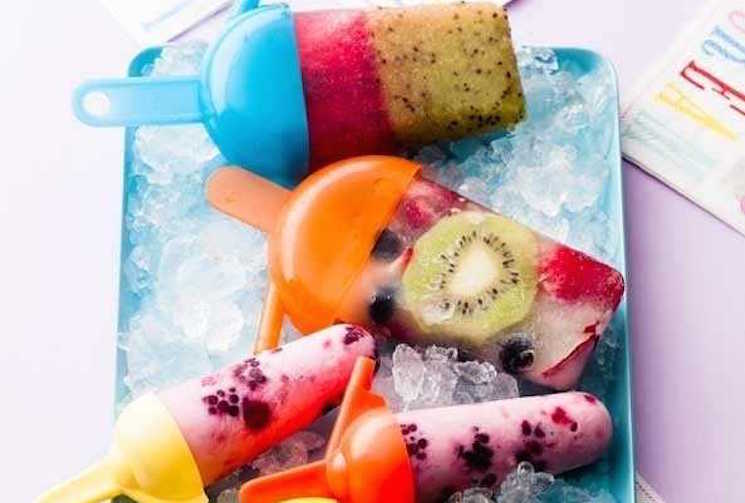 Frozen fruity yogurt pops
Image source: Homemade by you
Remember the days when there used a be an ice cream interval half way through a movie? If you fancy creating your own frozen movie treat, these lollies will satisfy the sweetest tooth and you won't have to wait in a queue to get one!
Place 60g of slightly softened frozen summer fruit in a bowl, and add 150g of low fat natural yoghurt and honey to taste. Stir until the yoghurt turns pale pink or purple, then divide between 4 lolly moulds. Freeze for 4 hours until frozen solid, and enjoy them with your film.
Fizzy and flavoursome drinks
Refreshing fruity fizz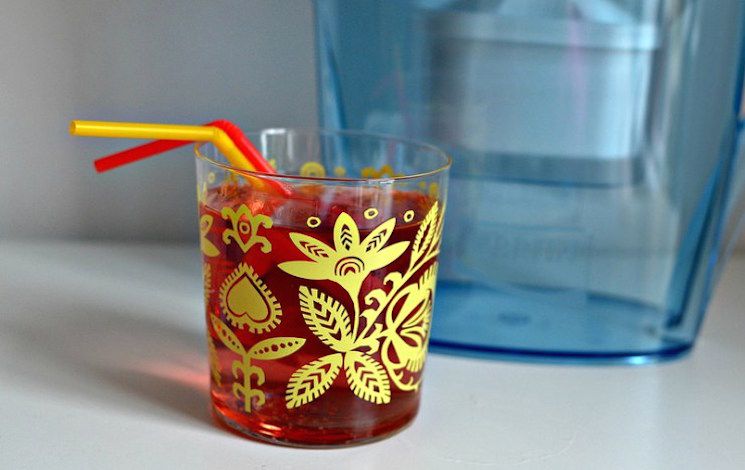 A healthy alternative
Image source: The Ana Mum Diary
If you don't fancy the sugary slushes on sale at the cinema, thankfully there are plenty of alternatives out there.
'Not all fizzy drinks have to be unhealthy!' nutritionist Jenny Edelstein says. Jenny's Berry Fizz is simple to make and rich in vitamin C. To make it, steep 2 berry flavoured teabags in 200ml of boiling water. Remove the teabags, add 70g of raspberries and 50ml of maple syrup. Simmer and stir the mixture for 10 minutes, then strain it and put it in the fridge.
To serve, top the syrup up with soda water. You'll love sipping your drink from our new water bottles, available in 5 colourful designs: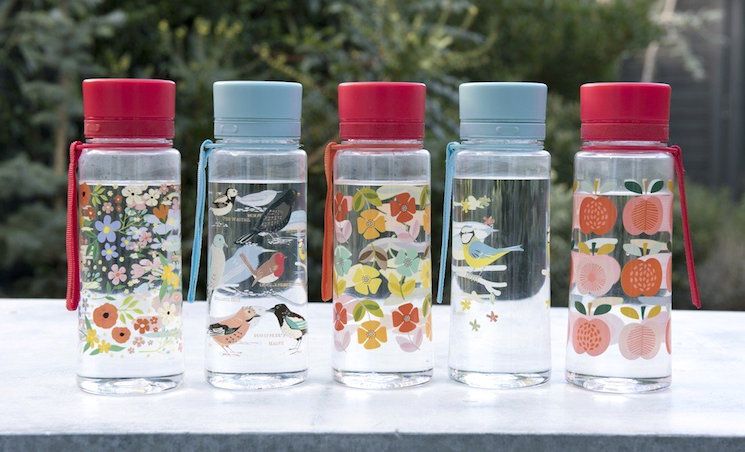 Pictured (from left to right): Summer Meadow water bottle, Garden Birds water bottle, Mid Century Poppy water bottle, Blue Tit water bottle, Vintage Apple water bottle - all £8.95
Chocolate smazzle smoothie shake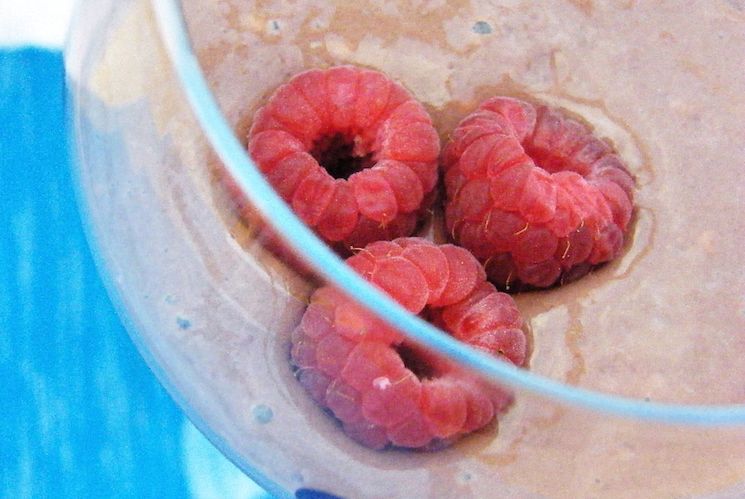 'Luxury in a glass'
Image source: Tinned Tomatoes
Part smoothie part shake, this heavenly hybrid has a smooth chocolatey taste. Creator Jackie Meldrum, from 'Tinned Tomatoes' describes it as 'luxury in a glass.' If you fancy an indulgent dessert with your movie, this smoothie shake is for you!
Jackie's recipe is so quick and easy. Whizz up 120g of raspberries, 60ml orange juice, 3 tsps of cocoa powder, 2-3 tsps of runny honey, 60ml of Greek yoghurt and 120ml of semi skimmed milk.
Add a touch of class to movie night by serving the mixture in a wine glass and top with raspberries or strawberries. Delicious.
Try our snack suggestions and you'll never want to eat stale popcorn again. Let us know which recipe is your favourite or why not share some of your own movie night munchies? We'd love to know how you turn movie night into a taste sensation!