Yummy Easter recipes
Easter is fast approaching and we can't wait! We're looking forward to making some yummy Easter treats, so we've had a good old nosey and found some fabulous Easter recipes (and great blogs) for you to enjoy.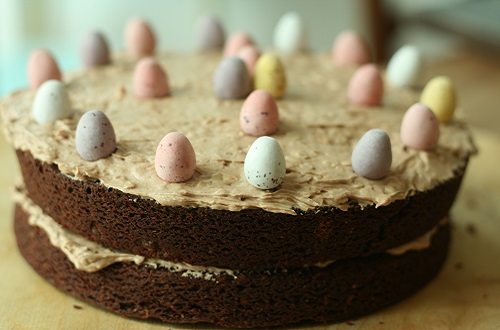 Indulgent and naughty, James Ramsden's Easter cake is an irresistible blend of chocolate, hazelnuts, amaretto and Mini Eggs.
James - Yorkshireman, food writer and cook - runs an underground supper club in East London. But even if you can't make it to the Secret Larder, you can always visit his food blog.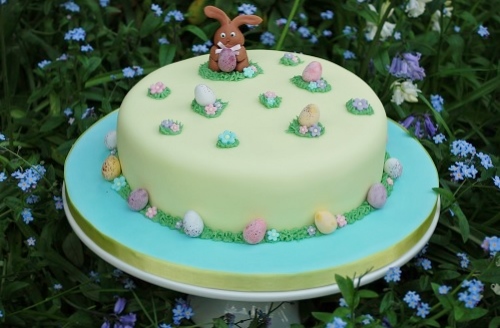 This jam and buttercream-filled sponge is beautifully decorated with the sweetest of Easter bunnies, sugar daisies and Mini Eggs.
Ex-chef and patissier, Clare, has given up anti-social working hours to dedicate her time to designing, making and writing about cake, and that's good news for all of us!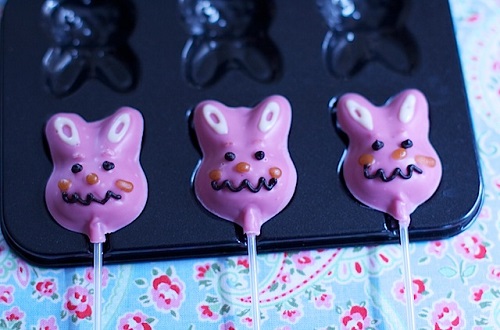 Cute and delicious, these Easter bunny pops are fantastic to make with the kids during the school holidays. These are made with pink chocolate and their faces are drawn on with chocolate and caramel icing - yum!
We found them on Maison Cupcake, a fab blog by self-taught baking goddess Sarah. The blog is filled with kid-friendly restaurant reviews, recipes and lots of cakes, puds and pastries.
Following a recipe by Lorraine Pascale, James's cake is a lemon lover's paradise. Gooey lemon curd and boozy limoncello perk up this traditional Victoria sandwich.
Food blogger James Brewer's site is full of tempting, grown-up recipes and stunning photography.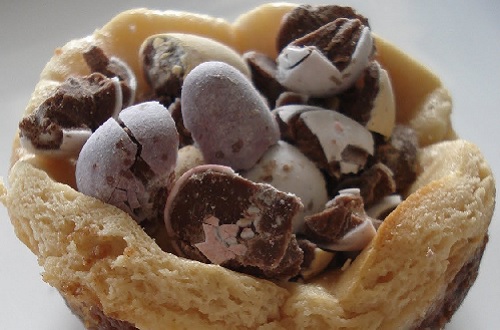 This recipe for individual white chocolate cheesecakes, topped with yet more Mini Eggs, is sure to be an Easter hit. Baker Chele thinks they're a 'fail' looks wise, but we have to disagree.
If you've got a sweet tooth, you'll love her blog, Chocolate Teapot. Expect lots of tempting recipes for some seriously naughty cakes and puds.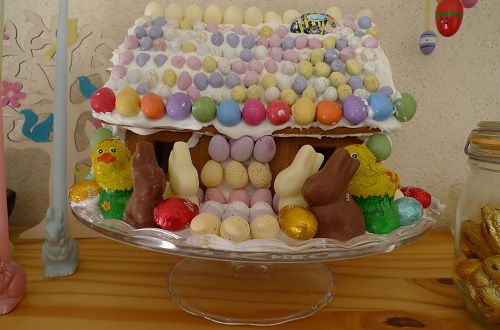 This Easter gingerbread house is so irresistible that blogger Jude couldn't help but scoff it before it was finished, so she had to use more chocolate creatures to plug the gap!
Splitting her time between kitchens and tastes of London and Brittany, it's hardly surprising that Jude is often a 'trifle rushed'. Visit her blog for lots more yummy recipes.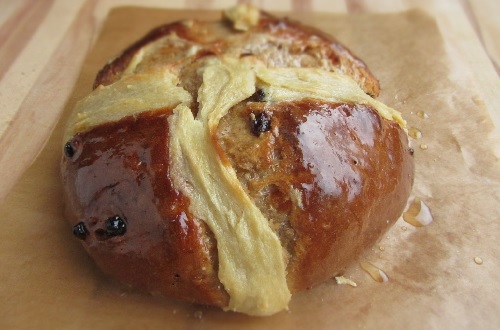 Simple, straightforward and delicious, this giant hot cross bun recipe will deliver a sweet and spicy teabread that's perfect toasted and loaded with butter.
How to Cook Good Food is Laura's blog - she's an ex-chef and nowa mum, cookery tutor, food blogger and keen allotment holder. Phew! The blog is full of great recipes, helpful cooking tips and delicious photography.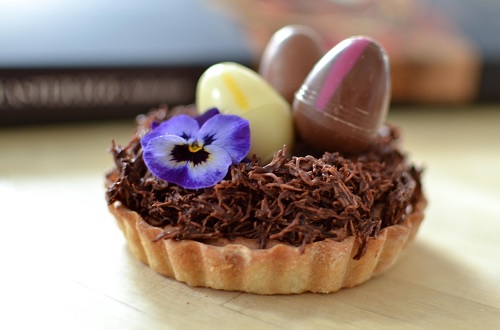 Simple and elegant, these little tarts look almost too good to eat. Fill pastry cases with chocolate mousse and chocolate shredded wheat, and decorate with fancy chocolate eggs and edible flowers.
Urvashi the Botanical Baker is passionate about the nutritional values of plants. Her blog features lots of scrumptious recipes including plants, herbs, flowers and other botanical bounty.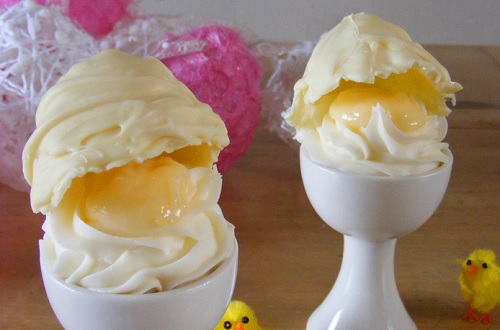 Made from lemon cakes with lemon icing, lemon curd and white chocolate egg shells - these dippy eggs are seriously sweet and lemony.
Elizabeth is an expat Canadian living on Shetland and her passions are eating, cooking and crafting. Her blog has lots of lovely recipes and great images to inspire and delight the senses.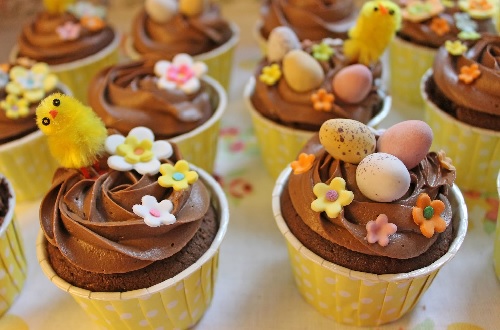 These are sooo cute and they look delicious! These beautiful creations are chocolate cupcakes topped with chocolate buttercream, sugar flowers, Mini Eggs and little Easter chicks.
Visit Cupcakejojo's beautiful blog for some stunning photography and mouthwatering recipes - perfect if you share her passions for baking, vintage and a good cup of tea.
Mr & Mrs Easter Chick
Casa Costello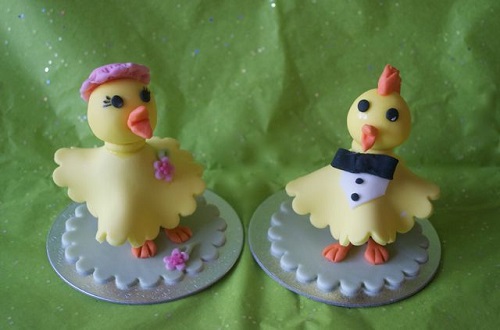 These cuties are made from sweet coloured sugarpaste moulded around a Cadbury's Creme Egg - not only cute, but delicious too!
Creme Egg Creatures are a speciality of baker and blogger, Helen Costello. For more delicious ideas - sweet and savoury - check out her blog, Casa Costello.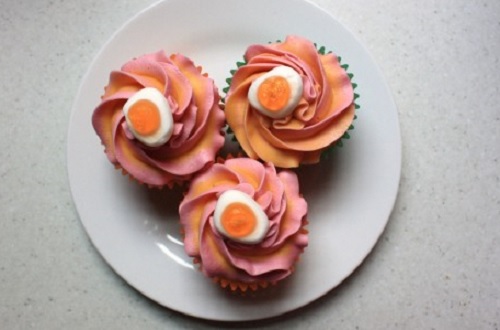 These pretty cupcakes have been decorated with buttercream icing, tinged with dusky pink and primrose for a two-tone effect. We think the sweetie fried eggs give these pretty buns just the right amount of Easter kitsch.
Holly is a self-titled 'normal mum' and baking superstar. If you need a recipe, Holly's your woman and her blog is a delight to read.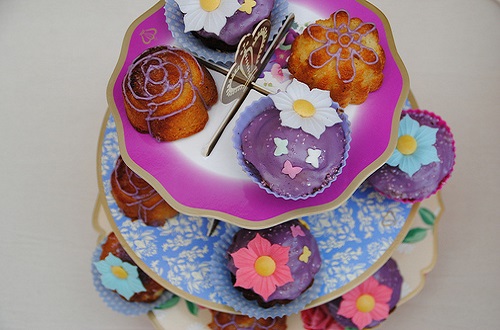 These mini lemon drizzle cakes would still be perfect without the decoration, but the flowers, sparkles and lilac icing make them oh so pretty!
They're the creation of Gill, aka Pigling Bland, a blogger who writes about her kitchen adventures and shares her lovely recipes and foodie wisdom.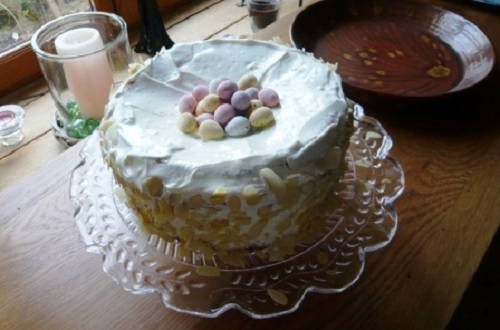 When Jean's Easter battenburg sponge sunk in the middle, she didn't panic. Instead she filled the dip with Mini Eggs and - ta da! - the bird's nest cake was born.
Visit Baking in Franglais - Jean's blog - for some seriouscake action. And follow her as she writes about her baking adventures at home in the UK and in her holiday home in the Loire Valley.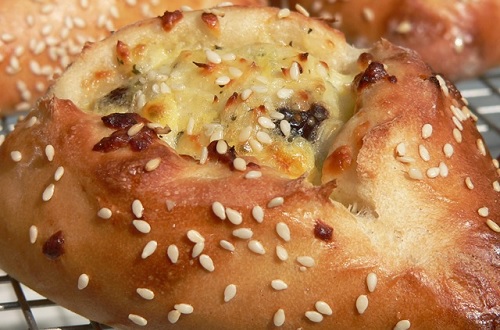 Piluvana are a Cypriot speciality, traditionally made at Easter time. These delicious rolls are stuffed with a delicious sweet/savory blend of cheese, sultanas and mint, and dusted with sesame seeds.
This is Debora's recipe. A food writer and passionate cook, her blog is full of great recipes, funny anecdotes and lots of gratefully licked spoons.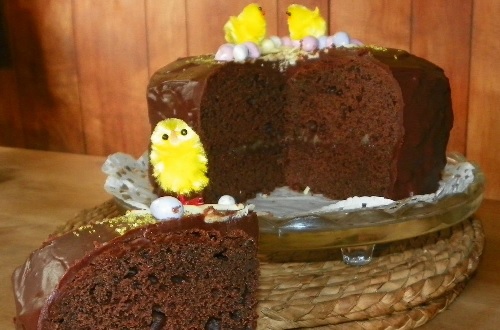 A leftover bar of chilli chocolate, homemade goat's milk yoghurt, lemon curd and a jar of lemon sherbet crystals were all incorporated into this astounding cake.
Smithycraft is Sharon's blog. A smallholder in Scotland with three dogs, cows, goats and sheep, she blogs about her experiments with food (good and bad) and shares her tasty success stories and funky craft ideas.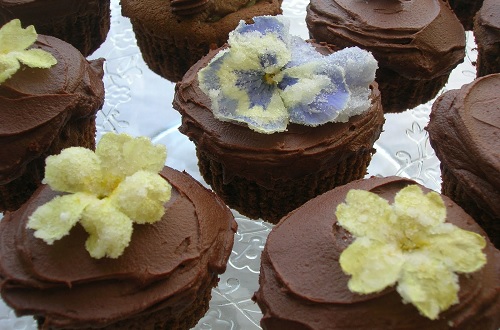 These little beauties are chocolate cupcakes spiced up with marzipan middles and raisins soaked in amaretto. They're decorated with chocolate and amaretto icing, and crystallised flowers.
Choclette is a keen baker and chocoholic since childhood, and her blog is your one-stop-shop for chocolate recipes and baking inspiration.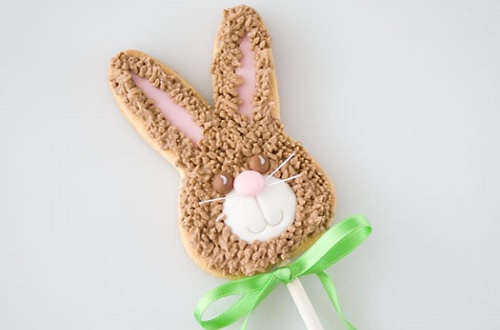 Are these cookie bunny lollies too cute to eat? Well ... almost. But don't worry, thanks to Louise's great step-by-step tutorial, you'll be able to make plenty.
Louise's blog, CakeJournal, is bursting with baking and icing tutorials, tasty recipes and secret tips to make your baking beautiful.
Now we've got you in the baking mood, take a look at our pretty range of Easter gifts and decorations to add some Easter 'chick' to your home.