Friday 15 November 2013 | clare
Top 10 Christmas recipes
Food bloggers come into their own at Christmas because there are so many yummy things to cook! To celebrate the very best of festive food, we're bringing you the top ten classic Christmas foods and the excellent bloggers who made them.
from The Crazy Kitchen
The turkey: it's at the heart of every Christmas meal and family chefs often feel the pressure to get it just right. So this year take the pressure off, as The Crazy Kitchen brings you tips from Marco Pierre White to make your turkey the tastiest it's ever been.
Top tip: Remove the wishbone before cooking to make carving easier.
The Crazy Kitchen is the home of Helen, a woman who loves to cook and is on a constant mission to keep her hungry children happy! Check out her gorgeous recipes for lots of sweet treats, especially cake, and plenty of posts about family life.
from Ms Marmite Lover
You can't beat a good roastie and Ms Marmite Lover has a winning formula to make perfect potatoes every time. She's also planned out an entire Christmas dinner, complete with soup, salmon and even a cheese board!
Top tip: Roast your potatoes with rosemary for extra flavour.
Kerstin, aka Ms Marmite, started the underground restaurant movement, encouraging people all over the country to hold their own supper clubs. Now she inspires thousands of cooks with her detailed recipes and fascinating posts about the world of cookery.
from Feeding Boys and a Firefighter
It took some trial and error but at last Katie has cracked the secret to perfect Yorkshires that rise every time and don't stick to the tray. These crispy beauties will go beautifully with your Christmas roast - just make sure you have enough to go around!
Top tip: Spoon your batter into cake cases to get them out easily.
With two boys in the house - and a vegetarian firefighter - this mum has a lot on her plate when it comes to keeping her family well-fed. She loves to potter in the kitchen and has collected together a huge catalogue of recipes for you to try. There are even tips for making your own jam!
from The 21st Century Housewife
Forget packet stuffing, here's a simple recipe that'll have your mouth watering in no time. The 21st Century Housewife has been perfecting it for several years, adding pecans to the already delicious combo of apricot and celery.
Top tip: Use only butter, not water, for a delicious crunch.
Being a housewife is a full time job and this blogger has a lot to say on the matter. From tips for taking care of your home to travel adventures around the world, there's plenty to get your teeth into here if you're a reader with a taste for entertaining blogging.
This blogger brings you a double whammy of saucy goodness for your Christmas dinner. Of course you can't have turkey without gravy and this recipe even makes use of the turkey bones. As for the cranberry sauce, both fresh and frozen fruits work just as well.
Top tip: Let the gravy rest, then skim off the fat to avoid greasiness.
There's a little something for everyone at The Purple Pumpkin Blog. If you love to cook there are loads of recipes to choose from, but if crafting is more your thing you can try your hand at one of her many projects. This blog is packed with inspiration for creators of all kinds!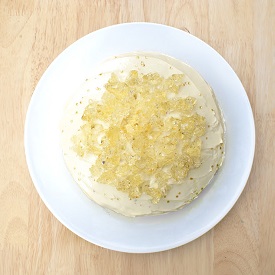 Everybody loves Christmas cake and this blogger will show you how to make yours extra special this year with a shattered sugar topping. She makes her Christmas cake even more beautiful by sprinkling on little golden stars!
Top tip: Add champagne flavouring oil for a touch of luxury.
'A Blackbird's Epiphany' is a lovely lifestyle blog from a blogger with a wide range of interests, including dinosaurs and geology! Follow her adventures, the little things she loves and some truly scrummy recipes here.
from Fed Up and Drunk
Christmas puddings are a staple at this time of year and making your own couldn't be easier, thanks to this brilliant recipe. Keep feeding your pudding with brandy in the run up to the big day, and don't forget to press a coin inside for somebody to find!
Top tip: Get started a month before Christmas for a truly tasty pud. 
Fed Up and Drunk love to 'poke their noses into the foodie world' on behalf of their readers. They'll bring you the very latest in food fads and restaurant news, and there are lots of seasonal recipes to get stuck into as well.
from The Boy Who Bakes
If this isn't a tradition in your house yet, it really should be. Gingerbread houses are perfect to make with kids and you can keep them around as a pretty centrepiece (if you can resist tucking in straight away, that is...).
Top tip: Use paper templates to cut out each part of your house.
You may recognise The Boy Who Bakes - he won the second series of The Great British Bake Off! Now you can read his best baking tips directly on this scrummy blog, including some of the recipes he made on the show.
from Natural Kitchen Adventures
Let's be honest, nobody saves mince pies until Christmas Day - they're more of a December-long snack. You can rustle up your first batch with this blogger's recipe, and they're even gluten-free so everybody can enjoy them!
Top tip: Top your mince pies with pretty festive stars.
Natural Kitchen Adventures is the place to go for simple recipes without any unecessary additives. After battling with health problems herself, Ceri now shares her all-natural diet, which cuts out gluten and refined sugars for a healthier, happier lifestyle.
from A Spoonful of Sugar
Yule log, chocolate roulade: call it whatever you like, but just don't forget it. This year why not try something a little different? A Spoonful of Sugar's salted caramel yule log is a superb twist on a Christmas classic and you won't regret making it at home.
Top tip: Roll the sponge whilst it's warm to avoid breaking it.
This blogger has been obsessed with food her entire life - even her childhood diaries are filled with memories of the things she ate! Her dream is to own her own café, but in the meantime she shares her wonderful culinary adventures here.
Whether you need Christmas gifts for bakers, crafters or animal-lovers, DotComGiftShop has it covered.