How to create a cracking Christmas dinner
Succulent roast turkey, crisp fluffy potatoes and rich Christmas pudding. Everybody loves a luxurious Christmas day lunch, but you don't have to stick to the same old classic recipes every year.
Whether you're vegetarian, feeling frugal or simply want to avoid piling on the pounds, we've trawled the blogosphere to find all the recipes you'll need to create a memorable festive meal. So sit back and prepare to feel festive as we reveal our smorgasbord of seasonal delights.
Setting the scene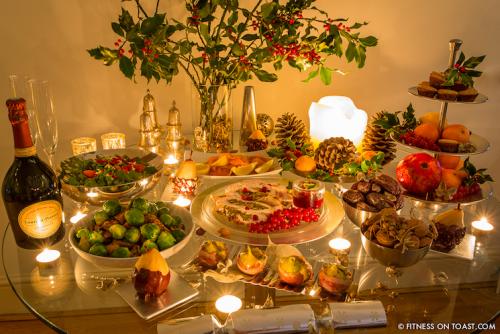 Create a festive feel Image source: Fitness on toast
When it comes to decorating the table for your family feast, you don't have to break the bank to create a festive feel. For a traditional look, invest in a classic crisp white tablecloth, as this frees you up to introduce accessories of any colour. If you prefer a more rustic look, go for natural linen instead.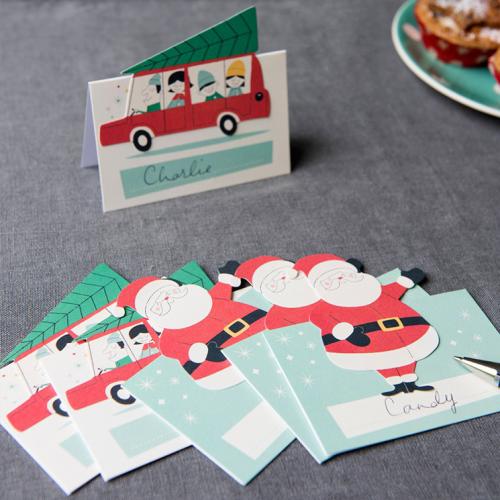 Make sure there's a place for everyone at the table, with these festive place cards
Set of 6 Festive Family Christmas place cards. Was £2.95, now 39p
Nothing creates a more Christmassy ambience than glittering candles. We love blogger Colette's festive but frugal plan to replace pricey scented candles with tealights:
'They may be cheap but they are so versatile and can look really special when mixed with antique stands or vintage glass jars. My favourite idea that I've seen this year is floating tea lights in a glass with a holly sprig. It looks great and is so easy to make at home.'
If you haven't got time to get creative, fear not. Our vintage silver glass tealight holder will add all the shimmer your dinner table desires.
Turkey and trimmings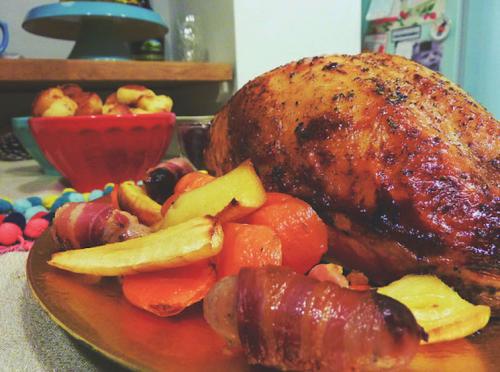 Don't be a chicken when it comes to turkeyImage source: Awkward blog
Nervous about cooking the turkey? Don't be. Michelle of babycentre recommends seeing turkey as an extra large chicken. Pop over to Michelle's blog to see her excellent guide to ensuring your turkey is the right size for your family.
Heidi who blogs at mamacook recommends planning for your turkey to be cooked 1 hour before you intend to eat:
'This is good for two reasons, turkey especially needs to rest and will stay warm wrapped in foil for quite a long time. Secondly, if the turkey is finished, there's then loads of room in the oven for roasties, chipolatas, parsnips etc.'
There are plenty of ways to ensure that your Christmas turkey is moist and flavoursome. Last Christmas blogger Angela followed Nigella's recipe for brining her turkey. Brining the bird results in super succulent meat. It simply involves soaking it in a plastic bucket with plenty of seasonal spices:
'I had to buy a big plastic tub, endless bits and bobs to add to the brine, plonk it outside in the cold, and keep my fingers crossed that A) I wasn't going to kill us all with salmonella poisoning B) I wasn't about to feed the entire North London fox population and C) SLUGS.'
Once your turkey is ready to roast, slather some butter under the skin, brush it with oil, season it and criss-cross the breast with rashers of streaky bacon
Gorgeous glazed ham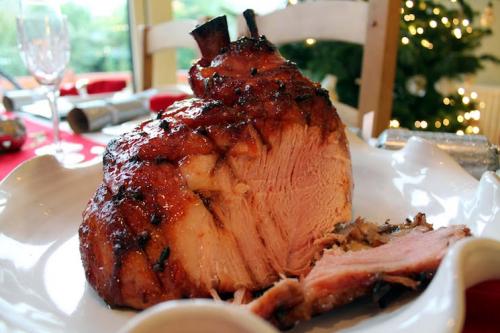 Heavenly glazed hamImage source: Serena's Medium Rare
If you fancy serving something different this Christmas, baked ham can be just as much of a treat as turkey. Rachel of Well Worn Whisk agrees:
'Nowadays most hams don't even require soaking (or even bringing up to the boil and discarding the water as I used to do). It's a real showstopper, and fantastic as part of a buffet.'
Rachel's recipe for glazed ham begins with roasting it in a foil tent so that the air can circulate. Once it's cooked, score strips on the skin and peel it away leaving as much fat as you can. Cut diamond shapes onto the fat and stud with cloves before painting it with maple syrup, mustard, brown sugar and mixed spice. Pop the ham back into the oven and allow its festive aroma to fill your kitchen! 
Ham is also a great choice if you're aiming for a frugal Christmas. It's the gift that keeps on giving, according to Serena of Serena's Medium Rare, who prefers ham to turkey:
'It doesn't take a mountain of actual physical work; but trust me, this extra attention to detail will be worth it when you come to taste it Christmas day and it will be awesome in sandwiches and salads and pasta dishes for days to come.'
Lean luxurious venison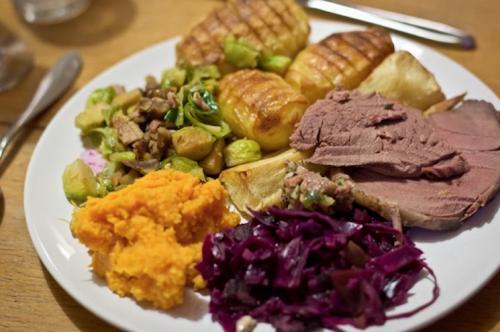 Mister North's venison stole the showImage source: North South Food
Venison sales were up by 115% last Christmas, as adventurous Brits opted for a wider choice of festive fare. Blogger Mister North likes this low fat high protein meat, but until last Christmas he'd never cooked a large family joint. He needn't have worried:
'The centrepiece of our Christmas dinner this year was a roasted leg of venison. Pretty good as it stands (ahem), but curiously, this tale ends up being all about the leftovers: the venison pie afterwards stole the show!'
Venison tastes best when extra flavour is added. Foodie blogger mrs.jackson cooks' left her haunch of venison marinating in a mixture of juniper berries, peppercorns, allspice, onion, gin, wine, thyme, orange and bay for three days! The verdict?
'It was so delicious, not really strong or too gamey.  I would say it was a bit like lamb…but a bit richer perhaps.'
If you've never cooked venison before but fancy a try, Annabelle of The Wild Meat Company recommends roasting your joint at 200 degrees for ten minutes per 450g, allowing it to rest for twenty minutes before you carve.
Veggie packed Goodwill Pie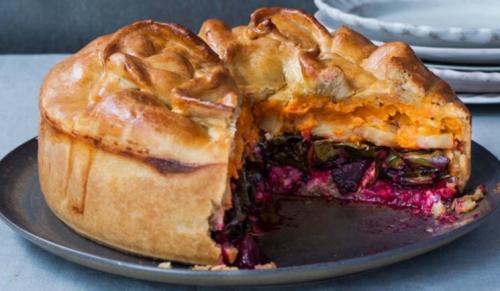 Anna's pie is packed with veggiesImage source: Anna Jones
Even veggie lovers get tired of eating nut loaf, so how about blogger Anna Jones' showstopping Goodwill pie for the vegetarians in your family this Christmas? Her recipe involves layering roasted sweet potatoes, beetroot, parsnips, leeks, greens and crumbly Lancashire cheese inside a pastry case. Packed with freshly picked herbs and spices, this is one pie that's definitely worth a try:
'Like all good things (and Christmas dinners), it does require a bit of time and love but the beauty here is everything can happen at once. All the roasting can be done while you get on with the leeks and greens.'
We're sure it won't be just the vegetarians in your family eating Anna's pie.
Sprouts with pancetta and shallots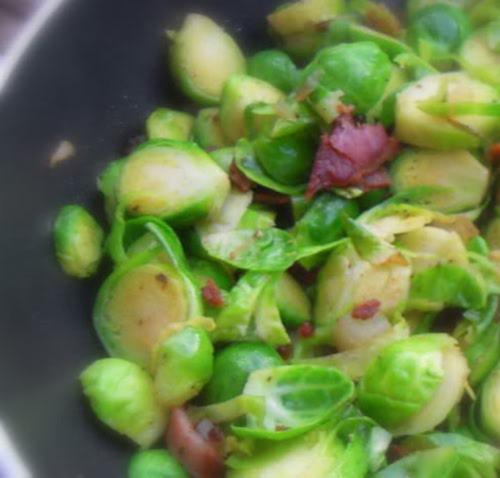 Swap soggy sprouts for tender tasty onesImage source: The English Kitchen
Love them or hate them, most people don't really know how to cook sprouts properly. That's according to Marie who blogs at The English Kitchen:
'One doesn't want them as hard as a rock of course, but you just can't beat a properly cooked, crispy tender sprout for taste!'
Follow Marie's recipe and she guarantees crispy tender sprouts with caramelized edges. Add a few shallots and a handful of crispy pancetta for an irresistible take on this classic Christmas veg.
Christmas dinner cooking schedule
Looking for a guide as to when to start all your cooking and prep? Look no further!
This schedule is based upon a 2kg turkey for 4 people, having followed the pre-cooking recommendations above, and aiming to tuck in at 3pm on Christmas Day. Remember to adjust it for your requirements!
The whole process will revolve around the turkey. You need to allow 20 minutes cooking time per kilo of turkey. If your turkey weighs under 4kg, add another 70 minutes to that time or, for turkeys heavier than 4kg, add 90 minutes.
9:30am - Prepare the stock. Remove the giblets from inside the turkey and put them in a saucepan. Add a thickly sliced onion, carrot and stick of celery, as well as salt, pepper, parsley and a bay leaf. Cover the whole lot in about a pint of hot water and leave to simmer.
10:00am - Prepare the stuffing, by frying the onion, celery and sausage in melted butter, and adding this mixture to your dried chunks of bread. Put it all in a baking tray and put to one side.
10:30am - Prepare the batter for the Yorkshire puddings. Thoroughly mix together equal parts flour, eggs and milk, with a pinch of salt, then put the mixture to one side.
11:30am - Strain the liquid from the stock saucepan into another container, and put it in the fridge. This is your stock.
11:40am - Preheat the oven to Gas Mark 5 (180°C) for about an hour before the turkey goes in.
12:25pm - Prepare the turkey. To make your turkey skin gorgeously golden, simply try rubbing butter into the turkey skin. And, if you can bear to roll up your sleeves and get stuck in, then put an orange, some cloves of garlic and some thyme inside the turkey to give it a little extra zing.
12:40pm - Put the turkey in the oven, covered with tinfoil.
12:45pm - Prepare sausages by wrapping them in bacon. Put them to one side.
1:15pm - Baste the turkey: using a spoon, ladle the juices in the roasting tin over the turkey.
1:35pm - Remove the tinfoil from the turkey, to allow it to brown in the oven.
1:50pm - Prepare the tray for the potatoes. Roast potatoes are at their most delicious when cooked in goose fat, so put the fat in the tray and heat it in the oven until it is melted and smoking a little. Then put the potatoes into the tray and in the oven.
2:00pm - Baste the turkey again.
2:10pm - Get your tray of stuffing and add a cup or two of stock to it. Put the stuffing in the oven.
2:25pm - Put your bacon-wrapped sausages in the oven.
2:30pm - Take out the turkey and check it is cooked through by poking in a fork: if the liquids run clear then it is done, but if they run pink put it back in the oven. If it is cooked, cover it with tinfoil again. Let it stand out of the oven for half an hour before carving.
2:35pm - Grease a bun tin and pour a dollop of Yorkshire pudding mixture into each section. Put it in the oven.
2:45pm - Make the gravy by mixing hot water with gravy granules. Add a little of your turkey stock to the mixture too, for a little extra flavour. Keep it on a very low heat in a covered pan until you're ready to serve.
2:50pm - Boil or steam your vegetables. Carrots and brussels sprouts take about seven minutes, whilst frozen peas take only three.
2:55pm - Carve the turkey. If you're not sure how, you can watch this turkey carving video, courtesy of cooking.com.
3:00pm - Congratulations, you've done it! Serve everything and enjoy!
Traditional Christmas Pud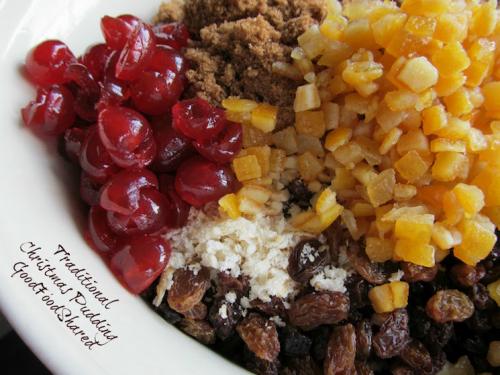 Lisa's pud is packed with fruity flavourImage: Good Food, Shared
Tempted to buy your Christmas pud? Lisa of Good Food, Shared extols the virtues of a proper homemade pud:
'It may seem like a lot of effort but, if you plan it out and steam on a day that nothing much else is going on, you might as well have two delicious puddings for your trouble. Make two and if you don't eat the second, well it will keep until next year, no problem.'
Lisa's pudding recipe is a little lighter than some but it's still packed with moist fruit, cherries and spices, soaked overnight in brandy, rum or whiskey and a splash of Guinness.
Banoffee trifle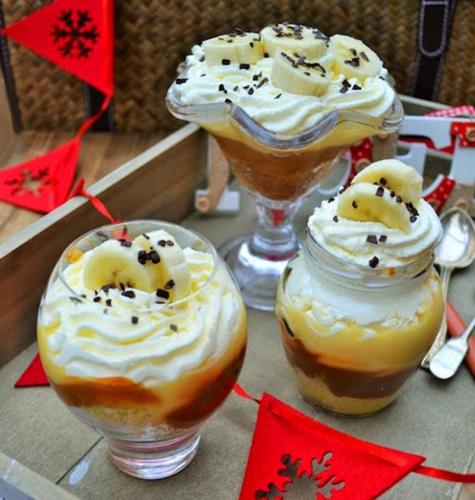 This tasty trifle takes just ten minutes to makeImage source: Tinned tomatoes
Veggie blogger Jacqueline who blogs at Tinned Tomatoes likes to keep things simple when it comes to Christmas catering, including plenty of dishes that can be prepared ahead. So when she was given a Panettone to try one November, she began dreaming of festive desserts. Banoffee trifle was born!
You can make Jacqueline's trifle in one large glass bowl but she prefers to serve it in six smaller dishes. Line the base of each glass with slices of panettone and drizzle over some apple juice to keep it moist. Cover the cake with a layer of gooey caramel condensed milk and banana slices, then top with creamy custard. Lashings of whipped cream and chocolate sprinkles finish off this extra special dessert. And the good news is, it takes just ten minutes to prepare, leaving you free to crack on with your Christmas preparations.
If you've got a signature Christmas dish we'd love to hear from you! Join us on Facebook, we'd love to share tips and tricks on our favourite Christmas cuisine.
Share: