Sizzling summer BBQs
Make your summer barbecue a gourmet feast to remember. Think succulent mediterranean pork steaks, melt-in-the-mouth meat-free flatbreads, aromatic tandoori kebabs and more.  
Here's a selection of fresh and flavoursome recipes courtesy of some of our favourite food bloggers. Grab the charcoal, find those firelighters and prepare to experience a sizzling summer taste sensation.
Stunning starters
Tandoori style chicken kebabs
Be creative with your kebabs!
Image source: Teresa Kasprzycka
When dad blogger Tom was pondering what to cook first on his awesome new barbecue, he turned to a tangy family favourite: chicken kebabs, tandoori style. They're healthy and quick to prepare, which makes them perfect for lunch.
Simply mix 4 tbsps of plain yoghurt, 2 tbsps of vegetable oil, 2-3 tbsps of tandoori mix and 2 tbsps of lemon juice in a bowl. Add 500 g of diced chicken and let it marinate for about an hour before threading it onto a skewer with thick slices of juicy red pepper, chunks of courgette and a handful of sweet cherry tomatoes.
Why not serve your kebabs on our pretty summer tea party plates? There are plenty of designs to choose from and they even come with matching napkins.
Spruced up corn on the cob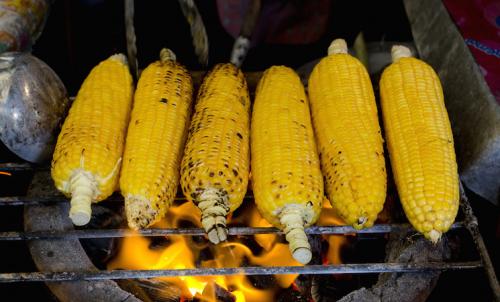 Simply flavour and wrap in foil
Image source: Destinyweddingstudio
It's easy to treat barbecued corn on the cobs as a token bit of veg, but Veghotpot blogger Becky's zesty marinade adds a zing that takes her corn to a whole new level. She's thrilled with the result:
'These are so juicy, flavoursome and full of goodness! No butter needed here!'
To make Becky's marinade, mix 2 tbsps of coconut oil, 1 red finely chopped chilli, the juice and zest of a lime and a small bunch of chopped coriander. Smother six cobs with the mixture, wrap them in foil, then pop them on the barbecue and cook for 15-20 minutes.
Mouthwatering Mains
Greek Cypriot pork steaks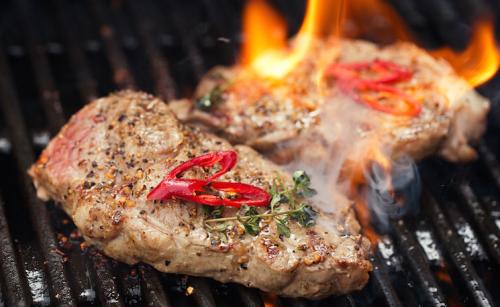 Add some Cypriot spice
Image source: Elena Moiseeva
Add a Greek-Cypriot flavour to your BBQ feast with foodie Michelle Ordever's recipe for Afelia. This delicious dish is made by marinating pork in red wine and crushed coriander seeds. Blogger Michelle describes the taste:
'It has a distinctive flavour that comes from the coriander seeds, and the wine keeps it nice and moist. Normally, this is served fried, or in a stew, but I thought, why not grill on the barbecue?'
You need 500 g of pork tenderloin steak for this recipe. Pour over half a glass of red wine, the juice of two lemons and 2 tbsps of crushed coriander seeds. Mix everything together, cover and chill in the fridge for an hour before grilling on the BBQ. Serve with rice, pasta or bulgur wheat.
Rosemary and thyme burgers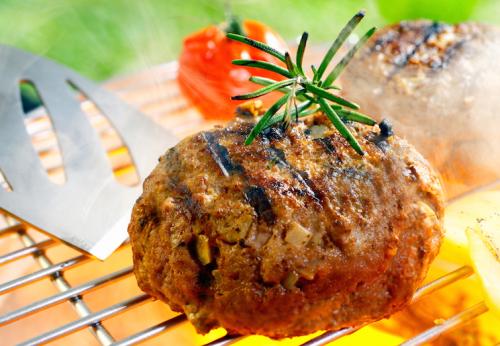 Add herbs to this homemade classic
Image source: Stockcreations
If you're looking for a burger that's bursting with summer flavours, this is the one for you. Mix together 1 tbsp of fresh rosemary leaves, 1 tbsp of finely chopped thyme leaves, 1 tsp of black pepper, 1 tsp salt and a little oil. Dad blogger Keith Kendrick explains what to do next:
'Take a handful of the mixture and roughly shape into a ball, then using a round mould or ramekin, loosely press the burger mince into the mould to create a patty.'
Sear your burgers for 4-5 minutes per side and serve with melted Gruyere cheese, tomatoes, coleslaw and mixed leaves.
Barbecued bass in banana leaves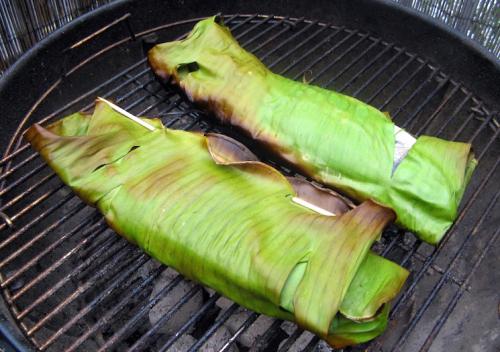 Protect your bass with banana leaves
Image source: Helen Graves
Cooking delicate fish on the barbecue can be problematic. But award winning food writer and blogger Helen Graves from Food Stories, found a novel way to cook her succulent sea bass recipe without the fish sticking to the grill or falling to pieces:
'The huge bunches of banana leaves decorating many of the shops in Peckham Rye seemed just the ticket – a bit more exciting than foil anyway.'
To cook Helen's dish for two, begin by charring a few slices of pineapple on a hot barbecue. While you wait, open 2 banana leaves and oil the parts that will come into contact with the bass. If you can't get hold of banana leaves, you can use 2 large pieces of foil.
Next, stuff the belly of your sea bass with 2 ginger slices, 2 lime slices, a handful of coriander and some mint. Add a few slices of chilli and drizzle with lime juice. Wrap the fish and secure with skewers, then cook with the barbecue lid closed for about twenty minutes.
The perfect partner to your barbecued bass is Helen's pineapple salsa. Dice your charred pineapple and mix with a small handful of chopped coriander, mint and a chopped red chilli.
Grilled halloumi flatbreads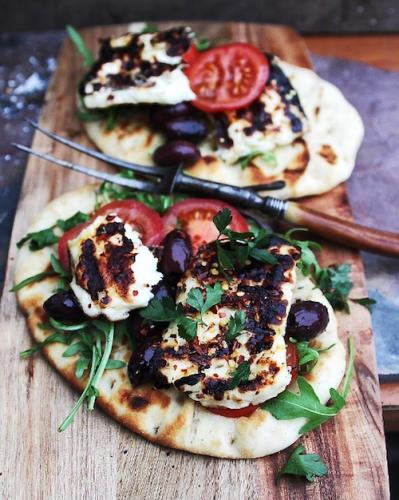 Heavenly halloumi flatbreads
Image source: Countrywoodsmoke
Veggie dad and food blogger Marcus has come up with a simple but mouthwatering meat free barbecue option. He says:
'Halloumi is a wonderful ingredient for cooking on the grill, unlike most cheeses it doesn't go all melty and fall between the grill grates on a BBQ.'
To make Marcus' tangy halloumi flatbreads you need one thick slice of Halloumi per person. Brush your cheese with olive oil and season, scatter over 1 tsp of chilli flakes and a pinch of thyme then barbecue for a few minutes on each side, until the cheese starts to soften.
Warning: the next step will make your mouth water. Load your flatbreads with rocket leaves, tomato slices, olives and the slices of halloumi, then finish off with a pinch of parsley and a drizzle of extra virgin olive oil. Simply scrumptious if a tad messy!
Divine desserts
Caramelised bananas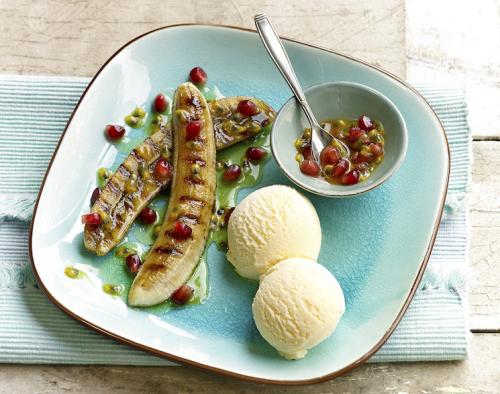 Muscovado sugar makes this dessert magical
Image source: Andy's Kitchen Food Blog
Do you have room for a little dessert? Food blogger Andy's caramelized barbecued bananas are simple and quick to make.
To serve four, melt 25 g of butter and mix it with 25 g of light muscovado sugar. Slice 4 bananas lengthways, brush with the buttery mixture and barbecue for 2-3 minutes per side. Serve with clotted cream ice cream.
Barbecued trifle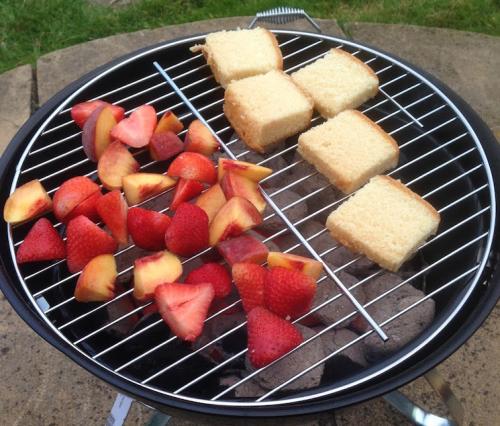 Trifle with a twist!
Image source: The Yorkshire Dad
When Yorkshire blogger, Karl spotted a recipe for barbecued trifle, he thought it sounded strange but was determined to give it a try.
Begin by mixing 300 ml of creamy mascarpone cheese with 900 ml of custard. Once the mixtures smooth, cover it and put it in the fridge. Next, brush four chopped peaches, four nectarines and a punnet of juicy strawberries with oil.
Cut a madeira cake into small slices, then barbecue both the cake and the fruit for a few minutes. Tom recommends removing the strawberries after two minutes.
You're now ready to assemble your trifles. Cover the bottom of four tall glasses with a layer of crumbly cake, add 1 tbsp of fruit juice, then pile the summer fruit on top. Finish with a spoonful of thick creamy mascarpone custard and a handful of nuts. To keep kids happy, how about serving their trifles in our summery confetti design ice cream pots?
Delicious Drinks
Raspberry lemonade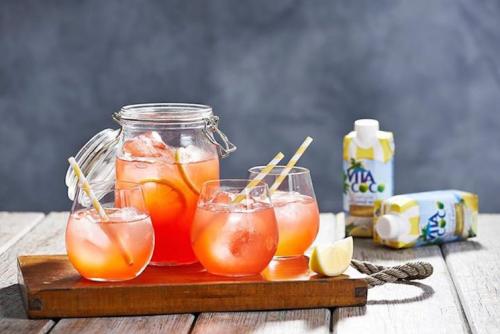 Fruity fizz free lemonade
Image source: A life of geekery
Homemade lemonade is a deliciously refreshing choice for a summer barbecue and blogger Vicki's version has an extra-special twist.
Take a handful of raspberries and pulse them in the blender before removing the seeds by pressing through a sieve into a glass jug. Combine the juice of a lemon with 40 g of sugar and 330 ml of water and pour the mixture over the raspberry puree, leaving it to infuse for 15 mins. Now take another lemon and slice it thinly and add it to the jug along with some chunky ice cubes.
Vicki says: 'This is a non alcoholic option, but if you wanted to, this drink could be spiked with vodka for something more naughty.'
If you're catering for large numbers, simply scale the recipe to suit and serve from our Garden Party Lemonade drinks dispenser. Or for a children's party, why not go retro by serving in our school milk bottles?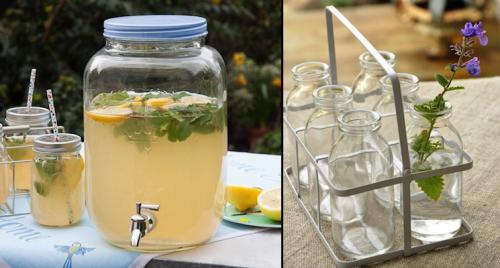 Pictured above (from left to right):
Garden Party Lemonade Drinks Dispenser
- £29.95,
Set of 6 School Milk Bottles in Crate
- £9.95
What family favourites will you be barbecuing this summer? Head over to our Facebook page and share your suggestions!
Share: