Seven festive games for all the family
Wednesday 30 November 2016 | anna
Forget sneaking off for an after dinner snooze. Have a giggle and create tomorrow's memories with your loved ones. The family are all together and Christmas is just made for a cross-generational game-athon.
Clear away the leftover turkey, crack open the chocolates and indulge in festive fun with our guide to classic games. Join some of our favourite bloggers as they reminisce about the games their families love playing at Christmas. Sitting comfortably? Let the games begin!

Monopoly

Take a chance? Challenge your kids to a Monopoly marathon
Image source: Inspired Christmas
If it's too cold to brave a bracing walk, why not take on the challenge of a family Monopoly marathon? Love it or hate it, this game is a festive family classic. One home educating Mum, who blogs at The Chicken Shed, recalls persuading her kids to turn off the tech and enjoy a Boxing Day game of Monopoly, but it didn't quite work out as she'd hoped as her kids embarked on a two-day Monopoly marathon with her youngest working out profit margins on her scientific calculator!
'Much shouting, fighting, cheating, negotiation, and occasional violence (all of which I did my best to ignore) later, the thought that my children might be money-grabbing materialistic psychopaths began to creep in.'
If Old Kent Road feels a bit old hat there's a whole host of new board designs to keep everyone interested. Michelle of the blog Purple Pumpkin is a fan of the variety: 
'I love that some of these classics have got different versions, for example, we have a Disney Monopoly we bought in Orlando; and there are also versions for different cities too.'
Whether you choose the to travel to Cornwall or to a galaxy far, far away with the Star Wars version you're sure to have an epic journey.

Totopoly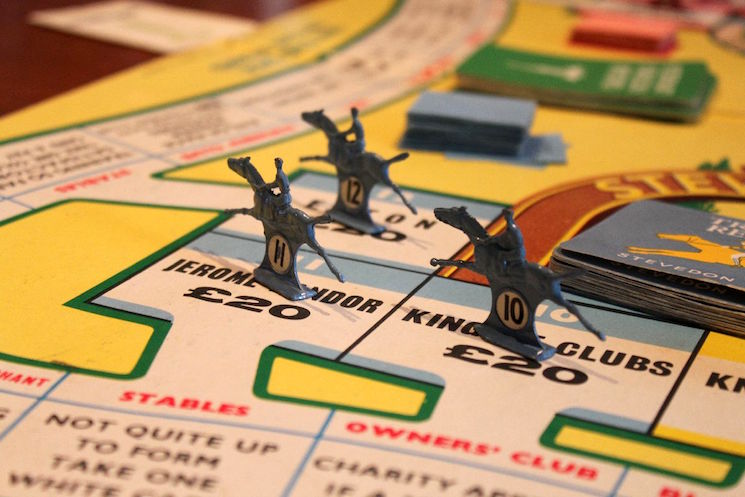 Totopoly: it's Monopoly but not as you know it
Image source: A Grim North
If you prefer horses to houses, then saddle up for Totopoly — the equine version of Monopoly. You'll get involved in buying, training and racing horses and it's surprisingly addictive. Side one of the board features the training circuit where players train their horses and collect advantages. Flip the board to reveal the track where the racing action takes place. Alan who blogs at A Grim North elaborates on this stage of the game:
'The first exercise is to place bets – like the real tote you can bet on winner, 2nd and 3rd each with different odds. Betting complete, you ditch one die and they are off…The winner is the person who has the most money when the 3rd horse comes home.'
Games with the older and younger generation have a habit of creating lasting memories. Abi of Creating Paper Dreams is just one of our bloggers whose favourite family stories revolve around Christmas playtime. She vividly recalls her granny and grandad playing Totopoly:
'It often involves sacrificing a horse or two to let the rest of your stables have a chance. This was when my Granny gave forth one of her most famous lines. She turned to my Grandad and said, in sonorous tones into the silence, 'Dennis....Kill him.' Dramatic and amusing in equal measure!'
We're sure you'll create your own lasting memories this Christmas.

The Letter Game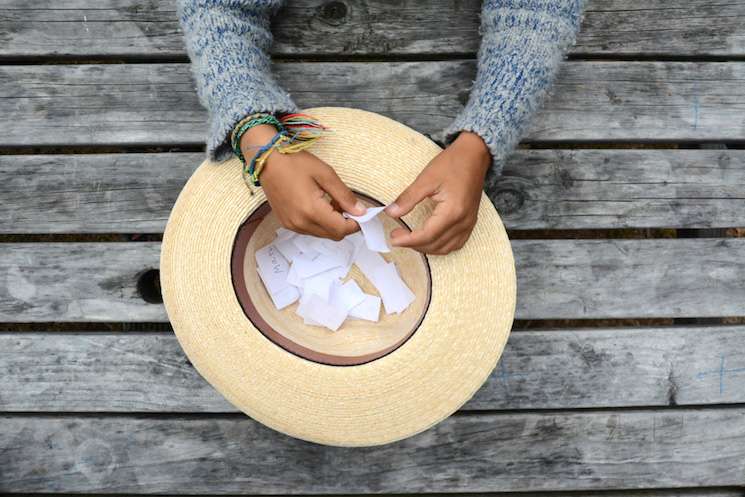 Pick a letter, any letter.
Image source: Babyccino
If you're looking for a game that all the family can play, Babyccino blogger Courtney's Letter Game guarantees fun for all ages. 
To play you need at least two teams of two. Give everyone six small pieces of paper and choose a letter as a group for the round. Each player must then write down a word on each piece of paper that starts with that letter. Drop the words into a bowl or hat and you're ready to play.
The aim of the Letter Game is for each team to collect as many pieces of paper as they can. There are three rounds and the same words are put back into the bowl at the start of each round. To win a letter, players must guess the word correctly. 
Each team has a one minute time limit to guess as many words as possible and then the hat passes to the other team. In round one you can use speech and actions to convey the word. For round two things get a bit trickier, with only actions are allowed. Then in round three, players face the ultimate challenge of conveying the word on the paper using only one word. Courtney's family can't get enough:
'We played nearly every evening when my sister was with us over Christmas – with daily requests from the kids to play the 'letter game', as it's been coined in our family… We've played it so many times, that we've now covered off every letter in the alphabet, and we're starting again.'
Is your family up for the challenge? We certainly are!

Charades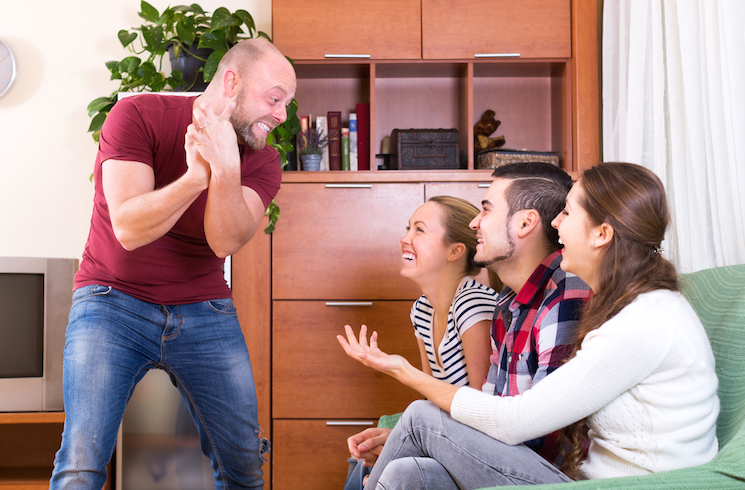 Guess the mime with the classic game of charades
Image source: Iakov Filimonov
It wouldn't be Christmas without this classic miming game. And trying to mime films, books, places and more can produce some of the best memories. Typically, there's someone in the family who everyone wants on their team because their miming is simply brilliant... and someone who freezes with hilarious effects.
Victoria of Lily loves Lola remembers playing charades as a young child:
'I have a funny memory (although I didn't find it so funny at the time) of playing charades in front of my family and I couldn't think of what to do. I accidentally let a little trump out, got embarrassed and ran away. My Uncle shouted 'Gone With The Wind?' Mortified!'
The chance to watch even your most reclusive relatives embarrass themselves in front of the family is definitely part of this game's enduring appeal. Add a glass of wine to the proceedings and you have a winning festive formula!

Pictionary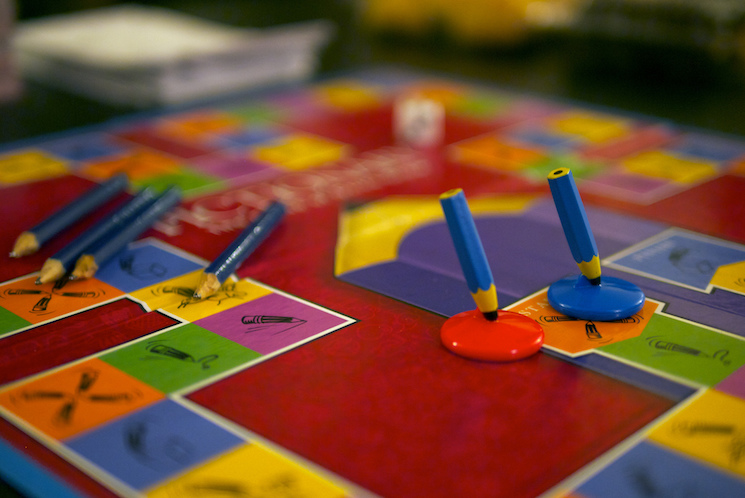 Quick drawing fun for all the family
Image source: Flickr
You have to be quick on the draw for this this classic game which can be played by all the family.
If you have young kids you've probably ended up with the Junior version. Although recommended for kids over 8, Mum Emma at Mummy…Mummy..Mum!! says her five year old got on with it really well and that she knows her family will be 'playing it for many years to come.'
If you yearn for the adult version but have kids to think of too then you'll be delighted to know there's no longer a need to compromise. That's because the game's creators have come up with a new family version which combines the best of junior and adult Pictionary. Blogger Kim who runs My Mummy Reviews is impressed:
'This edition is different from Classic Pictionary as it comes with two sets of cards. One set is for kids to draw from and the other set is for adults to draw from.  I loved the fact that you get separate sets of cards for the little ones and the big kids adults as it means the whole family can truly play the game together.'
And the drawing doesn't have to stop when the game ends. Keep little ones drawing with our mini blackboard and chalk set, or one of our giant colouring sets. And if you love Pictionary keep reading, as you'll love our next game suggestion.

Telestrations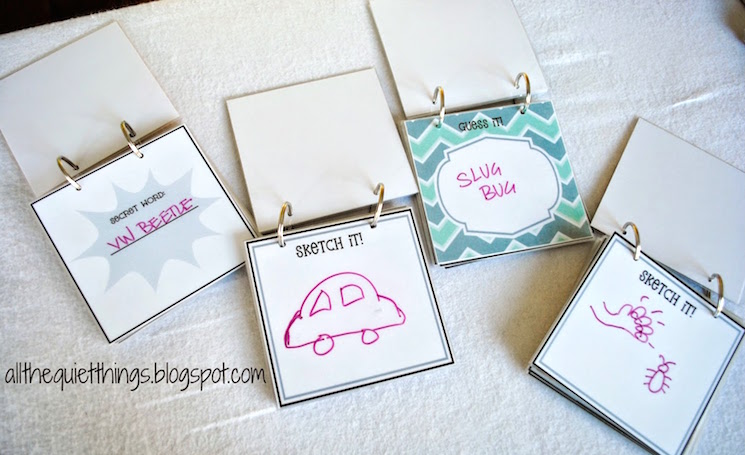 Telestrations is a combination of 'Pictionary' and 'Chinese Whispers'
Image source: All The Quiet Things
Combine Chinese whispers with Pictionary and you've got Telestrations. This fast-paced family game involves writing a secret word on a sketchpad, drawing it on the next page then passing it to the next player. They then write what they think your picture shows, before giving it to next player to draw the word and so on. Missing Sleep blogger Karen is a huge fan:
'It is very entertaining because somehow along the line of players the original secret word changes completely!  We had hammock, change to sausage change to worm!  Then we had Snoopy change to a rat change to a rocket with legs on another sketchpad!'
If you're playing with adults or older children can make it more complex by using a phrase. Beth who blogs at All the Quiet Things explains:
'Make sure to have a noun, a place, and a verb. For example: Elvis wake boarding in Mexico, or a nun smelling flowers in the park. Whatever.'
You can also choose a theme for a round, like films to make it trickier (and funnier). Writing on Thortful blog, Jenna of Drawberry Jam recalls:
'I think I managed a rather convincing drawing of 'Gangs of New York' with a gang in the foreground and the Statue of Liberty, skyscrapers, etc. in the background. Though saying that, I think the guess ended up being 'Ninjas in New York'. Which is a film I would pay to see.'
Prepare for giggles galore!

Dobble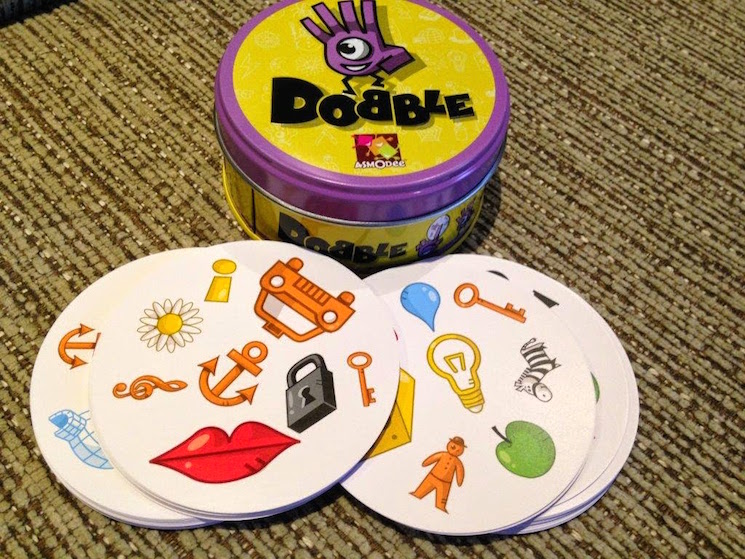 Match the symbols to win. Not as simple as it sounds!
Image source: Steph's two Girls
If you've not discovered Dobble you're in for a family treat. There are 55 cards, with 8 symbols on each card, and over 50 symbols in the pack. All you have to do is be the first to spot the matching symbol on any two cards. Sound easy? Not according to Mum Steph who blogs at Steph's two Girls: 
'Sometimes our youngest can actually beat us to it, we don't even need to let her win!'
The challenge of Dobble is that the images are different sizes and appear in different positions on the cars, plus every card has only one image in common with every other card in the deck. So it's all about super speedy visual perception. 
The deck includes five mini games that can be played by up to eight people aged six and over. Donna at Mummy Bird says it relies on 'speedy observation, creating excitement for children and adults alike and keeping every player involved.'

Christmas fun and games from dotcomgiftshop
Find Christmas games that all the family will love here at dotcomgiftshop. Here's just a small sample of what we offer:


Pictured above (from left to right): Bicycle Playing Cards In A Tin - £4.95, 54 Piece Topple Tower - £9.95, Colourful Creatures Heads And Tails Game - £5.95
What are your family's favourite festive games? Share your memories over on our Facebook page, we'd love to read them!