Rainbow cake recipe
Tuesday 28 August 2012 | thomas
Massive thanks to Kerry from Kerry Cooks for this amazing guest blog.
Here's a recipe for what I now realise may be the tallest rainbow cake ever. If you don't believe me: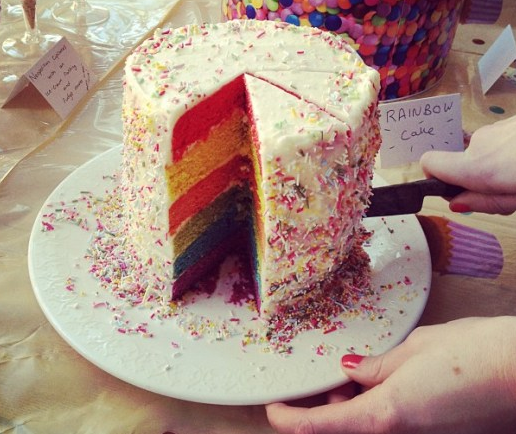 I first saw it a while ago but I wasn't sure I had the skills to pull it off well. But in actual fact, making this cake was extremely easy and hassle free.
It's a simplified version of the american rainbow cake recipes I found. I decided to make a UK version, using a standard victoria sponge recipe and cream cheese frosting. It worked a treat.
For the cake, you'll need:
350g self raising flour
350g soft soft butter
350g caster or light brown caster sugar
6 free range eggs
1 tablespoon vanilla extract
Up to 40ml semi-skimmed milk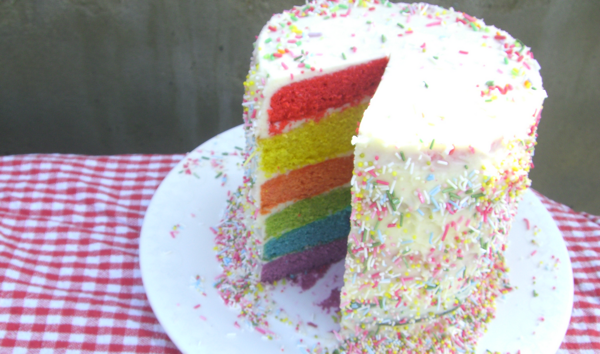 I baked my cakes in small, disposable tin foil 'flan cases' but don't worry if you can't find anything like this, you can just use regular cake tins – depending on how many you own, you'll need to cook the cakes in stages (if you own three, two stages isn't too much hassle, if you only own two cake tins I would consider buying/borrowing another one).
To colour your cake, you'll need a specific type of food colouring. NOT the liquid ones. The ones I use are Sugarflair and Americolor and I get them from this little exclusive bakery supplies shop – you might have heard of it, it's called eBay!
I love getting my gel colours from eBay because they're cheap (cheaper or at least the same price as any baking supply shops I've visited) with free postage, plus it's just easy and convenient. To make the cake, you'll need these colours:
Red – Christmas Red by Sugarflair
Orange - Melon + Christmas Red, both by Sugarflair
Yellow - Melon by Sugarflair
Green - Mint green by Sugarflair
Blue - Baby blue by Sugarflair
Purple – Electric purple by Americolor
Click here for the sugarflair and here for the americolour on eBay. The Amercolour was from an American seller who combined postage, so they worked out to cost about £3 each whereas the Sugarflair colours cost about £2.50 each. If you haven't used gel colours before, this might seem expensive but they go a looooong way – and last forever.
For the cream cheese frosting, you'll need -
100g butter, soft
250g cream cheese, at room temperature
600g icing sugar, sifted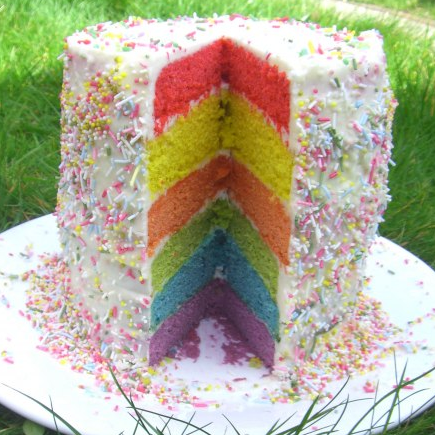 Note – when I decided to make this cake, I reasoned that I would need A LOT of cake so I doubled the standard victoria sponge recipe, and produced the mahoosivest rainbow cake ever seen by man. If you'd prefer your rainbow cake to have thinner layers and be less skyscraper like, just divide this recipe in two, for the cake and the frosting.
First, preheat your oven to gas mark 4/170 degrees/360 degrees farenheit and mix up your cake batter in the usual way – cream your butter and sugar until combined, add eggs one at a time followed by a little of the flour and mix well before adding remaining flour and vanilla extract. If your mix is a little thick as mine was, add up to 40ml of semi-skimmed milk – adding a tablespoon at a time and stopping when you get to a consistency that you're happy with.
Next, divide your mix into 6 bowls (including your original bowl) to do your colours. I divided my mix by eye, not bothering to weigh my mixture and divide it exactly equally.
Drizzle on some of your red gel colour and mix in. Keep adding and mixing a little until you have the vibrant shade you want. Its actually very hard to go overboard with gel colours, but don't add too much at once (not more than a quarter of a teaspoon). Ten minutes and an aching arm later, you'll have a beautiful rainbow of cake batters: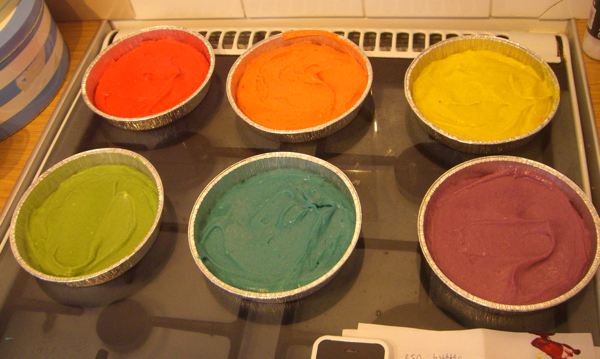 Pop them into the oven and keep a close eye on them – you don't want them to get overly browned. I rotated my cakes on the oven shelves throughout the cooking time (mine took around 20 minutes total), taking them out as soon as a skewer to the centre came out clean.
When your cakes are cool, its time to stack and decorate! The picture above pretty much shows you what not to do, since I put way too much frosting between the layers, resulting in my rainbow cake going all leaning tower of pisa on me. It was quite a terrifying time. Don't be like me – put just a thin layer of frosting between the layers – just enough to stick them together!
Apply a crumb coat and then put your cake into the fridge (I had to remove a shelf!) to set and firm up for about 30 minutes.
After thirty minutes, apply a second coat of frosting and then add sprinkles or decorate your cake to your hearts content!
This cake would be super duper awesome for a kids birthday party…. especially if you kept the rainbow part a secret… can you imagine?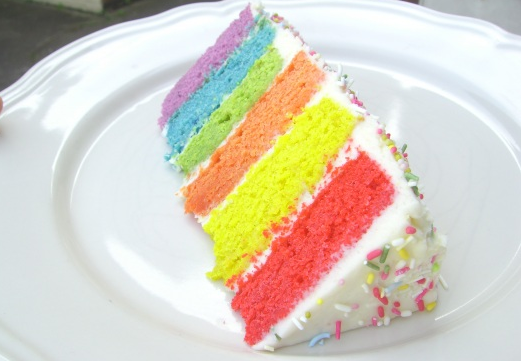 ssh - don't tell anyone I put my layers in the wrong order!
Rainbow cake makes me so happy. Oh and did I mention that rainbow cake is just the beginning? Check out these amazing ombre cakes which use exactly the same method.
Happy baking!