How to make a happiness jar
Ever wished you could bottle happiness for a later date? Your wish is granted! All you need is a happiness jar: a special place to store happy memories, to look at whenever you need a pick-me-up. Read on for all you need to know to create a happiness jar, plus some creative ways to use yours.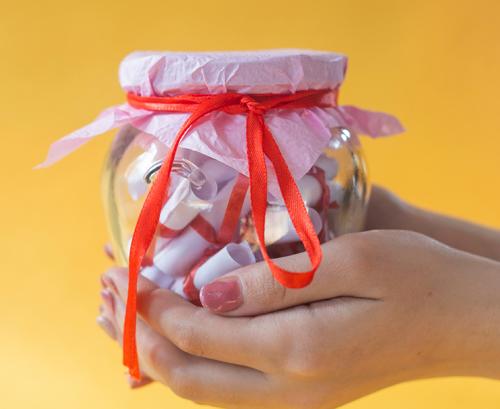 Image credit: GTbov
The happiness jar project was started by Elizabeth Gilbert, author of bestselling book Eat, Pray, Love. For years, Gilbert has been writing her happiest moments on little pieces of paper and throwing them into a jar. She has inspired thousands of people, so here's how to start your own.
What you need to create a happiness jar

How to make your happiness jar
Choose a jar to hold your happiness notes. You could use any old thing, but if you're going to commit to this project then having a jar you love will help. Decorate your jar with ribbon, stickers, hanging decorations - whatever you fancy!
Preparing your notepaper in advance will make it easier for you to write something every day. Cut up little squares of paper, or use little memo pads, and keep them next to your jar with a few nice pens or pencils.
Find somewhere to keep your jar, paper and pens. It's up to you how private or public it should be, but you'll need to be able to reach it every day.
Try to write down something that has made you feel happy every single day, no matter how big or small. You can also throw happy souvenirs into your jar, like cinema tickets, restaurant bills, or other mementos.
If you want to get really fancy, you can roll up each of your handwritten notes and tie them with a cute ribbon, or piece of twine.
5 creative ways to use your happiness jar
There are no rules for using your happiness jar, but here are some inspiring ideas!
Whenever you're feeling low, dip into your jar for a happiness hit.
Save up all your happy moments throughout the year to savour with loved ones on New Year's Eve.
Give full jars to your friends and family as gifts, or save them for when your children are older.
Make a 'Reasons I love you' jar for your partner, just in time for Valentine's Day! A happiness jar would also make a wonderful and unique anniversary gift.
Create a baby happiness jar for each of your children and note down their magic moments and milestones. 
Have we inspired you to make a happiness jar? Or have you already got one? If you do, we'd love to see pictures of your jars, so please share them with us using #RexLondon! 
Share: