Halloween cookies recipe
Friday 26 October 2012 | kerry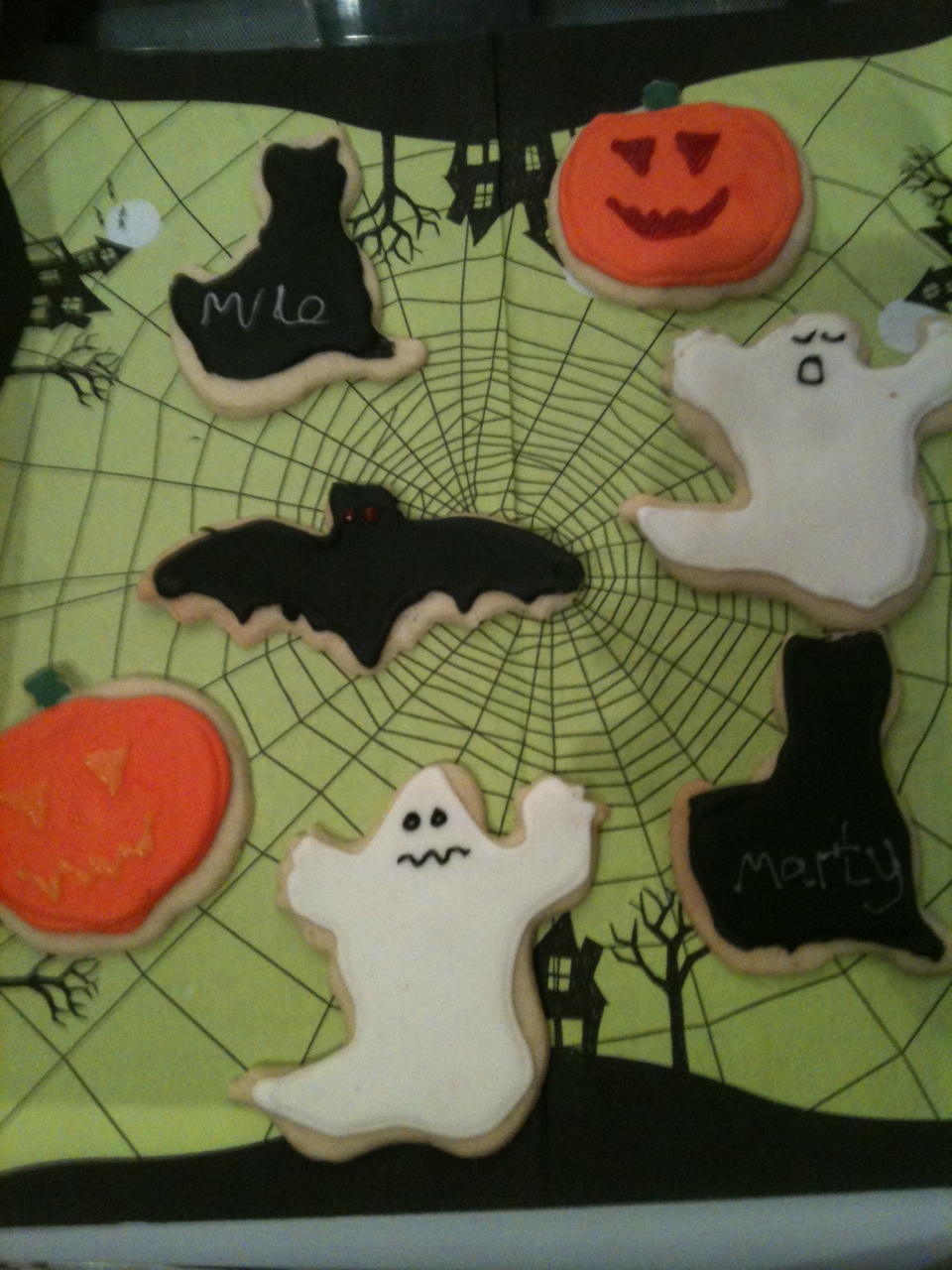 Hello! It's Kerry here from Kerry Cooks – the kind folk at dotcomgiftshop have let me come back and talk to you about baking again – and this time around I'm getting spooky with Halloween cookies!
This is the first time that I'd ever made royal icing from scratch, and it was a doddle. I promise, though they may be time-consuming, these cookies are simple to do. Here's what you'll need.
For the cookies
Recipe adapted from Annie's Eats.
This recipe is very easy and great fun for kids to get involved with the rolling and cutting. Make sure you keep your work surface and rolling pin well floured as the dough can be sticky. I made both vanilla and chocolate cookies. To make this recipe, you'll need some cup measures – luckily dotcomgiftshop sell some cute ones!
230g unsalted butter, softened
1 cup icing sugar
1 large egg
2 tbsp vanilla bean paste (you can get this from Lakeland and increasingly supermarket, it's a thicker version of vanilla extract with the gorgeous vanilla bean seeds in it)
2.5 cups plain flour Generous pinch salt
To make the chocolate version, follow the recipe above but substitute 1/3 of a cup of flour for cocoa powder
Halloween cookie cutters, for scary cookies! I used a cat, bat, pumpkin and ghost
This dough can easily be made by hand or using a stand mixer. Your butter needs to be very soft to make it easier on your triceps though! Combine your butter and icing sugar and mix thoroughly until soft and fluffy. Add your egg and vanilla bean paste, and again mix thoroughly, and then add your flour and salt.
Scrape down your bowl to deposit your dough onto some cling film and pat into a ball. Wrap with the clingfilm and leave in the fridge for 1-2 hours. If you're in a rush, as I was, 30-40 minutes in the freezer followed by some resting time on the counter works well too.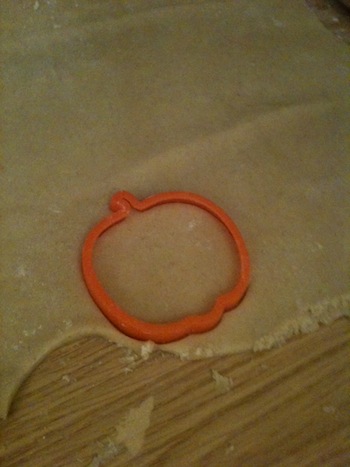 Preheat your oven to 160C/gas mark 4/350F and get out a couple of large cookie sheets/baking trays and grease them. I tend to use Dr Oetker's cake release spray because it's so easy and quick to just spray the trays.
Next, clear a space on your worksurface and dust with plenty of flour. Roll out your dough (I cut it in half to make it more manageable) carefully using lots of flour on your surface and rolling pin.
Cut out your shapes using your cutters, pressing each one down firmly and then wiggling gently. If the dough doesn't want to come up easily, a palette knife underneath can be used to lift it up and onto the baking tray.
Cut your shapes as closely to each other as you can, and when you're left with only cut out dough, knead it back together again with plenty of flour and repeat the rolling out and cutting process.
Bake your cookies for 8-10 minutes – you want them to be firm but not browned. If you see them starting to brown around the edges, whip them out of the oven straight away. Cool. If you're not planning to decorate that day, you can store the cookies in an airtight container.
For the royal icing
Recipe adapted from Joy of Baking
2 egg whites
2 tsp vanilla extract or vanilla bean paste (this will make the icing slightly off white, use lemon juice if you want pure white icing)
3 cups icing sugar (you must sift before you add to the mix)
Gel food colouring in your chosen colours
Plastic sandwich bags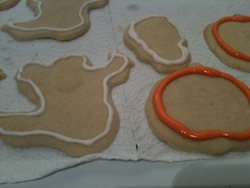 Making royal icing is much easier using a stand or hand mixer. First, mix your egg whites and vanilla and then add your sifted icing sugar. After a minute or two, you should have glossy white icing which is thick and shiny.
There are two steps to the icing process – the first is to do an outline around the cookie using thicker icing and allowing it to set which forms a barrier for the second step, which is a slightly watered down icing that we use to 'flood' the rest of the cookie.
We first need to divide up your icing into different containers (Tupperware works great). You need to guesstimate how much icing you'll need in each colour – for example, I had mainly orange for my pumpkins, a bit of white and a little bit of black.
You'll need to use gel colouring to colour your icing – its much more pigmented and thicker than normal liquid colourings which would dilute your icing, which we don't want.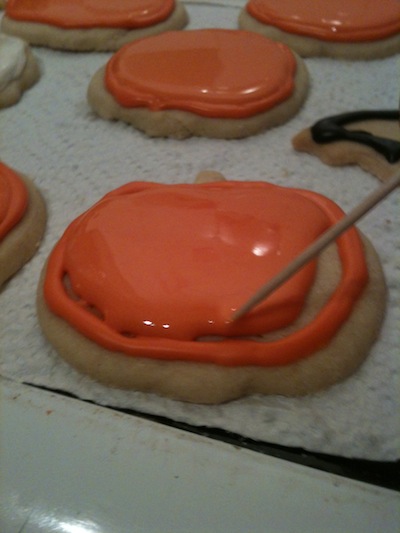 Use the end of a knife or a toothpick to drizzle gel colouring into your icing, a little at a time and mix in thoroughly. Repeat until you've reached the colour you dream of. Once your icing is ready to use, its time to ice the outline of our cookies!
Drop 1-2 tbsp into the bottom corner of a sandwich bag and twist it around like an icing bag. Then, snip off the corner (very close to the edge) with scissors and you're ready to pipe! Outline each cookie in the rough shape of the biscuit as best you can, and leave to dry.
To fill in the middle of your cookies, water down your royal icing slightly by adding a few drops of water to each mix until its at a good runny consistency.
Then, use a teaspoon to drop icing onto the cookie, guiding it into any nooks and crannies such as ghosts arms! A toothpick is handy to guide the icing into the corners and join it up with your outline.
I used writing icing to decorate the tops of the cookies, giving the bats red eyes and the pumpkins and ghosts eerie faces.
And for a range of gorgeous baking goodies, make sure you visit Dotcomgiftshop.
Images courtesy of Kerry Cooks.