Four homemade healing herbal teas
Wednesday 14 March 2018 | sue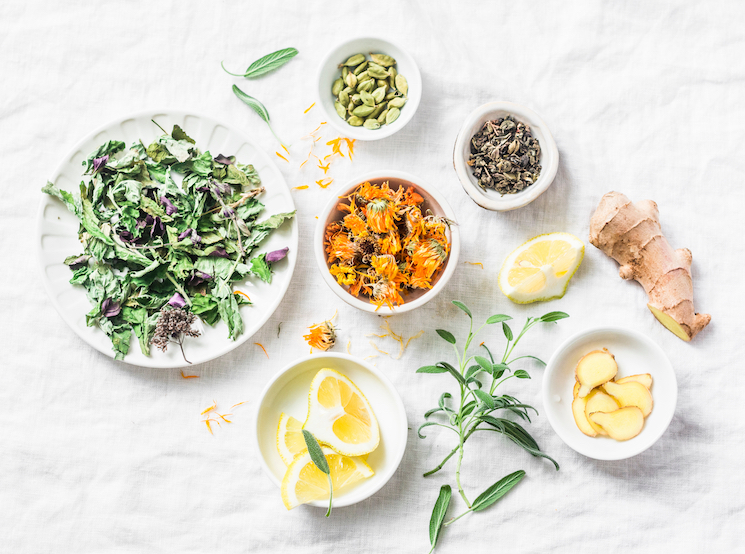 There's a natural remedy for many common ailments
Image: Shutterstock /Kiian Oksana
What do dandelion, mint and nettles have in common? These everyday plants are packed with powerful compounds that boost health, fight illness and give you fresh energy.
A quick and easy way to make the most of their healing properties is to brew your own homemade herbal tea.
There are literally thousands of different combinations to try – using plants found growing in your garden or stored in your kitchen cupboard. Here are four of the best recipes to get you started.

Tea to help fight or treat a cold - by My Fussy Eater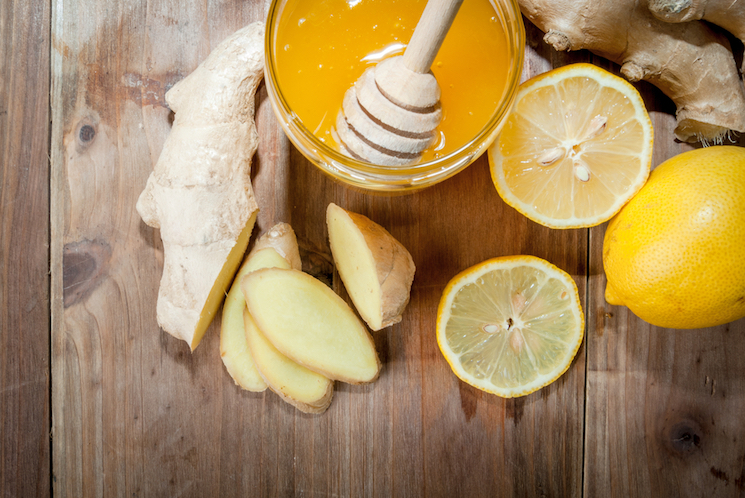 For a natural cold remedy use raw, local honey
Image: Shutterstock/ Rimma Bondarenko
Honey, lemon and ginger make a great traditional remedy for colds and flu. Ciara of My Fussy Eater recommends using raw, local honey in your drink:
"The honey you buy from the supermarket is usually pasteurised and this process can cause the honey to lose many of its fantastic health benefits, most notably its anti-bacterical, anti-viral and anti-fungal properties."
Ciara has a great trick to make sure you'll have this immune booster always to hand. She creates a honey, lemon and ginger jar which stores in the fridge for up to two months. Then all she has to do is spoon a measure of the sweet, sticky mixture into hot water when it's needed. Here's her recipe:
Ingredients:
400g honey (raw, local honey is best)
2 lemons, sliced
1 inch fresh ginger, sliced
Method:
Layer honey, lemon and ginger in a 500-ml jar and put in the fridge.
Leave for at least 12 hours so that the ingredients infuse together.
To create your drink, add two spoonfuls to a cup of warm water.

Tea to help you sleep - by Lovely Greens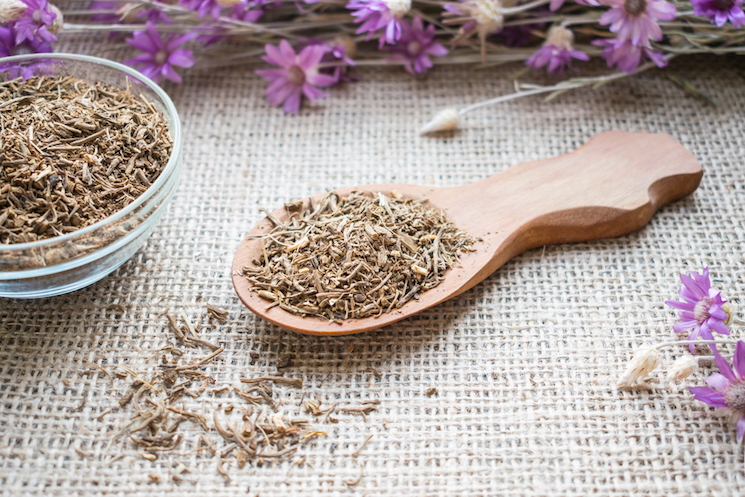 Try this natural remedy for a restful night's sleep
Image: Shutterstock /Iryna Imago
Valerian makes a gentle, sleepy tea, says Tania from Lovely Greens:
"The way it works is by gradually making you drowsy and you fall into a natural sleep. Best of all, there's no hangover in the morning like you'd have with conventional sleeping pills."
If you find the taste too powerful, Tania recommends blending sweeter, calming herbs into your remedy, such as chamomile, passion flower and lemon balm.
Here's how to make it:
Ingredients:
Method:
Add dried valerian to a saucepan containing four cups of boiling water.
Boil for a minute.
Turn off the heat, cover and leave for half an hour.
Strain.
Drink 2 cups in the evening.

Tea to help you detox - by Jam Jar Cafe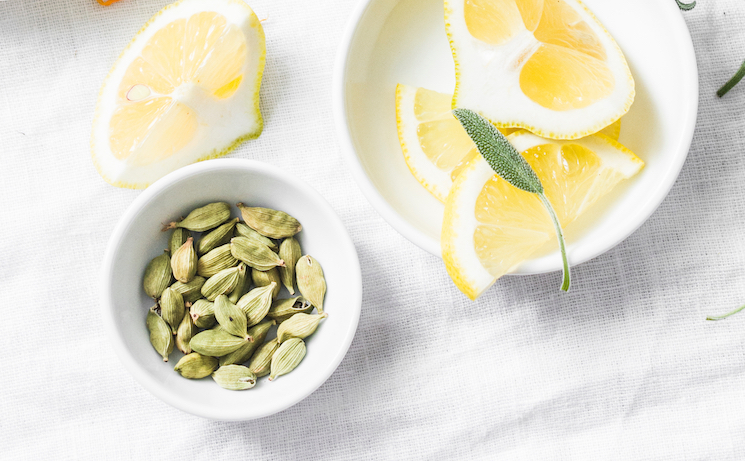 The ideal detox tea also helps with digestion
Image: Shutterstock/ Kiian Oksana
"This simple recipe for my cleansing tummy tea is the perfect start to the day but is also lovely to sip after a hearty dinner to help digestion before bed," writes Jess Davis of the Jam Jar Cafe.
It combines mint to settle the stomach, antioxidant ginger, de-bloating fennel, and fresh lemon juice to boost your immune system.
Here's how to make Jess's delicious tea:
Ingredients:
1 or 2 sprigs fresh mint
2 slices fresh ginger root
1 tsp fennel seeds
juice of ½ lemon
Raw honey to sweeten (optional)
Method:
Add ingredients to a cup of hot water
Infuse for five minutes

Tea to give you energy - by Prime Therapy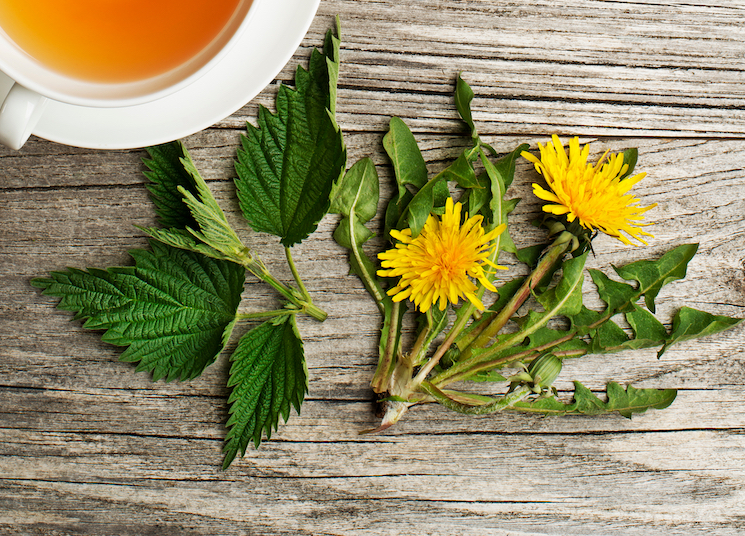 Just three simple herbs will really boost your energy
Image: Shutterstock /DUSAN ZIDAR
This strengthening, springtime tea will give your body the energy it needs after a long winter.
"Very often at this time of year we feel tired and pretty lifeless," explains complementary therapist, Agnieszka Drabek-Prime, "...brew a beautiful strengthening tea – and then the world belongs to us."
Agnieszka's spring tea is made with simple, well-known ingredients: dandelion, peppermint and stinging nettles. Dandelion rids your liver of toxins, peppermint is a powerful antioxidant, and nettles are full of iron and vitamin C, to fight fatigue.
Here's how to make it:
Ingredients
¼ tsp dried dandelion
¼ tsp dried peppermint
¼ tsp dried nettle
Method:
Measure the three herbs into a cup.
Pour over boiling water.
Cover and leave to brew for 5-10 minutes.
Strain. (You can cut this process down by using an infuser ball instead, saving the need to strain.)
Sweeten with honey if desired.
Drink one cup in the morning.
These four powerful remedies are easy to make and will do you the power of good. Have you got any of your own homemade remedy drinks that you'd like to share? We'd love to hear about your recipes on our Facebook page.
N.B. Do not try these remedies if you are pregnant, breastfeeding, have diabetes or blood-pressure problems. And never mix herbal remedies with other medication unless you have first consulted a health professional.