Find your dream wedding dress
Tuesday 13 May 2014 | clare
Buying the dress: it's probably the most fun part of planning a wedding. But where do you start? The amount of variety can get a little overwhelming, so check out this handy guide to finding your perfect dress!
Find your body type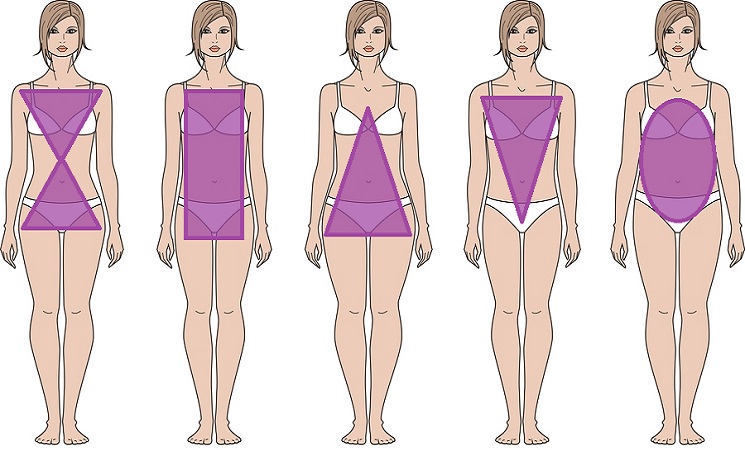 Image source: pushinka11 
First things first, you have to work out your body type. There are five main body types, so find the one that most closely matches your figure. 
Hourglass: This is a very curvy, feminine figure. A small waist with wider hips and bust characterise the typical hourglass.
Rectangle: Rectangles tend to be 'straight up and down', less curvy and more athletic. They will have a relatively small bust - about as wide as the hips - and slim legs.
Triangle: Also known as the 'pear', this body shape has more weight on the bottom half than the top. Triangles have wider hips and thighs compared to their narrow shoulders.
Inverted triangle: Inverted triangles are top-heavy with wide shoulders and larger busts, but smaller hips and thighs.
Apple: Apples are widest in the midsection, with comparatively small shoulders and shapely legs.
Now you've found your body type, you can start choosing a wedding dress that will complement your figure and help you to look extra stunning on the big day. 
The dress: Mermaid
The figure: Hourglass, rectangle
Also known as the 'trumpet', mermaid dresses are figure-hugging, elegant and sexy. These dresses are tight on top and around the waist, and then flare out into the 'fishtail' from the thighs, creating a truly dramatic silhouette. This gorgeous style particularly suits tall, slim and curvaceous ladies, as it really shows off the hips and bust. If you want to capture the striking glamour of 1950s Hollywood, this really is the style for you!
The dress: Empire
The figure: Apple, inverted triangle, triangle
It doesn't get any more classic than the empire waistline. This dress style hugs the body at the top, then flares out into the skirt from underneath the bust. Empires are
hugely flattering on women with wider waists and hips, and they are also very
comfortable because they allow for a large range of movement. Channelling
old-fashioned Austen on your wedding day? Then this is the dress for your
sophisticated vintage wedding.
The dress: A-line
The figure: Hourglass, inverted triangle, rectangle
A-line dresses are all about balance, so they're perfect for tempering the top-heavy bride by adding some weight to the bottom. This style fits around the shoulders and waist, then opens out at the hips. When it comes to the size of the skirt, you can choose anything from a luxuriously wide shape to a subtle silhouette, depending on how much dress you want for your dollar! This look is hugely versatile and will suit most brides; ideal for a traditional ceremony.
The dress: Sheath
The figure: Hourglass, rectangle
The sheath or 'column' dress is super simple and breathtakingly sleek - perfect for elegant ladies with balanced bodies. You can find a straight, vertical sheath dress
for a really sexy look, or make it more curvaceous and gentle with a slightly flared
skirt. If you're a petite bride this could be the best look for you, as this style will help
to lengthen you and make you look taller. For those who believe that less is more,
you can't get better than a sheath dress!
The dress: Ballgown
The figure: Apple, inverted triangle, triangle
Luxurious, extravagant and certainly dramatic... When you picture the typical princess bride, it's all about the ball gown: fitted at the top, large and dramatic at the bottom. Like the A-line, the large skirt of the ball gown balances out women with more on top, but it also complements ladies with wider hips. These gorgeous gowns will suit most body types, which is great because they're the dresses you've probably heard about in fairytales!
Style yourself beautiful
Once you've chosen your basic shape, it's time to go dress shopping! You'll find a lot of variety out there, so it's a good idea to consider the details beforehand. 
Straps: From thin spaghetti straps and halternecks to full-length sleeves, there are plenty of different strap styles and they're particularly great for balancing narrow shoulders. You could go strapless, but it's best for broad-shouldered ladies to steer clear of this look. If you want a happy medium, why not consider asymmetry with just one strap?
Neckline: Bustier women will look wonderful with a heart-shaped or 'sweetheart' neckline, deep Vs are excellent if you want a little cleavage, and straight necklines really show off the shoulders and collarbone.
Embellishments: Are you a lover of all things bling? Then check out dresses with elaborate beading or sumptuous ruching. Prefer to keep things simple? Take a look at lace dresses for a subtle pattern, or just let a long train do the talking.
Whether you know exactly what you're looking for, or you really don't have a clue, wedding dress shopping should be fun. Try on as many dresses as you need to and don't be afraid to go a little 'off-list' if you find something really special. And remember, when you do find The Dress, you'll know!
Image source 1: katielittle
Image source 2: Anton Oparin
Image source 3: Anton Oparin