7 easy egg decorating ideas you haven't thought of
Thursday 26 March 2015 | clare
Painting and dyeing hard-boiled eggs is a great springtime tradition, but are you feeling a little uninspired by making the same Easter decorations every year?
Never fear, here are 7 easy and excellent egg decorating ideas you haven't thought of yet! 
1. Washi tape eggs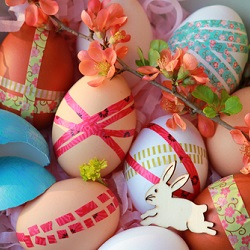 Washi tape is a wonderful way to create a beautiful pattern in no time. Get your hands on some patterned washi tape and cut it into strips, squares, triangles or circles. Now cover your eggs with as much tape as you like and create a colourful table centrepiece!
2. Chalkboard eggs
You can make truly dramatic eggs by turning them into chalkboards! Give your eggs a coat of primer, then paint them striking black. Now you can cover them with designs in chalk: it's a really effective way to create show-stopping eggs.
3. Ombre eggs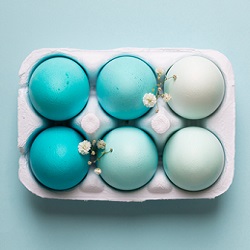 Mix half a cup of boiling water with 1 tsp of vinegar and 10 drops of food colouring, and dye your first egg in it for 1 minute. Dye the next egg for 2 minutes, the next for 3 minutes and so on. Voilà, you've made a set of ombre eggs!
4. Silk dye eggs
Cut up a silk tie and wrap up your eggs. Hold in place with twist ties, then wrap again in scraps of plain cotton. Put them in a pot of boiling water, add 60ml of vinegar and boil for 20 minutes. Once cooled, unwrap to reveal the silk pattern transferred onto the eggs!
5. Temporary tattoo eggs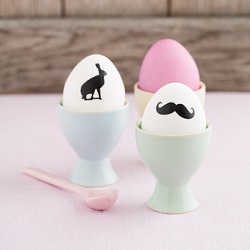 Temporary tattoos are such a simple way to spruce up your boiled eggs. Just follow the instructions on the back of the tattoos to transfer them to the eggs, then pop them in a stylish egg cup for really lovely Easter decorations.
6. Lace pattern eggs
Create delicate patterns on your eggs by wrapping them up with strips of lace. Tie them on securely, then dye your eggs as usual using water, vinegar and food colouring. When you're done, remove the lace and you'll be left with a perfectly pretty pattern!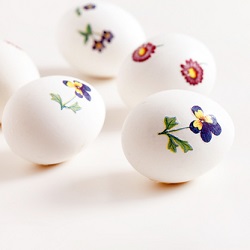 7. Découpage eggs
Try out the art of découpage on your eggs and get as creative as you want making these beauties! Find patterned paper you want to use: thin paper napkins or tissue paper work particularly well. Cut out the patterns and stick them on with PVA glue, adding as many as you like. Very gently, apply another coat of glue over the top and leave to dry. You'll be left with beautifully intricate eggs!
Have a lovely, creative Easter with craft goodies from Rex London!
Image source 1: Fogflow
Image source 2: Ruth Black
Image source 3: Elisabeth Coelfen
Image source 4: Shebeko