Recipe: creamy green bean potato salad
Becca Heyes, the brains behind the mouth-watering Easy Cheesy Vegetarian website, has whipped up a delicious summer side dish, ideal for any BBQs or parties you might be hosting. Read on for her delicious and vegetarian-friendly recipe for creamy green bean potato salad. Yum!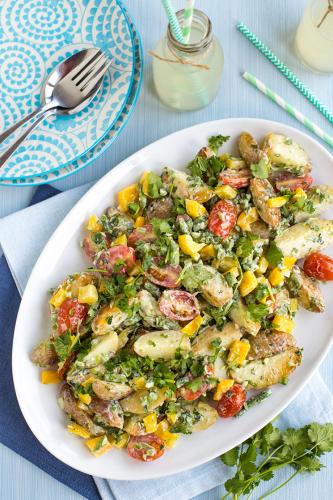 Products shown:
Traditional school milk bottle, £2.95
Japanese side plate, blue swirls, £8.95 
Even though the weather has been a bit of mixed bag lately, it's been hard to leave the house without noticing that undeniable smell in the air - a proper British BBQ! Along with the seaside and freshly cut grass, it's one of those smells that never fails to make me feel immediately summery.
But when you're eating burgers and sausages meal after meal, it can be nice to mix things up a bit, and an exciting new side dish is a great way to make your BBQ feel a bit special. This creamy green bean potato salad is just the ticket. It's simple to make, but it's absolutely packed with flavour - golden fried potatoes, a herby garlic dressing, and plenty of fresh and crunchy veggies. Perfect for the hot weather.
Plus, it's a great dish for the kids to get involved with. You can be in charge of boiling and frying the potatoes while the kids are whizzing up the dressing in the food processor, and mixing everything together in a big bowl. Older kids can even help chop the veggies.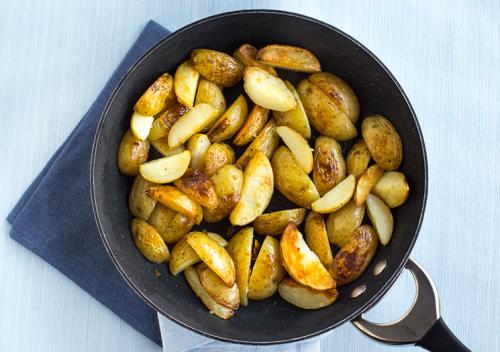 To start, boil some new potatoes, then get them in a frying pan with a good glug of oil until they're browned and crispy. Potato salads don't typically use fried potatoes, but why pass up an opportunity to get them nice and golden?
By the time you've added the dressing they'll have lost some of their crispiness, but they will still have that incredible, slightly charred flavour that adds a ton to the dish! Just try not to eat them all straight out of the pan at this stage (crispy potatoes are hard to resist!).
Next, whizz up a few ingredients in your food processor. Garlic, fresh coriander and spring onions give the main base to the creamy dressing - such fresh flavours for a hot day.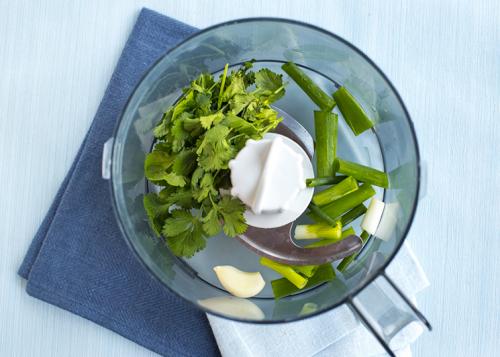 Then add some green beans, and give them another quick blitz, just to break them up a bit. You still want to keep some of their nice crisp texture.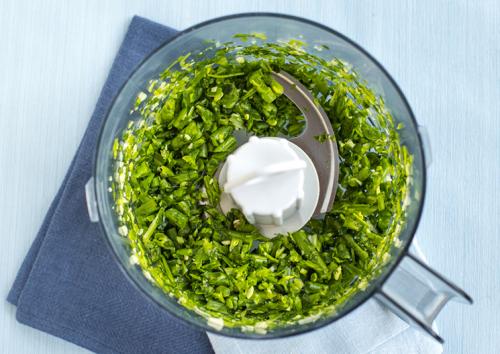 I never usually eat green beans raw, but they work so well in this potato salad - they give the perfect crunchy freshness. Breaking them up a little in the food processor means you're not munching on huge pieces, but they're just enough to give a nice crisp bite.
Pop all that goodness in a big bowl, and add a dollop of mayonnaise. I used garlic mayo, because why not? I stand by my belief that it's the greatest condiment known to man - and when you're cooking with such simple ingredients, it's always a good idea to get extra flavour in wherever you can.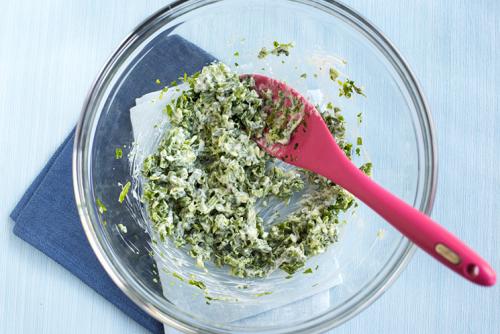 Then add the golden fried potatoes, some cherry tomatoes, and diced yellow pepper. Give it a good mix, and you're done!
Again, try to resist eating it straight from the bowl. This creamy potato salad is great eaten straight away, but it's even better after a short stint in the fridge to really give the oniony, garlicky dressing a chance to get right into those veggies. Potatoes are so good at soaking up flavour!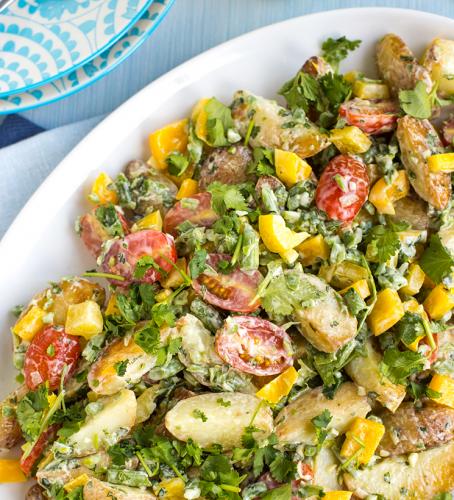 One of the best things about this creamy green bean potato salad is how adaptable it is. If you're not a fan of the vegetables I chose, feel free to swap them for something different - peas, sweetcorn, asparagus, spinach, or whatever else you like!
I like to choose veggies in plenty of different colours - not only does it look super vibrant and taste amazing, it also means you're getting heaps of different nutrients into your salad, which can only be a good thing.
So next time you're planning a BBQ, make sure you've got a big batch of this creamy potato salad ready to go. It's so convenient to have something like this on hand, that you can grab from the fridge whenever your sausages are ready!
Creamy green bean potato salad (full recipe and method)
Products shown:
Japanese side plate, blue swirls, £8.95 
Serves 4
Prep time: 20 minutes
Cook time: 10 minutes
Ingredients:
630g (~ 22 oz) new potatoes, quartered
3 tbsp oil
1 clove garlic, peeled
1 spring onion, cut into chunks
Small handful fresh coriander (cilantro)
100g (~ 3 1/2 oz) green beans
2 tbsp mayonnaise (or garlic mayonnaise)
10 cherry tomatoes, halved
1 yellow pepper, diced
Salt
Black pepper
Instructions:
Boil the quartered new potatoes in plenty of water until they're just tender (around 10 minutes), then drain. Heat a good glug of oil in a large frying pan, and add the potatoes. Cook over a medium heat for another 10 minutes or so, turning them regularly, until they're golden brown and crispy. Set aside to cool.
Meanwhile, add the garlic, spring onion and coriander to a food processor, and blitz until fairly well chopped. Add the raw green beans, and pulse a few more times until they're mostly broken down, but some chunks still remain.
Transfer the green bean mixture to a large mixing bowl, and add the mayonnaise. Mix well to combine. Add the cooled potatoes, halved cherry tomatoes, and diced yellow pepper. Mix well again. Season generously with salt and pepper, and store in the fridge until ready to serve.
Thank you to Becca for this gorgeous recipe. We'd love to see your BBQ creations, so be sure to share them with us using #RexLondon. 
Share: