8 super spring salads
Warmer days, lighter evenings and some much needed sunshine mean spring is here, bringing with it the possibility of al fresco dining. 
From vitamin-packed picnic jars to a Pad Thai salad crammed with crunchy veg, read on to discover our selection of super-tasty spring salads.

Light lunchtime salads

Warm smoked salmon, lentil and poached egg salad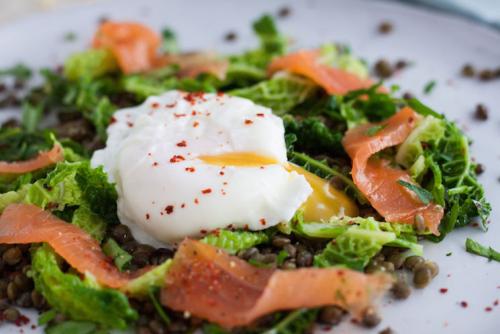 Ease into spring with a warming salad
Image source: Recipes made easy
It might be spring but there's a nip in the air, so stay toasty with food writer Jacqueline Bellefontaine's warm salmon salad. According to Jacqueline:

'There is nothing fancy about this dish. The key to success is to use really good quality ingredients, so use the freshest ingredients and the best oil you can.' 

Succulent smoked salmon, protein-packed eggs and tender puy lentils combine to make this a satisfying but healthy recipe. To achieve poached egg perfection, Jacqueline recommends simmering them for just 3 minutes. 

Presentation is everything. Once you've scattered the lentils across each plate, arrange your shredded cabbage and salmon strips, then sprinkle them with chopped parsley. Place the poached eggs in the centre and season with pepper, paprika or mild chilli powder.
Vegan spring salad with warm potatoes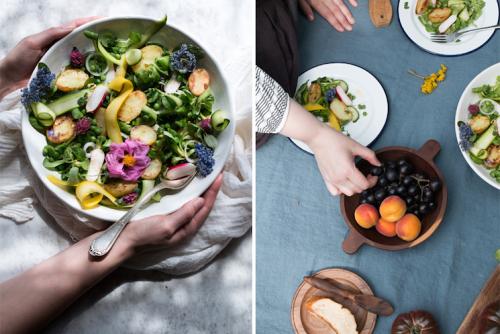 Kimberly's salad combines colour and crunch
Image source: The Little Plantation
Had enough of winter woolies and stodgy stews? Then head over to The Little Plantation and check out blogger Kimberly's vegan spring salad recipe. Full of flavour, crunch and colour we have to agree with Kimberly that 'this salad just shouts spring.
Forget shop-bought potato salad. This recipe includes 500g of baby potatoes, boiled then fried until crispy. Simmer a handful of garden peas, then slice your courgette and cucumber into long, thin strips. Top and tail a few radishes and wash a handful of lamb's lettuce before slicing half a red onion into rings. Kimberly's top tip? 
'Give the rings a thorough wash in cold water, taking away some of the pungent flavour of the raw onion.'
Now add your salad's perfect partner; a tangy lemon, dijon mustard and maple syrup dressing. Simply drizzle this over your salad to create a spring taste sensation.
Chopped chicken bacon salad with grilled asparagus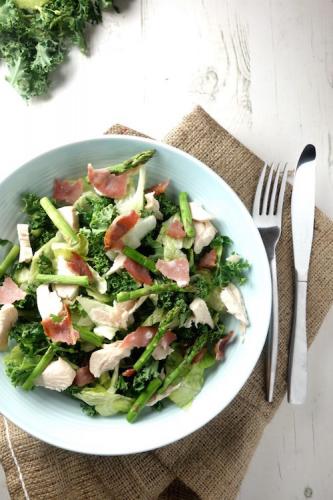 Flavoursome and filling
Image source: A dash of ginger
Edinburgh foodie Kirsty's chopped chicken and bacon salad is a great way to welcome in the asparagus season. According to Kirsty, who blogs at A Dash of Ginger:
'This dish is like all my spring salad dreams in one delicious big bowl. Ever-so-slightly charred asparagus, crisp salty bacon, tender chicken and a hint of lemon to liven things up!'
To create this super-tasty salad, sprinkle your asparagus with oil and salt before grilling until lightly charred. Mix together a handful of chopped lettuce and kale, then layer this up with cooked chicken, grilled bacon pieces and the asparagus. Toss all the ingredients in Kirsty's refreshing lemon, balsamic vinegar and olive oil dressing.
 
Superfood salads
Black bean, avocado and sweet potato salad with lime dressing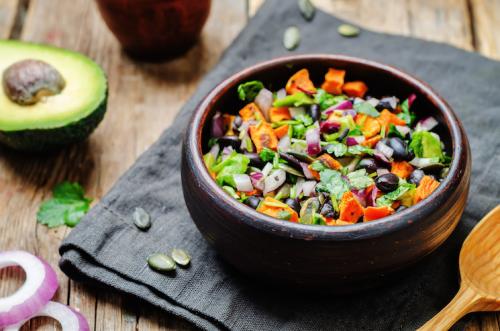 Wholesome with a hint of heat
Image source: Nataliya Arzamasova
If you think salads are boring, think again. Sara is a vegetarian whose blog, Don't feed after midnight, will show you just how tasty a salad can be.
'They're very humble bowls of good food and don't require amazing cooking skills to put together and yet...when they see my lunchbox, people's perception goes from "tasteless rabbit food" to "I wouldn't mind a bowl of that".'
Looking for a lunch that's light on calories but full of flavour? You'll love Sara's black bean, avocado and sweet potato salad. It's a comforting combination of sweet potatoes roasted in paprika and cayenne pepper, black beans, sweetcorn, avocados and coriander. Add a zesty lime dressing, some warm pitta bread and we guarantee your guests will want seconds.
Best eaten al fresco with a side order of spring sunshine.

Pad Thai salad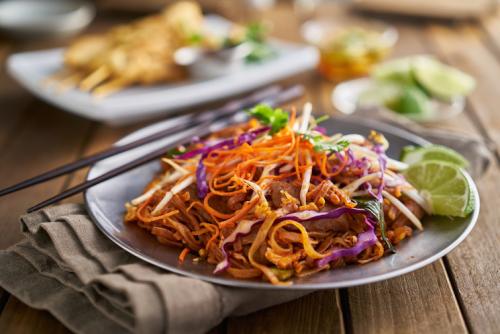 Pad Thai perfection
Image source: Joshua Resnick
This is not an ordinary salad. This is a Pad Thai salad, a bowl of anti-aging, metabolism boosting, cholesterol reducing liver boosting deliciousness. At least that's the claim of The Londoner's Rosie who reckons her creation is:
'Fresh, crunchy, satisfying with a deliciously sweet/sour/zingy/crazy dressing that will quickly become your new obsession.'
Rosie's recipe combines colourful spiralized veggies with succulent chicken and aromatic herbs. Add a taste of Thailand by tossing everything in a divine dressing made with lime, soy sauce, honey, garlic and chilli flakes.
 
Portable picnic salads
Couscous, ginger and spring onion salad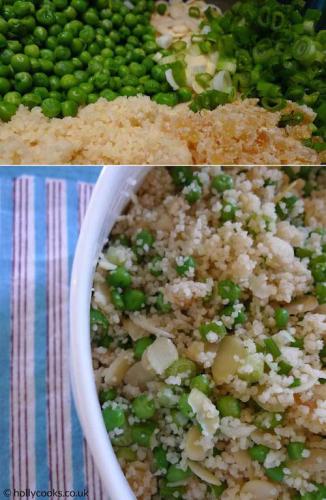 Brilliant for your picnic box
Image source: Holly Cooks
When blogger Holly received a last-minute invitation to a picnic, a quick check of her store cupboard revealed the coconut cream which makes this dish so deliciously different.
Steeping couscous in a mixture of coconut cream and water gives it an exotic sweetness. Contrast this with tangy spring onions and and you're onto a winner.
What's more, Holly's recipe takes just 15 minutes to prepare, making it perfect for picnics. Box it up and you'll be the envy of your fellow picnickers!
 
Layered picnic salads in a jar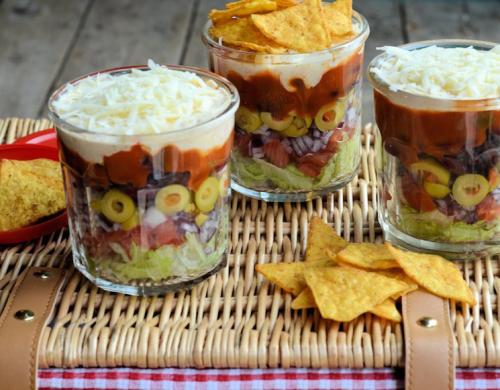 Pack your picnic in a jar
Image source: Lavender and lovage
Foodie Karen admits she's addicted to food in jars. Her Mexican inspired layered salads are perfect for picnics because they keep fresh in the fridge overnight and they're super simple to transport. Karen says:
'There is no need for any extra salad dressing as they are "dressed" with spicy salsa and a sour cream topping.'
To prepare your picnic salad, you'll need four jam jars or kilner jars with lids. Start with a layer of chopped lettuce, tomatoes and onions then scatter over with six pimento olives cut into rings. Finish with kidney beans and garnish with a dollop Mexican salsa and lashings of sour cream mixed with cajun seasoning.  
Karen's picnic jars are perfect for dipping, so don't forget the tortilla chips!
 
Barley Greek salad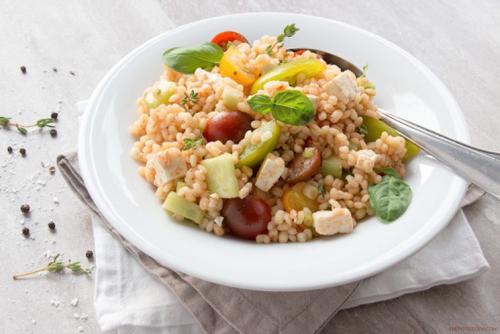 Packed with Greek inspired goodness
Image source: The Petite Cook
Spring sunshine gives Petite Cook's Andrea Soranidis a craving for Mediterranean flavours. Her Greek salad is based on barley, which is not only cheap but packed with nutrients and fibre. For an authentic Greek taste, add cubes of cucumber and feta cheese, mini tomatoes and basil and thyme leaves.
Andrea recommends tossing your salad in a fresh zesty dressing that's super easy to make:
 
'All you need is juicy organic lemons, a drop of good honey, some fruity high-quality extra virgin olive oil, sea salt and pepper.'
This salad keeps for up to four days in the fridge, so why not make a big batch? After all, who says you can only picnic once a week?
Does your salad recipe stand out from the crowd? We'd love to see it – do share your images on Facebook – we'd love to see them.
 
Share: