6 easy Easter bakes
Hot cross buns, chocolate eggs and newly-hatched chicks. Easter's just around the corner; it's time to get baking.
We've been on a recipe hunt for the best easy-to-make Easter treats you can bake at home. Here's our pick of the mouthwatering munchies on offer courtesy of some of the best baking blogs around.
Chirpy chick Easter cupcakes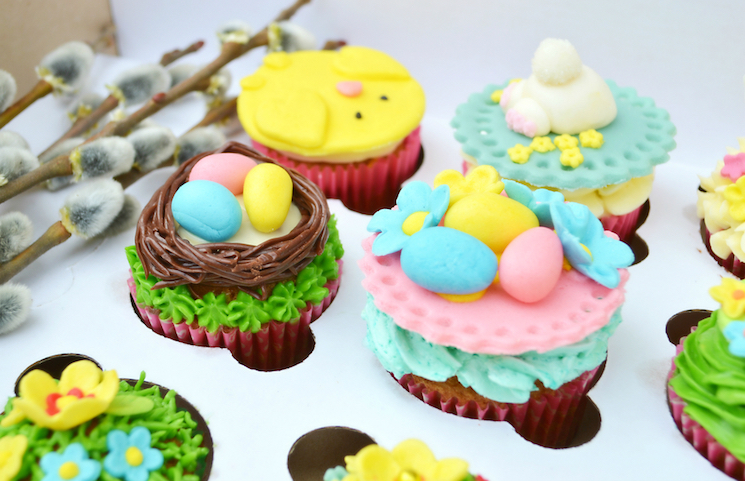 Celebrate Easter with chirpy chick cupcakes
Image: Shutterstock
Avoid chocolate overload this Easter with blogger Laura's cheeky Easter chick cupcakes. Based on a buttery vanilla cupcake recipe, they're the perfect project for little ones who love getting their bake on.
To get started, check out Laura Loves Cakes for an easy 'how to' guide. Begin by baking your cakes, then allow them to cool before preparing the buttercream icing. Laura says it's really easy to make:
'It's just 500g of icing sugar to 250g butter or any 2:1 ratio. I also add 1/2-1 teaspoon of vanilla extract and a tablespoon or so of water if it needs loosening.'
Pipe a swirl of icing onto each cake, then it's time to create your chicks. To do this, Laura mixes yellow sugar paste with CMC, a water soluble gum which stiffens the paste. Use a circular cutter for the chick's body and a heart shaped cutter for the wings. Finally, add the eyes and beak. Laura says:
'The eyes are little balls of black sugar flower paste and the beak sugar paste with CMC.'
Finish off your cakes with a few coloured paste flowers and they're ready to serve.
Chocolate chip hot cross buns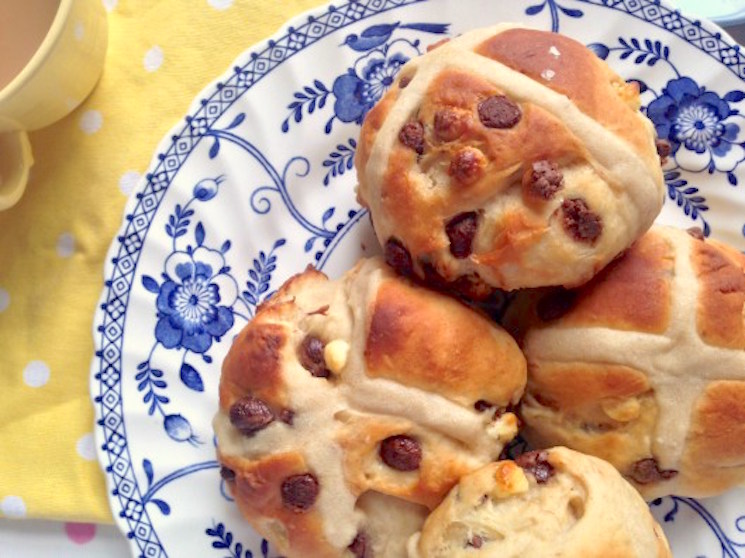 You can't beat homemade buns
Image source: Kerry Cooks
Forget supermarket hot cross buns, baking blogger Kerry of Kerry Cooks takes this traditional Easter favourite to a whole new level with her recipe for chocolate chip hot cross buns. She says:
'They still have the delicious spiced hot cross bun flavour that comes from orange zest and cinnamon, but they're packed full of milk and white chocolate chips too.'
Ever wondered how to make the white crosses on your buns? First Kerry mixes a thick but pipable paste of plain flour and water, then, just before they go in the oven, she says to:
'Fill a piping bag with the flour paste, and draw crosses on your buns. If your buns are lined up, you can do a long line one way and then the other.'
Like the sound of this twist on a teatime classic? Head over to Kerry's blog, for full instructions.
Hot cross brownies

Lucy's two-in-one teatime treat
Image: Baking Queen 74
A fan of both hot cross buns and chocolate brownies, Baking Queen Lucy combines the two to create a brand new Easter treat: sumptuous hot cross brownies.
Lucy's recipe combines dark chocolate with melted butter, eggs, cocoa powder and flour. Chocolate chips replace the traditional raisins and the buns are topped with white icing crosses. The result is a treat which has a 'rich chocolatey taste and squidgy inside offset by a nice crunch on top.'
Perfect for a Children's Easter tea party, Lucy's hot cross brownies take just 20 minutes to bake and will look great served on our funky spring tulip paper plates with matching napkins.
Take a look at more of Lucy's Easter treats on her blog, including creme egg chocolate cookie bars and slow cooker Easter egg fudge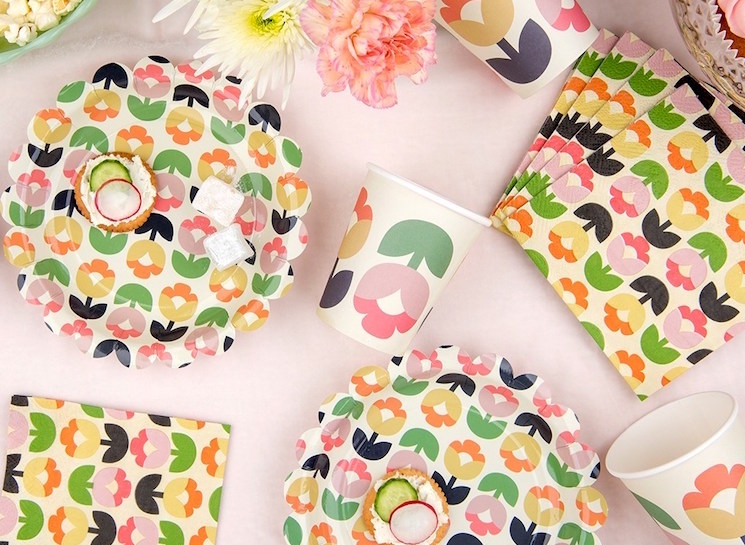 Pictured above: Tulip Bloom Paper Plates (pack of 8) - £1.95, Tulip Bloom Cocktail Napkins (pack of 20) - £1.95 and Tulip Bloom Paper Cups (pack of 8) - £1.95
Double chocolate Easter cake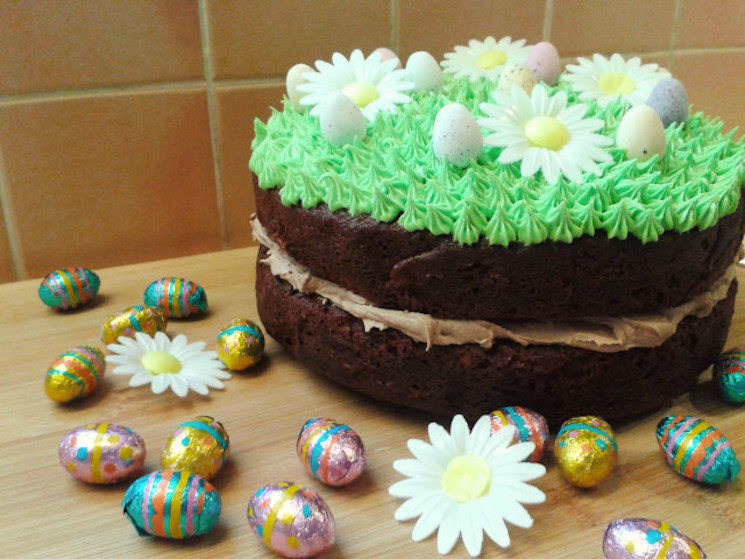 Indulge your family with Claire's fudgy chocolate cake
Image: Art and Soul
Looking for something indulgent but easy to make? Art and Soul's Claire says you can't beat her family's favourite chocolate cake recipe:
'My mum's had it for years and I think it's from an old copy of Good Housekeeping magazine. The oil in the recipe means the chocolate cake is dense, moist and a bit like fudge cake.'
Bake your sponges then sandwich them together with dollops of dark chocolate buttercream icing. You'll need some patience for the next stage; take a small star-shaped piping tip and pipe green icing onto the top of the cake to create the 'grass'. Claire says:
'I don't mind telling you this took a good five minutes and a steady hand!'
Top your cake with Cadbury Mini Eggs and wafer daisies and you're done. To keep your cake fresh, store it in an airtight cake tin. Need to transport it? Keep your choccy delight safe in one of our handy cake carriers. Simply pop the cloche over your cake and secure with the metal handles.
Easy homemade Easter eggs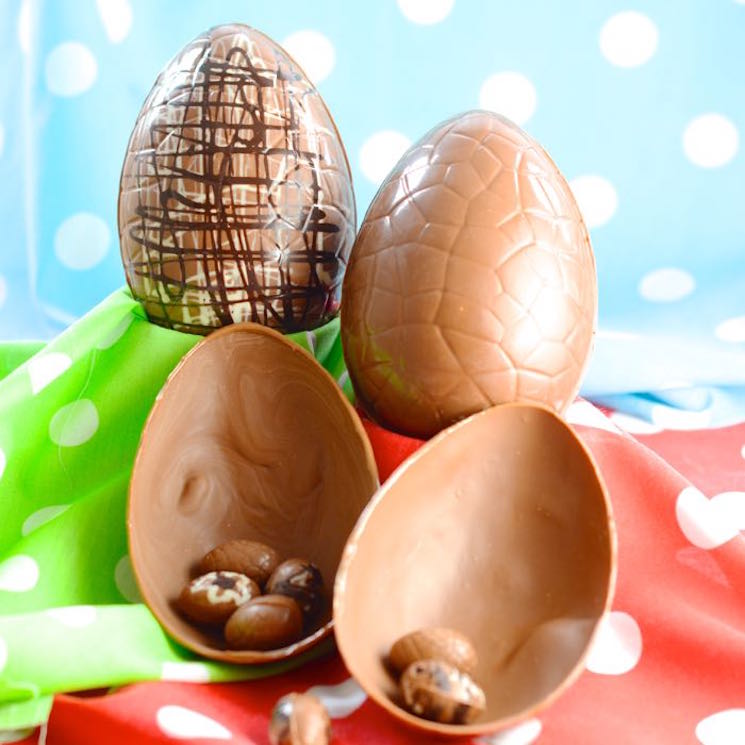 A cracking recipe for kids
Image source: Charlotte's Lively Kitchen
As a child, keen cook Charlotte loved cracking open her Easter eggs to see what treats were hidden inside. She says: 'having two chocolate bars lined up next to the egg just isn't the same.' Determined to give Easter an old fashioned flavour, Charlotte decided to make her own treat-filled chocolate eggs.
To have a go, you'll need 150g of good quality chocolate, a reusable Easter egg mould and a small pan. Melt your chocolate by heating it in a basin over a pan of simmering water, then before you pour it into the mould, you need to temper it. Charlotte says:
'f you don't do this your chocolate will end up crumbly and dull-looking.'
When you cool chocolate, the cocoa butter it contains forms crystals. Tempering produces uniformly small crystals, resulting in silky, shiny chocolate that breaks with a satisfying snap. Check out Charlotte's video for a detailed guide to the process.
Once you've tempered your chocolate, it's time to get 'cracking' on the egg. Follow Charlotte's simple guide, before popping your finished egg in the fridge to set.
Classic hot cross buns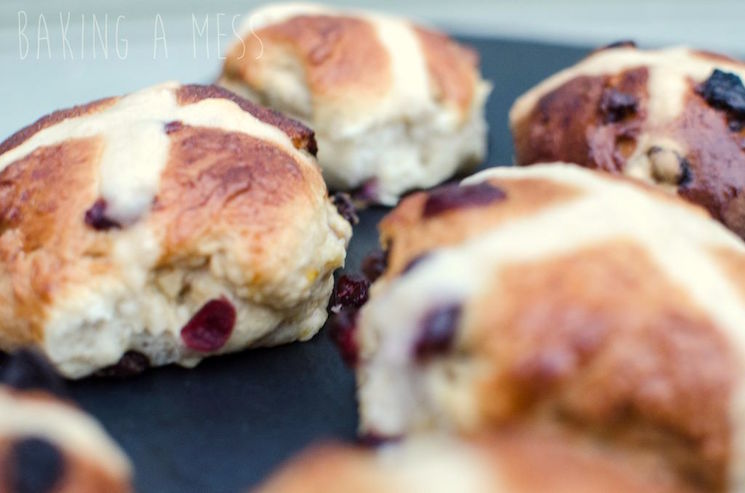 Five a day hot cross buns
Image source: Baking A Mess
When friends and bloggers Hollie and Jess decided to bake their own hot cross buns, they couldn't resist experimenting with extra spice saying: 'We've included some stem ginger into our recipe just to give [our buns] a little bit of a kick.'
The friends experiment with alternative fruits too, swapping traditional sultanas for colourful apricots and cranberries. They also added almond extract to flour and water before piping the paste onto the buns to make the crosses.
Sound good? Visit Hollie and Jess' blog, Baking A Mess, for an easy-to-follow guide. To make your buns extra sweet and sticky, the baking duo suggest brushing them with a solution of sugar, honey and water.
The result? Not only are these buns bursting with flavour, they almost count as one of your five a day!
Does your family have a favourite Easter treat? We'd love to see your brilliant bakes on our Facebook page.