50 more superb craft blogs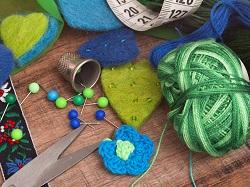 We love crafting at Rex London because, well, we love pretty things. And we had so much fun looking at the work of some really talented crafters in our
Craft Blogs We Love
and
50 Excellent Craft Blogs
posts, we've decided to do it again.
So here are 50 more superb craft blogs from some seriously crafty people:
1. Random Musings - Katy is addicted to scrapping and all things fabric. This is her crafty little place on the web.
2. Rewarding Memories - Scrapbooking, knitting, sewing, cardmaking, Rachel is into pretty much everything and she shares her fabulous creations with the world on this lovely blog. 
3. CurlyScrapbooker - A playground for all things crafty with a particular slant towards scrapbooking. Brilliant.
4. Tracy's Place - Tracy shares her excellent card designs and offers a glimpse into her everyday life.
5. We Don't Do Duvets - Jo loves all things paper crafty and contributes to various crafty publications. She has also been published in US magazines; Papercrafts and Scrapbook Trends.
6. TheFeltFairy - Annie if the Felt Fairy and produces all kinds of stunning creations, which she shares with the world in this wonderland of crafty goodness.
7. Gezzy B's Crafty Bits - Gez is really into scrapbooking, cardmaking, knitting, cross-stitching, come to think of it, pretty much everything crafty. Her blog is full of lovely creations.
8. The Crafty Den - Denise's little spot of papercrafting heaven. All kinds of brilliant card designs and crafty creations.
9. Stardust Gems & Ribbon - Carole enjoys making cards (especially cute ones), rubber stamping and producing mini books. This is her crafty corner of the web.
10. KookaBurra Crafts - Kathleen has been making cards for over 6 years and uses various techniques to craft her beautiful creations. Full of colour and inspirational ideas.
11. Paper and Ribbons - All things crafty in this colourful blog with lots of card designs and other inspirational creations. 
12. Kitty's Bloggy Bits - Kitty is a fabric crafter and her personal blog is full of lovely things, as well as acting as a journal of her everyday life.
13. Sew Christine! - The superb blog of a 50's something sewer and crafter, who loves fabrics and textile crafts as well as machine embroidery, quilting, soft furnishing and liturgical sewing.
14. On The Cards - As the title of this rather good blog suggests, it's all about cardmaking and allowing Diane to share inspirational ideas and showcase her designs.
15. Blue Jelly Too - Victoria loves crafting and developed her passion into a wedding stationery business - Blue Jelly Cards. This is her blog.
16. Angharad - Helen loves to spend her evenings knitting and sewing while the children sleep. On this brilliant blog she shares her designs with the world.
17. Leanns Crafty Ramblings - Leann is a paper-addicted, gluey-fingered mum of 2 li'l horrors. This colour-filled blog allows her to show off her best designs.
18. Another day, another card - Does exactly what it says on the tin; a brilliant card making blog with a variety of different designs on show.
19. Crafty Goings On - Karen is a Danish gal living in London and the owner of Charmed Cards & Crafts. This blog is full of all kinds of crafty goings on.
20. Cuppa Craft - Toni shares her crafty card creations and offers a snippet of her everyday life. 
21. Mess2Magic - Lisa has a big passion for crafting and a great talent for making a mess. This blog shows how she somehow manages to turn the mess into magic crafty goodies.
22. Paula's Paper Playground - You've landed in the paper playground - a place where Paula regularly comes to play and craft and where she shares her thoughts, dreams and life challenges with the world.
23. Devotion to the Dream - Emma is addicted to stamping and there all kinds of inspirational crafty creations on this blog.
24. Lolodesigns - Vintage, pink, roses, chic, pretty, cosy. A room bursting full of paper, fabric, buttons and ribbon!! There's nothing more this blogger likes than to play all day and see what she can create. Lots to see, a brilliant blog.
25. Leann Chivers Craft Inspirations - Leann has been crafting for many years (too many to mention) and spends a lot of her time cardmaking and scrapbooking. A lovely read.
26. Poppy Petal Designs - Kimberley loves to craft, whether it's cardmaking, scrapbooking or even embroidery. This blog, named after her daughter, is jam-packed with all of her crafty creations. 
27. Debbie Dolphin - All manner of lovely, crafty endeavours are showcased on this brilliant, colourful blog. 
28. Glitter Adventure - The superb blog of a scrapbooker and cardmaker with love for anything green or glittery.
29. Kym's Crafty Cards - A brilliant blog full to the brim with lovely card designs from a skilled crafter.
30. Funky Hand Thoughts - Anice shares cards and scrap pages that she's created, updates you on new projects and lets you get to know a bit about her along the way!
31. Cavania - Cavania was created by Karen Sanders back in 2003 born from the love of stationery and crafting. This is her excellent blog, filled with crafty goodness.
32. Scrap Happens - Tracy just loves all papercrafts, but at the moment her passion is definitely for cardmaking. Here she shares her rather brilliant designs.
33. Craftypagan Designs - A cardmaking blog, jam-packed with fantastic designs and crafty tips.
34. Today we are...going to bed early - A sewing blog with some really interesting and unique creations on display. Definitely worth paying this brilliant site a visit.
35. Stamping & Sharing - Stephanie admits to being addicted to two things, papercrafting and chocolate. On her blog she shares her passion for crafts, with just the odd mention of chocolate.
36. Lil Daffodil - Fiona was introduced to papercrafting by her daughter-in-law and has been truly 'bitten by the bug'. This is her blog, which showcases her lovely designs.
37. Cupcakes for Clara - Laura makes all kinds of clothes, toys and other lovely stuff; sharing her creations with the world on this thoroughly entertaining blog. A must-visit.
38. Cards n' Greetings - Sharon is passionate about cardmaking and loves to try out new techniques. Here she shares her latest work and crafty ideas.
39. Especially for You - Debs is totally addicted to cardmaking and scrapbooking and loves to join in as many challenges as time allows. Her blog is an online showcase of her excellent work.
40. Millies Marvels - Jane is a self confessed craft addict and completely hooked on Papercrafting. A lovely blog full of lovely things, from a passionate crafter.
41. After All The World is a Beautiful Place - Mrs B makes, bakes and  creates. So although not entirely dedicated to crafting, this entertaining blog just had to be included on the list.
42. Franmade - Frances is addicted to cardmaking and craft shopping. Her main love (besides hubby!) is rubber stamping. Franmade is where she shares her creations.
43. Day's in the life of... - Jackie's cardmaking blog, showing off her brilliant new designs.
44. Kazzell's Crafts - Kaz loves crafting, stamping and creating and is always looking for new ideas to have a go at. Her blog is full of colour, inspiration and crafty goodness.
45. 23BeechHill - A superb textile art blog from a talented crafter. Packed with lovely creations.
46. Harpies Crafty Corner - There's not enough male crafters around but Sid has always loved creating and says he 'is constantly developing my skills whilst being inspired by others work'. A brilliant blog with some unique designs.
47. monda loves... - An inspirational blog filled with the author's own work and other things they love.
48. Pegcraftalot - Peg loves anything crafty: card making, mini albums, knitting. You name it, she's done it. Here she shares her designs.
49. Beth's little card blog - Beth's lovely blog about cardmaking, which allows her to showcase her latest work.
50. What A Load of Scrap - Beki is a graphic designer and avid crafter. Soon to be a full-time teacher, she attempts to spend as much time as possible coming up with new creations before embarking on her new career.
I hope you've found this rundown of lovely crafty blogs as fun and inspirational as we have.
Image source: vesna cvorovic
Share: