16 Delightful Interior Design Blogs
From spacious and bright to arty and moody, the way we decorate our living and working spaces says a lot about our personalities.
Here are sixteen of our favourite interior design blogs.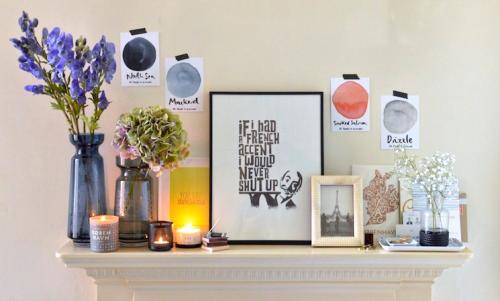 Kate loves Dartington Crystal's Bella vases
Image: Fabric of My Life
Are you looking for a "scrapbook of inspiration"? Fabric of my Life is packed with visual imagery, design finds and musings. A huge fan of Scandinavian design, blogger Kate scours the internet for images of 'beautifully stylish' homes to share with her readers.
From quirky interiors to elegant bijou, this plethora of innovative ideas has got your dream interior covered.

Whisper it, there's an elephant in the room...
Image: Happy Loves Rosie
With a 'bright, retro and whimsical' style, it's easy to see why Rosie's nickname is 'Happy'. We challenge you not to feel cheerful after reading her blog!
You'll love how Rosie brought new life to a 1952 Holivan vintage caravan. She stripped everything out of her stylish green caravan, before decorating it with an eclectic array of floral patterns, spots, stripes, and Union Jacks. If your home doesn't have wheels attached, Rosie's guide to creating a gorgeous new living room might be more your thing.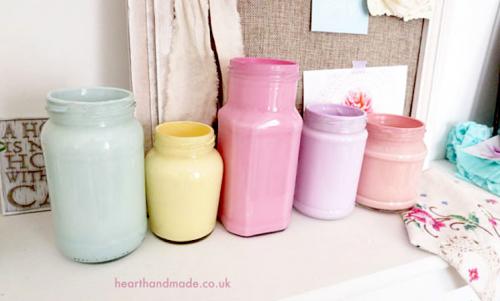 Tasteful pastel tones chosen by Claire
Image: Heart Handmade UK
Prepare to fall in love with lilacs, peaches, mint greens and ocean blues. Claire's devotion to pastel hues is highlighted in Candy kitchen colours. She makes the kitchen cupboards look good enough to eat!
Pastels not your thing? Find out how to make a bold statement with a coloured rug or create a Swedish style romantic winter apartment.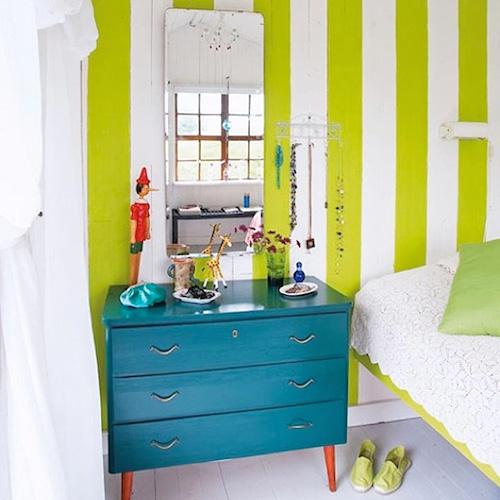 Will's lime striped guest bedroom
Image: Bright Bazaar
"Beige is boring" is blogger Will Taylor's motto. His "colourful, make-you-smile style world" is influenced by fashion and travels across the USA, Europe and beyond.
 Does your home need a splash of colour? You need Will's 'palette addict' posts! Create a "mood in space" with Will's eye-catching lime striped guest bedroom and perfect blue feature wall.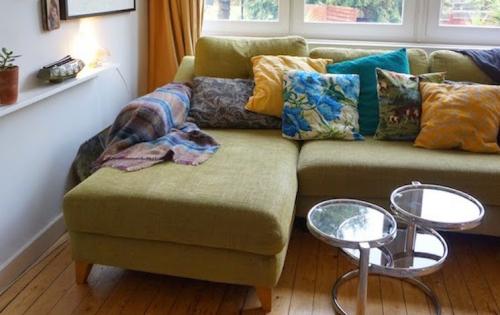 Kate's solution to decorating the awkward L-shaped room
Image: Your Home is Lovely
When Kate moved from a tiny Victorian flat to a 'vast, four bedroomed 1968 built, wannabe Span house', she found the cost of redecorating it 'potentially bankrupting'. This design enthusiast will provide you with interior design inspiration that won't break the bank. Kate's before and after projects make it look so easy!
Her dramatic transformation of the downstairs loo proves that daring to paint a room black can be worth the risk. Need help decorating an awkward L-shaped room? Kate's 'light bulb' moment will solve your dilemma.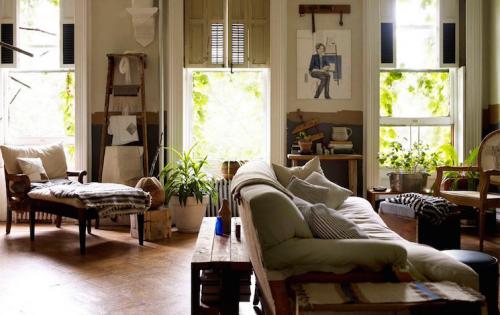 One of Holly's 'moody interiors'
Image: Decor8
"Let's talk about moody, cozy interiors and how to create them" writes blogger, Holly. You'll love her Top 10 suggestions to make your decor ooze comfort. She encourages you to go for furnishings and accessories that are tactile and made of natural fibres. Take a look at her other suggestions, some will really surprise you.
Why not challenge yourself to be creative with Holly's Monday mood boards Instagram challenge? Each week share what visually inspires you and see what's igniting other people's creativity. Go on, decor8 your life!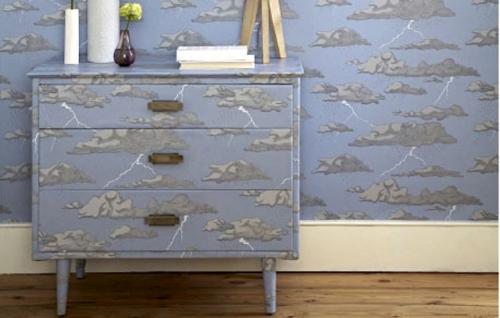 Cloud spotting, with shopping spy Michela
Image: Home Shopping Spy
Ideal Home's style editor Michela spies the latest trends before you can find them anywhere else. She says cloud designs, like the wallpaper above, are 'so hot right now' and we think you'll agree!
Whether you're searching for fabulous tweed armchairs or quirky cube-shaped bean bags,Michela has done the hard work for you. So why not relax and unwind with her cosy Winter essentials?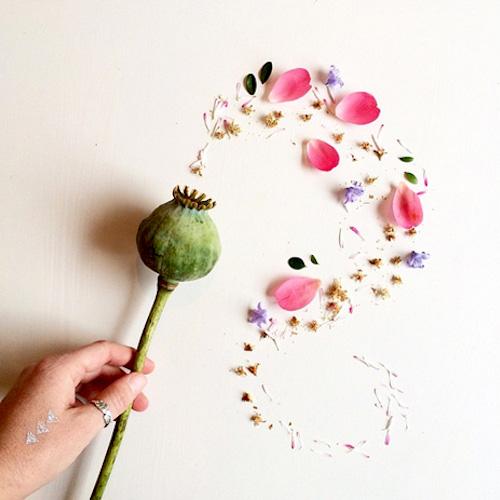 Blogger Rohini loves bringing floral designs into her home
Image: The Beat That My Heart Skipped
Do you want to keep up to date with the latest interior design styles? Industry trend forecaster Rohini uses her Instagram obsession to spot ideas "that are on that exciting cusp of discovery".
Do you love bringing flowers into your home? Rohini's interview with botanical artist, and blogger Flora Forager will help you to get creative. Or if you need decorating ideas for childrens' bedrooms Rohini's kids section will capture your imagination.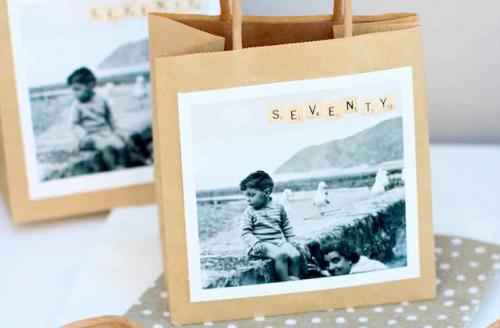 Kate's handmade 'take home' bags
Image: Kate's Creative Space
Kate admits that she has 'never grown out of making things from toilet rolls and papiermaché'. She made a 'champagne-fuelled' vow to share her passion for design with the world and now her creative space is overflowing with ideas.
You'll love her sentimental handmade seventieth birthday gifts for her father (like the 'take-home bags' pictured above) as well as keeping up with the imaginative renovation of her home one room at a time.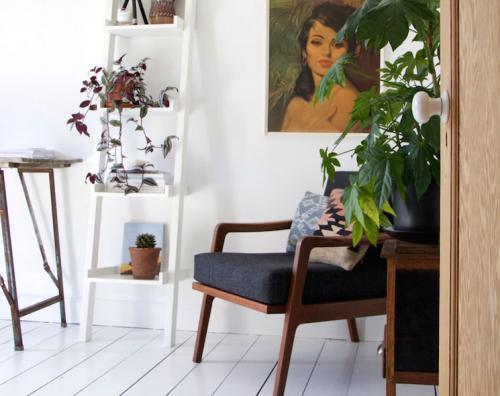 Jeska's home office makeover
Image: Lobster and Swan
Have you got the Winter blues? Jeska wants to make your surroundings "a happier more beautiful place." Bring romance and magic into your home with her guide to staying cosy this Winter.
Struggling to stay organised? Take a peek at her stunning home office makeover to see how to make the most of light and space.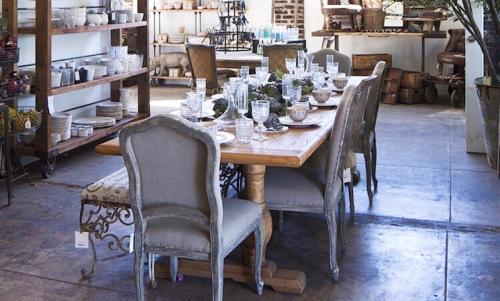 Here's how to dazzle your dinner guests
Image: Anne Sage
Anne starts each week with a 'conscious intention for productivity'. One of her favourite focus-boosting activities is to browse the websites of her favourite interior designers, which she says is 'like a decluttering session' for her brain.
If you are searching for ways to make your bedroom more restful, Anne's cozy bedroom decor ideas will help you create the perfect sanctuary for those lazy morning lie-ins.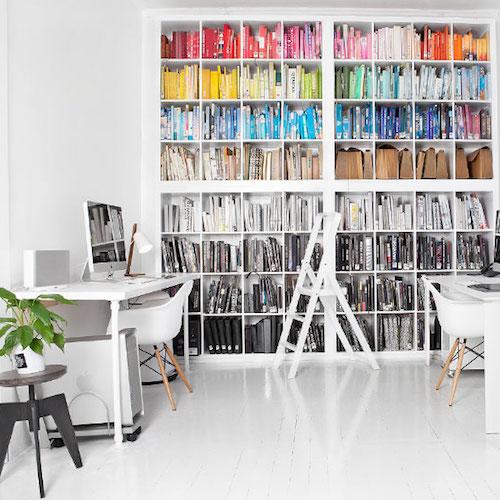 Katie's colourful bookcase
Image: Confessions of a Design Geek
Design obsessed Katie combines her childhood ambition of writing for a living with snooping around 'creative spaces' and stealing ideas to use herself. Who can blame her?
Design steals you'll adore include cute button filled light bulbs and clever woven oak prints for lamp shades and cushions.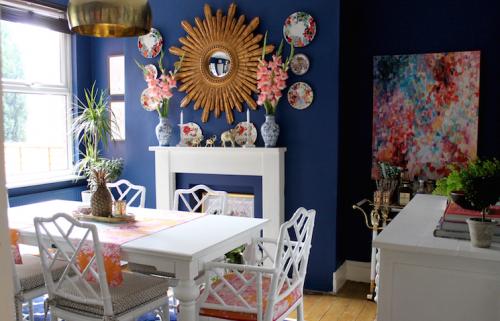 Just one of blogger Kimberly's "unashamed maximalist" designs
Image: Swoon Worthy
"Go on, have a seat and I'll put the kettle on". These welcoming words from friendly blogger Kimberly make us feel right at home.
Bright and bubbly Kimberly is an "unashamed maximalist". She loves 'artfully arranged clutter' with eccentric touches like 'cheeky animal prints' and 'touchable textural fabrics'.
You'll love how her fun 'How-to's' can bring any item of furniture to life. Our top picks are how to glam up a Billy bookcase and how to style 1 bedside table in 3 different ways. 10/10 for creativity.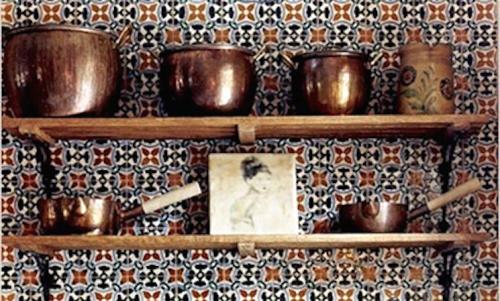 These copper pots are the definition of 'pure style'
Image: Jane Cumberbatch's Pure Style
They say home is where the heart is and Jane knows all about creating 'natural interior spaces with a heart'. Pure style celebrates essential everyday pleasures like 'crisp white sheets', 'good bread', and 'growing beans'.
Her stunning yet simple design ideas will help bring your home to life creating the feeling of "fresh air, light and space" whether you live in a tiny loft conversion or a spacious Georgian house.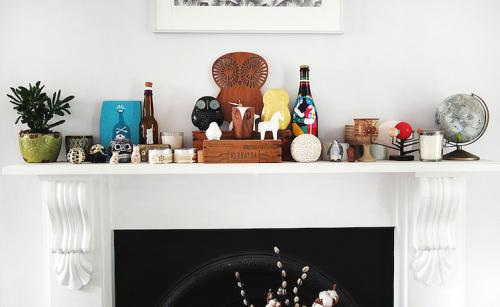 Katie's 'maximalist' mantelpiece
Image: What Katie Does
"Minimalist I will never be". Katie jokes that her current mantelpiece setup is "nearly at capacity, I fear" but we think you'll agree it's a perfect example of her talent for maximising every available space. 
Forever "mentally re-dressing" her home, Katie takes inspiration from visits to different cities, exhibitions and shopping trips. Design ideas from her recent 'Brutal Utopia tour' on London's Southbank range from brutalist concrete walls to bakelite telephones.
Let her solve your kitchen storage dilemma or guide you through creating a mid-century living room. Genius.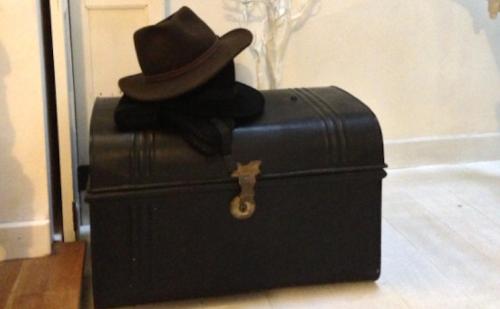 Wherever Di lays her hat is her home!
Image: Designers' Block
"I have been a designer since the moment I opened my eyes." Blogger Di Overton's purpose in life is to encourage us all to recognise the beauty in the less glamourous elements of life.
You'll love how Di brought her dining room chairs 'back from the dead' with a touch of brilliant white paint and some pearlised taupe faux leather cushion covers. Her 'rough luxe' home is an advert for this 'ghost furniture', and her 'hauntingly beautiful' style.
Share: