15 beautiful crafting blogs
Do you love making things? Whether your weapon of choice is the sewing machine, the scrapbook or a pair of knitting needles, we have something to inspire you, with our collection of some of the best crafting blogs around!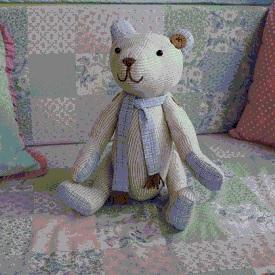 Cassiefairy is a blogger and sewing addict who loves nothing more than sharing her latest crafty projects with her lovely readers.
Whether you're after ideas for your next homemade project or in need of room decorating ideas, you'll find it all here at this gorgeous, girly blog. Ever wanted to revamp a pair of funky sunglasses or make your own roman blinds? It's all here to inspire you!
We especially love this blogger's monthly sources of inspiration. She's used everything from antique teddy bears to vintage wedding dresses, to get her creative juices flowing.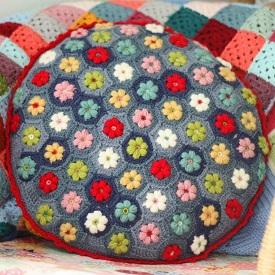 When she isn't working, mothering and keeping the house in order (and sometimes even when she should be), Sandra can usually be found crafting.
This brilliant blogger loves to sew, knit, crochet and quilt, and occasionally makes it to the kitchen to bake up a storm. If this sounds like your idea of heaven, then check out Cherry Heart for loads of detailed tutorials to get you started on your own projects.
We adore her pretty little daisy 'puffagons'. They are delightful crocheted flowers and Sandra recently covered a whole scatter cushion with them - we want one on our sofa!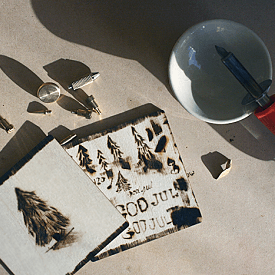 This year Anna has set herself a wonderful creative challenge - to try her hand at a new craft every month. How inspiring!
So far she's had a go at calligraphy, embroidery and ombre painting, but there's plenty more left on her list. Not only does she share her beautiful creations on Crafting Fingers, she also writes handy tutorials so you can take part too.
We particularly love her crafty choice for September: pyrography. Using a special pen, she scorches beautiful designs into wood, practising an artform that's as old as humanity itself.
Did you make that? If you're asking this blogger then the answer is usually yes! She particularly loves to sew and knit, but she also makes the occasional foray into crochet.
The brains behind this brilliant blog isn't afraid to start a project from scratch, or to reuse and upcycle tired items of clothing. Recently she transformed an old maxi skirt into a short skirt with matching cowl scarf, creating a perfect fresh outfit for autumn.
We really love discovering new items that you can make for your wardrobe yourself. Don't have a silky kaftan or a pair of tofino pants yet? You'll want some after visiting this blog!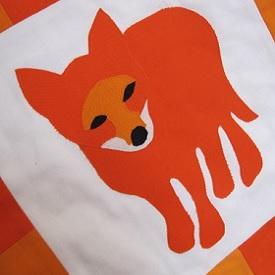 In between the stitches, Flossie Teacakes brings you her latest handmade projects. What's more, she tries to sew every day so there's always something new to see.
You'll find lots of tutorials here, which are invaluable for getting you started on your own. If you're a beginner, why not try making a pretty fabric bookmark? Or, for more advanced crafters, learn how to tackle a patchwork quilt in style.
We can't get enough of her quilt gallery - it's a truly amazing collection of her beautiful designs. Our favourite is her simply adorable patchwork fox blanket!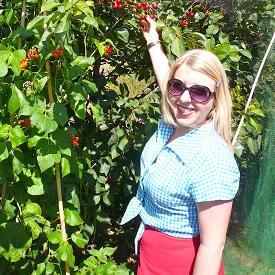 Sewing, dressmaking and adding to her collection of 1950s polka dot China - these are a few of Jane's favourite things (and ours too!).
For the last few years she has been handmaking striking pieces for her wardrobe. From dressing up in a vibrant Victoria blazer, to dressing down with casual capri pants, she has an outfit for any occasion that she has made with her own fair hands.
We really love her tie-up gingham blouse - it's beautifully retro and perfect for an afternoon of pottering around in the allotment. A touch of summer for any time of the year!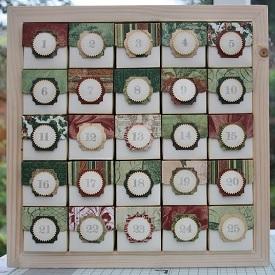 If you're a fan of pretty little trinkets, you won't be able to get enough of this gorgeous blog. There's just so much here to get your crafting teeth into!
Christine is a talented crafter who will show you how to take on big projects like reorganising your workspace, to small projects such as making felt gift bags for your Christmas goodies. You simply won't want to leave this haven of loveliness.
We especially love her pretty handmade advent calendar. The lovely wooden frame holds 25 cute little boxes, which you could fill with all sorts of delicious treats for advent!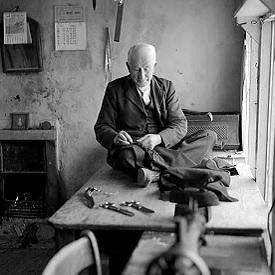 Knitsofacto is a warm, cosy corner of the internet for anyone who's a fan of the click of knitting needles and the feeling of wool between their fingers.
Annie doesn't just blog about the things she makes - although we guarantee you'll want the Downton hat when you see it - she takes us completely into the world of knitting, with trips to yarn festivals and vintage photographs from a time when wool was at the height of fashion.
Did you know that tailors traditionally hand sew their suits whilst sitting cross-legged? Discover lots more brilliant handmaking snippets like this on Annie's fantastic blog!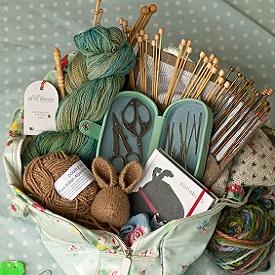 For Julie, knitting is the perfect way to express herself creatively, to let out the stresses of the day and to simply make her happy.
She's best known for her adorable knitted animals - there are foxes, hedgehogs and, of course, the classic cotton rabbits - and you can get your hands on the patterns so you can make your own cuddly friends. There's even a cute little rabbit in a pink polka dot dress!
We can't stop looking at all the goodies in her knitting bag, which is jam-packed with beautiful wools and loads of great tools. If anything will inspire you to get making, it's Little Cotton Rabbits.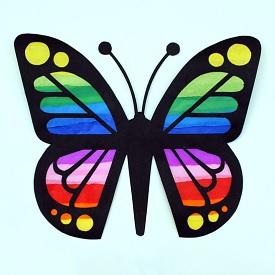 Stylish, eco-friendly design is the name of the game at Mini Eco. It all started when Kate became a full time mum and needed something to stretch her brain now and again, whilst also keeping her fingers busy.
Now she has a huge catalogue of easy to follow crafting tutorials for all sorts of divine home decorations. You can't do better than spending a wet Sunday afternoon making her rainbow butterfly suncatcher, complete with tissue paper wings.
 We just can't get over how pretty this blog is - it's simple, colourful and absolutely packed with lovely things to make, for beginners and experienced crafters. Lovely!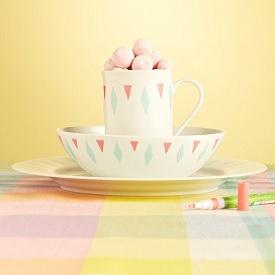 At the heart of Mollie Makes is a passion for handmaking and upcycling. It's not just a hobby for these bloggers: it's everything they do, and their excitement is contagious!

As well as moodboards for creative inspiration and step-by-step guides to all sorts of unusual crafts, you can also take a sneak peek inside top designers' homes. Thanks to Mollie Makes you can get started with crockery painting and drool over designer Betty's crafting caravan.

We simply adore Mollie Makes' free craft projects. Ever wanted to turn your tot into a little mermaid? You can, with a knitted mermaid tail that will keep her cosy too!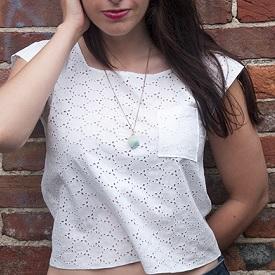 "Let's just make stuff and have fun." That's Elena's motto on her gorgeous blog, Randomly Happy, and we think it's a very admirable philosophy!

Elena is an Italian lady living, blogging and crafting in the UK. She makes her own clothes, wall art and home accessories, and amongst all her lovely crafty posts you'll find plenty of thoughtful posts about life and happiness. This blog really is a haven of tranquility.

We love her handmade lacy top. It's so easy to make - she whipped it up in only an hour - and a divine addition to anyone's wardrobe. Do try this at home!

 

 

 

 

 

 
Stitcher and mum to a new baby girl, Zoe is the blogger behind 'So, Zo...' and the creator of several popular online crafting challenges.
She has challenged creative bloggers to wear only their homemade clothes for a month, and her own attempts have been great successes! If you want a go, just pick a month and vow to wear only 'me-made' clothing every day. It's a great way to get to love all your creations, even if they're not all perfect.
If we could choose any item from her extensive wardrobe, it would definitely be her super-cute Breton lace top. Me-made doesn't get much prettier than this!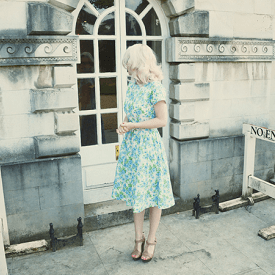 Ami is the Little Tailoress, and she's lucky enough to work as a freelance pattern-cutter and designer, so she can craft all day, every day!
This wonderful blog is an online portfolio of her creations and there are loads of great designs to get your teeth into here. As well as tutorials and tons of design inspiration, there are also enough beautiful garments to make you green with envy.
We really love her floral 1950s dress! Ami looks just beautiful in blue and the dress is perfect for passing those lazy, sunny days in style.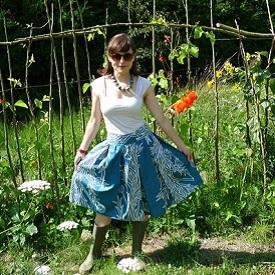 Tilly has a mission: to make DIY dressmaking fun, easy and jargon-free for everyone who wants to give it a try. Fortunately she seems to be succeeding!
There's something for everyone here, no matter your skill level. If you're a complete beginner, check out 'Learn to sew', which features advice about everything from how to set up your sewing machine to marking up fabric. Her guides really are foolproof.
Want to add a touch of colour to your wardrobe? Tilly's gorgeous Loire valley skirt will bring the French sunshine to you, and it looks lovely too!
If you know of any other blogs we should add to our list, please do contact the blogging team at dotcomgiftshopblog[@]gmail.com.
Share: