12 seriously showstopping cakes
The new season of The Great British Bake Off is about to begin. But have you ever wondered if you've got what it takes to bake your own showstopper cake?
Here to inspire you, we present some of the very best cakes from across the blogosphere, including some creations from former Bake Off contestants. From triple-layer berry victoria sponge to chocolate cherry meringue stack, we've got a showstopper recipe for you. What are you waiting for? It's time to get your bake on.
Cakes for chocolate lovers
Beetroot and tumbling chocolate bundt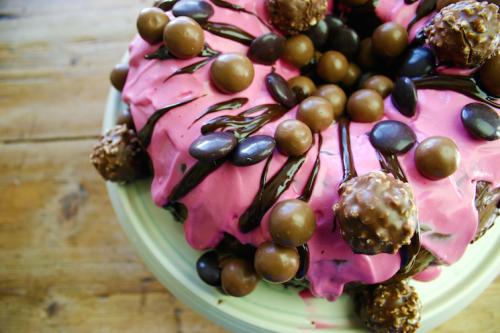 This bundt is bursting with colourImage source: Belleau Kitchen
Food writer Dominic's eye-popping purple icing gets its vibrant colour from all-natural beetroot juice. We think you'll agree that the chocolate crammed centre and the extras tumbling down the sides make this bundt a chocolate lover's dream.
White and milk chocolate marble cake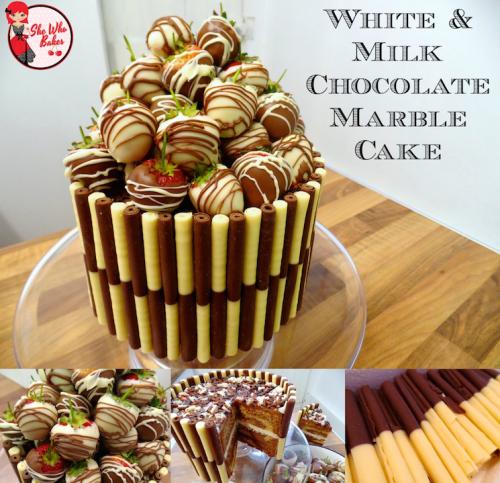 Marvellous marble cakeImage source: She Who Bakes
Blogger Britt has created a cake that's beautiful inside and out. Cutting a slice reveals a layer of luscious buttercream and swirls of vanilla and chocolate sponge. Britt says:
'The chocolate cigarellos add a touch of luxury to your bake and will leave your guests wanting more.'
For us it's the chocolate-coated strawberries that take this cake to the next level. Prepare and arrange the fresh fruit on top of the cake just before you serve it, that way this very special cake will last for 5-7 days if kept cool and in an airtight container.
Chocolate peanut butter birthday cake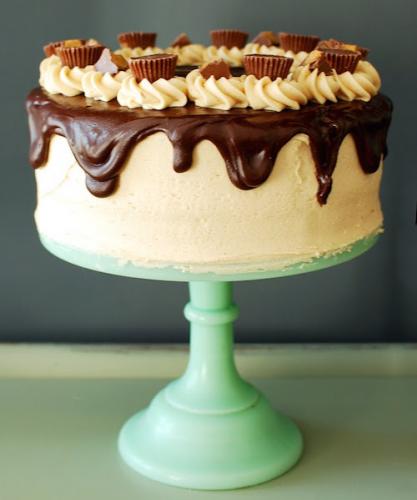 Smothered in smooth peanut icingImage source: Katie Cakes
Peanut lovers won't be able to resist this cake with a crunch. It's smothered in buttery frosting made with peanut butter and a gorgeous chocolatey glaze oozes down the sides of the sponge. We love the miniature Reese's Pieces Katie uses as a final flourish.
Chocolate and cherry meringue stack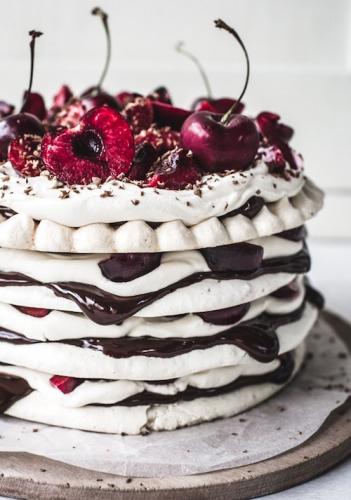 Chocolate and cherries, perfect partners
Image source: Top With Cinnamon
Have you mastered meringue? If so, this multi-layered cake is a cinch to make. Each layer is sandwiched together with gooey chocolate ganache, freshly whipped cream and juicy cherries. Creator Izy's top serving suggestion:
'Freeze the cake for an hour and then slice neatly with a sharp knife.'
Chocolate sweet shop cake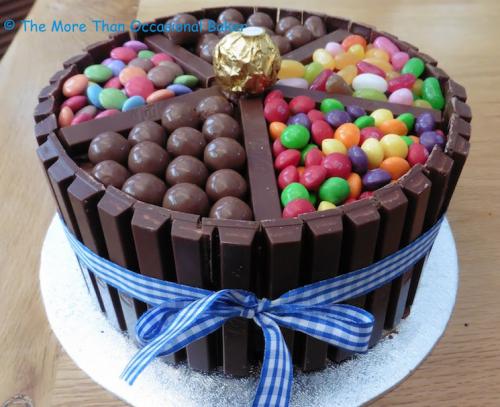 Which sweet treats will you pick?
Image source: The more than occasional baker
Who needs pick-and-mix when you can have the whole sweet shop! Blogger Rose spreads her cake with thick chocolatey buttercream before decorating the sides with with Kit-Kat fingers. We love the way she's used extra pieces of Kit-Kat to split the cake into sections. A mouthwatering mix of sweet shop favourites finish off this fantastic cake.

Fruity feast cakes
Strawberry, champagne and rose cake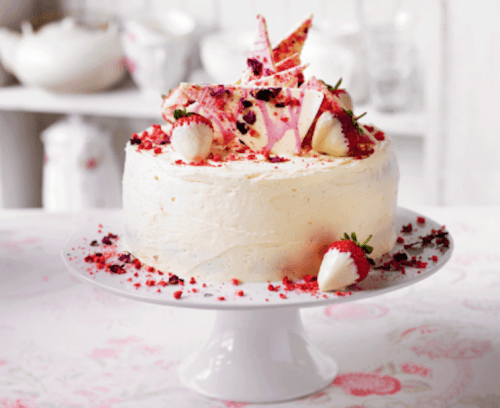 Regal and romantic
Image source: Waitrose
Remember Martha? Aged just 17, she was the youngest contestant to appear in the Great British Bake Off. Now a successful food writer, Martha created this special cake to celebrate the queen becoming the longest reigning monarch. 
We're certain Her Majesty would savour every mouthful of this luxurious layer cake, which is brushed with rose syrup and sandwiched together with champagne buttercream. The delicious topping of fresh strawberries and shards of white chocolate is finished off with a handful of scattered rose petals.

Blueberry muffins with white chocolate ganache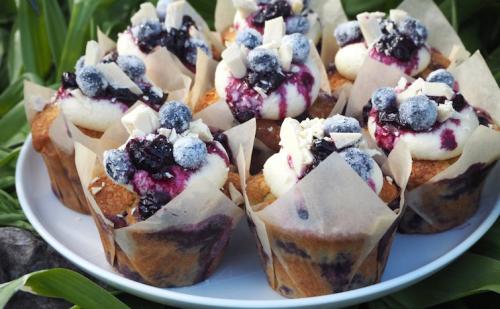 Full of fruity flavour
Image source: Forever Baking
Rich, moist and fruity, these moreish muffins by Emma of Forever Baking look decadent and taste delicious. They're topped with smooth white choc ganache, blueberry compote, white choc shards and sugared blueberries. How about serving these tempting teatime treats on our pretty paper doilies?

Triple layer berry victoria sponge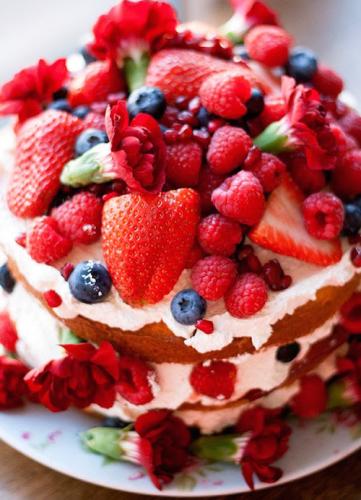 Layered with lemon curd and cream
Image source: The cake hunter
Baking blogger Sophie put her own spin on a standard sponge by baking three layers and adding lemon curd to one of them. We think her secret ingredient sounds scrumptious:
'One of my favourite recent discoveries - and one I've used in this recipe - is vanilla powder and it's absolutely wonderful. It's lovely to see the little flecks of vanilla in the cake mix and it smells amazing.'
Piled high with juicy berries and filled with lashings of thick whipped cream, we're sure Sophie's luxurious sponge is the perfect afternoon tea treat.

Cherry brandy sponge cake
Sponge cake with a cherry brandy kick
Image source: Belleau Kitchen
Take a light and airy sponge cake, sandwich it together with cream, cherry brandy and tangy chopped cherries, then top with a thick chocolatey ganache. Dominic, the creator of this recipe, says adding a drop of cherry brandy to the topping and the filling intensifies the fruity flavour of his cake. Yum!

Cakes for kids

Rainbow speckle cake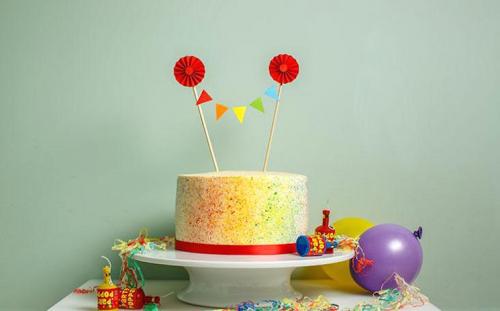 Kids will love this colourful cake
Image source: Bake with Stork
A clever colouring technique makes this colourful creation stand out. Baker Ruth Clemens, who was runner up in 2011's Bake Off, adds a drop of gel food colouring to the bristles of a toothbrush, dips it in water, shakes off the excess, then flicks the bristles to spray droplets of colour all over the cake. 
Working around the cake using the colours of the rainbow creates what we think you'll agree is a beautiful kaleidoscopic effect.  And why not add your own touch with one of our brilliant cake bunting toppers. 

Magical celebration cake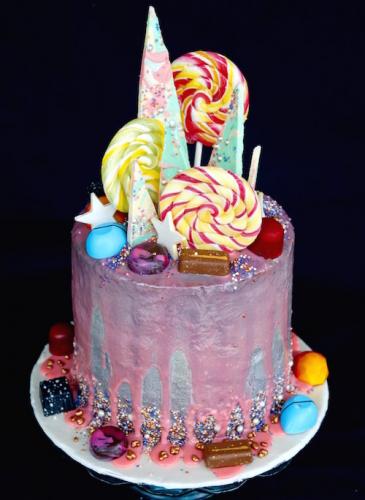 Huma's heavenly birthday cake
Image source: BakedByH
Swirly lollipops, sprinkles and glitter make Huma's mouthwatering cake every child's dream come true. According to Huma:
'It's been a while since I've made a big celebration cake actually, and this opportunity was perfect for me to make one of those whimsical, colourful, explosive cakes.'
Pink ganache and pastel chocolate shards add to the cake's magical effect. To make the shards, simply add red and blue food colouring to melted white chocolate and swirl the colours together. 

Vanilla cupcakes with marshmallow buttercream frosting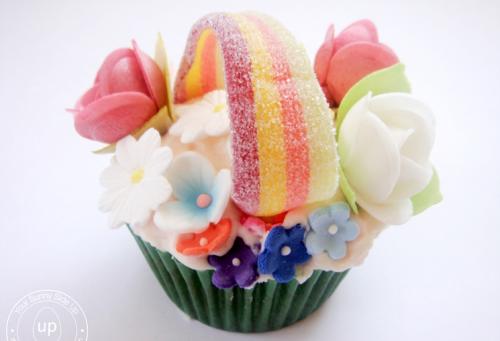 Gooey and gorgeous
Image source: Your Sunny Side Up
Adding marshmallow makes Nazia's cupcake frosting extra sweet and gives it a wonderful texture. She says:
'The frosting is sticky, gooey and sweet and I decided to pair it with my classic vanilla cupcakes.' 
We love the way Nazia uses sugarpaste, wafer flowers and sour stripe candy to create a cute flower basket. Simple to bake but stunning, we think these cakes are so pretty that they deserve to be given as a gift in one of our cupcake boxes.

Giant Doughnut Cake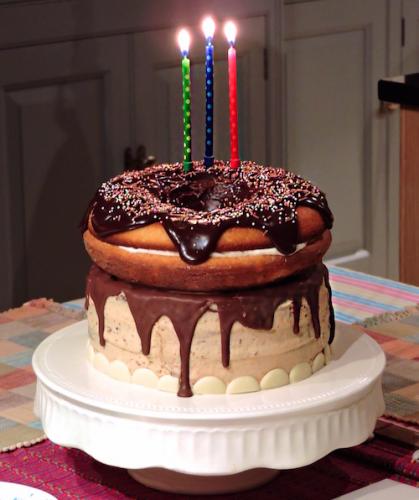 Don't count the calories in this cake!
Image source: BakedByH
Here's one cake that demands to be shared. Four layers of chocolate coffee cake covered with caramelised biscuit frosting make up the bottom layer. And as if that's not enough, the doughnut itself is a vanilla cake sandwiched with a layer of white chocolate filling and dripping with decadent dark chocolate ganache. Sprinkles anyone?

Feeling inspired to get creative in the kitchen? Find a huge range of gorgeous bakeware here at dotcomgiftshop. Here's just a small sample of what we offer: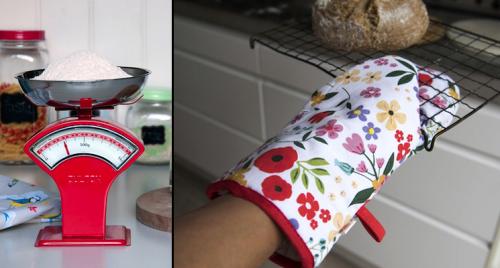 Pictured above (from left to right): Vintage red shop scales - £49.95, Summer meadow oven glove - £4.95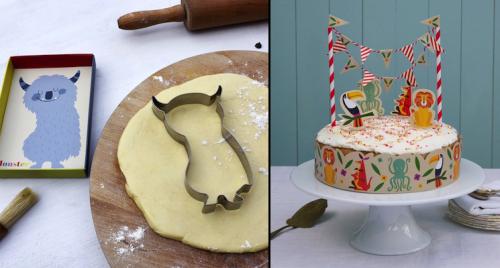 Pictured above (from left to right): Monster cookie cutter - £2.95, Colourful creatures cake bunting - £4.95
Have we inspired you to get baking? Pick your favourite recipe and share your showstoppers over on our facebook page.
Share: