We are working hard to restart deliveries to the EU before the summer.

Sign up to our newsletter

to be the first to hear when shipping begins.
Start a ripple of kindness
Being kind is a positive choice that brings happiness to the giver and receiver. Looking for a little inspiration? Here, some of the most influential writers, thinkers and leaders in history explaining what kindness is, how it spreads, and why it will never go out of fashion.
Be kind to yourself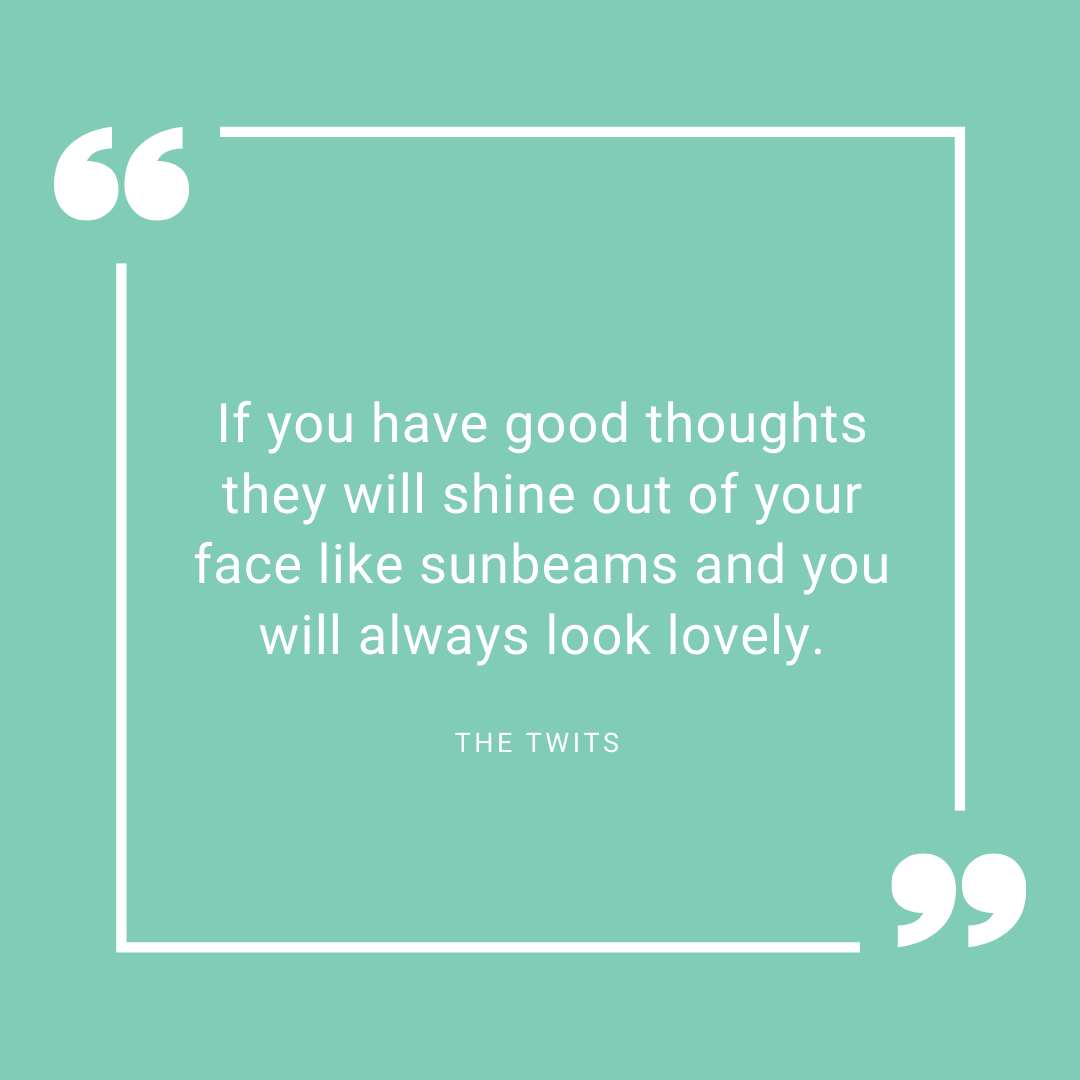 It might seem counter-intuitive, but you need to be kind to yourself before you can be kind to others. If you're stressed, it's far more difficult to be caring and generous. So remember to look after yourself and, like Roald Dahl explains in 'The Twits', your good thoughts will radiate out to touch the lives of those around you:
"Be kind to yourself so you can be happy enough to be kind to the world."
– Misha Collins 
"Be nice to yourself. It's hard to be happy when someone is mean to you all the time."
– Christine Arylo 
"If your compassion does not include yourself, it is incomplete." 
– Anonymous 
It starts with compassion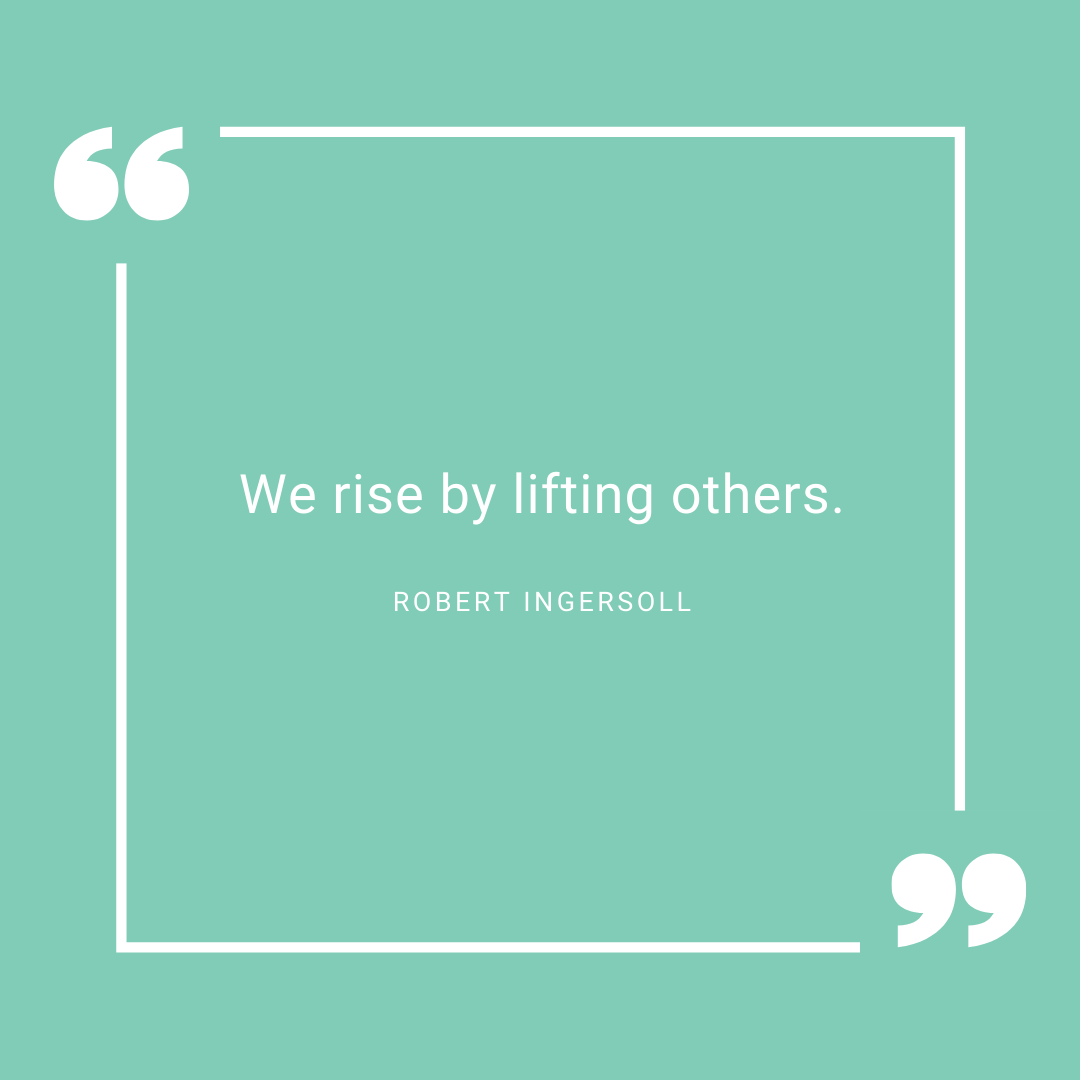 Everybody has their own private challenges. If someone is rude or short-tempered, try offering support rather than judgement. Humans have huge capacity for compassion and, as Robert Ingersoll reminds us, "we rise by lifting others":
"Instead of putting others in their place, put yourself in their place." 
– Amish Proverb 
"Let our hearts be stretched out in compassion toward others, for everyone is walking his or her own difficult path." 
– Dieter F. Uchtdorf 
"Be kind, for everyone you meet is fighting a hard battle." 
– Plato 
"A kind gesture can reach a wound that only compassion can heal." 
– Steve Maraboli 
"One of the most important things you can do on this earth is to let people know they are not alone."
– Shannon L. Alder 
"Love and compassion are necessities, not luxuries. Without them, humanity cannot survive." 
– Dalai Lama 
Kindness is who you are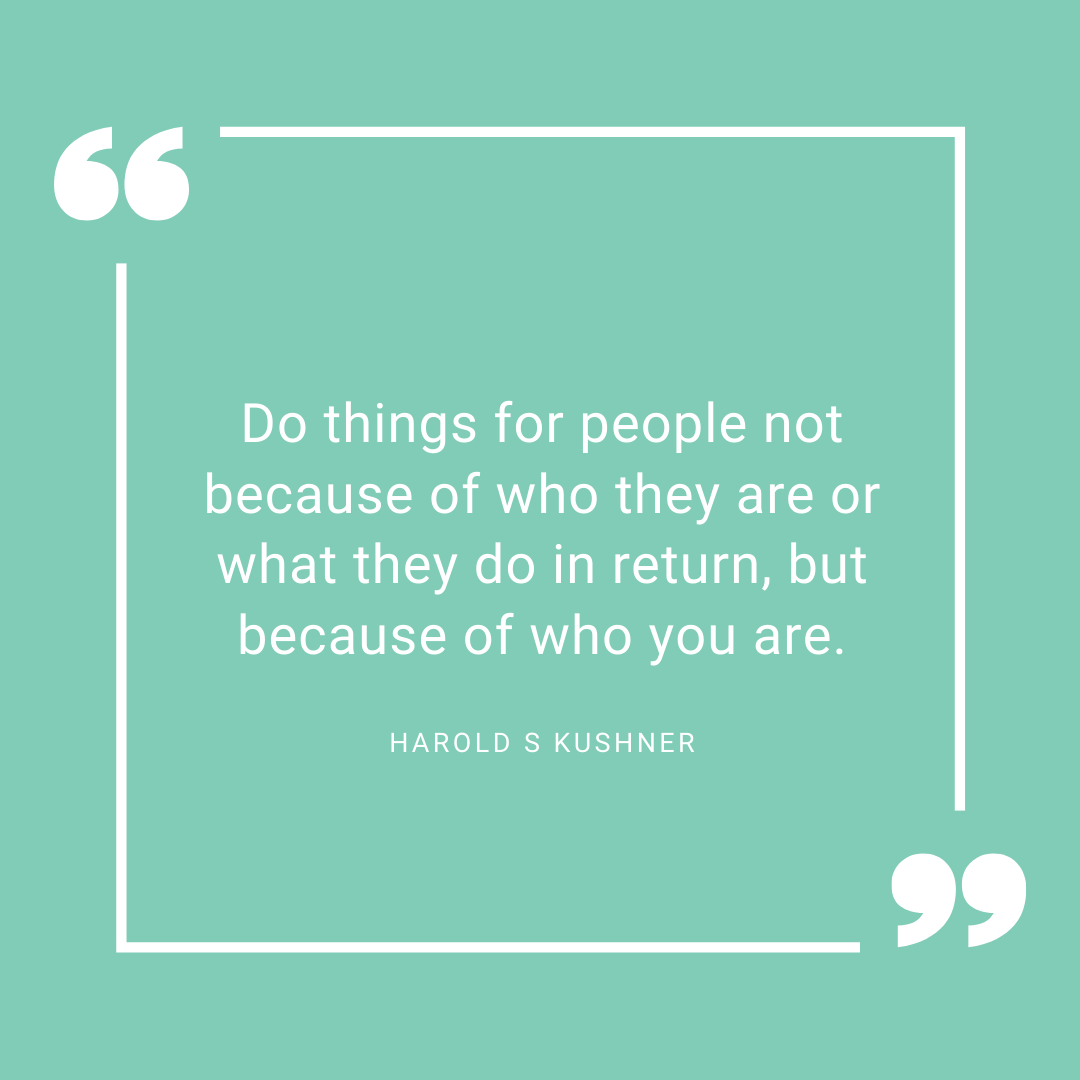 There are two types of kindness –  'strategic' kindness, where you scratch someone's back so they'll scratch yours, and 'altruistic' kindness, which seeks no reward. But doing things for others, says Harold S. Kushner, should not depend on who they are or what they may do in return. According to Harold, kindness should always be a statement about "who you are":
"Carry out a random act of kindness, with no expectation of reward, safe in the knowledge that one day someone might do the same for you."
– Princess Diana 
"Kindness is the language which the deaf can hear and the blind can see."
– Mark Twain 
"No act of kindness, however small, is ever wasted."
– Aesop 
"A little thought and a little kindness are often worth more than a great deal of money." 
– John Ruskin 
"Kindness is a passport that opens doors and fashions friends. It softens hearts and molds  relationships that can last lifetimes."
– Joseph B. Wirthlin  
"The shortest distance between two people is a smile."
– Victor Borge 
"Money is not the only commodity that is fun to give. We can give time, we can give our expertise, we can give our love or simply give a smile. What does that cost? The point is, none of us can ever run out of something worthwhile to give."
– Steve Goodier 
Our choices define us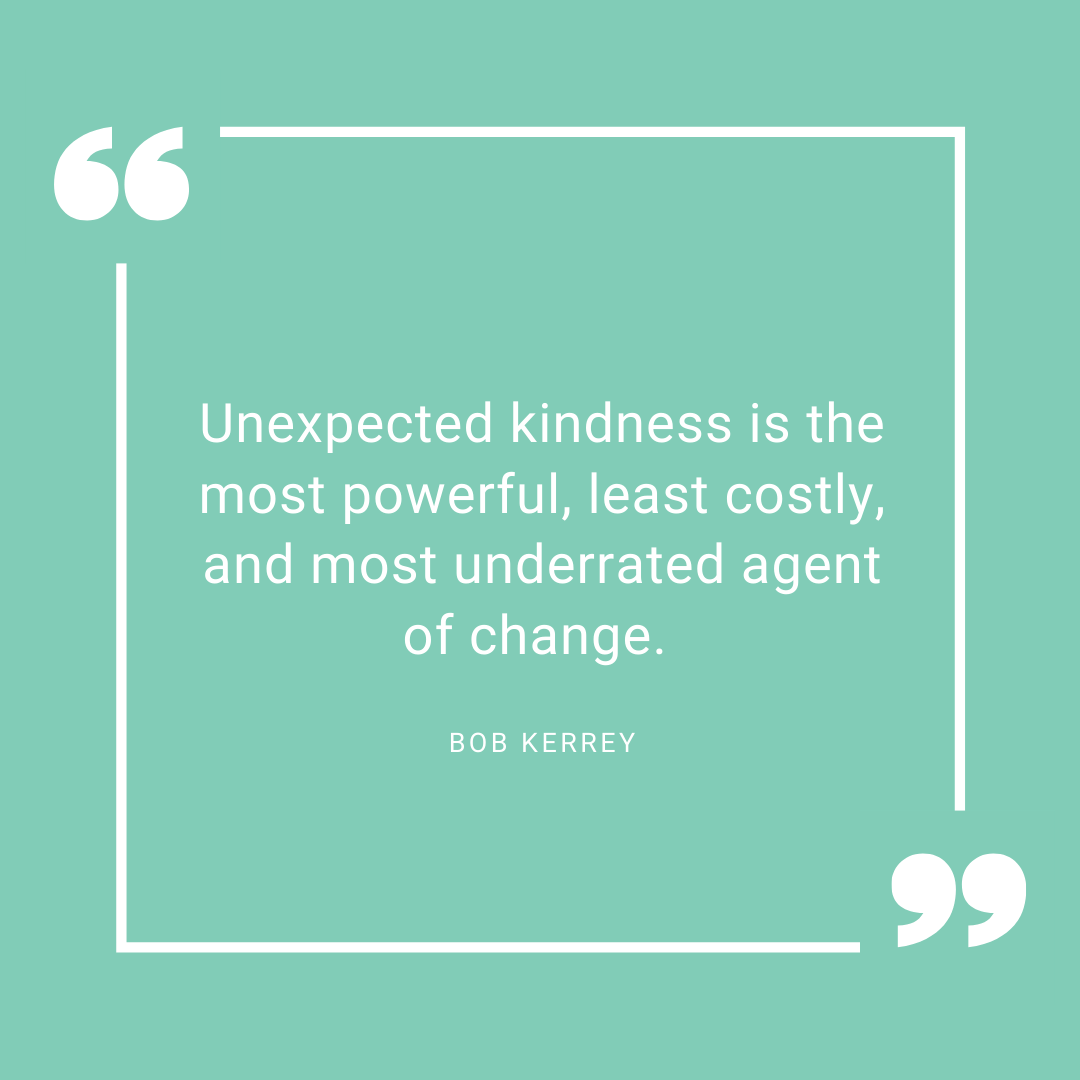 The choices we make on a daily basis define who we are. But never underestimate the power of unexpected kindness, says Bob Kerrey. He believes it has the potential to change the world:
"When given the choice between being right or being kind, choose kind."
– R J Palacio, 'Wonder' 
"Be kind whenever possible. It is always possible." 
– Dalai Lama 
"It isn't what we say or think that defines us, but what we do." 
– Jane Austen, 'Sense and Sensibility' 
"You know, some things don't matter that much...Like the colour of a house. How big is that in the overall scheme of life? But lifting a person's heart - now, that matters."
– Sue Monk Kidd, The Secret Life of Bees 
"The wonderful thing is that it's so incredibly easy to be kind."
– Ingrid Newkirk
"I have found that it is the small everyday deed of ordinary folks that keep the darkness at bay. Small acts of kindness and love." 
– J. R. R. Tolkein, The Hobbit 
"You can accomplish by kindness what you cannot by force." 
– Publilius Syrus
"But remember, boy, that a kind act can sometimes be as powerful as a sword."
– Rick Riordan, The Battle of the Labyrinth 
"It's all a matter of paying attention, being awake in the present moment, and not expecting a huge payoff. The magic in this world seems to work in whispers and small kindnesses."
– Charles de Lint 
"Try to be a rainbow in someone's cloud."
– Maya Angelou 
Kindness is contagious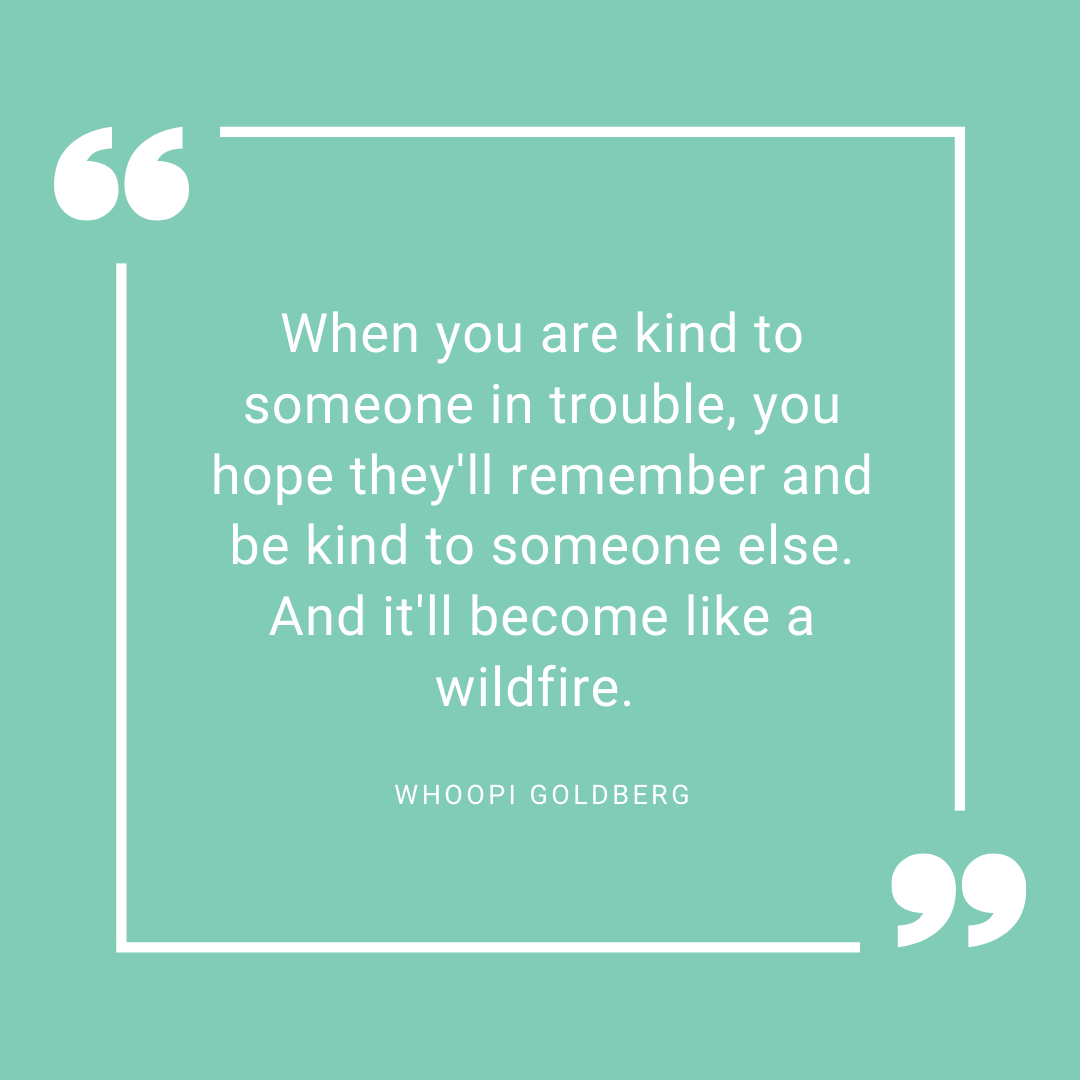 You've heard the saying "one good turn deserves another." Whoopi Goldberg hopes that every kind and thoughtful act will spark another until kindness spreads like "wildfire". Ready to start your own ripple of kindness? Here's some inspiration:
"There's no such thing as a small act of kindness. Every act creates a ripple with no logical end." 
– Scott Adams 
"Kind words can be short and easy to speak but their echoes are truly endless." 
– Mother Teresa 
"All I'm saying is, kindness don't have no boundaries."
– Kathryn Stockett, The Help 
"Thousands of candles can be lighted from a single candle, and the life of the candle will not be shortened. Happiness never decreases by being shared."
– Buddha 
"Do something wonderful, people may imitate it."
– Albert Schweitzer 
Kindness is a universal language that we can all share and understand. Browse our collection of greeting cards to remind friends and family that you care. Looking for an unusual present to make someone's day? Everyone loves to get an unexpected note or small gift through the post. Stay positive, be kind, and share acts of #KindnessEveryday.