April's menu: Lamb, watercress and rhubarb
Thursday 09 April 2015 | abby
Here in the UK we are incredibly fortunate to have a bounty of delicious seasonal food available all year round.
So, to celebrate all the tasty treats available every month, here's a scrumptious menu for four using the best seasonal produce.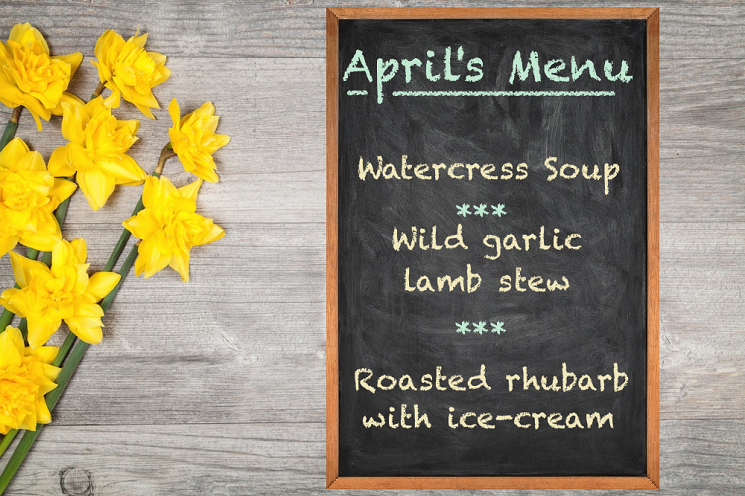 Image source: SP-Photo and Angela Waye
 
STARTER: Watercress soup
Put the watery supermarket version to the back of your mind; this soup is full of flavour thanks to oodles of fresh watercress. The key to maintaining the flavour is minimal cooking time. It can also be enjoyed both hot or cold, so see what the weather is doing before you decide!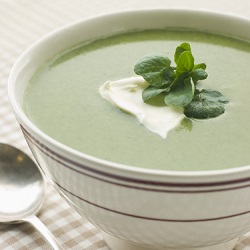 Ingredients
2 tbsp butter
1 onion chopped
1 garlic clove minced
1 tbsp flour
400ml milk
250ml water
450g watercress
75ml double cream
Mint leaves

Method
1. Heat the butter in a pan and fry the onion and garlic until softened and fragrant. Mix in the flour and cook gently for one minute.
2. Slowly pour in the milk and water, and stir. Cover and simmer for 5 minutes. 
3. Add the watercress to a separate pan of boiling water. As soon as the watercress has wilted, drain and put into a bowl of cold water, to help retain its vivid colour.
4. Add the cold watercress to the first saucepan and puree with a hand mixer. Stir in the cream and serve. Garnish with mint leaves or more watercress.
MAIN: Wild garlic lamb stew
A hearty stew is a classic family favourite and April is a great month for snapping up some seriously tender lamb to go in it. We've plumped for wild garlic to flavour this simple stew, as it's tastier now before the flowers appear. You can pick your own, but make sure you've selected the right plant by crushing the leaves; if it's wild garlic you will be able to smell it.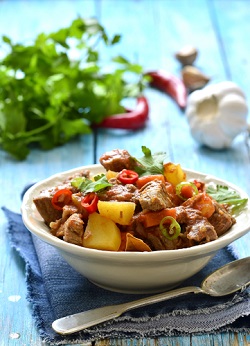 Ingredients
1 tbsp olive oil
500g stewing lamb, cubed
1 onion, diced
2 carrots, chopped
1 leek, chopped
1 stalk celery, chopped
2 medium potatoes
500ml stock
1 sprig rosemary
400g butter beans
1 bunch wild garlic, roughly chopped
Bread to serve

Method
1. Heat the oil in a large pan and cook the lamb in it for approximately 5 minutes. Add the onion, carrots, leek, celery and potatoes. Cook until the vegetables start to soften. 
2. Add the stock and the fresh-cut rosemary, then cover and cook on a very low heat for one hour. Then add the butter beans and cook for a further 30 minutes. Add the wild garlic two minutes before serving. 
3. If the stew is too thick, thin with more water. If it is too thin, remove half a cup of liquid and mix with plain flour to create a thickening sauce. Add the thickening sauce to the stew and stir until it thickens to the desired consistency. 
4. Serve with bread. Top marks if you use a freshly baked loaf (bought from the bakery counts!). 
DESSERT: Roasted rhubarb with ice-cream
The first field-grown rhubarb crops will be sold this month and we can't wait! This tart vegetable (posturing as a fruit) makes a fairly virtuous pudding when simply roasted and sweetened with a smidge of sugar, but you can add decadence and deliciousness with a scoop of indulgent ice-cream. We certainly will be!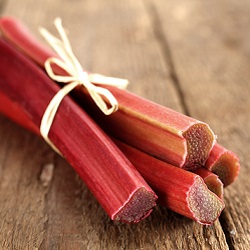 Ingredients
500g rhubarb
80g sugar
4 scoops vanilla ice-cream

Method
1. Preheat the oven to 180°C. Wash and trim the rhubarb and cut into bite-sized pieces.
2. Mix rhubarb with the sugar and place on a baking tray, cover with a sheet of foil and pop in the oven for
15 - 20 minutes. 
3. Check every few minutes until the desired texture is reached. Take out and serve with ice-cream. 
Want some good old-fashioned goodies for your kitchen? Check out DotComGiftShop's vintage kitchen range!
Image source 1: Monkey Business Images
Image source 2: Liliya Kandrashevich
Image source 3: S_Photo