We are working hard to restart deliveries to the EU before the summer.

Sign up to our newsletter

to be the first to hear when shipping begins.
8 alternative Christmas decorations
It's almost time to root out that box of Christmas decorations and spruce up your home for Christmas. But if you're bored of the same old wreath and trinkets on the tree, be inspired by our 8 amazing alternative decorations, to make this year a little bit different!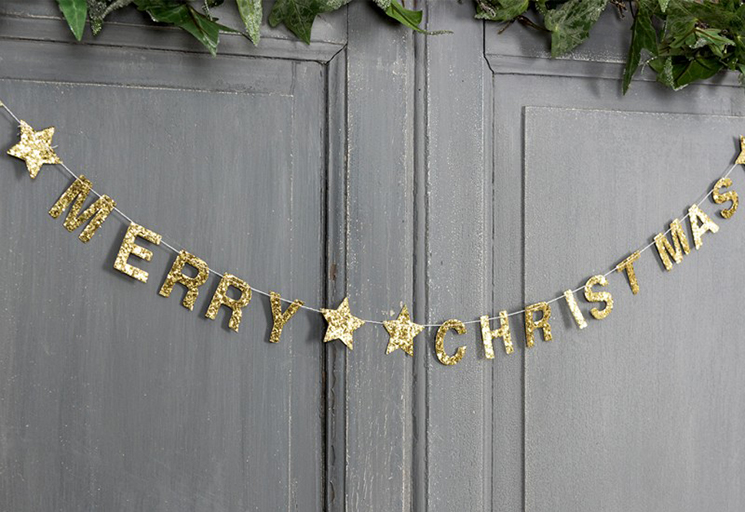 Gold Merry Christmas garland, £2.95
A tree that isn't a tree
Just think outside the box and you can have an 'artificial tree' unlike any other! Make the most of what you already have lying around, like an old step ladder. We can guarantee it's never looked so good.
Personalise a wreath
Who says a wreath has to be made with leaves, twigs and pine cones? Just get a wire ring, pad it out with foam, and then attach anything you want, including feathers, fruit and even old computer parts. It's entirely up to you!
Creative advent calendars
Forget dull cardboard calendars, it's all about tiny jars! It couldn't be easier to get your hands on 24 pretty containers and fill them with little things everyone will love, such as sweets, toys and handwritten messages.
A toy nativity
Nativities are more fun when you make them with kids' toys! If anybody points out that Batman, Darth Vader and a T-Rex probably weren't at the birth of Jesus, just tell them that you're using a little creative license...
Get handy
If you're good with your fingers, why not turn your hand to origami? Start with a few simple stars and work your way up to more complicated reindeer. And to be extra handy, make your decorations with all those leftover bits of wrapping paper.
Flip your tree
This one is going to take a little more organisation, but it can be done thanks to special stands designed to hold a tree upside down. Probably not one for a home with children, but great if you want to confuse your friends.
Edible decorations
These baubles might look good enough to eat, and that's because they are. You can buy or even make chocolate decorations. They're guaranteed to go down a treat on Christmas day, even if they don't hang around for long!
Cool card holders
There are plenty of simple yet effective ways to display your cards: attach them to a loop of string with mini pegs, hang them up in alcoves and from bookshelves, or use them to adorn your kitchen cupboards using some ribbon and pegs.
You can find loads of unusual, cute and vintage Christmas decorations at the Rex London online store. Happy decorating!