16 bloggers to plan your wedding with
Tuesday 31 December 2013 | clare
You're engaged - congratulations! Now all you have to do is prepare for one of the biggest days of your life, but where do you begin? Not to worry, these 15 marvellous wedding bloggers are on hand to help you!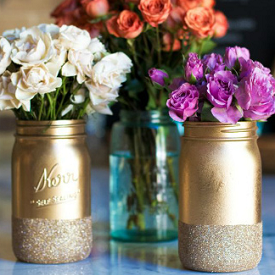 Who doesn't love a pretty wedding? Lianne at Adore Weddings certainly does and she has plenty to inspire you on her wonderful blog!
Check out the Style Diary for loads of tips to make your big day sparkle, including using gorgeous glittery jars as centrepieces for your dinner table. You can get even more inspiration here from the amazing photo shoots from real weddings: there are stunning dresses and beautiful details galore.
We particularly love the real Venetian wedding. It doesn't get much more romantic than tying the knot and then going for a gondola ride.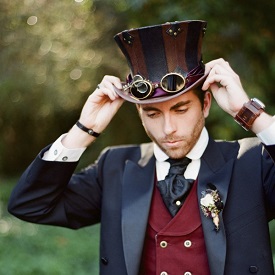 Get more from this brilliant wedding magazine by checking out the Alice in Weddingland blog for plenty of great wedding inspiration and vendors.
Whether you're stuck for gift ideas for your husband-to-be or you don't know how to go about creating a seating plan for the big day, this fantastic blog has the perfect mix of breathtaking photographs and invaluable information. An essential for anyone planning their big day.
We particularly love the amazing Steampunk wedding. Everyone in the wedding party embraces the theme with waistcoats, corsets and goggles - quirky and beautiful!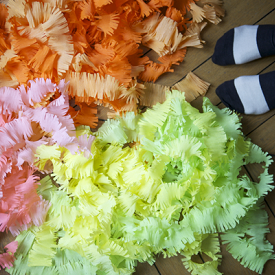 Georgia calls herself a 'mild wedding obsessive' and we don't think there's anything wrong with that, especially when it means she writes such a wonderful wedding blog.
Before the Big Day is filled with all sorts of great information that you can make use of before you get hitched. Not sure what theme to use for your wedding? Keen to add a little personal flair by making some DIY pieces? Georgia will show you how!
We really love her paper feather streamers. She took the idea from some of her blogger friends and whipped up her own in no time - they'd make a beautiful addition to any wedding venue.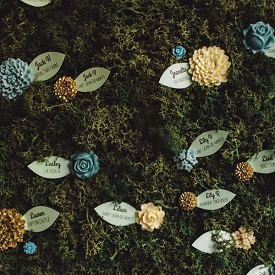 Debs loves hearing proposal stories, adding handmade elements to a wedding and checking out sumptuous dessert tables - but who doesn't?
This blog is absolutely packed with gorgeous photographs that are sure to have you dreaming of your wedding day. Hear from wedding suppliers who live to make your big day beautiful, and check out the photo collages from real weddings. This blog is perfect if you just want to add a little romance to your day.
We really like Verity and Gavin's homemade floral seating plan. Made from moss and resin flower charms, it does the job in style!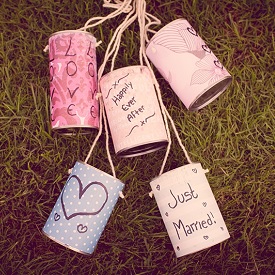 Bespoke Bride is all about adding character and originality to your wedding day, and these excellent bloggers are here to help you make your dreams become reality.
The best way to make your wedding day reflect your character is to make something yourself. Here you'll find loads of tutorials to do your own hair and make-up, craft garlands for chairs and even design pretty cans to drag behind your wedding car!
We particularly love their 'Inspiration' pages. You can organise the posts by colour and theme to find loads of ideas for your special day, whatever your taste.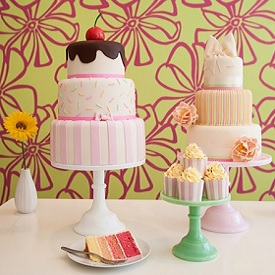 Calling all creative brides-to-be, this is the blog for you! You can find all the bright, beautiful wedding inspiration you need right here.
There are some beautiful themed weddings to feast your eyes on at Creative Brides. Whether your style is a woodsy wedding wonderland or a vintage hike in the great outdoors, there's inspiration for everyone on this lovely blog.
We really love the 1960s bridal photo shoot. It's bold, colourful and filled with cake. What a perfect theme for a wedding!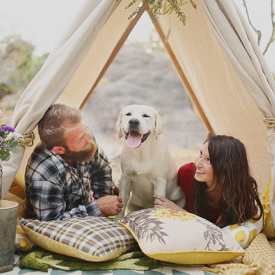 For a lady with a passion for weddings, Lorna has the perfect job as a wedding photographer and blogger. Engaged Weddings is the place where she showcases her talents.
At the Engaged Wedding Blog you'll find loads of great suppliers who can help you make your big day even more magical. As if that weren't enough, there are plenty of stunning wedding and engagement photo shoots to get you even more excited to tie the knot!
We can't get enough of the vintage camping engagement shoot. Not only is the setting beautiful, but it features a friendly labrador too.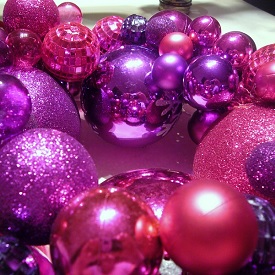 If there's one thing we love more than weddings, it's puns, and this blog is a thoughtful and entertaining combination of both!
Get your daily dose of romance at this stunning blog, featuring breathtaking real weddings and handy information for every member of the wedding party, including fashion advice for wedding guests and tips for the groom to look his best on the day.
We really love the tutorial for making a stunning wreath out of brightly coloured baubles. It's pretty enough to be used for any special occasion!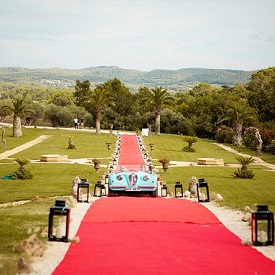 In 2011, Monique helped out a friend who was getting hitched in France. She was so taken with the event that she started French Wedding Style to help inspire others who want a destination wedding in France!
She'll bring you the latest in wedding fashion from across the Channel, including new wedding dress collections from French designers and the hottest venues in the country. Top it off with gorgeous photography from real destination weddings and you have the makings of a truly wonderful wedding blog.
We particularly love the vintage wedding in Provence. It doesn't get much more glamorous than turning up to your big day by driving up a red carpet in a blue Jag!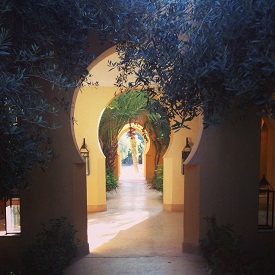 Jessie has helped lots of happy couples plan their weddings and she created Jessie Loves alongside her business to help inspire a whole online community of brides! The blog is still going strong and is a friendly place for newlyweds to return to for years to come.
As well as weddings, there are plenty of tips for planning other celebrations too, including birthdays and children's parties. Jessie can help you out with any special event you have planned!
We really love her ideas for wedding venues in Marrakech. If you're thinking of tying the knot abroad, you can't get much more beautiful and exotic than Morocco. 
When she was planning her wedding, Karen realised that there wasn't a home on the internet for style-obsessed Jewish brides. So she made one herself!
Smashing the Glass brings you the latest in drop-dead gorgeous wedding design, from invitations to cutting-edge wedding dresses. There are also tips specifically for Jewish ceremonies, including some amazing design inspiration for the traditional ketubah.
We really love her collection of beautiful chuppah ideas. What better way to get married than under a canopy of blossom?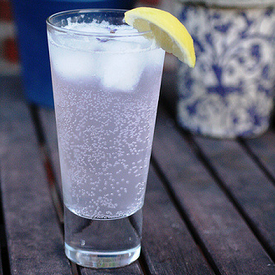 So you're getting married? Then head over to this blog for everything you need to make your wedding planning go smoothly.
Pheobe will help you choose the best of everything for your special day, from florists to photographers, and she'll also show you how to add some personal touches of your own. There's a yummy recipe for lavender cordial - perfect for a summer ceremony - and a guide to adding sparkles to your wedding shoes.
We really love her musings about planning the perfect wedding. Even though everything might not go exactly according to plan, if you don't sweat the small stuff you can still have a magical day.
After a very romantic proposal in a bath, Sama decided to start blogging about the lead-up to her big day. She loved blogging so much that she decided to stick with it, and now The Utter Blog chronicles her adventures in helping other people plan their weddings!
Check out Operation Amazing Wedding to get the full scoop on Sama's wedding day (we think you'll like her gorgeous dress!) and take a look at Tuesday Chow for some recipes to help you refuel after all that difficult planning.
We really love the photograph of the bride riding on the golf cart - who doesn't love a wedding with a little bit of fun?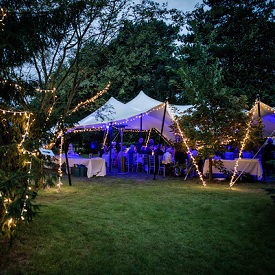 Julie knows weddings - she's a professional planner and has helped lots of couples down the aisle. Now she'll pass on all her experience to you at this wonderful blog, The Wedding Genie!
This excellent blogger will take through every part of getting married, from handy tips for newly engaged couples to ideas for finding a dream honeymoon destination. There's so much to get your teeth into here, you need never feel lost or stuck in the run-up to your wedding day.
We love her tips about for holding your winter wedding in a marquee. Yes, it is possible, and with a little well-placed lighting it can look utterly beautiful!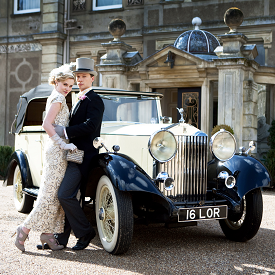 For those of you who have been dreaming about your wedding day since you were very young, you'll find a kindred spirit in this wedding-obsessed blogger.
If planning is getting just too stressful, your SOS will be answered by this wonderful blog. There's information about bridal fashion, food, gifts and every other aspect of the wedding day, so take a deep breath and rest assured that you'll never be stuck for ideas and inspiring wedding shoots.
We just adore the Great Gatsby themed photo shoot. Top hats, beaded dresses and a classic car - it doesn't get much more romantic than that!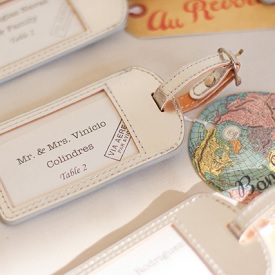 Are you a fan of 1920s and 1930s vintage? Can't get enough of bohemian style and dreamy florals? Then Want That Wedding is ideal for you!
Sonia will bring you the best themes and colour themes to make your day extra beautiful, all with a classic vintage twist. We're sure you'll love the vintage travel themed wedding, complete with luggage labels as place markers and miniature compasses for wedding favours.
We really love her idea for an alternative wedding cake - leave out the cake entirely and go for a tower of colourful cheese. Yummy!
If you know of any other blogs we should add to our list, please do contact the blogging team at dotcomgiftshopblog[@]gmail.com.