Gorgeous upcycled furniture
Upcycling is the way to go if you want beautiful, bespoke furniture for your home. Turn a bargain buy or a reclaimed reject into something special with a lick of paint and a lot of love. Here are some great ideas to inspire you.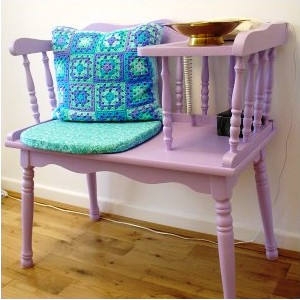 Broken, tatty and tired, Meme Rose found this old telephone table in a junk shop. Some tender care, a lick of lilac paint and a crochet cushion have breathed new life into this little beauty.
Visit Meme Rose's pretty blog for more posts and images to will inspire and delight. She's a mistress of crochet and a junk shop junkie with a great eye for a bargain - we love her style.

Antonia rescued this dresser from a skip! She sanded, painted and waxed it back to life. Missing handles have been replaced with pretty Ebay finds and drawers lined with Art Deco style paper. 
Tidy Away Today is Antonia's blog. Visit her site for superb furniture makeovers, DIY inspiration and organisation ideas for busy families. 
Travel chest - The Cushion Correspondent

This gorgeous chest of drawers started life as a budget wooden affair. Franki papered the drawers with maps, added handles made from leather belts and used dark paint and studs to create a leather trunk effect.
Franki is the Cushion Correspondent. She lives, writes and breathes interiors and her blog is a great place to visit for ideas on home chic and insider style secrets.
Writer's bureau - The Barrister's Horse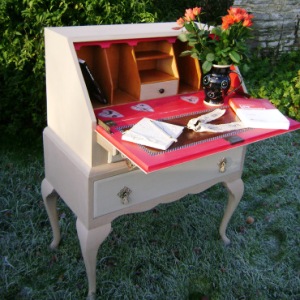 Jackie is the queen of upcycled furniture. She transformed this beautiful writing bureau with a lick of cappuccino and linen paint on the exterior and vibrant red on the interior.
Painting furniture is her thing and The Barrister's Horse is her blog. Visit for furniture painting courses, upcycling inspiration and more of her lovely pieces. 
Rescued retro highchair - Mum of All Trades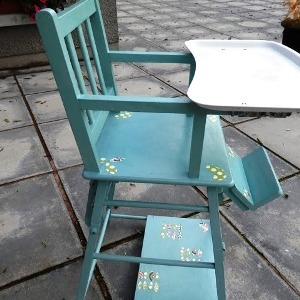 Pretty paint, decoupage and odourless varnish upcycled this tired, vintage highchair into a practical and pleasing piece of baby furniture. 
This is the work of Mum of All Trades - working mum of 5 who is also a superb crafter, decorator and blogger. Expect tutorials, incredible before and afters and great writing.
Vintage suitcase blanket store - Heart Handmade UK

© Copyright Heart Handmade UK
This lovely vintage suitcase has long since lost its lid, but that doesn't mean it's lost its use. Claire of Heart Handmade UK has cleverly turned it into a blanket store for her living room.
Visit this blog for some serious interiors envy, inspirational images, tutorials and craft ideas. 

Claire turned a dark old cupboard into a little thing of joy by painting, distressing and papering it. A white exterior gives way to the prettiest rose print when the cupboard doors are open.
Thriftwood is Claire's blog. She's a dab hand at thrifting, upcycling and turning the not-so-lovely into the most-definitely-lovely. Visit her site for more restoration inspiration.
Beautiful blue chair - Hook, Line and Sink Her 

This blue beauty is a true labour of love. Katie made her own teal chalk paint (with plaster of Paris) and fashioned the cushion from two pieces of funky fabric and some pillow stuffing.
Visit Katie's blog - Hook, Line and Sink Her - for more of her lovely homemade creations and lots of funny, uplifting posts.
Sweet suitcase - Pieces of Wonderful

Lexie used chalk paint, pretty wallpaper and lace trim to transform a grotty old suitcase into a pretty, pretty storage chest. 
She blogs at Pieces of Wonderful about her thrifting adventures, crafting projects and all other manner of lovely things.
Crocheted lampshade - Dilly Tante

Dilly Tante converted an unfinished granny blanket into a lampshade cover. And hey presto! She turned an uninspiring uplighter into a quirky, one of a kind, feature piece.
Honest, funny and real, this is a craft blog with a difference. Expect lovely recipes, crafting, crochet and yarn bombing, interspersed with humorous asides and anecdotes.
Now you're in the upcycling mood, have a look at Rex London's range of furniture accessories and wrapping paper for more renovation inspiration.