21 fabulous home decor blogs
We're a little obsessed with gorgeous interior design, which is why we've decided to bring you twenty brilliant home decor blogs to catch your eye and get your creative juices flowing.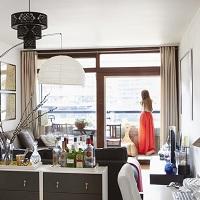 A Diary of Lovely is exactly what it says on the tin. This is Helena's online scrapbook of all the things she loves, including fashion, food and, of course, fantastic home decor.
Have a look at her gorgeous collections of inspiring images - from hotels to florists - then take a tour of her flat to see how she uses all these ideas to create a wonderful home. OK, so we can't all have a mini-office on a balcony, but we can dream!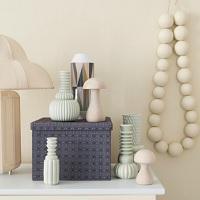 Interior designer and stylist, and co-editor of leading lifestyle magazine
Heart Home
, Arianna is a true pro with a keen eye for style, so if you want home decor tips from the best, look no further than Arianna Interiors.
Discover how she creates beautiful spaces for her clients and her own home, and learn about everything from quirky colour combinations to luxurious textured fabric. Want to paint with pastels, or decorate with wood? Arianna will show you how the experts do it.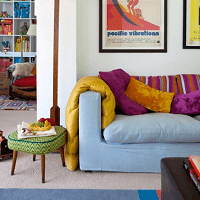 At Bright Bazaar, colour is the name of the game. If it's bright and bold, Mr Bazaar loves it and will show you how to bring it into your home without overpowering a room. Pretty, poetic and perpetually inspiring, this blog will make you forget beige for good.
You too can host a yellow-themed brunch, or transform a piece of drab furniture with just a lick of paint. So what are you waiting for? Head over to Bright Bazaar now!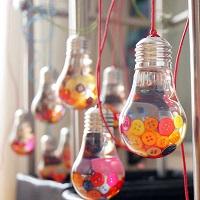 After only five weeks of blogging, Katie won a Best Interior Design Blog award for Confessions of a Design Geek, so you can be sure you're in safe hands with this self-confessed designaholic!
Here you can take a peek at trade shows and the work spaces of other creative people, or follow a step by step guide to make your own home accessories. Fancy a concrete rug? Want to fill a lightbulb with buttons? Find these unusual pieces and more right here.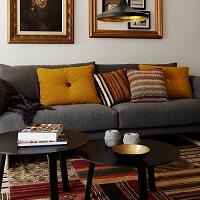 There's more to interior design than making a room look lovely - there are also plenty of clever tricks to make a space seem bigger, lighter or warmer, and Dear Designer is jam-packed with invaluable advice.
Turn a living room into a cosy retreat with careful colour and lighting, or go all shabby chic and bring the outside in with some springtime flowers. For sumptuous photographs and intelligent commentary, be sure to visit the excellent Dear Designer.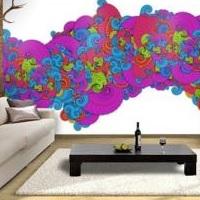 Trend-hunters and style-setters Decorque are your one stop shop for all the latest in home decor fashions. Join the team as they delve into the fascinating worlds of colour, pattern and design, and show you just how to bring your home bang up to date.
As well as sharing their crafty inspiration, these bloggers also produce plenty of interesting trinkets and accessories themselves, so if you're looking to add a little colour to your home, check out Decorque. They have everything from hummingbird placemats to handcut butterfly mobiles. Gorgeous!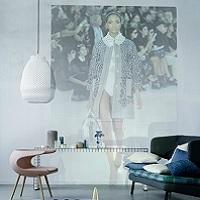 The fabric of Kate's life is made up of beautiful fashion, delicious food and gorgeous art and design.

Let this talented blogger guide you through the latest in style for your home and your wardrobe, from projecting the catwalk onto your walls, to using a splash of Moroccan chic to chase away the winter blues. Be inspired by Fabric of My Life to turn your own home into a tapestry of great design.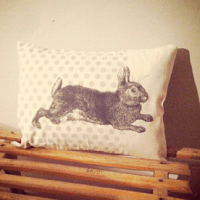 Alice is the home shopping spy, using all her intrepid detective skills to bring you the latest home design trends, great products and interior design secrets.

There's something here for everyone, whether you're decorating from scratch (check out the book wallpaper for a study or home office), or you just need a little something to spruce up a room (a screen-printed rabbit cushion perhaps?). And remember, this blog is for your eyes only!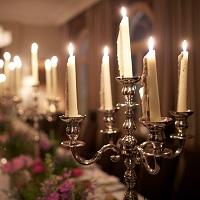 Life, London and a passion for interior design, Insideology is a haven for the lover of all things beautiful.

For the technically minded amongst you, you can check out Annabel's meticulous drawings of her flat. And if you just want a healthy dose of pretty, you can lust over her beautiful wedding decorations (glass jars filled with flowers and candelabras? Perfection!). Annabel writes about whatever catches her eye, and we can guarantee this blog will catch yours too.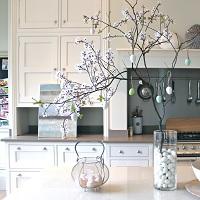 Kate has always loved to make things, but since her childhood she's moved beyond papier maché to more daring ventures, such as restoring an 18th century home!

You'll be hugely impressed by the care she has lavished upon the building, and with her handy tutorials you can learn a few creative lessons yourself. If you've ever wanted to know how to dye an egg, or wondered what to do with that old pine dresser, then Kate's Creative Space is the place to be.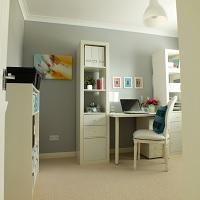 Are you a DIY junkie? Do you like nothing better than giving old furniture a new lease of life? Then check out Gaby's gorgeous blog, which is filled with great tips and ideas for doing just that.

She'll show you how to reupholster furniture, make your own stencils and turn an old picture frame into a handy tray. There are so many brilliant ideas here, you may find it hard to look away. Top it off with a picture tour of her home and you have the makings of a truly great interior design blog!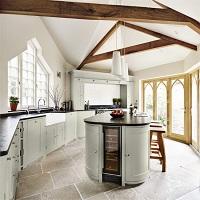 From the people behind
Homes and Gardens
magazine comes Living Beautifully, a blog all about creating lovely spaces and cosy homes, down to the smallest detail.
Read about the virtues of digitally printed wallpaper and see how to fit a gorgeous kitchen into even the most awkwardly shaped room. Whatever design dilemma you're grappling with, the professionals at Living Beautifully can help you out with a daily dose of divine decor.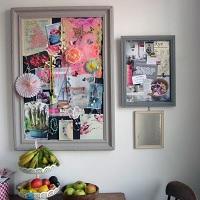 Jeska just wants to make everybody's surroundings "a happier, more beautiful place" and, at the lovely Lobster and Swan, she certainly succeeds.
This lady has always had an aesthetic eye, and this online scrapbook is where she shares her design discoveries with the world.She's also recently moved house, so expect plenty of wonderful updates. To begin with, take a look at her ideas for a perfect little kitchen shelf - one peep and you'll probably want one yourself!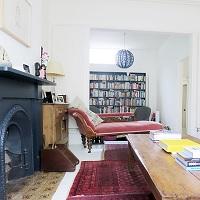 We're simply crazy about Mad About the House! Kate's house has been featured in
Livingetc
magazine and it's easy to see why: take a tour and watch the transformation from the day she moved in to its amazing completion (seriously, there's a red chaise longue!).
Kate pinpoints upcoming interior trends, and the stunning Objects of Design feature brings you items you'll die to have in your home. If you're mad about home decor, then this is the ideal blog for you.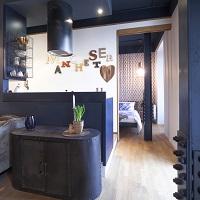 Could your home be more gorgeous? Moregeous? If the answer is yes, then get started with this excellent blog. Sian is the interior design brains behind the operation and she's not afraid to get stuck in with the practical side of decorating either.

As well as the addictive before and after shots of her projects, you can get some great tips about making statement pieces yourself, from painting floorboards white to reupholstering a wingback chair. Perfect!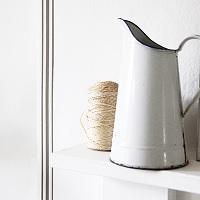 This stylish blog is about design at its purest. Each carefully selected image is simple, beautiful and bound to bring out the best of your creative ideas.
You can see how to bring a splash of colour to any room without overwhelming the space - use old tiles for a subtle hint of blue, or try a striking quince border against a plain background. If understated design is right up your street, then you must see Pure Style. 
Sania Pell is a stylist and designer, but when she's at home she blogs about ... style and design! That's right, this designer's work is never done and she's always on the hunt for great ideas.
Discover what inspires her, recreate the looks with her DIY craft guides, and take a peek at her professional decor shoots. The children's shoot is our favourite - who wouldn't want to spend a day surrounded by giant balloons and space hoppers?
Kimberly - aka Redlilocks - "eats, sleeps and breathes" interiors, and she isn't afraid of tight budgets either because they're a great excuse to be creative. She's put everything she's learned to great use in her own home.
Why not take a tour, and see exactly how this excellent designer has turned it from an ordinary house into a haven of beauty? If you're a fan of sunburst mirrors and vibrant wall art, you'll just love what she's done to her dining room. You may even swoon!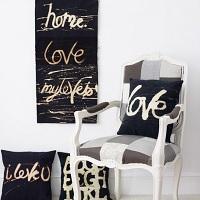 Join Stacey as she rounds up the latest in great design and ideas for your interiors. There's no excuse to be a sheep when it comes to decorating - you can bring your own twist to your home, with the quirky and unusual ideas you'll find on this jam-packed blog.
Where else can you find recycled furniture, animal cushions (with a difference), and tips about the psychology of the colour green? This is a truly eclectic blog, and you definitely won't regret paying it a visit!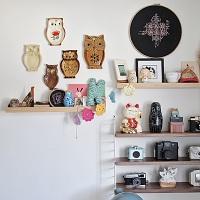 Travel, cooking, crafting and decorating - these are all things Katie does, and her blog is at the heart of all her creations. Whether you're after a delicious new recipe or a restaurant recommendation in San Francisco, you'll find it at this dreamy lifestyle blog.
And as for interior design? There's no shortage of chances to take a peek at Katie's design handiwork in her own home. We particularly love her vintage bedside table and all the owls in her study!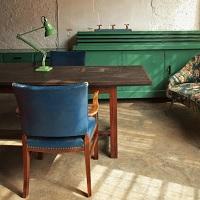 Your home
is
lovely, but it could be even lovelier with a little help from intrepid blogger Kate. When she first moved into her home, the renovation challenge facing her seemed hugely daunting, but she rolled up her sleeves and got stuck in.
Now she has a home to die for and has turned her attention to collecting amazing images and teaching you the tricks of the trade. Who knew an old-fashioned printer tray makes great storage for jewellery? Now you do!
If you know of any other blogs we should add to our list, please do contact the blogging team at dotcomgiftshopblog[@]gmail.com.
Share: