25 wonderful wedding blogs we love
At Rex London we love a good wedding, so we've indulged in a little nuptial blog hunting and gathered together some of the best wedding blogs around.

Perhaps you need hair and makeup tips, inspiration for wedding day themes, or just lots of completely wonderful pictures of wedding dresses - you'll find it all on our 25 favourite wedding blogs.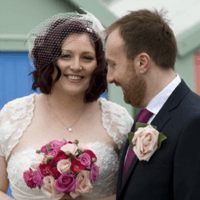 On this beautiful blog, wedding chic and craftiness go hand in hand. At a time when most people are trying to save the pennies, Chloe has lots of useful ideas for a lovely DIY wedding. With her great tips you can make everything you need for your big day, including personalised wedding favours, cake toppers and button holes.
It's easy to spend a fortune on wedding stationery, but with a little help from Chloe you can make simple yet elegant place name tags at home: it only takes a few doilies!
There are also some lovely posts featuring photographs from real weddings, so you can get some all-important inspiration.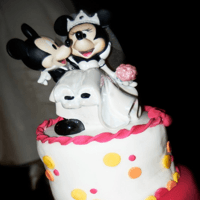 Aphrodite's Wedding Blog is a stimulating scrapbook of ideas from self-confessed wedding addict, Emma.
She proves that it's the details that can really make the day. We particularly love the delightfully quirky peacock-themed wedding: the bride wears long, spotty socks and the wedding cake is actually a pie!
As well as hundreds of ideas for everything from venues to invitations, you can also find all you need to know about wedding dress designers, and peek inside the UK's best bridal boutiques. This is an absolute must-read.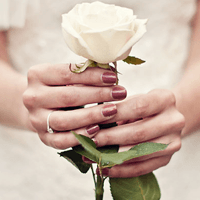 Beyond Beyond is simply bursting with stunningly creative ideas and wedding shoots. As well as being the home of gorgeous Beyond Beyond wedding stationery, this blog has loads of fantastic DIY design and a huge section for wedding day inspiration. You can read interviews with creative professionals, find music for the special day, and even discover the best fashions for your guests to wear.
Not sure what to do with your dress once the wedding is over? Then trash it! Check out the 'Trash That Dress' post for a demonstration on how to wreck your frock in style.
This is a great read for stylish brides to be and design addicts alike.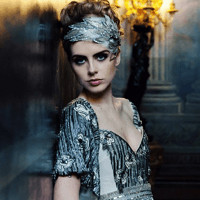 Louise is an interior designer and wedding planner, who discovered her love for creating beautiful weddings after organising her own ceremony in South Africa. Now she blogs about the pretty little things that inspire her, from lovely trinkets to colour themes.
If you're planning an engagement shoot be sure to take a look at Louise's 'Love Shoots'. We bet you haven't thought of a railway line setting, but having seen the photographs we would recommend it!
There are lots of ideas here for a perfectly pretty day, so don't miss this delightful blog.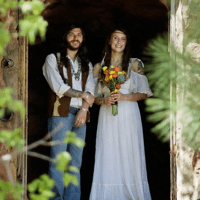 Lovers of boho fashion, this is the blog for you. Your wedding should reflect your style, and The Boho Wedding Blog provides a refreshing approach to alternative weddings.
What better way to be inspired than to see how other people have done it? There are real wedding shoots galore, crammed with ideas for unusual wedding locations. How about tying the knot at a zoo, on a farm, or even aboard a crashed aeroplane in Costa Rica?
There's so much to get you thinking here, you might find it difficult to stop reading!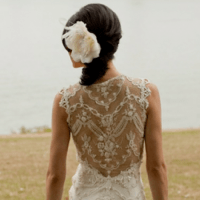 Bridal Musings calls itself "a chic and unique wedding blog", and it certainly lives up to it. The geeky infographic proposal is so adorable - we always believed in soulmates, but now there's a mathematical proof to back us up!
Packed full of interesting articles, discussion topics and photographs from all sorts of real weddings, this blog will help you to make your own wedding even more special.
So once you've planned your day, with a little help from Bridal Musings, only one question remains. Will you do the cake smoosh at your wedding?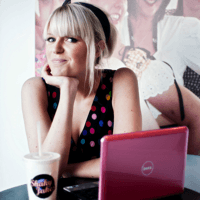 This blog started out as Julia's personal diary, detailing the lead up to her own wedding, but she soon discovered a passion for bridal blogging. Now Brides Up North is one of the UK's leading wedding blogs and it's not very hard to see why.
It features real and celebrity weddings, Northern bridal events, and brilliant wedding theme ideas. How about a rainbow wedding? The 'Sing A Rainbow' mood board is sure to inspire you.
You may have found the perfect dress, but if you're still worried about looking great on the day the Brides Up North Bootcamp is here to help. Don't worry, it'll be worth it in the end!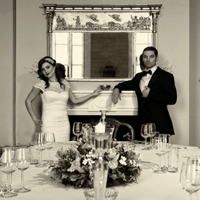 The Jubilee may be over, but if you're still feeling patriotic there's always the English Wedding Blog: the perfect showcase for "what makes weddings in this country so great".
Claire is a calligrapher, with a great eye for style and detail, making her a fantastic source of inspiration for beautiful wedding design.
It may be easy to get carried away with the fun parts of wedding planning, so the English Wedding Blog also provides practical advice, including an invaluable section on budgets. But however much you're planning to spend, treat yourself to a look at the blog's 'Luxury Weddings' posts. We can always dream!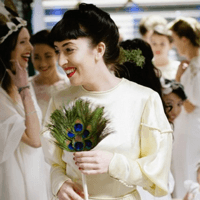 There's no doubt that 1950s style can be simply divine, so what could be more glamorous than a fifties inspired wedding? Don't just dream - check out Fifties Wedding to see how to make your wedding day a retro wonder.
Everything is covered: vintage lingerie, breathtaking hairstyles and elegant gloves. If you're saving the pennies there's also fantastic DIY advice. Can't afford a real pearl necklace? Not a problem - you can make one that looks simply beautiful!
Even if you haven't considered a fifties wedding, this great blog could very easily convince you.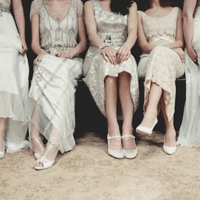 Charley started London Bride as a modern antidote to what she saw as uninspiring in the wedding industry. Since then the blog has become a respected platform for the cutting-edge of wedding design.
Two wedding dresses in one: an absolutely genius idea, and there are some gorgeous ones here. Simply remove the skirt for a more slim-line evening gown. Brilliant!
This blog is a haven for fashionistas and brides-to-be, and it's not only about the wedding day. There's the before and after too, with hen party inspiration and ideas for what to wear on your honeymoon. Take a look at London Bride and discover a wedding blog that's a little bit different.
Every bride loves her dress, and this blog loves everything to do with weddings. And we mean everything.
Maybe you're looking for bridal events near you, a 1930s themed dress, or a thought-provoking post about brides and body confidence. How about decor ideas, tips on how stick to a budget, or maybe just some beautiful real wedding photographs?
This is the ultimate wedding resource, and you're sure to find something to love here. Might we recommend ditching the traditional wedding car for a London bus? Trust Love My Dress - it works!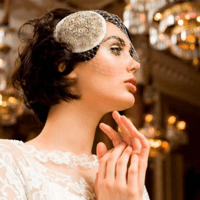 Little Ginger loved organising her own wedding so much that she couldn't bear to leave the world of bridal beauty behind when she finally tied the knot. So she started My Little Ginger Wedding as an outlet for all the wedding prettiness she continues to find, and to help future brides with their own special plans.
The countdown section is a brilliantly unique way for her to pass on her organisational knowledge. What should you be doing 9 months before the wedding? 3 months? And what on the morning of the big day? Don't worry, it's all here so you won't forget anything.
A simply adorable blog for the excited bride-to-be!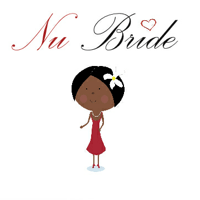 Nu Bride is a fantastic blog for all future brides, and Nova writes with a particular focus on black brides-to-be.
You may not have been invited to the White Gallery London bridal fashion show (our invitation must have been lost in the post), but you can pretend you were there thanks to the stunning photographs. There are so many beautiful, up-to-date wedding dresses you won't be able to choose!
If your creative juices are running dry after months of wedding planning, stop by at this blog to refresh yourself. We guarantee you'll leave buzzing with ideas.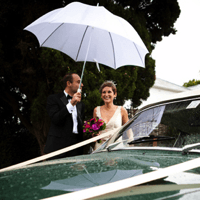 If you're feeling overwhelmed by the prospect of organising a wedding, take some time to look at this lovely blog.
Pretty, fun and effortlessly chic, OMG I'm Getting Married is filled with real life couples and modern bridal style, to really get you in the mood for wedding planning. There are some fantastically off the wall engagement and post-wedding photographs, including a superhero shoot that just rocks!
Organising the big day is made a little less stressful with OMG I'm Getting Married, your go-to guru for wedding advice.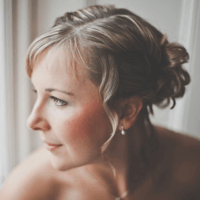 Charlotte aims to provide UK brides with "achievable and unique Big Day inspiration", and Rock My Wedding is bursting at the seams with irresistible images. She seeks out the best of pretty and elegant wedding design, to help you look picture perfect on the day.
In all the excitement about finding the perfect dress it might be easy to overlook the groom's style, but Rock My Wedding has it covered. Check out 'The Blogfather' for male inspiration: bright yellow socks anyone?
There are also hilarious posts from the team about everything from interior decoration to make-up: to fake tan or not to fake tan? You mustn't miss this excellent blog!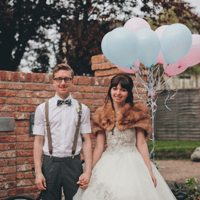 Rock N' Roll Bride isn't your typical bridal blog. Forget pastels and prettiness; Kat brings you everything that is cool and edgy in the world of weddings. So if you're planning an awesome hippy, punk, vintage or themed wedding, check out this blog for a dose of daring big day design.
There are some of the best Trash My Dress posts out there on this blog. It just doesn't get cooler than a bride rocking out with a guitar, on top of a painted taxi, in front of a stately home.
Looking for an alternative to the usual wedding planning scene? Rock N' Roll Bride is the place for you.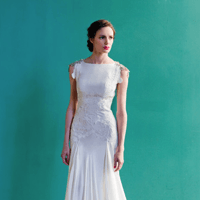 Josie has organised all sorts of weddings, including Polish, Indian, Nigerian and Jewish ceremonies, so she understands how to create a day as unique as the couple it is for.
There are some fantastic mood boards to get you thinking about colour schemes and themes, and Wedding Dress Wednesday is a great new feature that might have you wishing you could get away with buying several gowns! We're sure you'll love the phantom diamond engagement ring - a quirky alternative to the traditional ring.
The Savoir blog will inspire you to plan a day that is perfectly yours, down to the last detail. What better way to feel special as you tie the knot?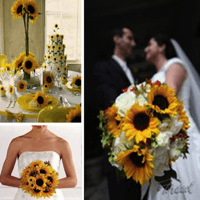 Nicola is a wedding photographer in Lancashire, and Secret Garden Weddings is a little haven of pure inspiration and sensible advice.
She writes about choosing a theme and colours, creating table accessories yourself, and making your day your own. Her post about seasonal wedding garlands is especially useful: a sunflower themed spring wedding is a simple, beautiful idea.
Whatever your plans for the special day, you'll find something to inspire you on this dreamy blog.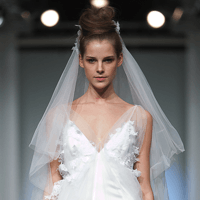 Bijou is defined as "desirable, fashionable, stylish, chic, sought-after, to die for". The Bijou Bride is everything it claims to be: a stylish blog that could turn you into a wedding addict.
From gorgeous hairstyles to floral shoes that will make you sigh, this blog is here to help you make your day simply beautiful. Do you long for a Vera Wang dress but cringe at the price tag? Well this blog can let you into a secret: affordable dresses by the iconic designer, and there are big skirts galore!
If elegance and glamour are your style, you're already a Bijou bride.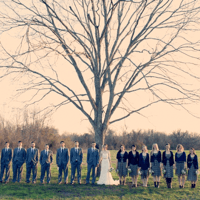 Be … anything you want to be, with a wedding that reflects your personality, and oozes style.
The bloggers at Blog By Be love vintage glamour, and the real wedding shoots are filled with stunning old-school details that create a truly special look.
As well as some truly amazing wedding ideas - a red, white and blue Jubilee wedding? Genius! - there are also thought-provoking posts and quotes that celebrate love and life. When wedding pressures become just too much, this is the perfect place to relax and recharge.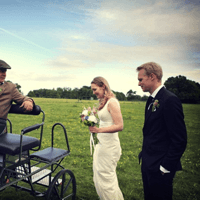 Eco-friendly and homemade weddings are the name of the game at The Natural Wedding Company, so if you're a fan of DIY style and green fashion then this is the wedding blog for you.
Take a look at 'A Handmade Wedding' for tips on how to make lots of pretty things for your day: stationery, invitations and bouquets. Have you considered growing your own bouquets? This blog will tell you how to get marvellous marigolds and lovely larkspur at home.
So if you like rustic decorations and vintage creativity as much as we do, you'll love The Natural Wedding Company.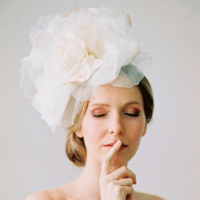 Times Two Hearts is a lovely retreat into the rustic country corner of wedding fashion, and what a beautiful corner it is.
Find new dresses from top designers, current hair and makeup styles, and fabulous decor, all with a stunning vintage twist. There are checklists to help make your planning a breeze, and plenty of real wedding shoots to swoon over. We can't get enough of the 1920s themed wedding, complete with striking art deco shoes - just heavenly!
It's oh such a pretty blog, you might not want to leave.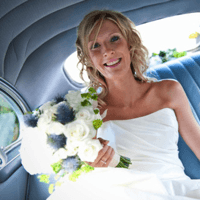 If there's ever a time to drink champagne it's on your wedding day, and this brilliant blog feels just as special as a glass of bubbly.
If you can look at photos of stunning fashion for hours, then you could easily spend a long time on Time To Drink Champagne: there's as much wedding inspiration here as you could possibly wish for! Wonderful white dresses abound, from the simplest of sleek gowns to sumptuous flouncy skirts, and you'll also find the accessories to accompany them (sparkly gold Jimmy Choos are at the top of our list!).
Whether you're organising a wedding, or dreaming of one, you'll find this blog a real feast for the eyes.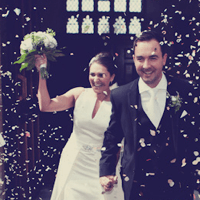 Check out Wedding in a Teacup for cute handmade stationery and other little touches to add to your wedding day decor. It's amazing just what a difference the small details make.
It's great to see how much the personalised Wedding in a Teacup badges were appreciated by the guests at Sara's wedding - but perhaps elephant hats should become the next new tradition?
You're sure to love the adorable rustic and retro designs, and after reading this blog you might find it difficult to resist putting sweet little labels on everything!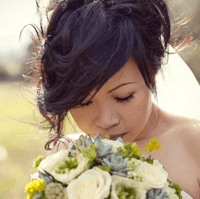 Whimsical Wonderland Weddings pride themselves on embracing the eclecticism of the wedding world, so if you haven't settled on a theme yet there's plenty to get your teeth into here.
Check out the blog's 'Alternative Weddings' for some really unusual ideas. Getting married in Converse shoes has to be one of the coolest twists on male wedding fashion we've seen!
Lou brings you real weddings and engagement shoots with lashings of beauty and class. As well as her interesting personal online diary, this blog also lets the couples it features describe their own wedding day: it makes for lovely and moving reading.
Share: