16 ways to say it with a greetings card
Who doesn't love to receive a greetings card through the post? Sending a text or email might be quicker, but there are still plenty of times when only a handwritten card will do.
In this rush-rush world of ours, sending the perfect card to someone you care about is an act of love that should never be digitised.
So whether you prefer to create your own, or choose to buy one of our quirky greetings card designs, here are sixteen ways to make someone's day.
Say "Happy Birthday" with...
Cute graphics and a hidden message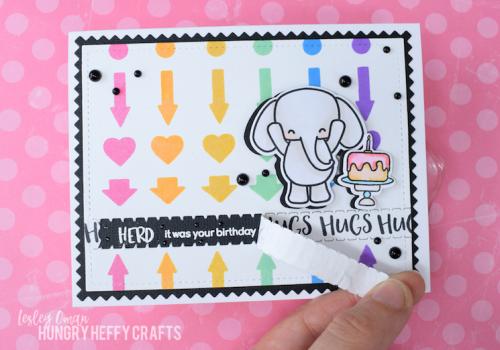 Surprise them with a hidden message
Image source: Hungry Heffy Crafts
Rainbow prints, cute graphics, and an interactive hidden message – this card designed by Lesley Oman at hungry heffy crafts has the lot!
Lesley uses black card and ink to contrast with her rainbow stamps. The elephant and cake images are layered on top of black card "so the images really pop against the colourful background," explains Lesley. "A few black pearls and we are DONE!"
Flamingos and flowers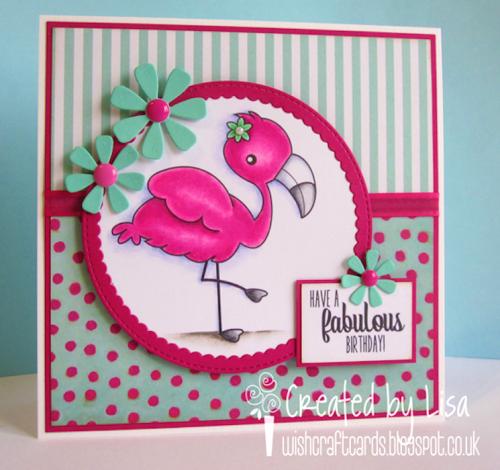 Friends will go dotty for this design
Image source:
Wishcraft cards
We love this combination of spots, stripes, flowers, and flamingos designed by Lisa of Wishcraft cards.
To recreate the effect, layer complimentary patterns and contrasting textures to get a card you want to hold and touch. The enamel flower centres are a favourite of Lisa's:
"I love enamel dots as they add a bit of interest". We think they're spot-on with the polka dot background too.
Clever design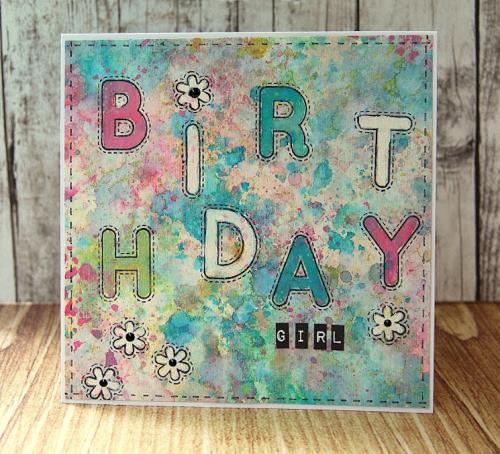 The distressed oxide background and retro labelling work well together
Image source: Kath's Blog
Kath Stewart of Kath's Blog, just happened to have this Distress Oxide background "lying around". She put it to fantastic use in this 'Birthday Girl' card.
We love the colours, the 'stitched' effect of the greeting and flowers and the retro label letters. A winning combo!
A bear hug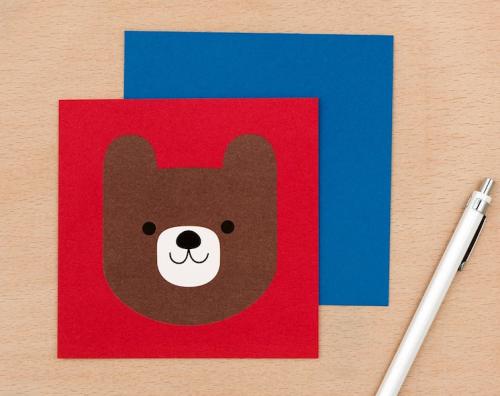 For teddy-bear fans of all ages
Pictured: Hello Bear Card - £1.25
Who doesn't love a teddy bear? Girl or boy, big or small, everyone will love this disarmingly simple card. Blank inside, it would also make a lovely 'new-baby' card or a 'thinking-of-you' card for anyone who needs a bit of a bear hug.
Say "thank you" with...
Glitter and sequins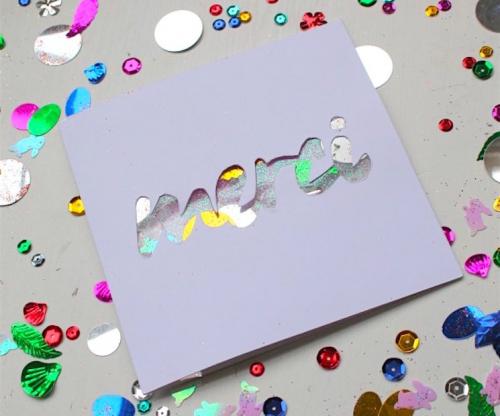 They deserve as much 'shiny shiny' as you can muster
Image source: Little Button Diaries

Laura from Little Button Diaries designed these shiny thank-you cards to encourage Harper, her glitter-loving daughter, to send out Christmas thank-yous.
Together they filled a pouch made of sticky-backed plastic with glitter and sequins and stuck it to the back of their cut-out greeting:
"We went for 'merci' as Harper is learning a bit of French, and quite frankly it's fewer letters to cut out than 'thank you'!"
A pink cat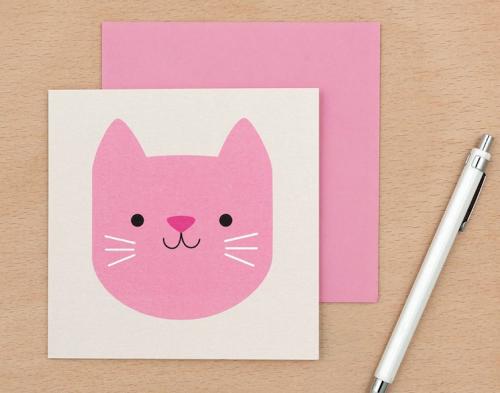 Pick an image you know they'll love
Pictured: Pink Cat Card - £1.25
Say hello to our new pink cat card. Cute, isn't she? This card would make a lovely thank-you note after a girly birthday party.
Say "Good luck" with...
A piña colada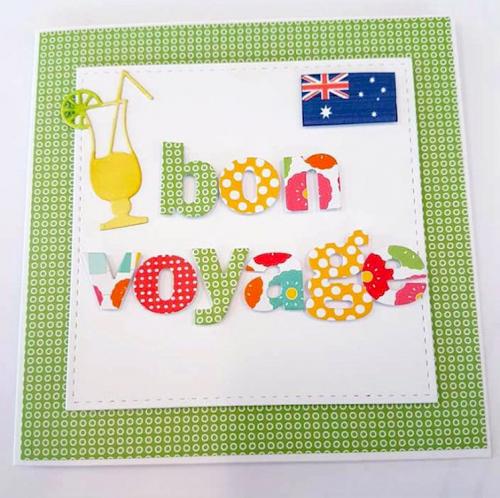 Raise a glass to say good luck
Image source: The Handmade Card Blog
Sarah from The Handmade Card Blog thoroughly enjoyed making this card for a couple moving to Australia. She picked cheerful, bright patterned paper for her letters and stuck them onto white card along with the Aussie flag and a celebratory piña colada.
It's a striking card design that could be easily personalised to wish your special friends a bon voyage for their trip or move abroad.
A vintage world map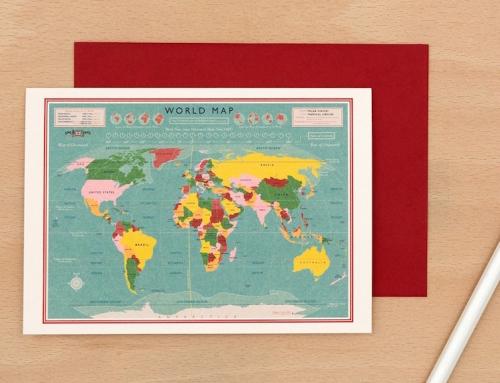 For the globetrotter in your life
Pictured: World Map Card - £1.75
Give explorers, travellers, and adventurers a good send off with this vintage World Map Card. Complete your gift with matching wrapping paper, wash bag, and notebook, and they'll remember you wherever they are in the world.
Say "congratulations" with...
A jammy dodger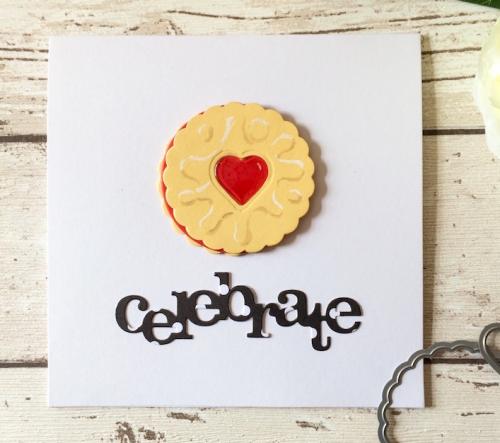 A sweet design that looks good enough to eat
Image source: Keren Baker
When Keren Baker saw some scalloped circle cutaways, she instantly thought 'Jammy Dodger'! She stacked eight of the shapes in pale yellow and added red die-cut hearts for the centres. To make them extra jammy, she poured gloss on top, while the biscuit detailing was cleverly done in pen.
This is the perfect congratulations card, explains Keren, because "if you're 'jammy' it means you've done well or are lucky".
Pretty, nostalgic prints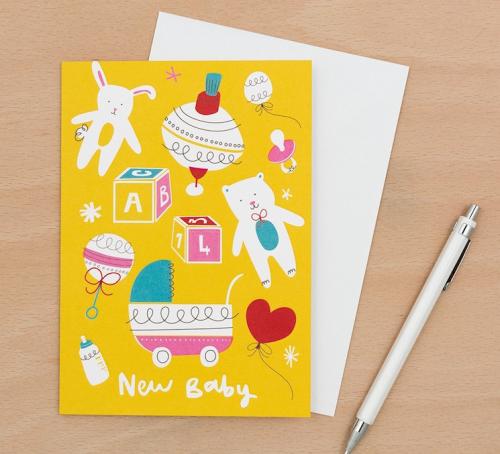 Bright colours make this new-baby card stand out from the rest
Pictured:
Vintage Pram card
- £1.75
Say congratulations to the new parents and send your love to the new baby with this bright and beautiful card. Featuring cute drawings of baby essentials from yesteryear, it will put a smile on their their faces and is pretty enough to frame for baby's room.
Say you care with…
A friendship card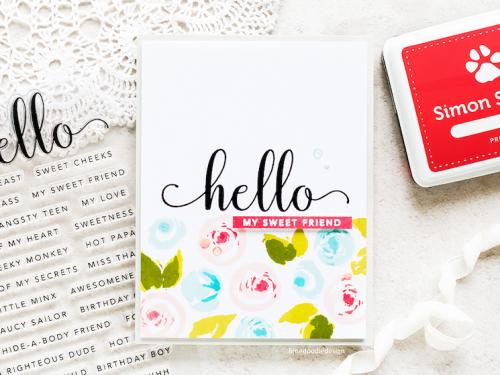 Say hello and show you care
Image source:
Lime Doodle Design
Pretty peonies are stamped onto a simple white card. The greeting is clean, simple, but oh, so lovely: Hello my sweet friend. Who wouldn't want to receive this card?
It's the clever creation of Debbie Hughes from Lime Doodle Design. We think it's a fantastic way to show a special friend you are thinking of them.
A box of tissues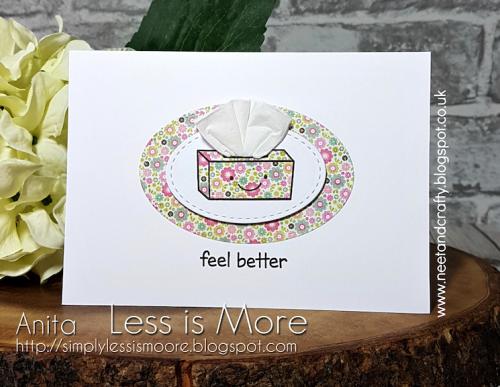 Cheer up someone who's under the weather
Image source: Neet & Crafty
This card from Anita at Neet & Crafty is such a great get-well-soon card for someone with the sniffles. Anita stamped a smiley tissue-box on pretty flowered paper. She cut a slit in the top of the box and tucked a real tissue inside! The effect is super-cute.
Anita made this card as part of the 'Use a Real Object' challenge:
"I was at work the other day and with this challenge in mind began looking for ideas around the office. I saw staples, paper clips, elastic bands, then my colleague shouted 'tissue'. I took this idea and knew exactly which stamp set to use to go with it…"
A pocketful of sunshine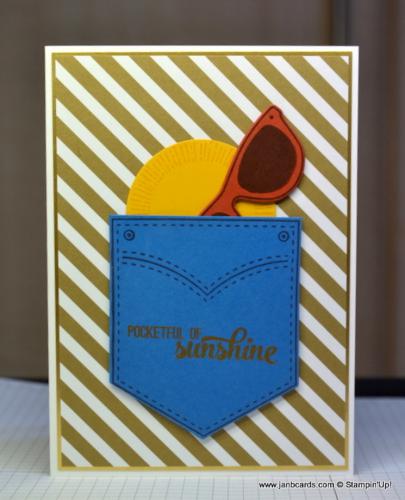 A cheery card for someone feeling under the weather
Image source: Jan B Cards
"What can be more difficult than making a masculine card?" asks Jan of Jan B Cards. "I think a masculine Get Well Soon card, and that was the challenge I was given yesterday!"
Jan rose to the challenge with a masculine palette: gold, blue, yellow, red and a sunny design. The sun and sunglasses peek out from the top of a blue-denim pocket and gold diagonal stripes mirror the sun's rays.
"I just hope that this nice sunny card will help him on his road to recovery," says Jan. We're sure it's just the ticket!
Say how you feel with...
A big compliment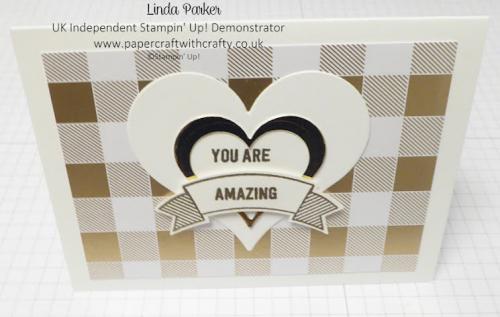 Tell them how you feel – you'll make their day!
Image source: Papercraft with Crafty
Know someone amazing who deserves to be told? Well Linda Parker of Papercraft with Crafty has designed the perfect card for the job.
We love the heart motif, banner cut-out and the gold gingham background of this creation. What a lovely way to tell someone how you feel!
A favourite song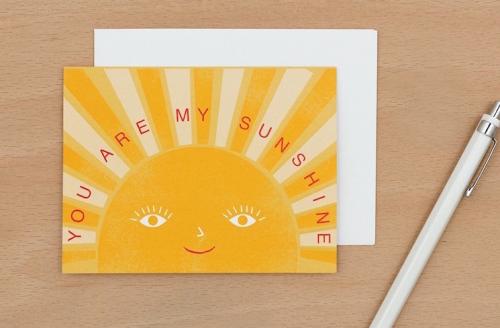 You make me happy, when skies are grey!
Pictured: You Are My Sunshine Card - £1.25
If they are truly are your sunshine, let them know with this bright, cheerful card. It would make a great Valentine or birthday card. Or you could send it, just because...
A touch of romance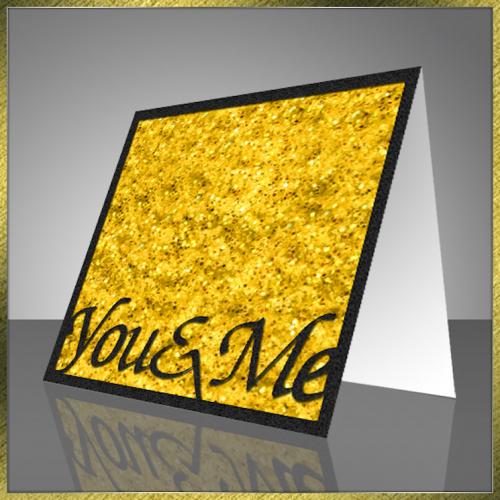 You & me were meant to be
Image source: Gentleman Crafter
This romantic greetings card is super-striking. The black silhouette border and greeting look stunning against the gold glitter background.
If you love this card as much as we do, head straight to John Bloodworth's blog - Gentleman Crafter - for a video tutorial on using digital technology to create the perfect silhouette aperture card.
"They are really quick and simple to do and you can make a batch of them in one go if you fancy it," says John.
We hope you're inspired to craft some cards of your own. Please share your creations with us on our Facebook page. For those of you who like to be organised in advance, why not stockpile some cards so you can be ready for anything. Check out our range of birthday cards and more general greetings cards here.
Share: