Winter Sale: super ceramic Savingss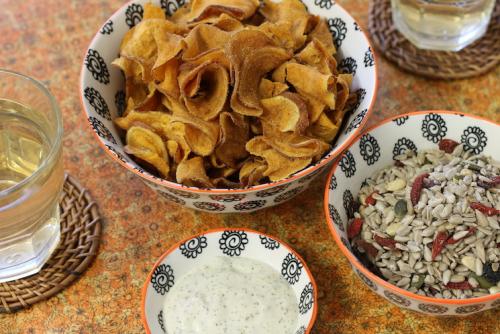 Read on, to discover over £100 worth of ceramic savings in the dotcomgiftshop winter sale
The Rex London Winter Sale is here! For a limited time, get up to 80% off on hundreds of great gifts. We gave blogger, Cassie, from Cassiefairy, £35 to spend in our sale, here's what she chose...
When I started adding products to my basket during the Rex London sale, I realised that I'd picked out a vast range of items but they all had one thing in common – they were all ceramic. I love a decent bit of pottery and I'd inadvertently filled my online shopping bag with 22 pieces! Here's what I picked up as part of my massive ceramic haul from the Rex London sale:
Candle holders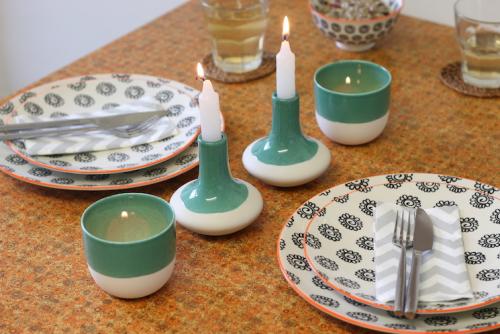 Pictured above:
Sea Green Dipped Candle Holder
was £5.95, now £1.95;
Sea Green Dipped Tealight Holder
was £4.95, now £1.95
The first pieces to go into my basket were these beautiful candle holders. Each one is part-glazed in a rustic gloss. I chose sea green as a contrast colour for my orange kitchen table. They do come in other colours and now that I've seen the quality, I think I want to get some pink ones too!
I love the dipped look, and the slightly rough pottery of the unglazed base feels lovely to hold. I picked up a couple of tealight cups and candlestick holders so that I could vary the height of my table illuminations. I think these will look great for cosy evening meals and I'll probably light them for Sunday lunch, too.
Crockery
Pictured above:
Japanese Side Plate Black Flowers
was £8.95, now £1.95;
Japanese Dinner Plate Black Flowers
was £14.95, now £2.95
Who could browse the dotcomgiftshop sale and not add a few pieces of crockery to their basket? I've had my eye on the Japanese crockery collection for a while and, now that they're reduced, I picked up a couple of place settings of the large plates, side plates and bowls. I chose the swirly Black Flowers design – I love a bit of monochrome!
Bowls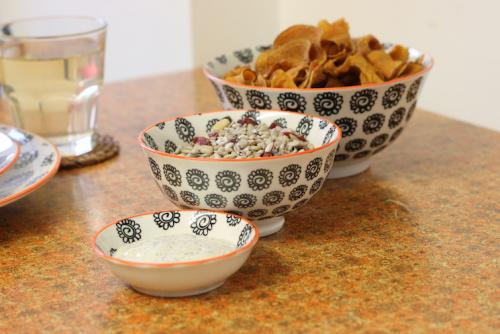 Pictured above:
Large Japanese Bowl Black Flowers
was £9.95, now £1.95;
Japanese Blossom Bowl Black Flowers
was £4.95, now £1.50;
Japanese Dipping Bowl Black Flowers
was £2.95, now £1
While I was at it, I simply couldn't resist getting the matching blossom bowl and super-cute dipping bowl. They're just the right size for filling with party nibbles and dips. I'm planning to use them for meal accompaniments, such as mini poppadoms and mango chutney alongside my homemade curry. The orange rim of the bowls and plates is the perfect match for my table – bonus!
Tealight holders
Pictured above:
Circles Ceramic Tealight Holder
was £3.95, now £1;
Hearts Ceramic Tealight Holder
was £3.95, now £1
I've got a rather minimalist bedroom, decorated entirely in white with a black and white feature wall. While I love the simplicity of the room, it sometimes feels rather stark so I wanted to find some candle holders to warm it up.
These unglazed ceramic tealight holders do the job perfectly. They look clean, simple and neat on my windowsill when they're not lit. And once the tealights are burning, the light glows through all the holes in the sides and makes the whole bedroom feel much cosier.
Kitchen ceramics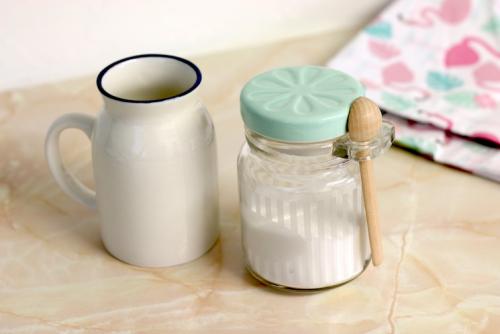 Pictured above:
Ceramic Milk Churn
was £5.95, now £1.95;
Condiment Jar with Spoon
was £6.95, now £1.95
I thought I was straying away from my ceramics theme when I added this little jar to my shopping list. Even though it's glass, with a tiny wooden spoon, the lid is ceramic, so I think it counts! The handy frosted label means I can write the contents of the jar on the front and the lid has a seal inside, so it can keep dry foods fresh. Isn't this mini milk churn the cutest way to serve cream that you've ever seen? The price is as tiny as the jug, so I couldn't resist it.
Coat hooks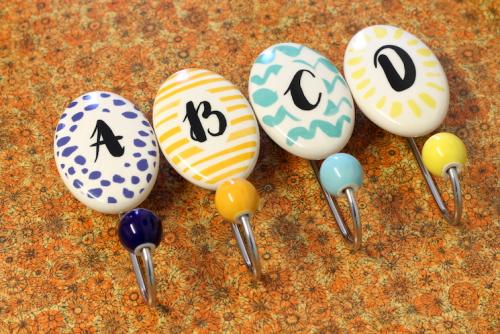 Pictured above:
Painted Ceramic Hooks
were £5.95, now £1 each
And finally, just as I was about to press 'buy' I spotted these ceramic coat hooks. They're each painted with a different colour and design, along with a letter of the alphabet. I quickly added A-D to my basket. They're ideal for my hallway, which I'm planning to decorate this year.
They have fixings on the back which can be hooked onto a screw, so they should be easy to hang when I get a chance. The bobble on the hook is ceramic too, and matches the colour of the painted pattern.
So that's my massive haul of ceramics. And I got all 22 items for just over £35 – what a bargain!
Visit dotcomgiftshop's winter sale now for beautiful gifts and homeware at unbeatable prices.
Winter sale savings
1 x Japanese Dipping Bowl Black Flowers was £2.95, now £1
1 x Japanese Blossom Bowl Black Flowers was £4.95, now £1.50
3 x Circles Ceramic Tealight Holder was £3.95, now £1
1 x Hearts Ceramic Tealight Holder was £3.95, now £1
1 x Ceramic Milk Churn was £5.95, now £1.95
2 x Japanese Side Plate Black Flowers was £8.95, now £1.95
2 x Japanese Dinner Plate Black Flowers was £14.95, now £2.95
2 x Large Japanese Bowl Black Flowers was £9.95, now £1.95
1 x Condiment Jar with Spoon was £6.95, now £1.95
2 x Sea Green Dipped Candle Holder was £5.95, now £1.95
2 x Sea Green Dipped Tealight Holder was £4.95, now £1.95
1 x Ceramic Hook Letter A was £5.95, now £1
1 x Ceramic Hook Letter B was £5.95, now £1
1 x Ceramic Hook Letter C was £5.95, now £1
1 x Ceramic Hook Letter D was £5.95, now £1
Total cost before sale = £149.90
Total cost with sale discounts = £35.90
Total saved: £114.00

Share: