12 dynamite daddy blogs
Ever wondered what on earth is going through your other half's head? Reading a daddy blog could be the answer. Funny, honest and sometimes poignant, we've picked out 12 of the best daddy blogs around. They offer a different perspective on the joys and challenges of family life. And that's got to be a good thing.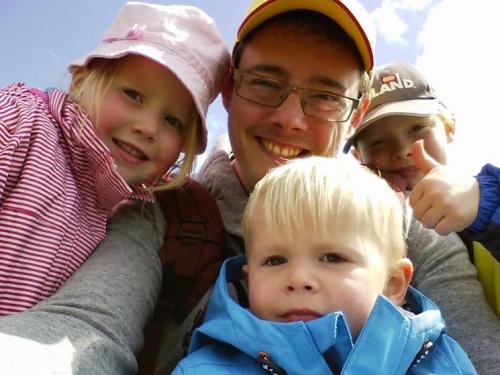 Daddy blogger Alex has envious super powers
Image source: Daddacool
Dealing with children would have left even Machiavelli a broken man, says Alex Walsh, AKA Daddacool. And we believe him – check out the time he's 'Ambushed by the Three Year Old' and only narrowly escapes with fingers intact.
By day Alex is a 'mild-mannered accountant.' By night he's a valiant hero with awesome dad skills: 'Superpowers include walking over Lego barefoot AND feeling NO pain!'
Whether he's enforcing a technology ban on his eldest or enjoying days out at the zoo, Alex blogs with good humour about being a working dad. Want an unflinching glimpse into his family life? You might want to check out what he's come to call Trifle Gate: 'Trifles have now been banned from our house.'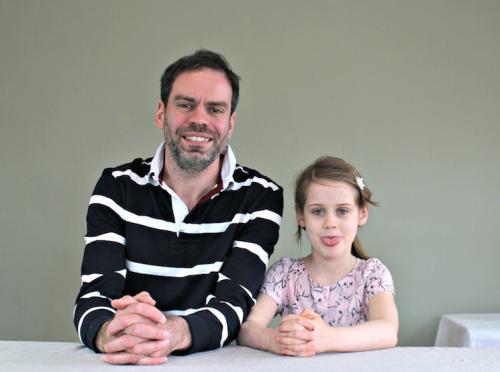 John's a stay-at-home dad with the answers.
Image source: Dadbloguk.com
Stay-at-home dad (SAHD) to two beautiful daughters under 10, John Adams blogs, vlogs and casually visits 10 Downing Street when occasion calls.
John started daddy blogging when he swapped a career in PR for a full-time role in the home. Today, he turns his wise and witty voice to topics as diverse as parenthood, gender equality, cooking and beard grooming.
Being a SAHD is rewarding, but it sure has its challenges. For instance, see what happens 'When dad has to rescue his daughter from the ladies' room.'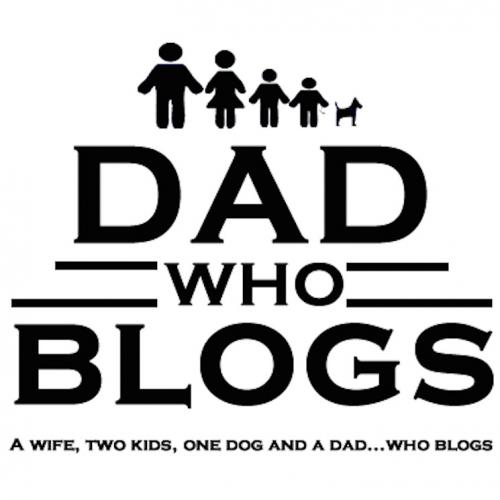 Lewis and his family living life as it comes
Image source: Dad Who Blogs via Facebook
Before kids, Lewis had his life plan sorted: get a girlfriend, get married, find a home, start a family. But when his two boys came along the planning stopped and family life – with all its wild unpredictability – started.
Down to earth and honest, Lewis is a stay-at-home Dad Who Blogs through the whole experience of becoming a parent. Read about his pre-fatherhood fears or about how he got so frustrated with potty training that he cancelled it altogether!
If you've ever experienced that world-moving moment when you realise your kids are no longer babies, have a read of his post: 'I have two children!'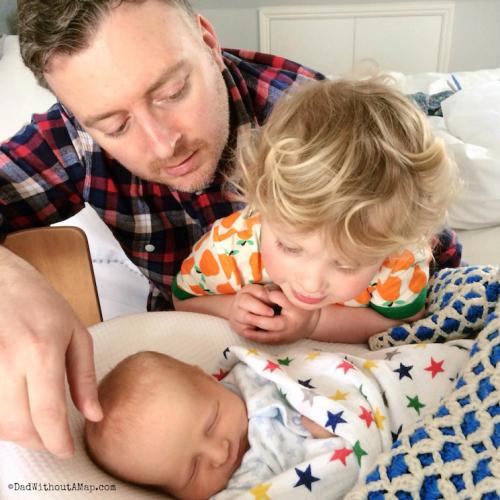 Adrian is daddy to a newborn again!
Image source: Dad Without a Map
'Having a baby is a major emotional life thingamajig,' says Adrian. Since becoming a dad for the first time in 2014 to Baby B, Adrian sensitively chronicles what he's learned in his blog Dad Without a Map.
Adrian has often felt lost in the 'strange land of parenthood.' But when the time came to do it all over again, he realised he'd learned quite a bit along the way.
Now a forty-something dad to a toddler and a newborn, life is still confusing and chaotic, but he's able to enjoy the small things. In 'What a Difference a Day Makes' Adrian talks about dozing in bed with his wife and newborn, listening to his tiny baby boy breathe.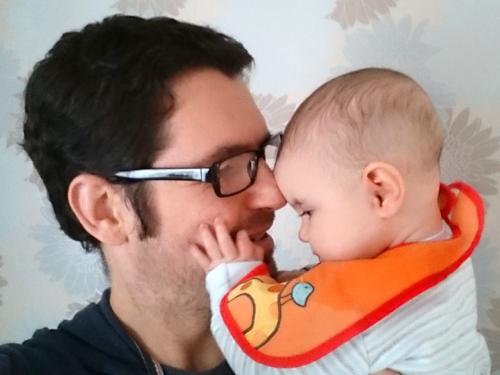 Amelie enjoying dad Tom's five o'clock shadow
Image source: Diary of the Dad
If you're contemplating quitting your office job and working from home, Tom Briggs could give you the nudge you need. This freelancing dad says: 'It has been one of the best decisions I've ever made.'
And it's probably a good job that Tom now works from home. Having kids has seriously impacted on his ability to shower and wear clean clothes on a daily basis. He even tried to cut his own hair to save time. 'How do other parents manage?' he asks.
Tom's children happily feature throughout his blog, as do great reviews and top household tips, like how to save money on a family budget.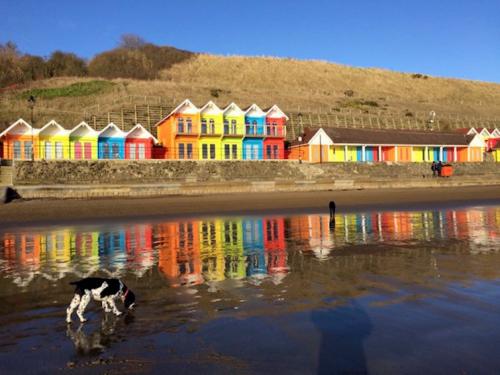 Turns out a mid-life crisis was just what Mark needed.
Image source: Mark Richards via Twitter
Blogger Mark Richards's blog, Best Dad I Can Be, is a hilarious read. In a former life he earned his crust in financial services while moonlighting as a columnist/stand-up comedian. But in 2010 he ditched the day job and gave his selection of stripy ties to the charity shop.
In between publishing books and running a copywriting business, Mark blogs about being the best dad he can be to his three children. On a typical day this might mean racking up hundreds of miles as a 'dad taxi' or being very, very glad that he's of the generation which believes it's OK for dads to kiss their sons.
His family anecdotes are laugh-out-loud-funny. Just take a look at what happens when a mouse invades his house.
Reading in bed with Opeie.
Image source: Gifts from the Pirates
If you had a scary pregnancy, Pauly and Laura know how you feel. With a 1-in-3 chance of Laura surviving her pregnancy with Opeie, the odds were stacked against them. But this family is now blessed with two children and is stronger than ever.
In the poignant post 'Pauly falls in-love,' Pauly writes his wife, Laura, a love letter and talks of his admiration for her strength during those difficult months. 'She was and will always be my hero,' he says.
Apart from a lovely dose of romance, Pauly shares his cool home education ideas and many Lego creations – check out the trapdoor toilet for starters. This dad sure loves his Lego: 'LEGO has shaped the way we play, create and work together, day-by-day and for that I will always be thankful.'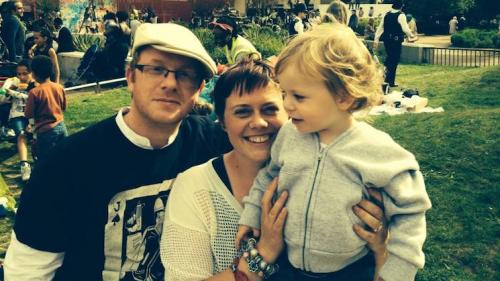 Dan and his family enjoying the sun.
Image source: Don't Believe the Hype
One of the benefits of quitting your job and working at home? For 'dapper dad' Dan Flanagan it was getting the chance to make friends with some of the mums and staff at the school. 'They have welcomed me rather that looking at me like I'm a weirdo,' he says happily.
When he's not helping out with class trips to the beach (one of the joys of living in Worthing), Dan is blogging about 'fatherhood, fashion, funk & foolishness.' This means anything from building secret dens to waxing lyrical about the 80s.
And now his son Duke's a bit older, this reformed raver is slowly getting back to his love of festivals and dancing. Check out his post on taking 'the nippers' along to a Soul and Old School Hip-Hop festival in the countryside.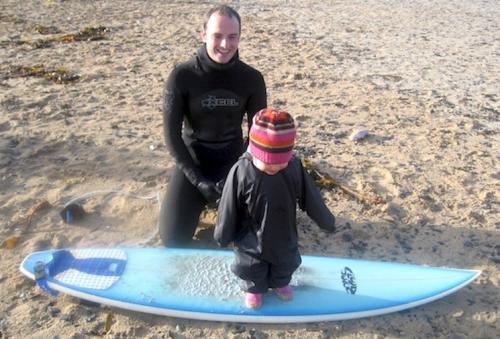 Andrew and his daughter getting a feel for the board.
Image source: Surfer Dad
With the birth of his daughter, Andrew found regular surfing 'suddenly replaced by soiled nappies, sleepless nights and family diplomacy.' His Surfer Dad blog is all about finding the right balance between your family life and your identity.
Posts like the 'Surfing Survival Guide for New Parents' and the '13 Top Tips for Surfer Mums and Dads,' will guide you through these choppy, unknown waters. One of his best tips? Make the most of crazy early mornings by getting to the sea before sunrise.
If you're not a surfer, there's still plenty in there to inspire. Andrew's meditations on finding purpose in his life make for an inspiring read whether or not you own a wetsuit: 'Don't let the unique positive parts of your identity fade away with parental responsibility. Recognise their value, embrace them, share them with your children.'

Henry shares the ups and downs of parenting
Image source: Fatherhood

² 

Henry's Blog
Are you worrying yourself silly about becoming a parent? Henry Elliss is here to help! Father to two beautiful boys, Frederic and Robert, he knows a thing or two about the ups and downs of parenting.
In his post 'Five Scary Parenting Myths' he tackles some of the biggest first-parent worries, before moving swiftly on to 20 perks that'll make it all worthwhile. (Spoilers: cute clothes, endless hugs, first words and the joy of meeting your child for the first time).
If you're anxious about introducing a toddler to their baby sibling or battling with demotion from buddy to bad guy, Henry has the answers.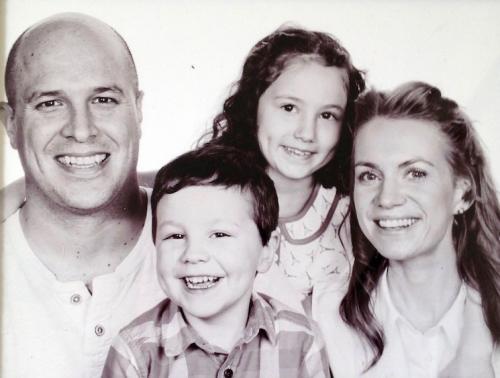 Tony has learned to enjoy rather than just raise his kids
Image source: Papa Tont
Tony Pitt's blog is a candid look at life as a father-of-two, husband, and serving soldier. In his own words, he's 'tired of having to live up to the expectations of the world when it comes to being a husband and father' while trying to balance family and military life.
Bravely opening up about his struggle to bond with and love his son, Tony talks about the realisation that he needed to change. Eventually, he says, he had to learn 'to enjoy my children rather than just raise them.'
If you're having a hard time, Tony's sincere, frank posts are a breath of fresh air: 'I am the dad who never wanted kids, I am the dad who changed my perspective, I am the dad who now loves my kids more than ever before.'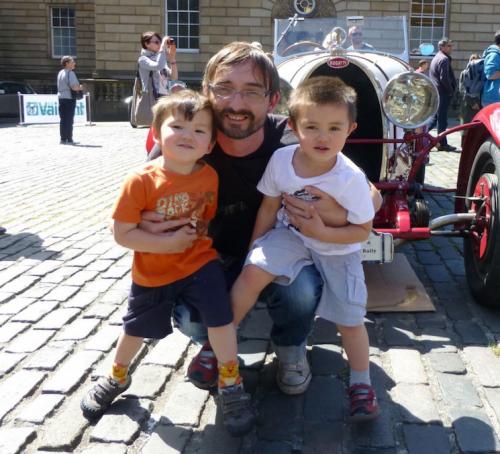 'Feminist dad' Mark with Sonny and Luca.
Image source: JoJoMamanBebe
When Mark was made redundant from his job 'masquerading as a sales rep,' he and his partner, Janet, switched roles.
He describes the initial isolation: 'It's recounting an anecdote about your day and realising midway through that what you're actually describing is an episode of Mr Tumble.' But he's since broken free of his self-imposed segregation from the mummy scene and has emerged a proud, feminist dad.
His very funny blog chronicles daily adventures with sons, Sonny and Luca. He admits to being 'technologically challenged' – on one occasion answering three phone calls he'd made TO HIMSELF via his pocket: 'It took three calls to realise what I'd done. Three calls to realise I was talking to myself. Three calls during which I not only questioned my own sanity but had all but written it off.'
Share: