Friday 15 May 2015 | clare
Create the ultimate vintage bedroom
Vintage chic is the ultimate look for a bedroom. Harking back to the high style and quality of a bygone era, it evokes gentler times and marries comfort with effortless style.
The good news is, with a few tweaks and accessories, a vintage boudoir can soon be yours!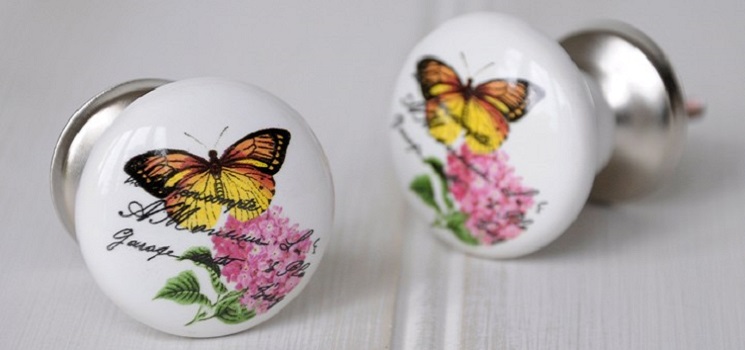 Image source: Botanical Ceramic Drawer Knobs - £3.95 each
1. Drawer knobs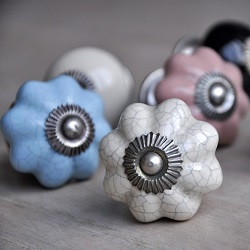 Why go to the expense of a new bedroom suite, when new drawer knobs can transform a tired chest of drawers and add a splash of colour to cupboard doors? Try the stunning butterfly ceramic drawer knobs - they're sure to bring back memories of hazy summers past. Looking for a more subtle touch? Our crackle glazed drawer knobs give a patina of age that speaks of timeless elegance.
2. Signs of the times
It's easy to recreate the charm of bygone times at home. Just take our vintage metal signs - words and letters filled with the style of their day. Hang the Vintage Love sign above your bed, or why not try the quirky Be Happy metal sign? These retro letters spell out
just the sort of message you'll want to sleep on.
3. Vintage laundry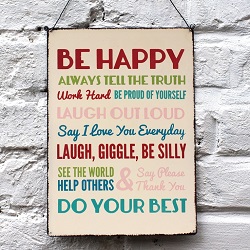 Don't worry, we don't mean wash boards and mangles, just a simple dash of high Victorian colour to brighten your bedroom! We're talking vintage laundry bags, like our Red Paisley laundry bag - a practical storage bag that really looks the part. Accessorising a children's bedroom with a few vintage flourishes?
Look no further than our Vintage Kids storage bag!
4. Lovely lighting
What better way to conjure the atmosphere of the past than by basking in the soft light of a candle? The antique silver glass t-light holder is a safe way to enjoy candlelight with a touch of vintage chic, or light your way to bed with the charming Wee Willie Winkie
candlestick. A few well-placed candle holders are all you need to lift
your retro bedroom.
5. Vintage drawers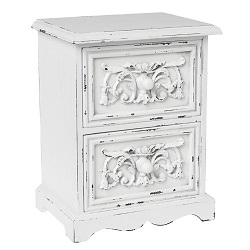 Don't just stop at the bedroom - check out our tips for making a beautiful mid-century kitchen too!
Looking for somewhere to store your knick knacks or jewellery? Accentuate the vintage by choosing this two drawer vintage wood cabinet, just the ticket for small items. For a larger option, look no further than the three drawer vintage wood cabinet. Both come with an antique white finish, and are exquisitely detailed in the style of the Belle Époque.
Pictured 1: Crackle Glaze Drawer Knobs - £3.95 each
Pictured 2: Be Happy Metal Sign - £5.95
Pictured 3: Vintage Wood Cabinet - £18.95