13 beautiful baking blogs
If, like us, you're eagerly awaiting the return of the Great British Bake-Off (GBBO), you're in for a real treat. Knowing how much you love cakes and baking, we've scoured the web to bring you 13 of the most beautiful baking blogs we could find.
Get comfy, grab yourself a cup of tea and enjoy these delicious highlights complete with mouthwatering photography.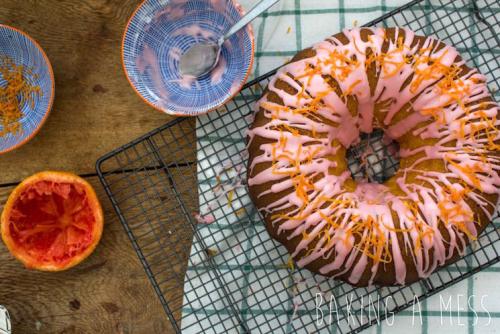 A drizzle cake was the challenge in 2016's GBBO cake week
Image: Baking a Mess
Get your GBBO fix early this year by visiting Hollie & Jess's weekly challenges. Last year the bloggers behind Baking a Mess smashed 'batter week' with bangers and mash Yorkshire puds and conquered 'cake week' with the beautiful pink grapefruit drizzle cake pictured above.
The pair are "simply fuelled by a love of baking" and a desire to share their exciting new recipes with fellow aspiring bakers. Thanks to this excellent blog, they get to have their cake and eat it!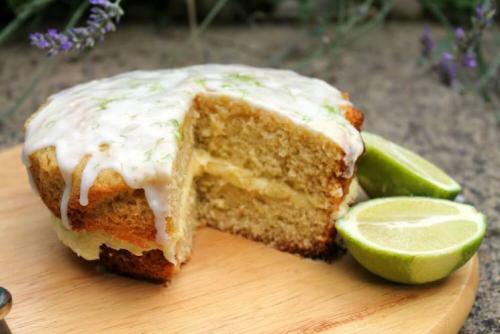 Lucy's slow cooker coconut and lime cake
Image: BakingQueen74
Self-confessed slow cooking and baking addict, Lucy is hooked on baking cakes in the slow cooker. Not only do her creations – like the coconut and lime cake pictured above – look delicious, Lucy believes baking this way is key to a gentler pace of life:
"I think one of the reasons I like to bake in my slow cooker is that it is a nice slow process. No need to rush, take it easy, go and do something else, sit in the garden for a bit, potter about, and when you are ready go and check your slow cooker." For more slow cooker baking recipes, check out Lucy's blog.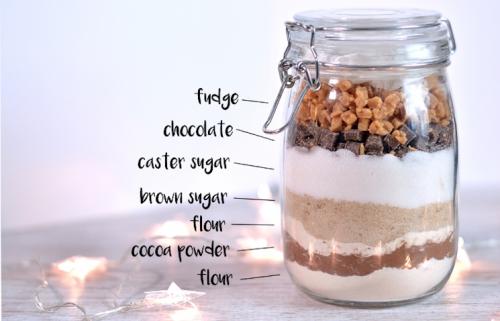 Granny's famous chocolate fudge brownies in a jar
Image: Baking with Granny
Granny's chocolate fudge brownies in a jar makes a fabulous gift that's really simple to make using just a clean jar and ingredients from your kitchen cupboard. Granny's delicious mix also happens to make the best brownies you'll ever taste, says Amy, the blogger and photographer behind Baking with Granny.
This Scottish mum and gran duo deliver surprising, sensational bakes to their readership. With a penchant for Highland treats, there's everything from Tantallon cakes to Irn Bru cupcakes. We urge you to take a peek.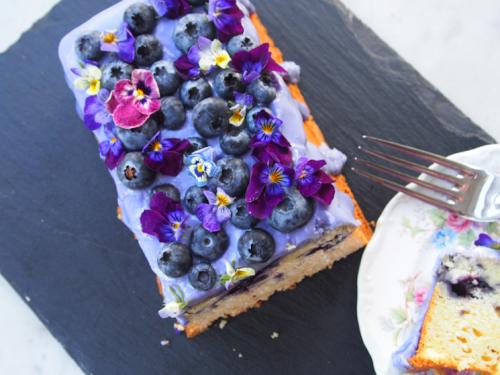 Lemon and blueberry loaf cake
Image: Crumble and Crunch
How would you like to make Benedict Cumberbatch's favourite raw pops, which are like a 'cake pop' only super healthy and suitable for vegetarians? Wondering how blogger Anna knows they're one of Cumberbatch's favourites? Check out her post for the details.
Whether you need a unicorn mermaid cake for the little girl in your life, or a lemon and blueberry loaf, like the one pictured above, to enjoy with your darjeeling, Anna from Crumble and Crunch will show you how.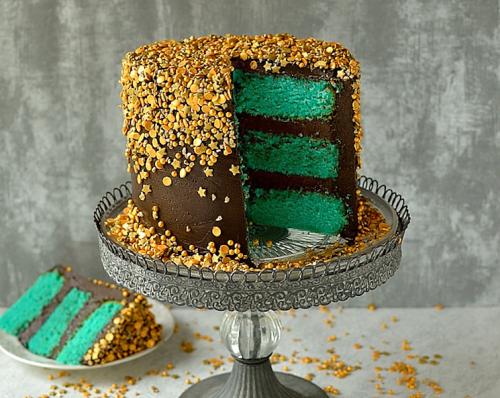 Chocolate and vanilla gold sprinkles cake
Image: Domestic Gothess
With BBQ season well underway, check out blogger Hannah's beer pretzel hot dog buns. She says they have "the classic soft-yet-chewy pretzel texture and flavourful deep brown crust, with a bit of extra intensity of flavour from the ale". Sounds delicious.
"Food makes me happy," says Hannah, the avid baker behind The Gluten Free Blogger. Making her chocolate and vanilla gold sprinkles cake – pictured above – is sure to make you happy too. It uses the 'reverse creaming method', so that the crumb stays soft, resulting in a "velvety, melt-in-the-mouth cake". Yum.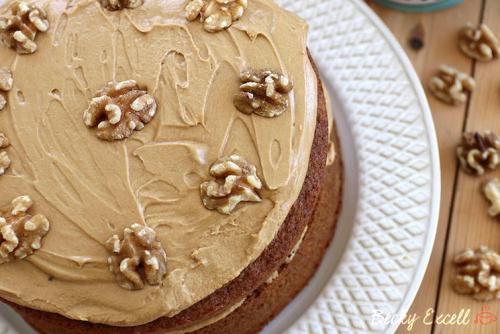 Becky's gluten and dairy-free coffee cake
Image: Gluten Free Cuppa Tea
Creating delicious gluten-free, dairy-free and low FODMAP (Fermentable, Oligo-, Di-, Mono-saccharide and Polyol) recipes is Becky Excell's bag: "I'm certainly no stranger to how dietary restrictions can be a massive struggle and so often, nobody else understands."
The blogger behind Gluten Free Cuppa Tea recreates many of the dishes she misses – minus the gluten. Here she shares them with you so that you too can indulge in sweet temptations like her sticky maple and pecan pudding or gluten- and dairy-free coffee cake.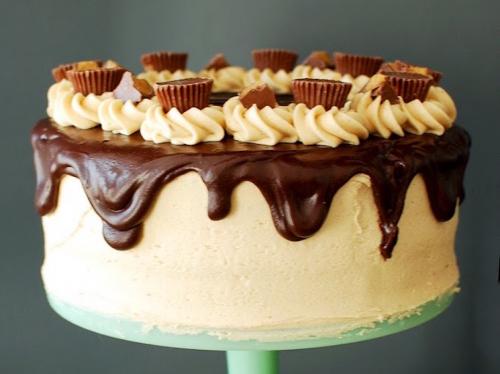 Katie's chocolate peanut butter birthday cake
Image: 
Katiecakes
Ever tried beer and bacon chocolate chip cookies? "Trust me, these cookies are just amazing," Katie of Katiecakes says. The beer keeps the bite light and chewy, while the bacon adds the most delicious salty kick you've ever tasted. Future GBBO contestants looking for new and interesting flavour combinations take note!
From the chocolate peanut butter birthday cake pictured above to her cheeky G&T cupcakes, this professional baker and cupcake-shop proprietor shares some seriously delicious recipes on this gorgeous blog.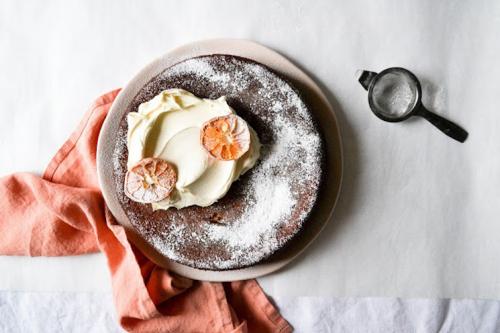 Lucy's clementine, almond and orange blossom cake
Image: Pudding Lane
Lighter olive oils have a delicate flavour that combines beautifully with the sweetness of honey or summer stone fruits, says blogger Lucy of Pudding Lane Blog. Take a look at her gluten-free olive oil cake with flat peaches and wild plums. It looks gorgeous.
Lucy says her passion for baking "keeps [her] sane when life gets a little carried away." In this beautiful blog, you'll find home comforts like milk, honey and lavender bread and the elegance of a clementine, almond and orange blossom cake like the one pictured above.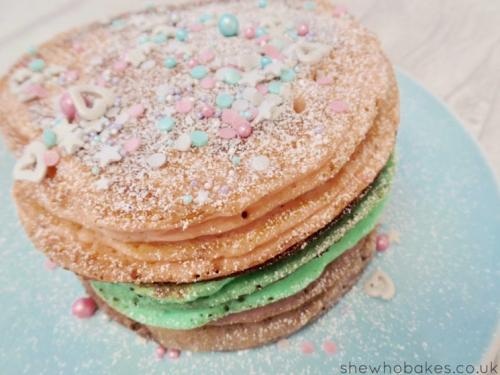 Britt's unicorn pancakes
Image: She Who Bakes
Britt's first venture into baking was a packet-mix disaster. But she got the bug straight away and baking became more than a hobby; a lifesaver, it helped her recover from depression and septicaemia. Four years on and Britt is She Who Bakes – baking blogger, sugarcraft tutor, cake decorator, and international advocate for mental health.
Britt's recipes are divine. From unicorn pancakes to Black Forest Battenburg, her baking is bright, beautiful, and guaranteed to bring a smile to your lips.

Kat's strawberries and cream cake
Image: The Baking Explorer

Follow Kat as she takes on the GBBO challenges in her own kitchen. She says: "It's really helped me expand my baking repertoire and taught me a lot."
Learning more with every step of her journey into baking, Kat's generous blog is full of handy hints to help you explore the fascinating world of baking too. Ever wondered what to do with leftover jam? Make Bakewell tarts of course!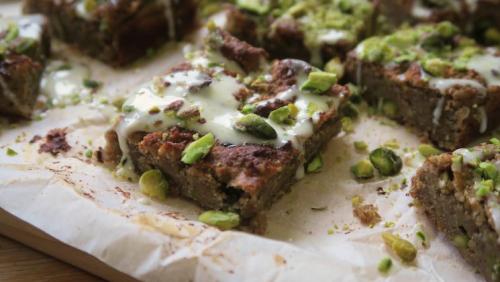 Sarah's white chocolate and pistachio protein chickpea blondies
Image: The Gluten Free Blogger
"I love lifting weights and practising yoga so I can eat plenty of pizza. And doughnuts," writes The Gluten Free Blogger Sarah. True to form, you'll find tonnes of delicious pizza and doughnut recipes (all gluten-free) on Sarah's blog.
If you're coeliac like Sarah, or prefer to avoid gluten for other reasons, you'll find some amazing alternative recipes here, like gluten free brie and asparagus quiche, or the white chocolate and pistachio chickpea blondies pictured above.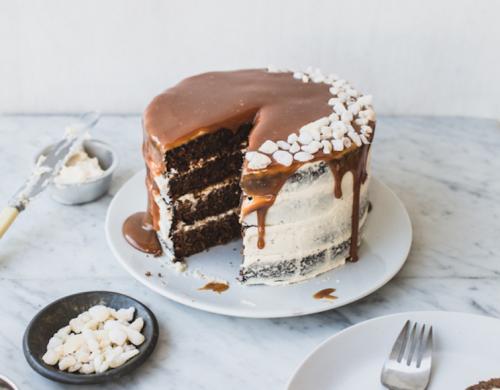 Izy's gingerbread layer cake with salted whiskey caramel
Image: Top with Cinnamon
"A few of my fave ingredients are bittersweet chocolate, Maldon salt, pecans and maple syrup. That pretty much sums me up," writes Izy Hossack. Izy has been blogging since the tender age of 15 and her beautiful site, Top with Cinnamon, contains delicious recipes and stunning food photography.
Izy's recipes are to die for and we particularly recommend her bumpy cherry and almond pie, lime, mango, and elderflower cakes and the gorgeous gingerbread layer cake with salted whiskey caramel pictured above.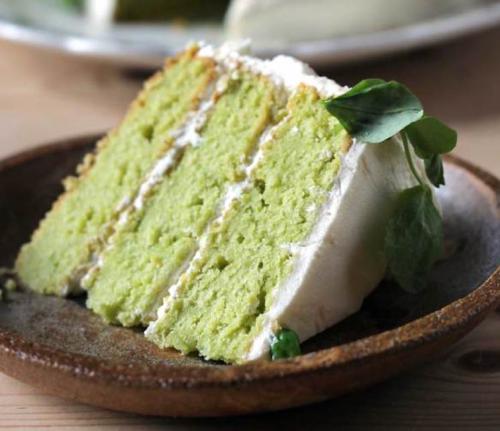 Kate's pea and vanilla cake with lemon icing
Image: Veggie Desserts
"I'm unashamedly obsessed with vegetables, whether they're in my breakfast, dinner or desserts!" writes Kate Hackworthy of the aptly named veggie desserts blog. Kate's obsession started when trying to create a healthier birthday cake for her son. Alongside chocolate, she added butternut squash and beetroot and, hey presto, her blog was born.
Intrigued? You should be. Here you'll find cauliflower banana bundt cake, kale and apple cake, and the pea and vanilla cake you see pictured above. Kate has also just written a beautifully illustrated book, Veggie Desserts + Cakes, that would make the ideal gift for any keen baker. When it comes to getting your five-a-day, veggie cakes have to be the way forward!
We hope these baking blogs inspire you to put your pinny on and get baking. If you have a blog you'd love us to feature, please do let us know via our Facebook page!
Share: