7 super tips for a mid-century kitchen
Tuesday 21 April 2015 | julian
For many people, vintage has become the go-to when it comes to quirky fashion and interior design, from bunting fans to 'make do and mend' lifestyles.
At the top of the retro love list is the mid-century kitchen, and you can get the look by adding just a few fine details!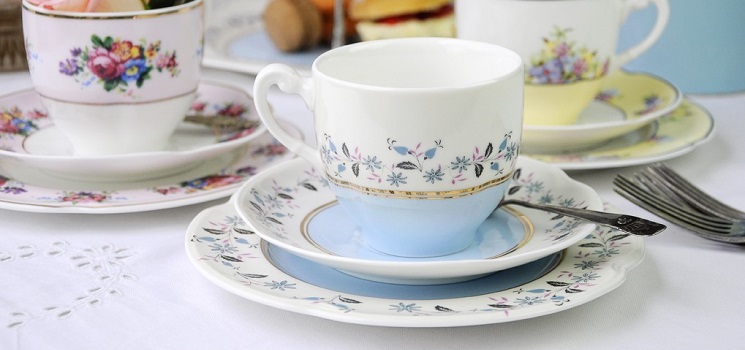 Pictured: Vintage China Mid-Century Side Plate - £8.95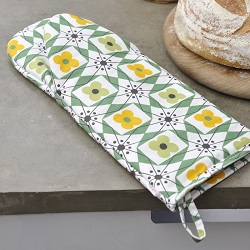 1. Don a floral apron
First things first, you'll want to look the part, and there's nothing like an apron to help you channel your inner domestic goddess. Whether you're whipping up a baked Alaska for your latest bash, or dancing to the hippest sounds whilst you wash up, the delightful floral mid-century apron will do the job nicely.
2. Get a matching oven glove
Once you've baked your retro food, you'll need to get it out of the oven, so handle those hot trays with a vintage oven glove that totally matches your apron! Just don't leave any pies to cool on your window sill, or the local troublemakers might make off with them.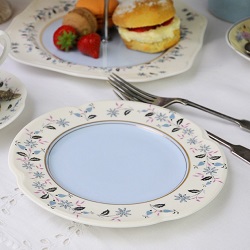 3. Restock the crockery cabinet
When visitors show up at the front door, a good selection of triangle-shaped sandwiches and a freshly baked Victoria sponge are a must, presented on a classic vintage china blue plate!
4. There must always be tea
England and tea go hand in hand, and there's no better way to relive the conviviality of a great British tea party than with an exquisite set of mid-century teacups and saucers. After a good brewing period in the teapot, pour your Earl Grey or Darjeeling into your cup and relax. All is well with the world.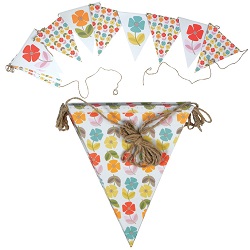 5. Pack up a picnic
The guests have left and it's time to take your vintage style outdoors to enjoy the sunshine. Whether you're going for a stroll, or equipping your little ones with lunch for school, the mid-century poppy lunch box is ideal for keeping your club sandwiches fresh. Don't forget to take a bottle of pop too!
6. String up some bunting
Nothing says mid-century better than poppy bunting! You could find pretty flags everywhere in the 1950s, from fêtes to sports days to street parties. It'll look lovely hanging around your kitchen too, to give your home a little old-fashioned festivity every day.
7. Peg it up
This one is a winner: retro-inspired wooden clothes pegs! They're perfect for hanging up your bloomers to dry in the garden or, if you'd rather the neighbours didn't see, indoors. You could also use them to hang up postcards, notes and shopping lists in your kitchen.
Discover more mid-century goodies at dotcomgiftshop. Happy cooking!