Wednesday 05 April 2017 | anna
How to build a brilliant kid's bedroom
If you dream of transforming your child's bedroom from a cluttered, toy-strewn mess into a calm and cosy haven, read on. Here are some inspiring interior design tips to help you create the perfect pad for toddlers, tweens and teens.
Free the floor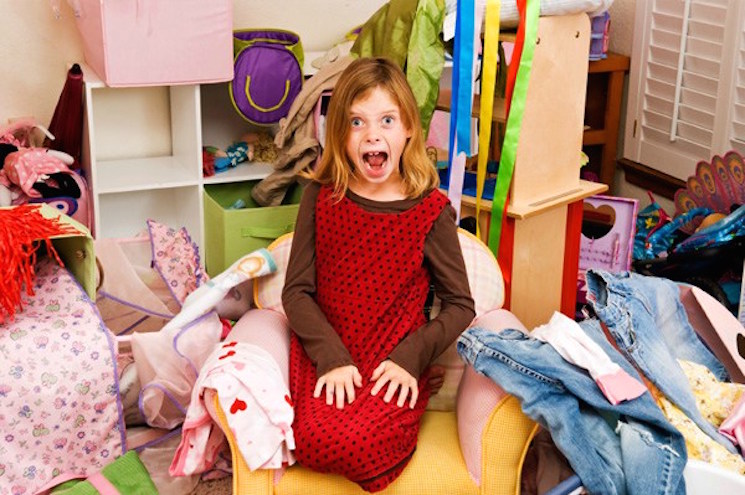 Is your child's carpet this cluttered?
Image source: Mummy Alarm
Start with a good clear-out. As interior design blogger Ursula of room to bloom says: 'A huge amount of toys and stuff crowds in on your child's mental space! It overstimulates, drains energy and stifles the imagination.'
You've created some space, now it's time to make sure everything has a home. Kids are more likely to play with their toys if they're readily accessible. Store large toys in labelled stackable boxes and make the most of your vertical space by hanging laundry bags from wall or door hooks.
Don't limit yourself to purpose-made toy storage. Jen of Love Chic Living filled an awkward space next to her child's wardrobe with a tall, thin bookcase: 'Bolted to the wardrobe it made great storage for puzzles, games and pretty storage boxes and looked like a natural extension.'
Now your floor's clear, how about using carpet tiles to create a giant game of hopscotch?
Pick your palette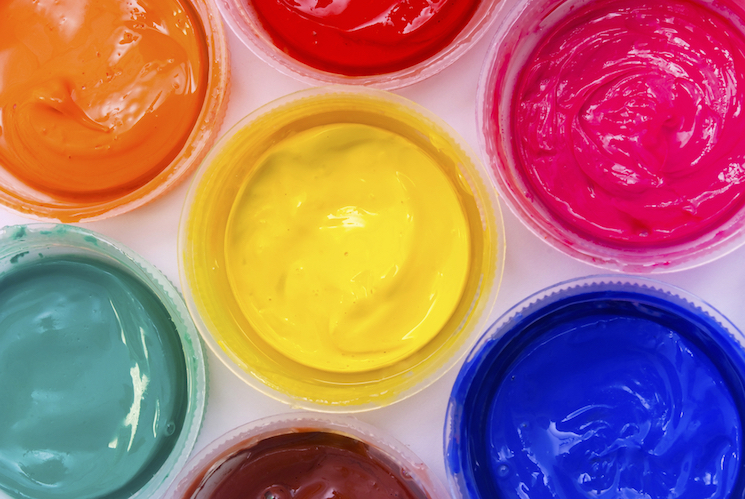 Get creative with colour
Image source: Shutterstock
The guys at Dulux say 92% of children would spend more time in their bedroom if they were involved in decorating it. And if that's not enough to convince you, child developmental psychologist Dr. Sam Wass says kids see decorating their bedroom as more important than their first day at school.
Actually Mummy's Helen agrees that bedroom makeovers matter to kids. She encouraged her own daughter to come up with colourful mood boards. Helen says: 'Designing and shopping for her teal tween room makeover gave her a real sense of ownership, and she spends so much time in her room now, happily reading, or doing homework.'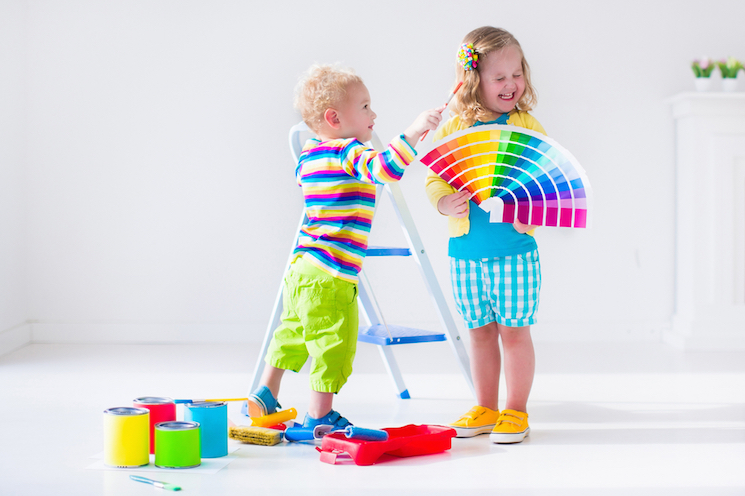 Kids love choosing the colour scheme
Image source: Shutterstock
Stick to paint says The Mummy Blogger Charlotte: 'Try to steer clear of themed wallpaper, because no doubt [kids will] lose interest in the latest favourite cartoon character.'
Dad Blog UK's John Adams suggests keeping the main decor in your child's room neutral because: 'It looks clean and fresh, even if the room is packed with toys. When colour is added in the form of soft furnishings and play mats, it doesn't look crowded, and there are no garish clashing tones.'
Work your walls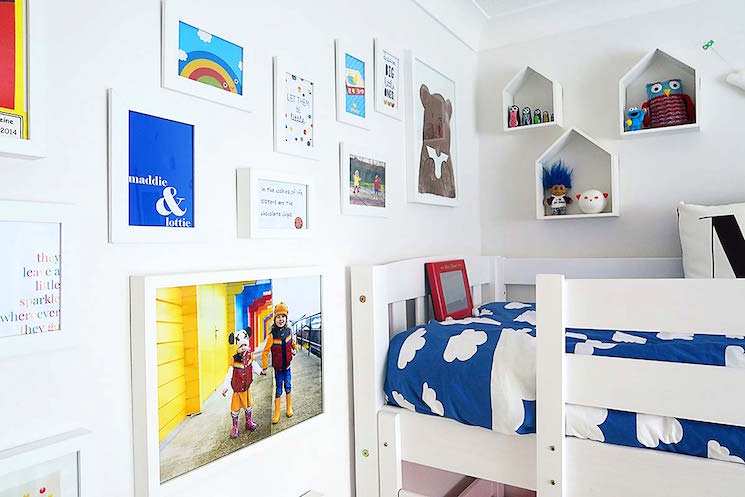 Add personality with pics and prints
Image source: Mummy Daddy Me
Bedroom walls are the perfect place to display your children's artwork and favourite photos. As Natalia of British Style UK says: 'Adding personality through prints or stickers on the wall is a cheap and easy way to change the look of the room as your child grows up.'
But if you're worried about leaving marks, designer Lawrence Henderson, guest-blogger at Tired Mummy of Two, suggests a novel solution:
'Hang up some pictures by stringing some wire from wall to wall. This reduces the mess caused by sticking pictures directly to the wall. You'll also find it easier to make design changes later on.'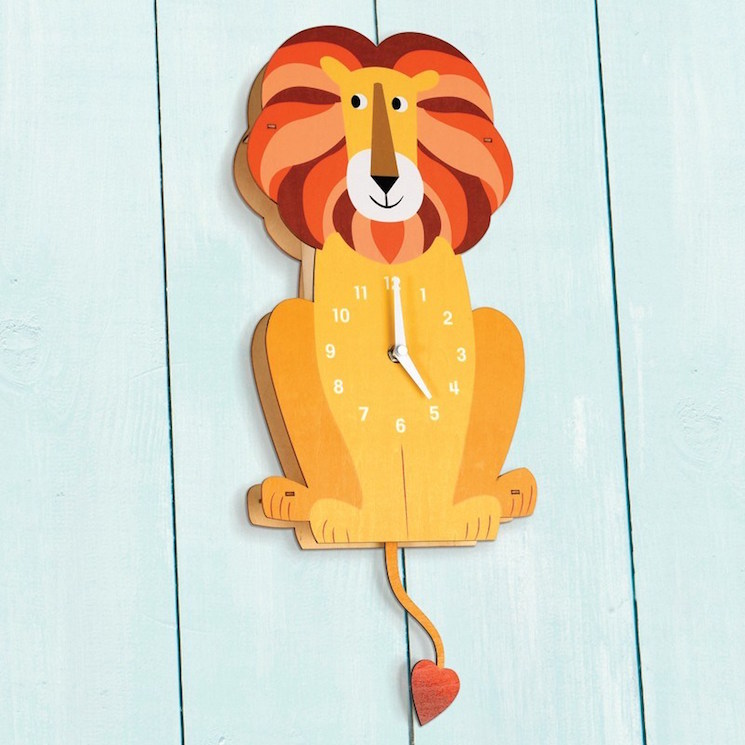 Pictured above: Charlie The Lion Wooden Wall Clock - £24.95
A cute quirky clock like this Charlie The Lion wall clock adds a flourish to a child's bedroom. Another option is to transform part of a wall into a giant canvas by painting it with blackboard paint. Provide a colourful collection of chalk sticks and you've got the perfect rainyday activity for little artists.
Go multifunctional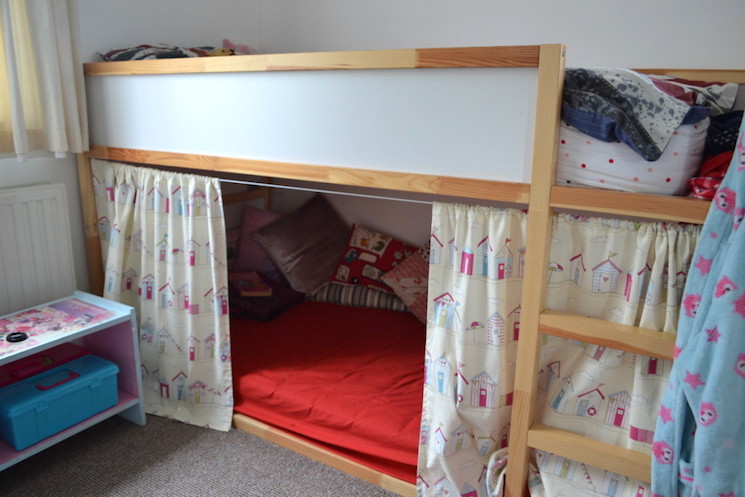 Space saving sleep
Image: Slummy Single Mummy
Need to make the most of a small bedroom? Natalia at British Style UK says high-sleeper beds are a versatile solution: 'You get a single bed at the top and a desk, wardrobe, drawers and/or sofa underneath depending on the style you go for.'
As well as saving space, a high-sleeper is great for your little one's imagination. Kerry of Oh So Amelia says: 'It can become a fort or a deserted island or even a tree house. Match the décor to the theme of the bed and turn your child's bedroom into a make believe paradise.'
All kids need a comfortable mattress. According to experts at The Sleep Council, adding just one hour of extra sleep decreases a child's chances of being overweight or obese by around 30%.
And it's not just younger children who benefit from a decent mattress. Nadine of Juggle Mum says a comfy bed is crucial for teens 'given how long they like to spend in their beds of a weekend – have you ever tried to get a teenager out of bed when there is no school to go to?!'
Let there be light!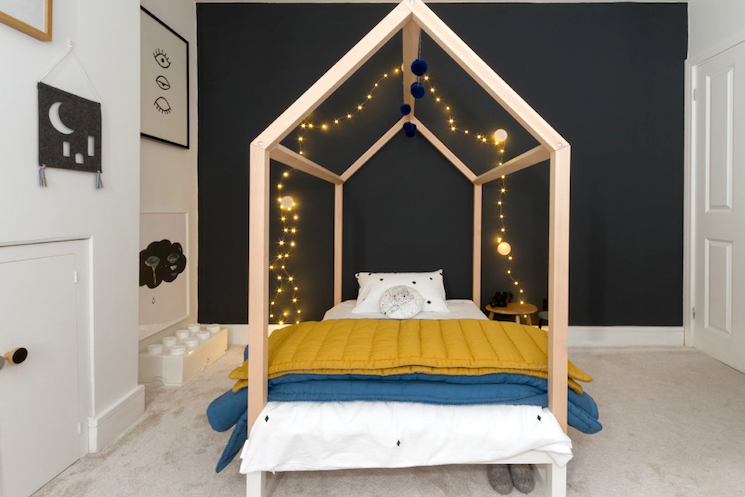 There's always room for fairy lights
Image: Chalk Kids
Don't overlook lighting. The guys at Chalk Kids say: 'There's nothing worse than a drab single ceiling light fitting for illuminating a bedroom. Especially when it's so easy to have fun with lighting affordably.'
Banish fears of the dark with our cute animal night lights. Alternatively, ramp up the fun factor by adding some fairy lights. Kate of Family Fever says they're perfect for children and teens: '[go for] rocket or star string lights, go girly with butterflies and flowers, choose moons and clouds, pick dolphins and fish, or there's boats and cars. The possibilities with string lights are endless!'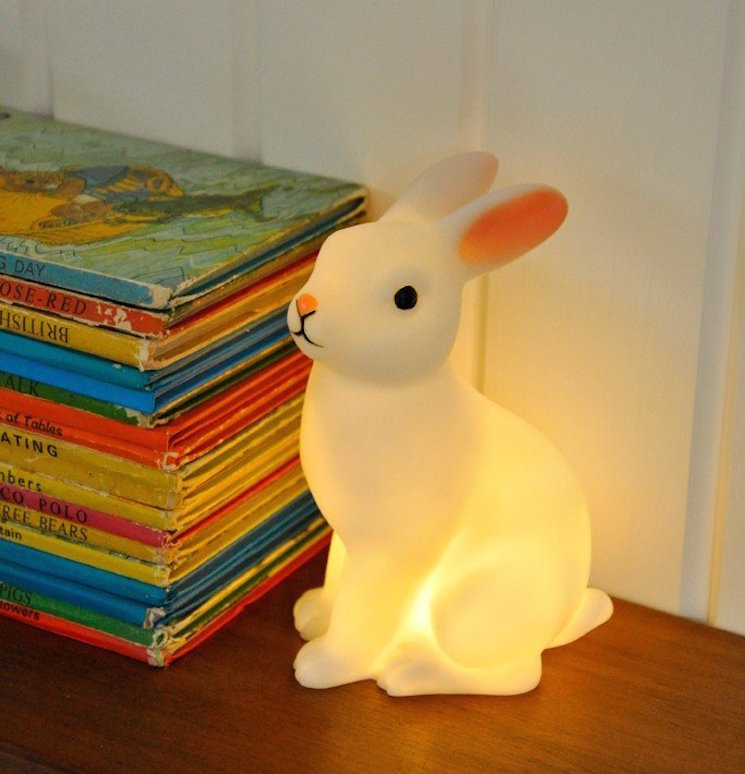 Pictured above: Rabbit Night Light - £4.95
We'd love to see how you've transformed your children's bedrooms. Head over to our Facebook page to share your images.