DIY your way to a chic wedding
Wednesday 12 April 2017 | giv
Your wedding day is fast approaching and decisions need to be made about the decorations. Worried? Don't be. We've got you covered.
Whether you're looking to save some cash to spend on the dress, or you're a mad keen crafter, these amazing craft bloggers will have your wedding looking beautiful and totally unique in a few easy-to-follow steps.
Hand-punched confetti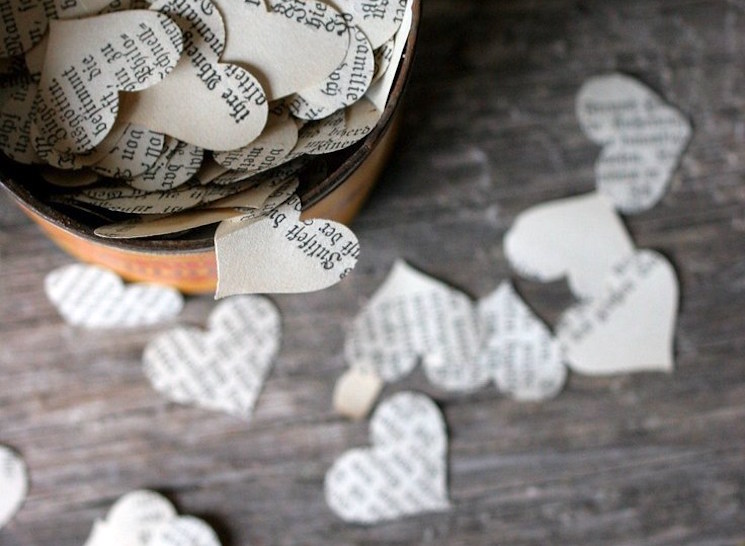 Hand-punch your own table scatters from old maps, books, or even wrapping paper.
Image source: Pasties & Petticoats/ Etsy
Bit of a bookworm? Grab a few copies of your favourite love story and hand-punch some heart-shaped confetti straight from its pages. You could use old maps or even wrapping paper, if that better fits your theme.
Mini craft punches only cost a few pounds. But add them to your craft arsenal, plus a few pieces of paper, and you can make one-of-a-kind table scatters for your reception.
As Donna Sharpe of Pasties and Petticoats says, this 'quick and thrifty [craft is]... a wonderful way to add a little personal touch to your day.'
Bunting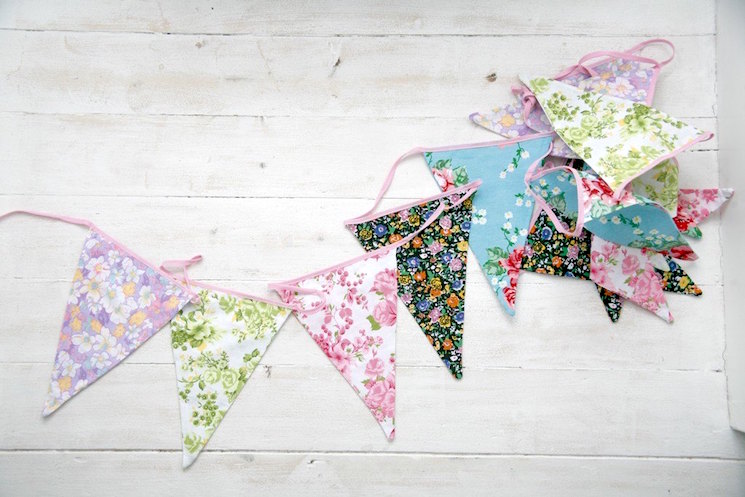 Pictured above: Vintage Floral Washable Cotton Bunting - £5.95
Bunting is a chic, playful wedding decoration – and easy to throw together at home. All you need is some fabric, binding thread, and a little sewing kit (scissors, needle, thread).
A few willing volunteers would be handy, too. As Lou of Whimsical Wonderland Weddings suggests in her easy-to-follow fabric bunting tutorial: 'Why not get together with family or friends and get a little production line going? You will have reams of bunting in no time.'
Not handy with a needle and thread? Not a problem. Just follow the tutorial on Creative Brides and make your own out of paper instead.
Tissue paper pom-poms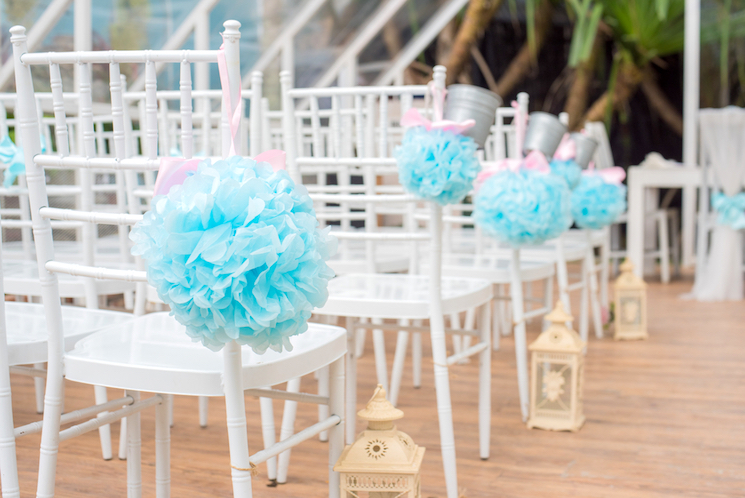 Hang your tissue paper pom-poms around the venue for bursts of colour.
Image source: Shutterstock/Xiawa
Chelsea, from twotwentyone, began blogging when she was crafting decorations for her own wedding. And we're glad she did. That's where these pretty tissue paper pom-poms come from.
Want to have a go? It couldn't be easier. All you need is colourful tissue paper, some florist wire, a ruler, and scissors.
Once you're happy with your pom-poms, it's time to decide how to use them. Chelsea used hers to decorate her dessert buffet - but you can use them however you like. Why not try hanging them in clusters at different heights around the room?
Chalkboard signs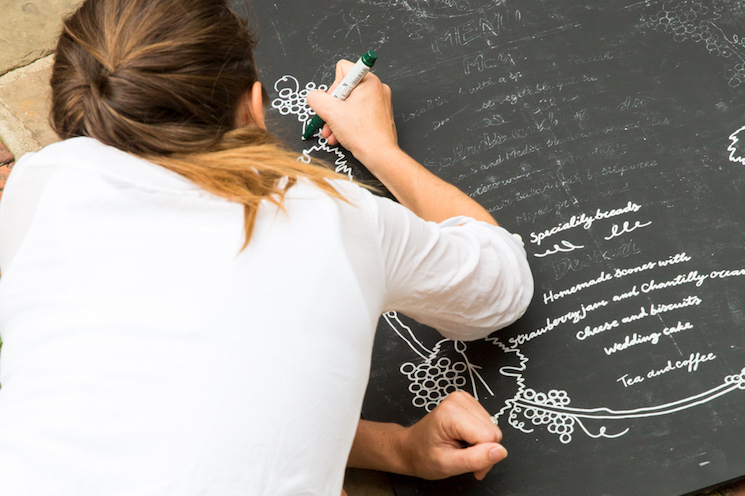 Chalk pens are the key to creating beautiful chalkboard wedding signs.
Image source: Fern and Field
You don't have to be a calligrapher to crack out some cracking chalkboard wedding signs. That's what stencils are for.
Chalkboard paint comes in a huge range of colours, so you can tailor it to suit your wedding colour scheme. All you need then is a flat surface to paint it on. MDF or plywood works well, according to Fern and Field's DIY tutorial.
To get that professional look, use a chalk pen. And remember to finish your signs with a spray of matt lacquer. This will weather-proof them (vital for an outdoor shindig) and make sure you can keep them long-term. They'll make a great memento of your big day.
Candles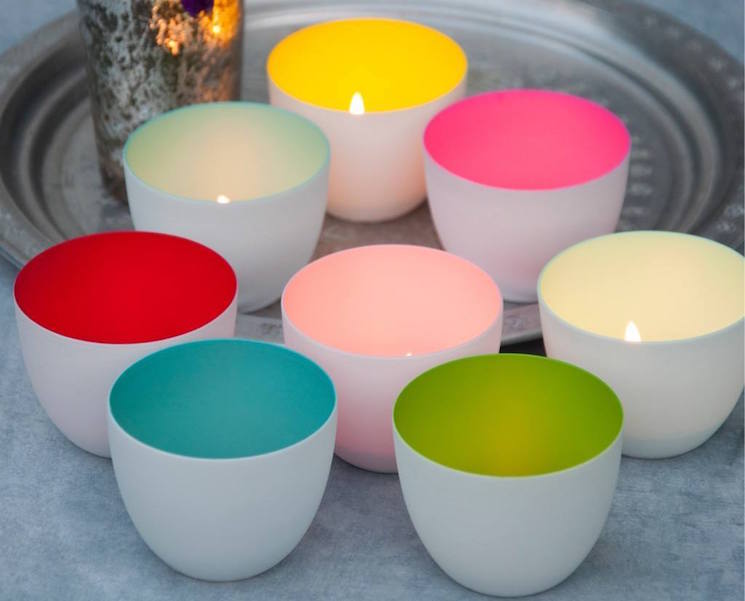 Pictured above: Set Of 8 Colour Pop Porcelain Tealight Holders - £19.95
'Nothing evokes romance like the radiance of a candle,' says Lottie Danton, one of the super talented wedding bloggers at Want That Wedding. They're wallet-friendly and a great alternative to flowers, too.
Pop tealights in stylish porcelain holders for a colourful table decoration with über glow power. Or opt for elegant zinc heart holders, if you're going for a metallic theme. Pillar candles of different heights, meanwhile, look beautiful nestled in amongst rose petals or greenery as a eye-catching centrepiece.
Not got much space in your reception venue? Take Lottie's advice and make a little go a long way 'Glass vessels filled with little tea lights will be reflective and it'll also give the effect of a larger space.' Just be sure that any glass candle holders are heatproof and candle safe.
Flower vases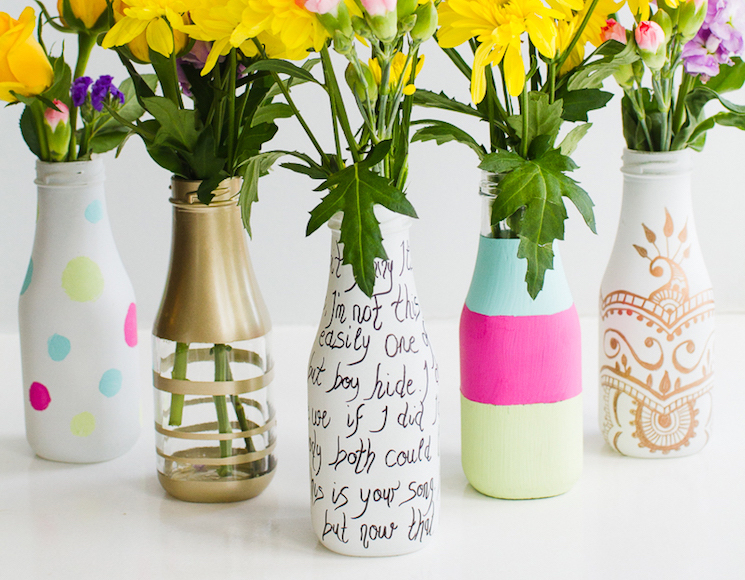 Some pens and paint will turn old bottles into one-of-a-kind flower vases.
Image source: Bespoke Bride
Need an excuse to share another bottle of wine with your girlfriends at the hen do? How about making these gorgeous flower vases?
Emily and Jess over at Bespoke Bride have 5 amazing paint DIYs to turn old bottles into chic table decorations. We love the simplicity of writing your favourite song lyrics on the bottle. But poems or quotes would be great too. All you need is some white spray paint and a black sharpie.
Want a stylish shortcut? A few Gerbera flowers or poesies would look amazing in these cute dipped ceramic vases. And there are a couple of colours to choose from, if you want to mix and match.
Did you get crafty for your big day? Share your homemade wedding decorations on our Facebook page - we'd love to see them!